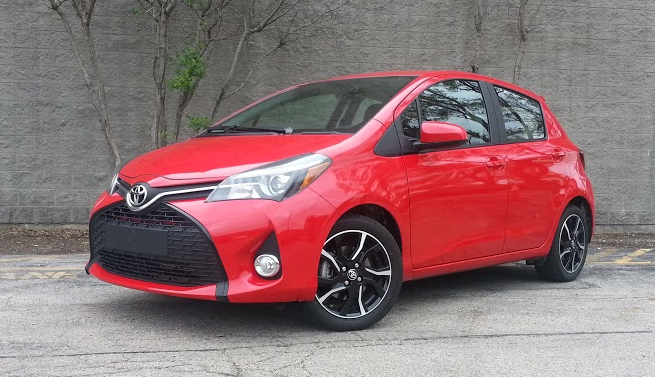 2015 Toyota Yaris SE Hatchback 

Class: Subcompact Car

Miles Driven: 777
Fuel Used: 22.3 gallons
Real-world fuel economy: 34.8 mpg
Driving mix: 30% city, 70% highway
EPA-estimated fuel economy: 30/36/32 (city, highway, combined)
Base price: $17,620 (not including $825 destination charge)
Options on test car: Navigation upgrade ($899), floor and cargo mats ($180)
CG Report Card
Report-card grades are derived from a consensus of test-driver evaluations. All grades are versus other vehicles in the same class. Value grade is for specific trim level evaluated, and may not reflect Consumer Guide's impressions of the entire model lineup.
Room and Comfort
B-
Power and Performance
C+
Fit and Finish
C
Fuel Economy
B
Value
B-
Price as tested: $19,524
Quick Hits
The great: Visibility, better-than-expected cargo capability
The good: Control layout, fuel economy
The not so good: Noise, lack of expected features such as a center armrest and telescopic steering wheel
More Yaris price and availability information
John Biel
Toyota has done some things to its Yaris subcompact for 2015, refreshing appearances inside and out, reinforcing the body structure, and retuning the suspension. It's all necessary to keep the current generation of the car, which arrived for 2012, abreast of a large field of competitors.
Just how well it does that is open to debate. It's more substantial than some, but it's less fun to drive than others.
The Yaris 4-door hatchback that Consumer Guide® tested was a top-of-the-line SE with automatic transmission, which carries a $17,620 starting price. (Opting for a 5-speed manual transmission buys the same car for $800 less.) However, extra-cost mats and navigation brought the test car's total—with delivery—to $19,524. That's getting up there relative to some other cars in the segment, and even if the difference buys a better-built vehicle, this is the end of the market in which shoppers are especially driven to save.
Test Drive: Toyota Corolla LE Plus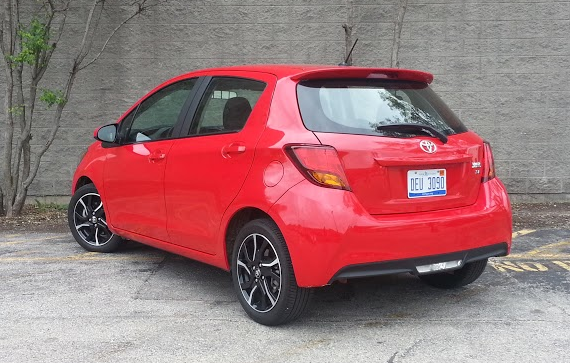 Yaris power comes from a 106-horsepower 1.5-liter 4-cylinder engine. This powerplant throbs a bit at idle, and dials up some noise when the accelerator drops. A lot of small cars these days use CVTs, but Yaris has a geared automatic—albeit a 4-speed that seems prone to letting the car tire itself somewhat and go a little flat before taking the next gear. Passing kickdown comes to those who wait.
One of the things that will matter to budget-conscious subcompact shoppers is fuel economy. This driver put 110.3 miles on the test car, 63 percent of that in city-style driving, and averaged 27.36 mpg. That's not an ace in a deck where 40 is the king that manufacturers strive to draw. The EPA estimates for the car CG drove are 30 mpg city, 36 highway, and 32 combined.
Cornering lean is competently controlled, and steering is fairly quick, so Yaris isn't a bad handler overall. As for ride, it's susceptible to some hops over bumps, and drivers won't be able to miss a persistent vibration through the steering wheel.
Packaging is something that should give shoppers a reason to consider the Yaris. Visibility is good through a large windshield and tall side windows. Rear head rests pinch a little from the sides of what otherwise is very good straight-back vision. Tall doors make for easy ingress and egress front or rear, and there's good head room.
Two rear-seat occupants sit somewhat upright and "knees-up" but this optimizes leg room for them (so do carved-out front seat backs). This driver found himself sitting closer to the pedals than he would have liked, but this was because he had to get forward for a comfortable grip on the tilting—but not telescoping—steering column that keeps the wheel somewhat close to the dash. The Yaris could also do with a little better insulation. Wind noise at expressway speeds was fairly prominent.
The SE comes with some upscale standard touches, including essential tech features—or at least what's come to be seen as "essential." An Entune touchscreen audio system integrates an AM/FM/CD radio, HD radio, digital-device compatibility, Bluetooth connectivity, and voice recognition. Other base-price features include 16-inch alloy wheels, fog lights, a rear spoiler, air conditioning, leather-trimmed steering wheel and shift lever, and remote keyless entry.  
Breaking the 50 MPG Barrier in a Mitsubishi Mirage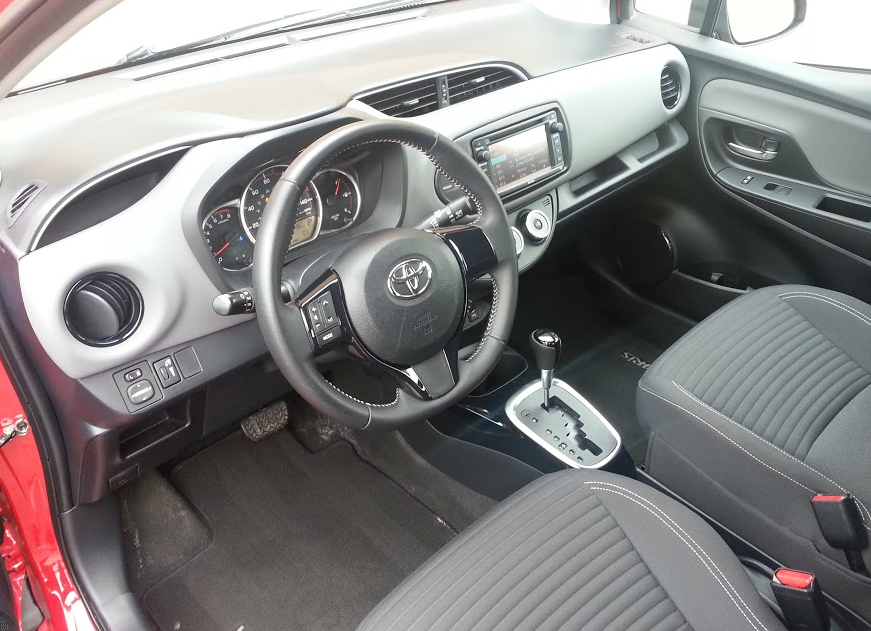 The little bit of leather is perhaps the nicest touch in a cabin that otherwise looks kind of austere. The test car's seats were covered in a black cloth that was sturdier than it was supple. Front-seat support could have been a little firmer for this driver's taste. A lack of a central console box means no inboard armrest for the driver—not even a flipper arm built into the seat. Padded inserts across the center of the dash and in the door centers slightly reduce the hard-plastic content in front. The rest is grained molded plastic and some areas of smooth hard plastic, like around the climate controls, and rear-seaters get no soft-touch materials.
Climate controls consist of 3 convenient rotating dials installed below the central touchscreen. A power point and a USB connector are below the climate dials, though a little out of the way. The radio is managed through the touchscreen, and presets are easy to program and access, but there aren't many preset spaces available.
Personal storage has its limits. Up front, the inventory is small front-door pockets with bottle holders, a small glove box pretty well filled with the owner's manual and related publications, four small dash bins, and 2 cupholders far forward in the low plastic console. In back there's just a single large cup/bottle holder at floor level, and a pouch on the back of the right-front seat.
Rear cargo space isn't overly ample, but it loads at bumper height without having to negotiate a lip. There's some space under the floor but it's atop the spare and tire-changing tools. Rear seats fold in a 60/40 split to provide pretty good space. They don't drop quite flat, and headrests might have to be removed first to clear, but the transition from cargo floor to seat backs is fairly direct with no offset.
An ample field of subcompact cars has everything from basic driving devices for the pre-rich to lively, nimble runabouts. The Toyota Yaris feels more substantial than the former but less entertaining than the latter.
Damon Bell
I can say this for the Toyota Yaris; it is much more than the sum of its rather unexceptional parts. There is no single element of the Yaris that stands out in its class, and in many ways the Yaris trails the competition. Yet, in person the whole package comes off better than it looks on paper.

Test Drive: 2015 Toyota Prius v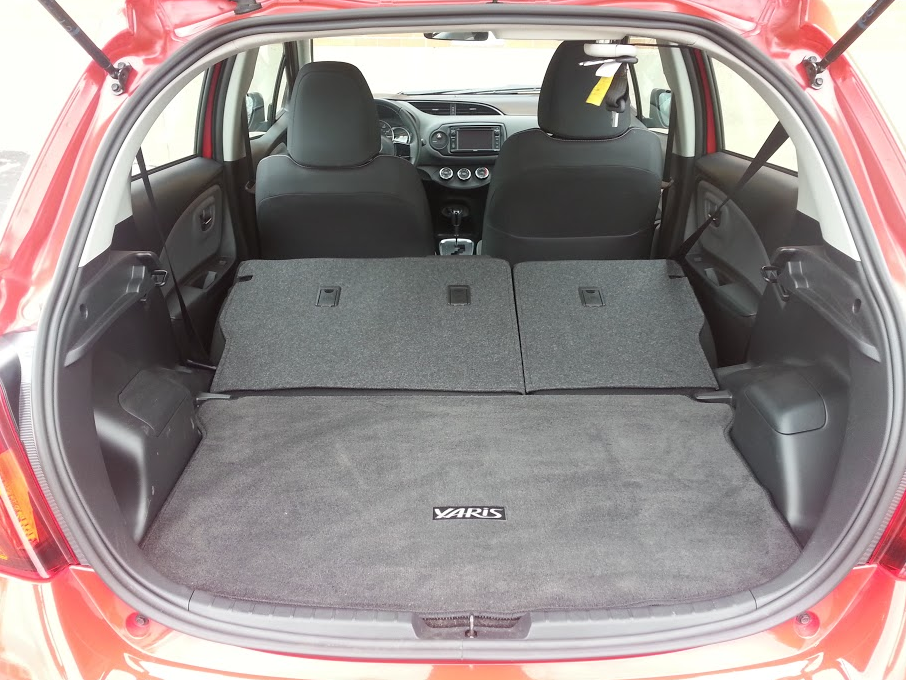 I took my family on a weekend road trip of about 300 miles in our SE 4-door hatchback tester. I knew it was going to be a tight squeeze, but I was pleased to be able to fit two car seats, a stroller, a couple reusable grocery bags full of stuff, and a Pack 'n Play collapsible crib in the Yaris along with my wife and two sons. (The Pack 'n Play had to be wedged into the back seat in between the boys, but it fit.)

On the highway, the Yaris's ride was commendably absorbent and buttoned down for a subcompact. Noise levels weren't too bad either—in spite of a 1.5-liter four-cylinder/old-school 4-speed automatic powertrain that has the engine spinning near 3000 rpm at freeway speeds, the Toyota Yaris is quieter than you might think. (I'll admit my perceptions might have been skewed a bit, since the vehicle I tested before the Yaris was a Mitsubishi Mirage—one of the noisiest, most unrefined vehicles on sale in the U.S.)

The longish road trip highlighted the Yaris's the lack of a center armrest—could it have cost that much to make a flip-down unit available as an option at least? My right arm could have used one after a couple of hours on the road. The lack of a telescopic steering column is another demerit; I had to snake my right leg under the steering wheel when getting in or out, which quickly grew tiresome.

I averaged 35.5 mpg in about 85 percent highway driving, which was right on par with the EPA estimate of 36 hwy. It would be nice to have a bit more cruising range than the Yaris's 11.1-gallon fuel tank can provide, but that's perfectly in line with most subcompact-class competitors.

There are certainly subcompacts that are a bit classier inside, have more personality, and are loads more fun to drive than a Yaris, but Toyota's stalwart subcompact still has a sensible-shoes charm of sorts.