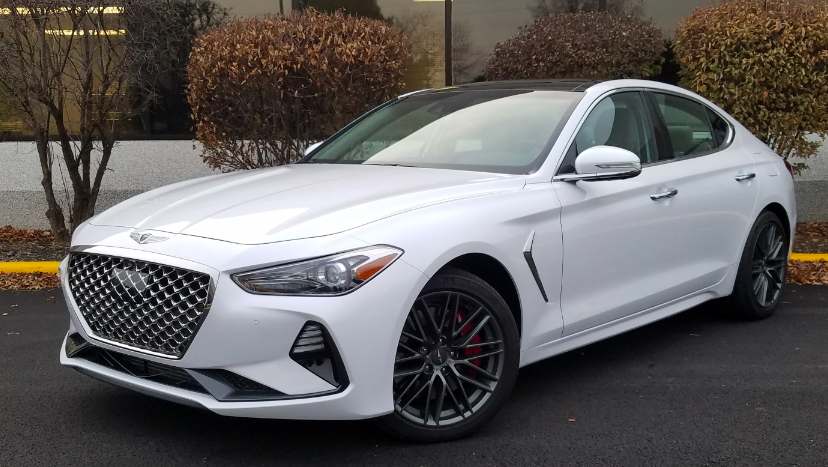 2019 Genesis G70 AWD 3.3T Prestige
Class: Premium Compact Car
Miles driven: 516
Fuel used: 25.5 gallons
Real-world fuel economy: 20.2 mpg
CG Report Card
Big & Tall comfort ratings are for front seats only. "Big" rating based on male tester weighing approximately 350 pounds, "Tall" rating based on 6'6"-tall male tester.
Room and Comfort
C
Power and Performance
B+
Fit and Finish
A
Fuel Economy
B-
Value
A
Report-card grades are derived from a consensus of test-driver evaluations. All grades are versus other vehicles in the same class. Value grade is for specific trim level evaluated, and may not reflect Consumer Guide's impressions of the entire model lineup.
Big & Tall Comfort
Big Guy
C-
Tall Guy
B-
Driving mix: 40% city, 60% highway
EPA-estimated fuel economy: 18/25/20 (city, highway, combined)
Base price: $45,750 (not including $995 destination charge)
Options on test vehicle: Elite Package ($1750), Prestige Package ($2500)

Price as tested: $50,995
Quick Hits
The great: Acceleration, flat-folding rear seat backs

The good: Visibility, control layout, ride/handling balance
The not so good: Rear-seat leg room, stingy front-door apertures
Rick Cotta
If you're in the market for a $50,000 sports sedan, you have a tough decision ahead of you. And Genesis isn't making it any easier.
Who?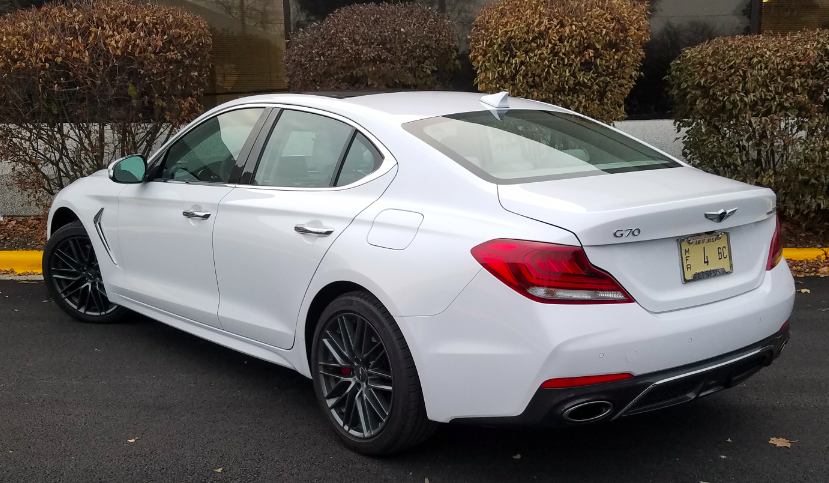 While German makes are likely the first to pop to mind when it comes to luxury sports sedans, they now have a wide range of rivals from virtually every corner of the globe, including the very corner we call home.
But one "corner" that hasn't really been in the game is the Korean peninsula. That is, until now.
Even car-savvy folks can be forgiven if "Genesis" wasn't on their sport-sedan radar – or even their brand radar. Because until just two years ago, it wasn't a brand at all.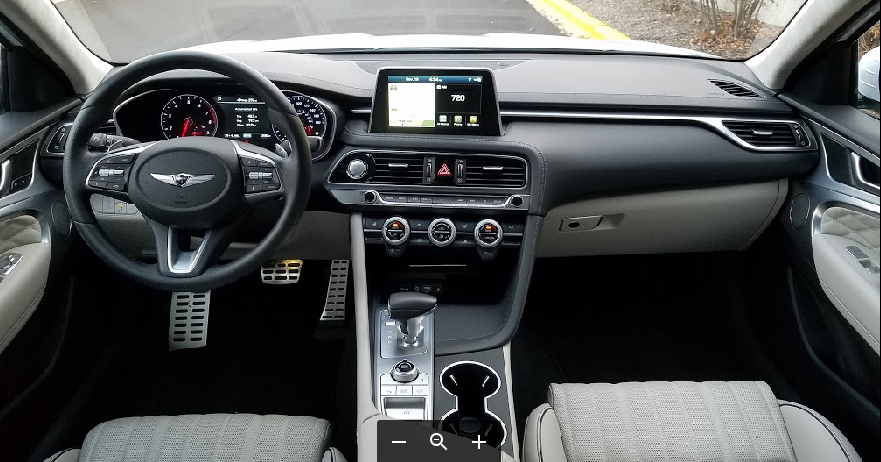 The major Japanese players figured it out fairly early: You can't sell a high-priced car with a low-priced name. Which is why Honda started Acura, Nissan forged Infiniti, and Toyota turned to Lexus. But it took the Koreans – specifically, Hyundai – a little longer.
When Hyundai introduced its Genesis rear-drive coupe and sedan a few years back, they surprised us with their competency. But those sporty cars didn't sell as well as they probably should have, as "Hyundai" just wasn't a "sporty car" name. And then, of all things, Hyundai went even further upmarket with the $70,000 Equus, which – while a darn decent luxury sedan – really left us scratching our heads.

But somewhere down the line (some might say, rather far down the line), Hyundai caught on. And the excellent Genesis name – and the cars to which it was affixed – was made into its own luxury brand.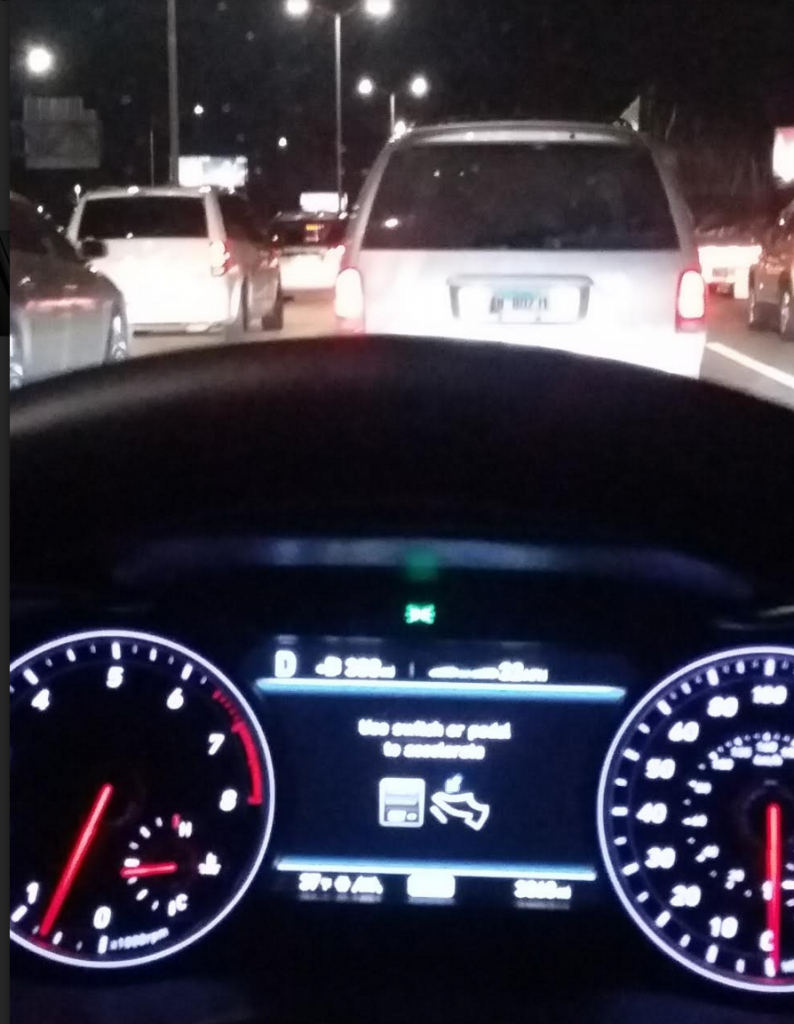 With that change, the former Genesis sedan became the G80, while a vehicle close to the Equus became the G90. (The Hyundai Genesis coupe was phased out, so it didn't make the transition.) Both those sedans accounted well for themselves, the G90 even ranking as a Consumer Guide Best Buy for 2017 and 2018.
But to add both a sportier model and a lower-priced one, the company borrowed the platform of sister-company Kia's Stinger – a darned good rear-/all-wheel-drive sport sedan in its own right (but in top form, a $50,000 one) – shortened it a bit, substituted a trunklid for the Stinger's hatchlid, and came up with the G70 … top models of which also list for about $50,000.
But enough background.
If the G70 has a fault, it's that the aforementioned "shortening" left it with limited interior room. So if you're big and expect to fit four of your kind inside … don't. (More on this later.) But that's about where its limitations end.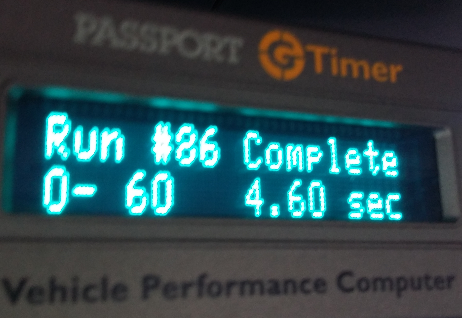 Under the hood of the 3.3T is a turbocharged 3.3-liter V6 making 365 horsepower, sending it through an 8-speed automatic transmission and – in our test vehicle – all-wheel drive. (A rear-drive version is also offered.) That combination was good for a 4.6-second 0-60 average by our clock (Genesis claims 4.5, so … close), solidly in true sport-sedan territory. Unfortunately, fuel economy was also in true sport-sedan territory, coming in at an unimpressive 20.2 mpg in about 60 percent highway driving.
But sport sedans are mostly about dynamics, and our test car certainly delivered. Nail the gas from a stop, and the G70 AWD 3.3T moves out quite well … and then really moves out well when – just a brief moment later – the turbo boost comes in and the car rockets away with a muted but rorty exhaust note. The 8-speed transmission cracks off smooth, snappy shifts, and the all-wheel drive ensures all the power gets to the ground. The transmission also impresses with quick downshifts when the throttle is stabbed at speed. It's really nothing short of exhilarating.
If there's any part of the G70 that doesn't seem quite in line with other sport sedans, it's that both the ride and the interior lean somewhat toward the luxury side. And that's not a bad thing.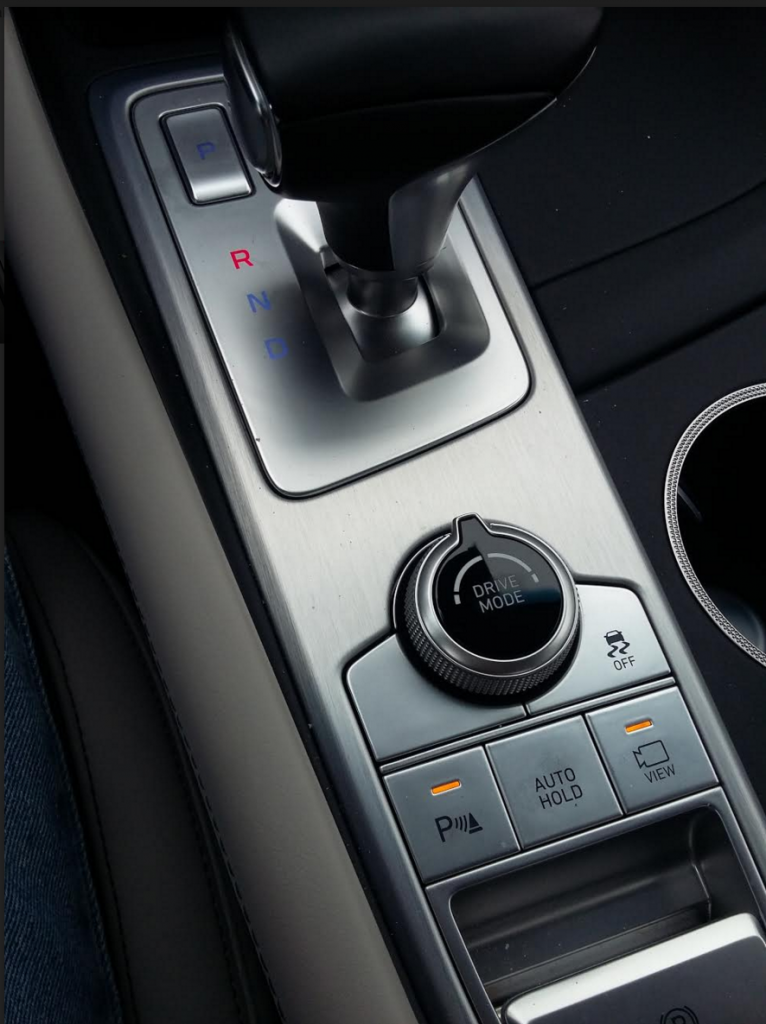 The G70 offers multiple drive modes, with Comfort as the default. That's just fine with us, as it provides sporty enough handling while absorbing the blemishes ingrained in our Chicago-area pavement surprisingly well. Turning the console knob to Sport drops the transmission to a lower gear and stiffens the ride a bit, but we really don't see the need unless you're carving canyon corners.
Our tester was also equipped with full-speed adaptive cruise control, a real convenience in stop-and-go traffic. It relieves the driver of braking and acceleration duties, so your foot doesn't constantly have to go from brake to gas pedal. It worked, but it applied the brakes later and more abruptly than I would.
Then there's the interior.
One (of many) things Hyundai does well is cockpit layout and – at least for a given price point – cockpit design. Both the audio and climate controls are quite easy to decipher and use (not a given among high-end cars), while design and materials are clean and classy. The $1750 Elite Package brings rain-sensing wipers, low-beam assist, rear obstacle detection, a sunroof, and Qi wireless charging pad.
Test Drive: 2018 Audi A5 Sportback
Visibility is quite good all around, with the added benefit of our test vehicle's 360-degree camera system that includes a handy console button to activate front and side cameras when needed — part of the $2500 Prestige Package — and the rear headrests overlap the seat backs to improve vision to the rear. Also part of the Prestige Package is a head-up display and heated rear seats.
As mentioned, only in space does the G70 come up short. Headroom can get tight up front for tall folks, and legroom in back disappears if the seat ahead is pushed far rearward. However, my 5'9 frame fit easily in back behind my favored front-seat setting, so it's fine for four average-size folks. Interior storage is only fair, highlighted by a large forward console bin with Qi wireless charging pad under Aux/USB/12-volt plugs.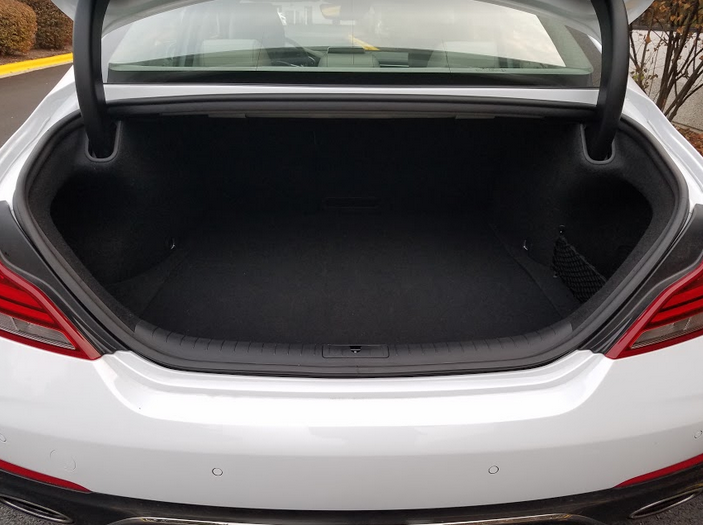 Earning high points is the trunk – or more specifically, its ability to expand. Cubic capacity is just so-so, being reduced somewhat by sickle-shaped trunklid hinges that dip into the load area (though they're covered to prevent cargo damage). But from there it's all good. Not only is there some underfloor storage space, but the rear seat backs fold (those in some rivals don't), and – both importantly and unusually – they rest level with the cargo floor, easing the job of sliding long cargo forward … which, if you think of it, is probably why you folded the seat backs in the first place. So big kudos here.
Actually, "big kudos" applies to the G70 in general. This is not really a game Hyun … er … Genesis has played for very long, yet they really hit the ball out of the park. And that should be enough to not only put Genesis on your sport-sedan radar, but also on your shopping list.
What is Genesis? Meet Hyundai's New Premium-Vehicle Brand