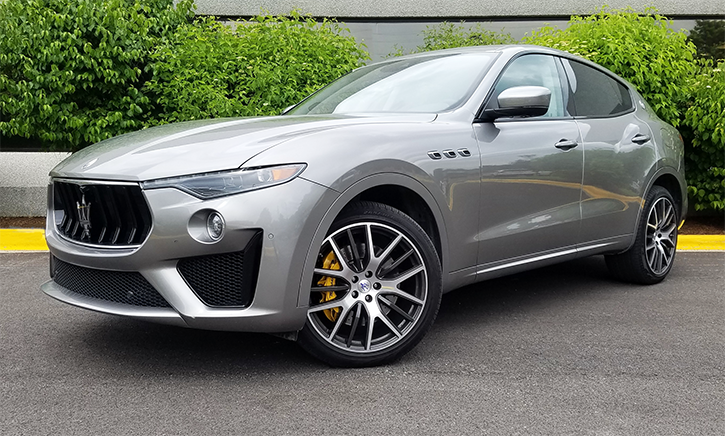 2019 Maserati Levante GTS
Class: Premium Midsize Crossover
Miles driven: 169

Fuel used: 11.9 gallons
Real-world fuel economy: 14.2 mpg

Driving mix: 40% city, 60% highway
CG Report Card
Room and Comfort
B-
Power and Performance
A
Fit and Finish
B-
Fuel Economy
C-
Value
C
Report-card grades are derived from a consensus of test-driver evaluations. All grades are versus other vehicles in the same class. Value grade is for specific trim level evaluated, and may not reflect Consumer Guide's impressions of the entire model lineup.
Big & Tall Comfort
Big Guy
B+
Tall Guy
A
Big & Tall comfort ratings are for front seats only. "Big" rating based on male tester weighing approximately 350 pounds, "Tall" rating based on 6'6"-tall male tester.
Drivetrain
Engine Specs
550-hp 3.8L
Engine Type
Twin-turbocharged V8
Transmission
8-speed automatic
Drive Wheels
AWD
EPA-estimated fuel economy: 15/14/18 (city/highway combined)

Fuel type: Premium Gas

Base price: $120,980 (not including $1495 destination charge)

Options on test car: 3D Carbon Fiber Trim ($2890), Pieno Fiore leather upholstery ($1490), stitched trident logos on headrests ($290), liftgate kick sensor ($100), 4-zone automatic climate control ($1090), load floor cargo rails ($190), black window trim ($400), 22-inch "Orione" staggered alloy wheels ($4000), yellow brake calipers ($300), Driver Assistance Package ($1590), soft door close ($590), Bowers & Wilkins sound system ($1990), full LED headlamps ($990)

Price as tested: $138,385

Quick Hits

The great: Ferocious acceleration; lusty V8 engine sounds

The good: Exotic, one-of-a-kind styling; exclusivity

The not so good: Fuel economy; interior ambiance doesn't quite live up to six-figure luxury standards; ride composure doesn't match European luxury/performance SUV rivals; pricey options

Damon Bell
Well, at this point it's pretty much official that SUVs have taken over the automotive world. All of the big-name European sports-car/grand-touring car brands now offer at least one crossover SUV model, or will soon. Among the last holdouts were the Italian marques, and they'll all be present and accounted for once Ferrari follows through with its plans to launch its first SUV (which will be named Purosangue) as a 2022 model. The Alfa Romeo Stelvio and Lamborghini Urus were both launched as 2018 models, and our subject here, the Maserati Levante, debuted for 2017.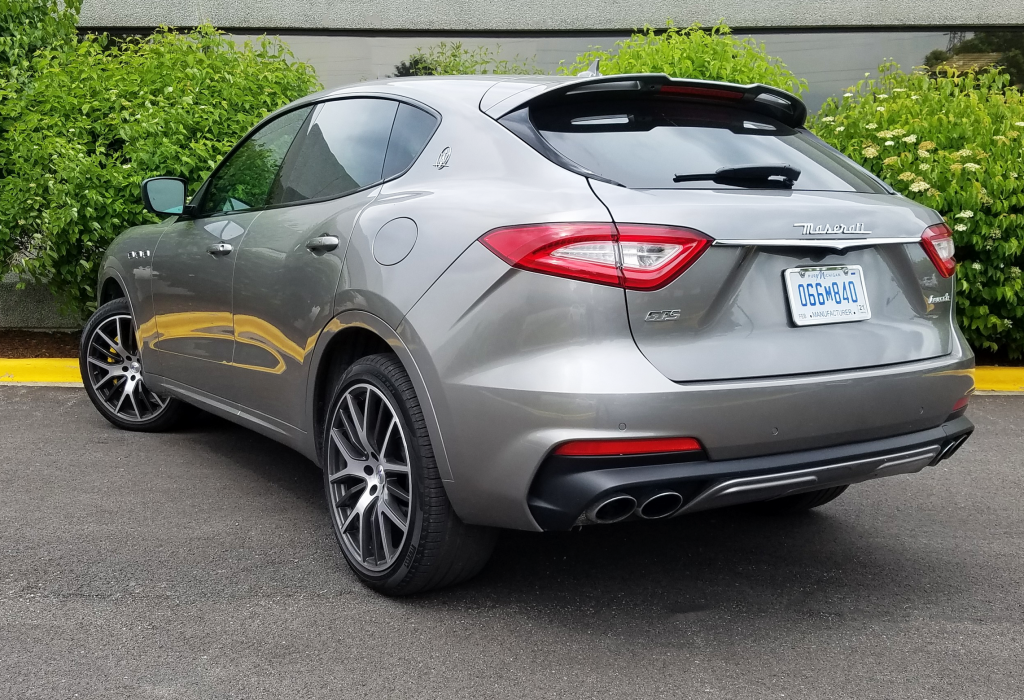 For 2017 and 2018, the Levante was available only with V6 power, but that changes for 2019. The Levante's V6 is nothing to sneeze at—it's a twin-turbocharged 3.0 that makes 345 horsepower in base form on 424 in S trim—but the new-for-2019 GTS and Trofeo models pack a twin-turbo 3.8-liter V8 that makes 550 hp in the GTS and 590 in the Trofeo. These V8s are built by Ferrari, and Maserati quotes a 0-60-mph time of 4.0 seconds and a top speed of 181 mph for the GTS version. All-wheel drive and an 8-speed automatic transmission are standard on all Levantes.
What's New for 2019: Alfa Romeo and Maserati

The GTS's V8 is every bit as lusty as its specs suggest. The exhaust note rises from a smooth burble to a rich, exotic-sounding growl under the throttle, and the acceleration is ferocious. Laying into the gas pedal in a Levante GTS is an intoxicating experience. This is an SUV with supercar DNA, but it's still an SUV; while it feels plenty athletic for a vehicle that easily tops 5000 pounds with passengers and cargo aboard, that heft is always apparent. Also, the ride quality and overall handling finesse don't reach the level of rival BMW M and Mercedes-AMG high-performance SUVs. Our GTS tester was equipped with the pricey 22-inch "Orione" wheels, which made for a somewhat clunky ride on rough pavement. We also noticed some suspension wallow over sharp bumps, even when the suspension was set to its slightly stiffer "sport" mode.

The Levante's cabin boasts the expected high-end trim—the leather dash upholstery, plush carpeting, and nicely done contrast stitching are highlights—but some of it costs extra, and there are also a few "parts-bin" controls and switchgear pieces that don't look or feel up to the level of a six-figure luxury vehicle. We also noticed some occasional creaking noises coming from center-console trim as we drove over bumps and turned corners.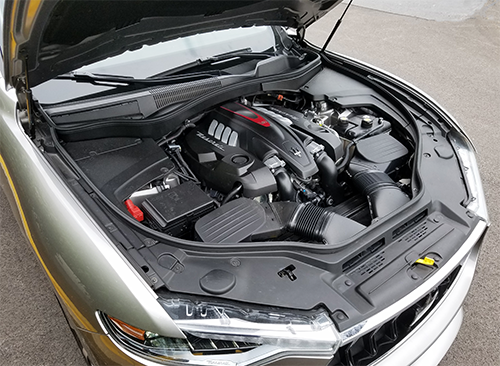 We often encounter control-layout and tech-feature peculiarities with the Italian vehicles we test, and the Levante is no exception. Like recent Alfa Romeos, the Levante has oversized steering-wheel shift paddles (and the left one obstructs easy access to the turn-signal stalk). Also, the park-assist sensors (included with the $1590 Driver Assistance Pack) are simultaneously too sensitive and not sensitive enough. They often chime in too quickly (and urgently, with a loud tone), even when you are moving away from the obstacle in question. However, the front sensors didn't detect smaller obstacles like high curbs or a cement pole in a parking lot.
Even though it's more practical (and significantly more affordable to start) than most of Maserati's other offerings, the Levante is still very much a "right-brain" type of vehicle. Its striking long-hood/long-wheelbase proportions and rakish styling details give it a one-of-a-kind high-end feel, and its supercar-class V8 is pure music. For some luxury shoppers, the Levante has an exotic aura that rival premium-brand performance SUVs can't match, even if they are better values on paper.
$200,000 Plus: The Most Expensive SUVs
John Biel
They've done some things right with the Maserati Levante, and they've done some things less right with it, too.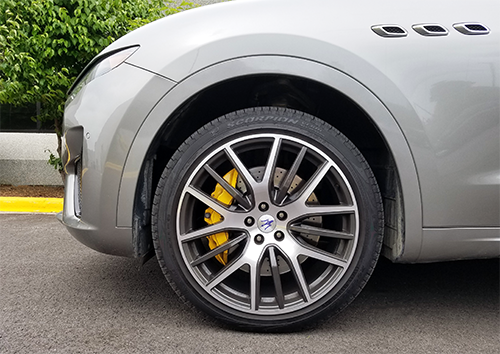 The GTS V8 engine is sweet, making for a generally quiet high-speed cruiser with just enough of an edge to its sound when prodded. Poking the throttle for highway passing is a curious sensation, though. There's a long wait for the twin turbos to get going, but when they do it's not with an abrupt kick but with a smooth—yet very rapid—increase in power flow, like riding a wave. This thing catches up in a hurry.
Also—shockingly for a European luxury brand—Maserati has elected to go with an infotainment system that's easy to read and program. You tap a spot on a touchscreen that looks like it represents a radio station to which you might want to listen and instantly music plays or news is uttered. There's no twisting and toggling through opaque menus that might ultimately lead you to what you want, all while you're closing in on that semi that's ahead of you.
As for the other side of the coin (actually many coins), surroundings are appropriate to the class, but no step beyond; small numbers make the speedometer and tachometer difficult to read at a glance; personal-item storage, cargo capacity, and rear-seat passenger room are limited; and handling in lane changes or tight turns is a little wonky. For what it costs, the Levante should show more in at least some of these areas.
Tom Appel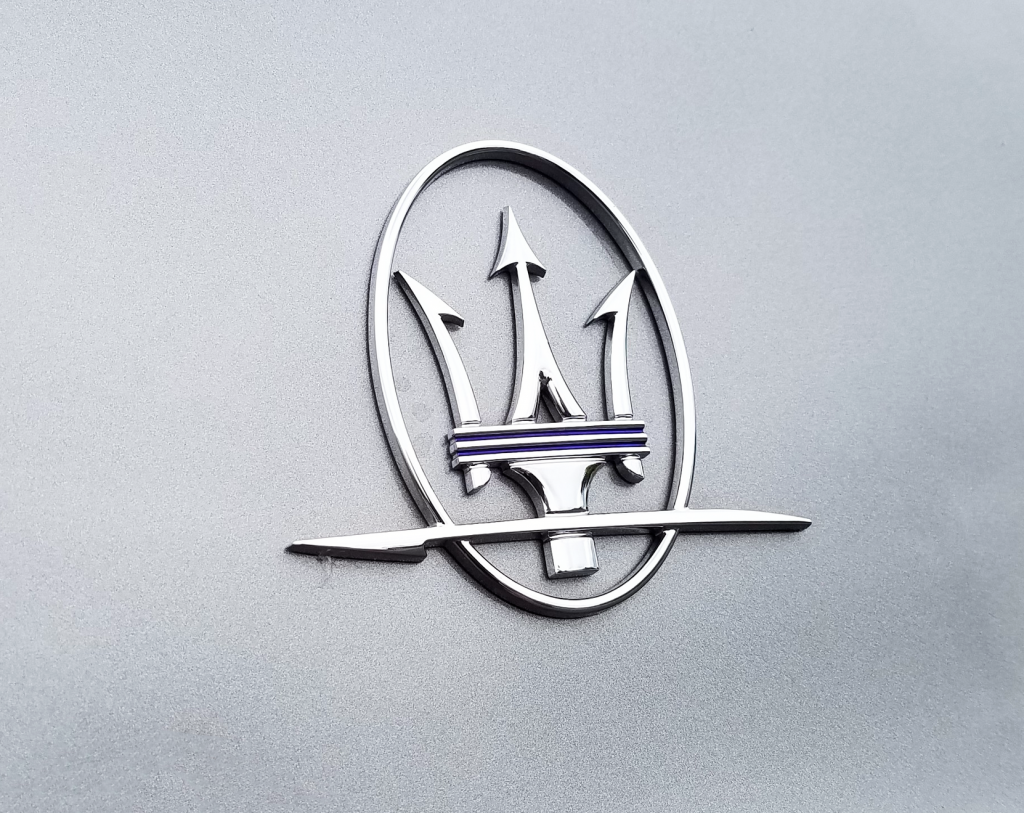 I have long questioned the marketplace viability of exotic-brand crossovers. Crossovers are, by definition, practical, and because they are generally driven on a daily basis, they're expected to be reliable as well. This makes crossovers the antithesis of the typical exotic car.
The Maserati brand straddles the fence between luxury and exotic, and hasn't yet honed a reputation for reliability. Still, there's money to be made in selling crossovers, and even the most unlikely carmakers are getting into the act. (Think Rolls-Royce, Bentley, and Lamborghini, for starters.)
As far as the Levante goes, it certainly looks, feels, and sounds like a Maserati. The Ferrari-sourced V8 provides about as much visceral excitement as any crossover engine, and the power is undeniable.
The cabin is nicely appointed, and there's plenty of front-row passenger space, even for the larger man. The infotainment system has something of an exotic feel, but not in a good way. The touchscreen interface takes some getting used to, and many of the graphics feel as if they were rendered two digital generations ago.
Maserati is selling about 300 of these fun-to-drive people movers a month, making them somewhat rare—just like your typical exotic car.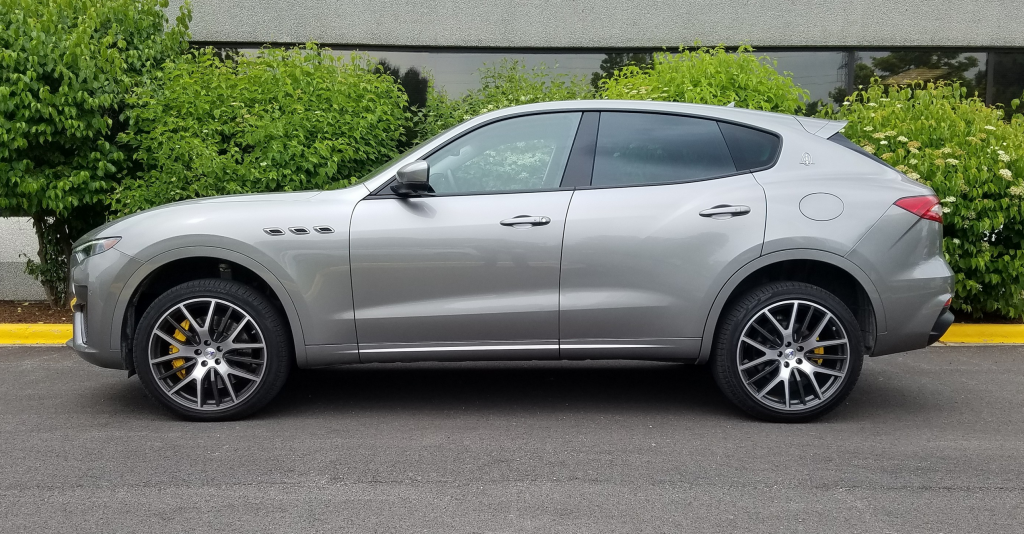 Photo Feature: 1956 Maserati A6G 2000GT Coupe
Follow Consumer Guide on Facebook
Maserati Levante GTS