Don't look now, but the retro-styled pony cars from the Detroit Three have now been around long enough that it's almost time to start getting nostalgic for the first examples of the breed. Ford kick-started this genre with the bold retro styling of the fifth-generation Mustang, which was unveiled way back in 2004 and went into production for the 2005 model year. Ford's success with its new/old 'Stang inspired Chevrolet and Dodge to relaunch their dormant pony cars along a similar throwback theme: A reborn Dodge Challenger (inspired by the original 1970 Challenger) debuted for 2008, and a revived Chevrolet Camaro (which put a new-age spin on 1969 Camaro cues) followed for 2010. The Challenger has been soldiering on with clever updates to that same basic platform ever since, while the Mustang and Camaro both received redesigns—for 2015 and 2016, respectively—that continued with heritage-inspired design.
All along the way, Ford has been keeping things fresh with several retro-themed special editions. Let's take a look at two of the latest of these, and compare them head to head. The current iteration of the ferocious Shelby GT500 debuted as a 2020 model. As with the earlier versions of the modern GT 500, it represents the racetrack-ready, high-performance pinnacle of the Mustang lineup. The Mach 1 was re-launched for 2021 as an essential replacement for the outgoing Bullitt in the Mustang lineup—stronger, nimbler, and flashier than a GT, but not all the way up at Shelby GT500's level. And with the recent departure of the Shelby GT350 model (it was discontinued after the 2020 model year), there is nothing in between these two muscle Mustangs.
Both vehicles are packed with Mustang heritage. The Mach 1 dusts off a well-loved Mustang nameplate that debuted for 1969, ran through 1978, and reappeared briefly for 2003-'04 on a nostalgia-themed model. The 2021 Mach 1 takes its visual inspiration from the original 1969 car, but with a notably modern spin. The Shelby GT500 pays homage to the original 1967 Shelby GT500 Mustang, though you'll have to pay at least $2000 extra if you want the signature Shelby-style dorsal racing stripes and rocker-panel stripes.
There are no major changes to the GT500 for 2021; a couple new paint colors join the palette, and a $10,000 Carbon Fiber Handling Package, which adds 20-inch carbon-fiber wheels, adjustable strut-top mounts, and aerodynamic body add-ons, joins the options list. Even without the big-ticket carbon-fiber package, a healthy load of options pushed the bottom line of our Shelby GT500 test vehicle to a cool $81,190… a $19,255 premium over our Mach 1 tester.
For that money, you'll get a track-ready super-performance machine, with the expected compromises in everyday comfort. The low-slung front bodywork is prone to scraping on steep driveways and the like. The turning radius feels wider than other Mustangs', no doubt because of the meatier tires. Those Pilot Sports are plenty noisy on the highway too, with copious amounts of road roar and patter. The overall ride is stiff and "nervous," but it's never punishing… the standard MagneRide shocks are doing their job here. The Mach 1's driving character isn't as extreme, at least in the basic form of our test vehicle. It's mostly on par with the departed Bullitt special-edition Mustang we've previously tested.
For well-heeled fans of good ol' American V8 muscle, both of these cars are worth their substantial price premium over a garden-variety Mustang GT and its 460-hp 5.0-liter V8… and both will likely be collectors' items in the future.
2021 Ford Mustang Mach 1 vs Shelby GT500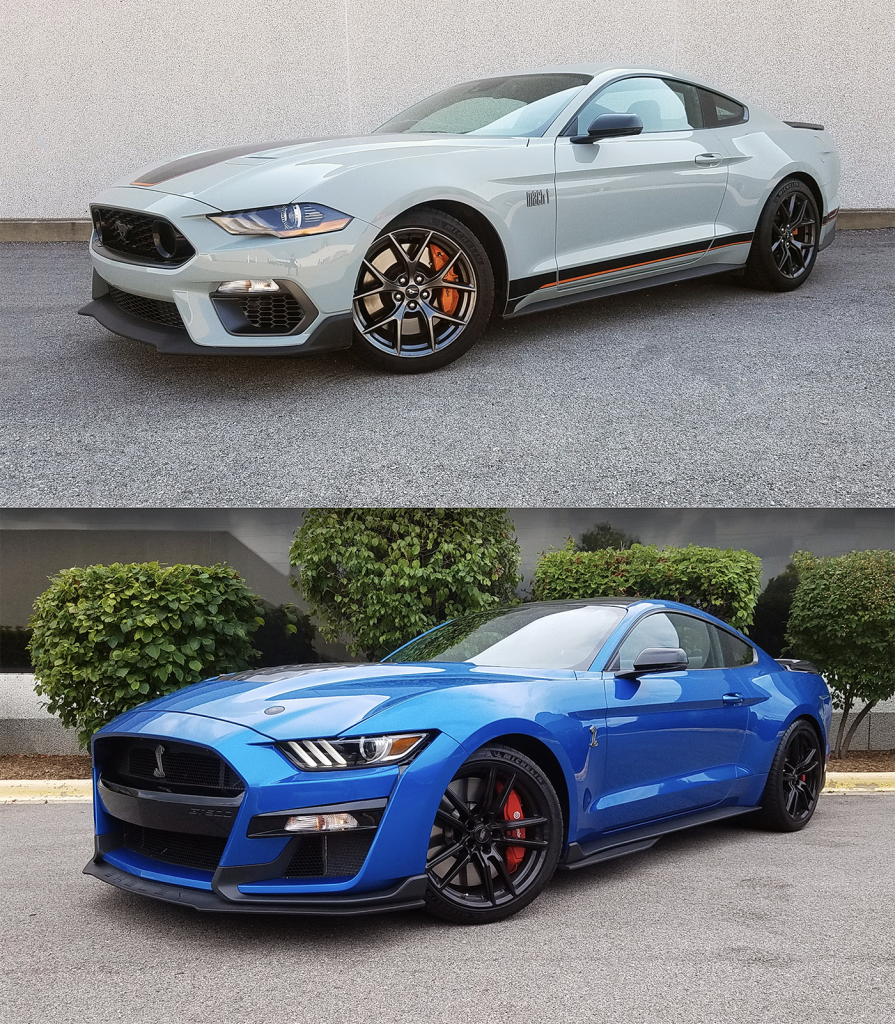 Test Drive: 2020 Ford Mustang EcoBoost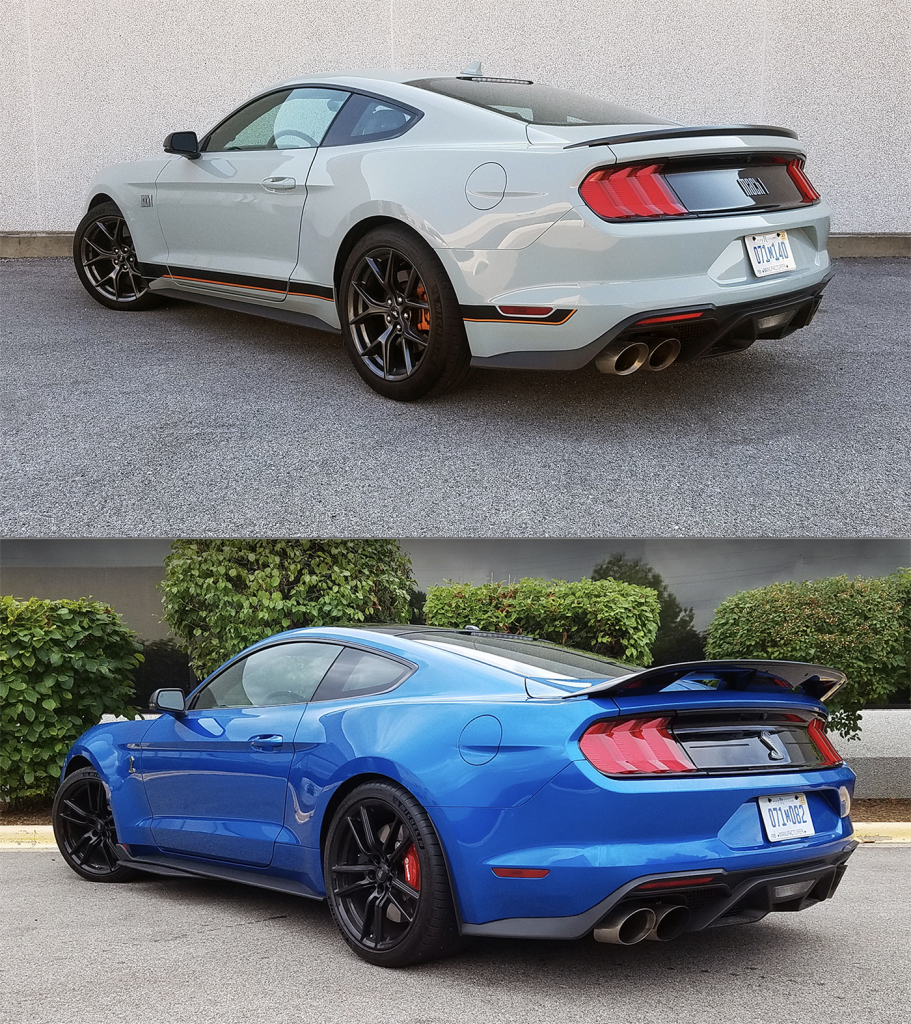 Future Collectibles: 2019 Ford Mustang Bullitt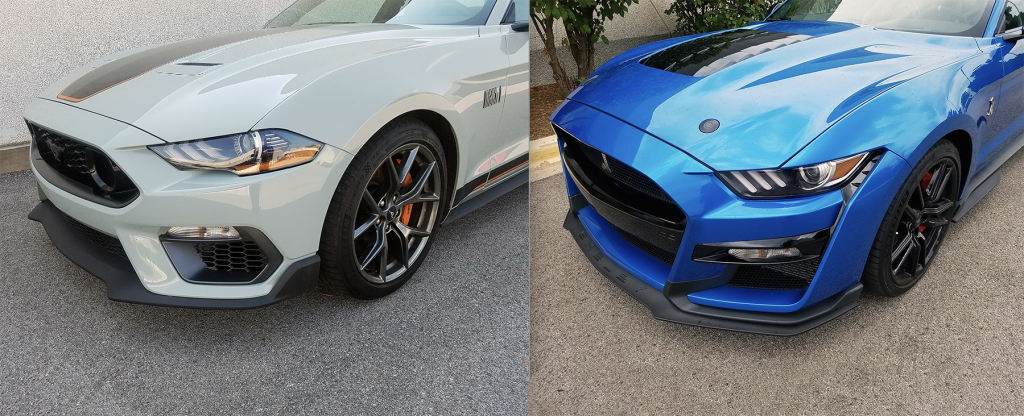 The $222 Mach 1 Appearance Package adds an exclusive Fighter Jet Gray paint color, Ebony/Orange interior, orange brake calipers, and unique hood and bodyside stripes. The Shelby GT500 offers a variety of body-stripe and other appearance options—the only one our test vehicle had was the $695 painted black roof, but the standard vented hood, rear spoiler and aggressively styled front and rear fasciae gave it a menacing look nonetheless.
Snake Eyes: A 2020 Ford Mustang Shelby GT500 Gallery

The Mach 1 gets a naturally aspirated 5.0-liter V8 that makes 480 horsepower and 420 pound-feet of torque—this same basic powerplant was used in the special-edition Bullitt Mustang of 2019-'20.The Shelby GT500 is powered by a supercharged 5.2-liter V8 that puts out 760 horsepower and 625 pound-feet of torque. Both the Mach 1 and GT500 engines feel every bit as strong as their ratings suggest—to really use all of the GT500's copious power, you'll need a racetrack. A brawny V8 rumble is part of the deal with both cars too; the GT500's exhaust note might wake your neighbors even when it is set to "Quiet" mode.
First Spin: 2020 Ford Mustang Shelby GT500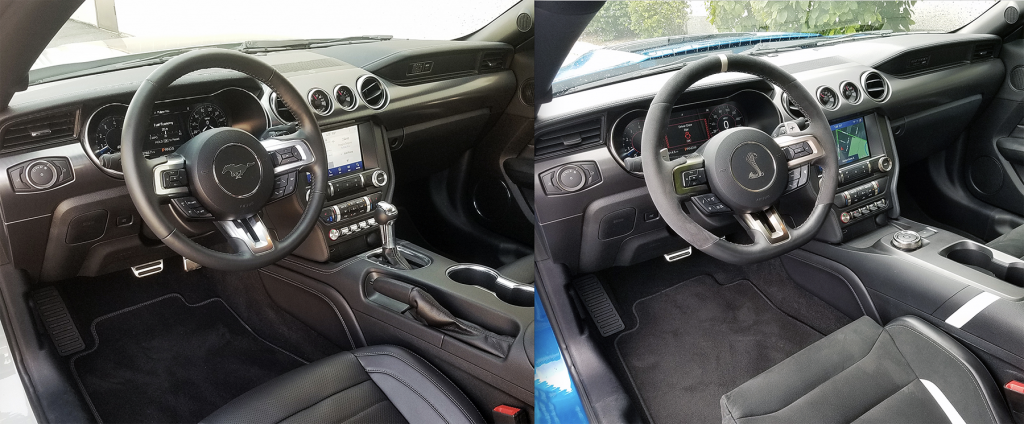 The GT500's interior is a step above even an optioned-up Mach 1. Among its exclusive features are a steering-wheel rim wrapped in grippy Alcantera synthetic suede (with a centering stripe at the top of the rim—useful as an orientation aid in track driving). On both the GT500 and Mach 1, elements of the core Mustang's relatively basic interior materials are apparent despite the trim upgrades.
Test Drive: 2019 Ford Mustang Shelby GT350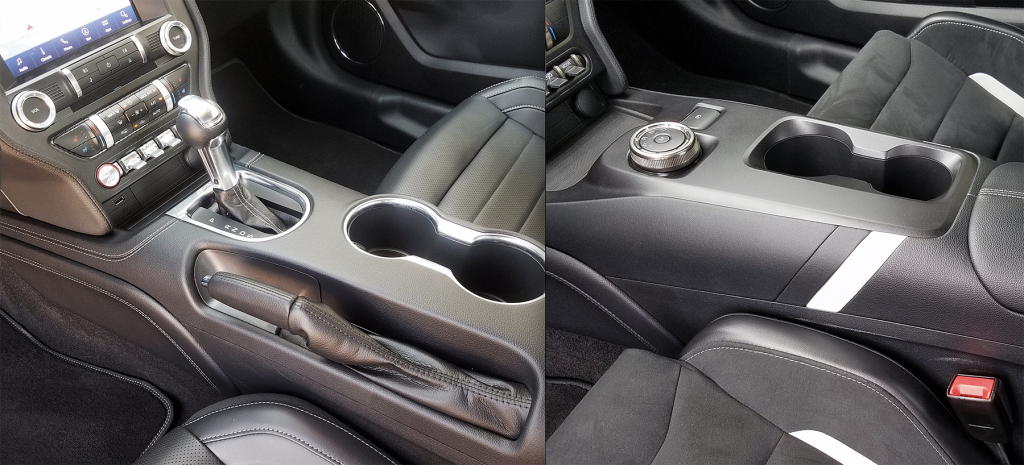 The Mach 1 offers the choice of a 6-speed manual transmission (standard) or a 10-speed automatic (a $1595 option, which our test vehicle was equipped with) but the GT500's only transmission is a 7-speed dual-clutch automatic with a rotary-dial gear selector. The dial works well, but it doesn't exactly scream "fire-breathing muscle car." The consolation is that the 7-speed gearbox itself is wonderful—it delivers quick, responsive shifts in aggressive driving while remaining impressively smooth and refined in everyday cruising.
Pony-Car Madness! 10 Classic Mustang Ads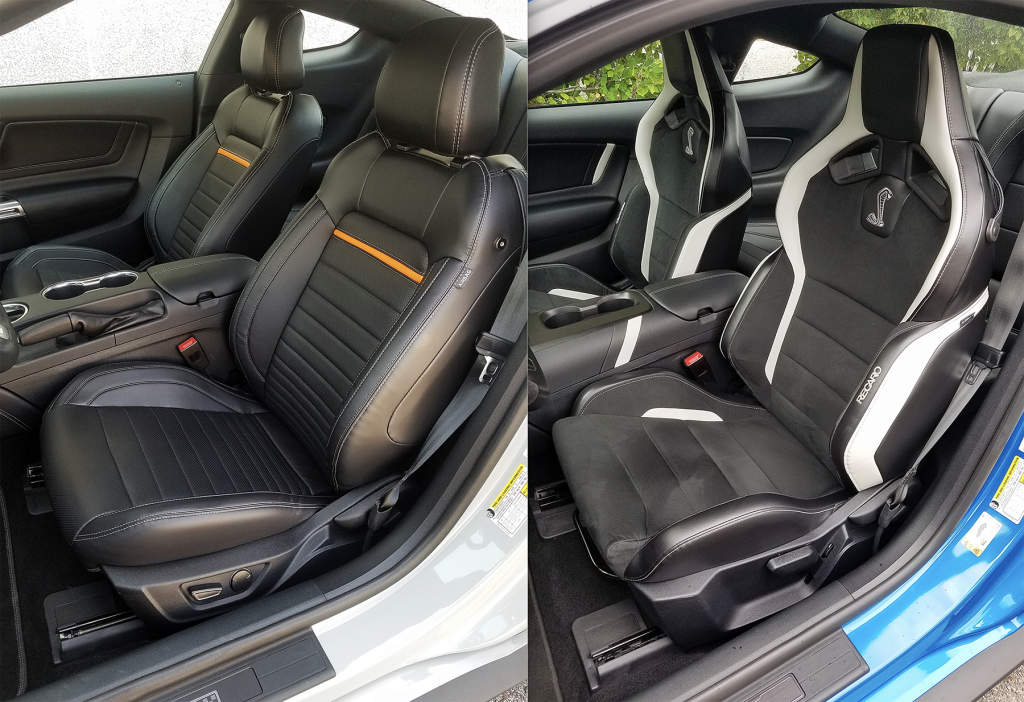 A pair of Recaro seats is a $1595 option for the Mach 1, but our test vehicle wasn't so equipped. The GT500 can also be equipped with Recaro seats like our tester was—they're a $1595 option as well, though they're a different design than the Mach 1's Recaros. The GT500's Recaros offer excellent support in fast cornering. They're quite snug—even for slender folks—but not uncomfortable. Both the Mach 1 and GT500 Recaros have pass-throughs in the seatbacks for aftermarket racing seat belts.
Photo Feature: 1963 Ford Mustang II Concept Car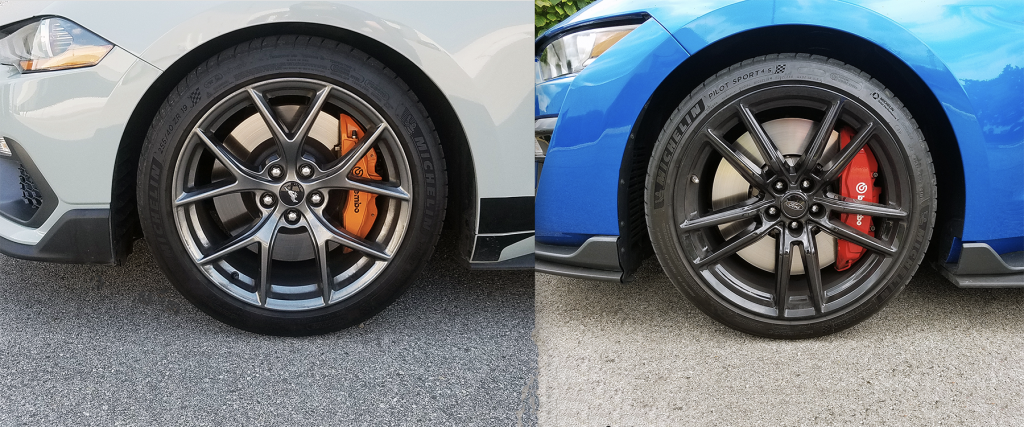 All Mach 1s come with 19-inch wheels. Our test vehicle wore these Magnetic (metallic gray)-painted aluminum wheels, a $450 option. Choosing the $3750 Handling Package nets wider wheels and tires, revised chassis tuning, larger rear spoiler, and a front "aero splitter" spoiler. The GT500 comes standard with 20-inch high-gloss-black flow-formed aluminum wheels on grippy Michelin Pilot Sport 4 S tires; carbon-fiber wheels on even grippier Michelin Pilot Cup Sport 2 tires are optional.
Future Collectibles: 2015 Ford Mustang 50 Year Limited Edition
2021 Ford Mustang Mach 1 Premium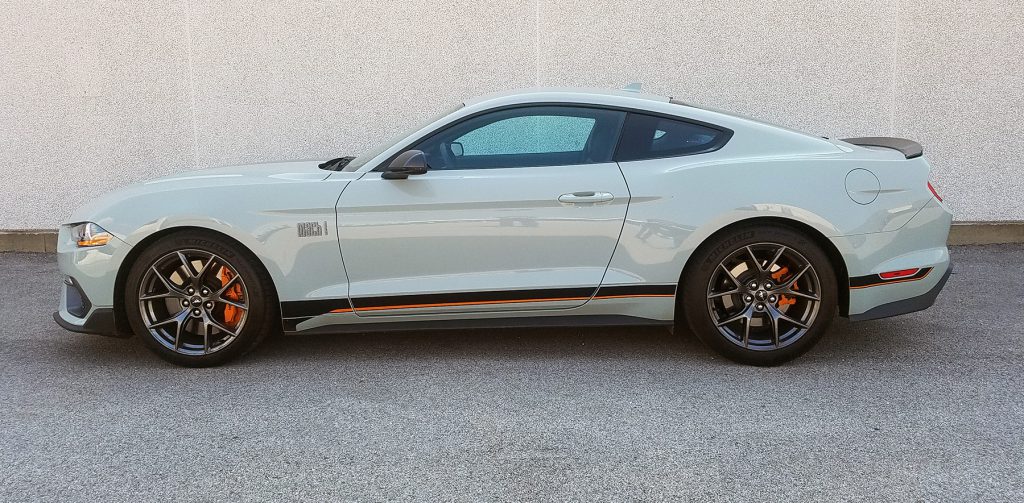 Class: Sporty/Performance Car
Miles driven: 174
Fuel used: 11.7 gallons
CG Report Card
Room and Comfort
B
Power and Performance
A
Fit and Finish
B
Fuel Economy
D+
Value
C+
Report-card grades are derived from a consensus of test-driver evaluations. All grades are versus other vehicles in the same class. Value grade is for specific trim level evaluated, and may not reflect Consumer Guide's impressions of the entire model lineup.
Big & Tall Comfort
Big Guy
B-
Tall Guy
B-
Big & Tall comfort ratings are for front seats only. "Big" rating based on male tester weighing approximately 350 pounds, "Tall" rating based on 6'6"-tall male tester.
Drivetrain
Engine Specs
480-hp 5.0 liter
Engine Type
V8
Transmission
10-speed automatic
Drive Wheels
Rear-wheel drive
Real-world fuel economy: 14.9 mpg
Driving mix: 75% city, 25% highway
EPA-estimated fuel economy: 15/23/18 (city, highway, combined)
Fuel type: Premium gas recommended
Base price: $55,300 (not including $1195 destination charge)
Options on test vehicle: 10-speed automatic transmission ($1595), 19-inch Magnetic-painted aluminum wheels ($450), Mach 1 Elite Package ($1550),  Mach 1 Appearance Package ($1250), voice-activated touchscreen navigation system ($595)
Price as tested: $61,935
Quick Hits
The great: Classic muscle-car power and attitude; crisp handling

The good: V8 burble; decent ride, front-seat room, and trunk space for a performance-oriented sporty coupe
The not so good: Fuel economy; significant price premium over a Mustang GT
More Mustang price and availability information
2021 Ford Mustang Shelby GT500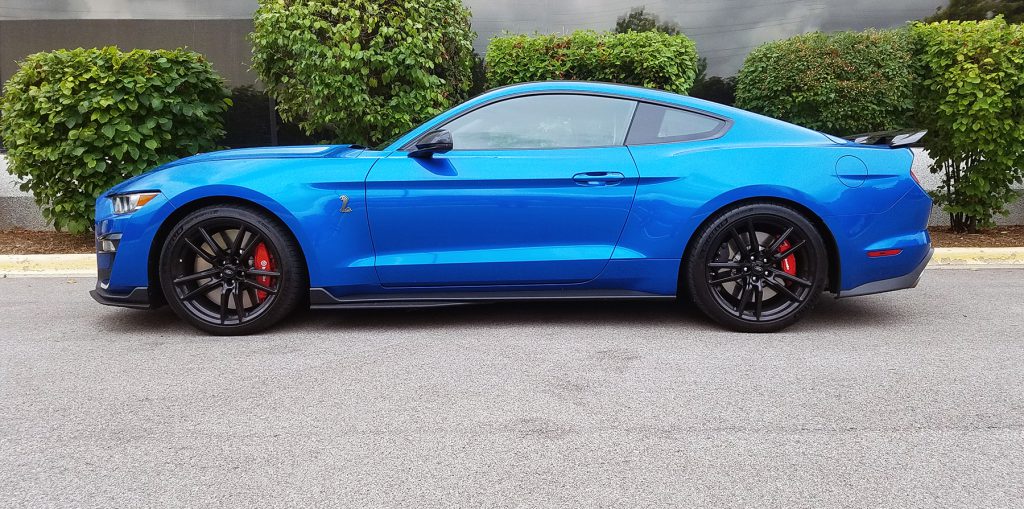 Class: Sporty/Performance Car
Miles driven: 91
CG Report Card
Room and Comfort
B
Power and Performance
A
Fit and Finish
A-
Fuel Economy
D
Value
C
Report-card grades are derived from a consensus of test-driver evaluations. All grades are versus other vehicles in the same class. Value grade is for specific trim level evaluated, and may not reflect Consumer Guide's impressions of the entire model lineup.
Big & Tall Comfort
Big Guy
B-
Tall Guy
B-
Big & Tall comfort ratings are for front seats only. "Big" rating based on male tester weighing approximately 350 pounds, "Tall" rating based on 6'6"-tall male tester.
Drivetrain
Engine Specs
760-hp 5.2 liter
Engine Type
Supercharged V8
Transmission
7-speed dual-clutch automatic
Drive Wheels
Rear-wheel drive
Fuel used: 7.2 gallons
Real-world fuel economy: 12.6 mpg
Driving mix: 75% city, 25% highway
EPA-estimated fuel economy: 12/18/14 (mpg city, highway, combined)
Fuel type:Premium gas required
Base price: $72,900 (not including $1195 destination charge)
Options on test vehicle: Recaro leather-trimmed seats ($1650), Technology Package ($3000), Handling Package ($1750), painted black roof ($695)
Price as tested: $81,190
Quick Hits
The great: Ferocious acceleration; track-ready brakes and suspension; slick-shifting dual-clutch automatic transmission 

The good: Aggressive, heritage-inspired styling; lusty exhaust note; decent front-seat room and trunk space for a high-performance sports machine
The not so good: Fuel economy; taut ride; as pricey as a nicely equipped mid-engine Corvette
Check out the Consumer Guide Car Stuff Podcast
2021 Ford Mustang Mach 1 vs Shelby GT500 Gallery
(Click below for enlarged images