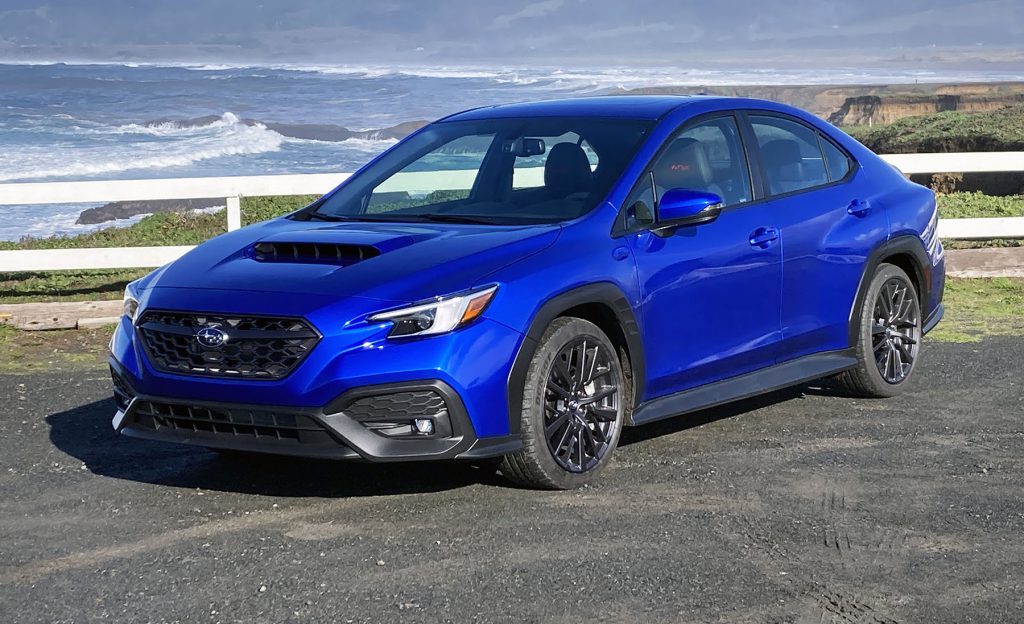 Among hot-rod compact cars, the all-new, redesigned-for-2022 Subaru WRX doesn't really have any direct competitors. This rally-racing-bred, all-wheel-drive sport compact's closest historical rival, the Mitsubishi Lancer Evolution, has already been gone for seven years–it was discontinued after the 2015 model year. At the moment, the WRX's nearest competitor from an engineering standpoint is the redesigned-for-2022 Volkswagen Golf R, though that German-built AWD hatchback is significantly pricier to start and not rally-terrain focused like the WRX. Subaru identifies two equally new front-drive-only performance compacts as the WRX's main competition: the 200-horsepower Honda Civic Si and the 241-horsepower Volkswagen GTI hatchback, both of which are also redesigned for '22. Likewise in the ballpark (and also front-drive-only) are the 276-hp Hyundai Elantra N and Veloster N hatchback, and the Honda Civic Type R (we don't know yet how powerful the soon-to-be-revealed new-generation Type R will be, but the previous-gen car made 306 hp).
For its fifth generation, the WRX transitions to a variant of the modular Subaru Global Platform that debuted under the 2017 Subaru Impreza compact car and is shared with all other US-market Subarus except the BRZ sports coupe. Even though the two cars use some of the same bones, the WRX continues to be significantly different from its Impreza sibling. Subaru says the separation of the two models allows each to be better, because the engineers can focus on each car's mission without introducing compromises that would negatively affect both.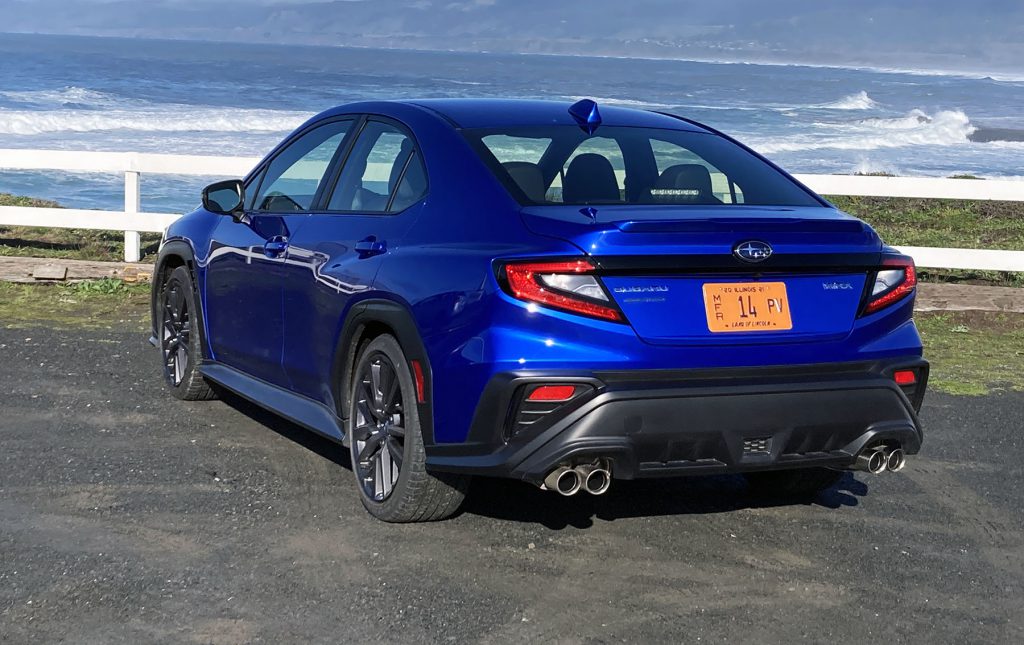 The new WRX shares no exterior sheet metal with the Impreza—even structural elements such as the rear-door and trunk openings differ between the two. Compared to the previous-generation WRX, the new unibody uses a full inner-frame structure that the exterior body panels mount to. Other changes include the expanded use of structural adhesives, which Subaru says helps reduce noise, vibration, and harshness (NVH).
As with the previous-gen WRX, the only body style available on our shores is a four-door sedan. Subaru has announced that a WRX Sportswagon based on the Japanese-market Subaru Levorg will be available in certain markets, including Australia, New Zealand, and the Philippines, but we don't expect that vehicle to be offered in North America. Likewise, Subaru says there are no plans for the return of a WRX hatchback.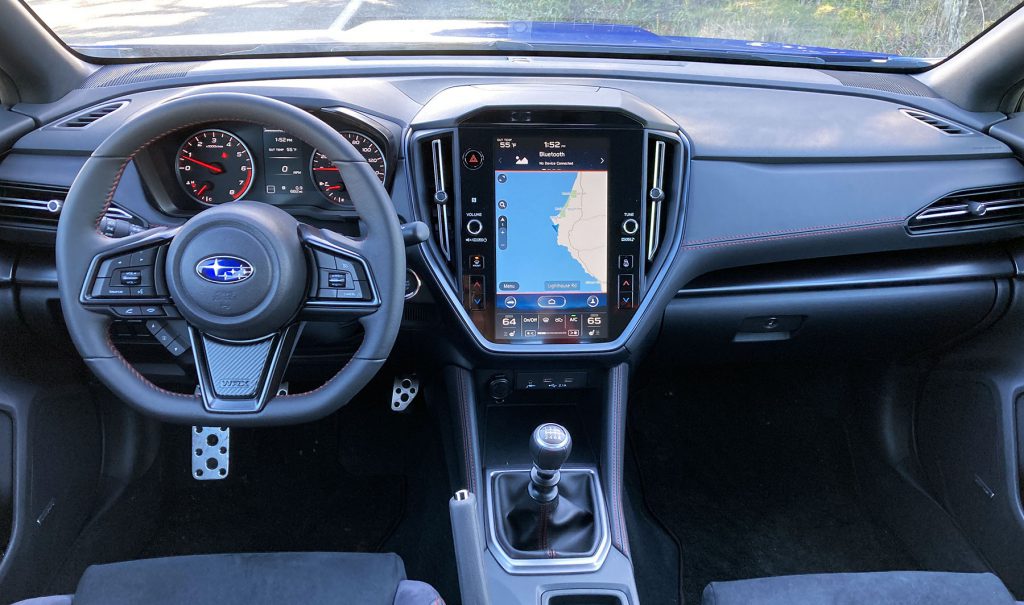 The 2022 WRX's model lineup sticks with the previous Base, Premium, and Limited trim levels, and adds a new top-of-the-line trim named GT. Standard features on the Base include 17-inch alloy wheels, keyless entry, automatic climate control, and an infotainment system with dual 7.0-inch touchscreens. Subaru expects the Premium trim to be the most popular trim level, accounting for about 40 percent of WRX sales; it adds 18-inch wheels, a rear lip spoiler, a vertically oriented 11.6-inch central touchscreen display, and many comfort and convenience features, including dual-zone automatic climate control and push-button start. The Limited adds features such as a navigation system, 10-way power driver's seat, power sunroof, Harman Kardon speakers for the audio system, blind-spot monitor, and rear cross-traffic alert. The GT gets an exclusive Electronic Adjustable Ride Control suspension system with driver-adjustable dampers; Recaro-brand sport seats; and a Drive Mode Select system that allows the driver to configure steering feel, suspension damping, and drive-mode settings in as many as 430 possible permutations.
Test Drive: 2021 Hyundai Sonata N-Line
A new version of the WRX STI– the faster, sharper-edged version of the basic WRX—is on the horizon, but when asked when it might appear, a Subaru spokesman would only comment that in previous generations the STI model appeared approximately six months to two years after the debut of the WRX. With COVID-related delays, we're guessing the STI's on-sale date is at least a year away. [UPDATE: Subaru has since announced that the STI model will not return to the WRX lineup.]
Under the scooped hood of all 2022 WRXs is a new 2.4-liter turbocharged horizontally opposed 4-cylinder engine rated at 271 horsepower. This powerplant is related to the 2.4-liter turbo used in other Subaru models, including the Ascent midsize SUV, but the WRX-specific version includes unique valve springs and adds electric control of the air-bypass valve and the turbo's wastegate. The outgoing WRX's 2.0-liter turbo four was rated at 268 horsepower, so the absolute power gain here is not great, but the increased displacement allows horsepower to peak sooner and also helps deliver a wider, flatter torque curve—both of which contribute to improved drivability.
Test Drive: 2021 Kia K5 GT-Line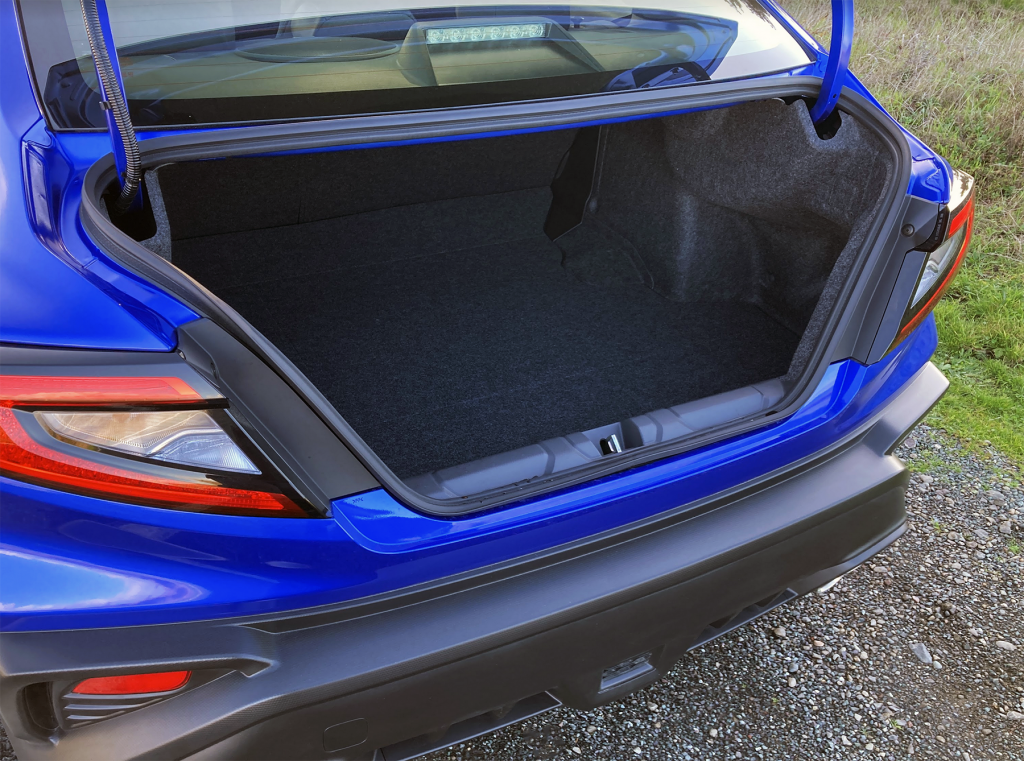 Enthusiasts will rejoice that a 6-speed manual transmission remains standard on most trim levels (a remarkable 85 percent of buyers of the outgoing WRX choose the manual transmission). A continuously variable automatic transmission (CVT) is still available, but it's a heavily revamped unit Subaru has dubbed the Subaru Performance Transmission (SPT). The new transmission is an evolution of Subaru's Lineartronic CVT, and Subaru say's it's more responsive than the old automatic—it includes an 8-speed manual mode where fixed gear ratios can be accessed via the steering wheel's paddle shifters. The SPT automatic is optional on Base, Premium, and Limited models, and it's the only choice on the GT. When ordered on Premium and Limited models, the SPT includes the Subaru Intelligent Drive (SI-Drive) engine performance management system, with driver-selectable Intelligent, Sport, and Sport Sharp drive modes. An external transmission oil cooler is also included on the Premium trim and above.
Standard on all automatic-transmission WRXs is Subaru's Eyesight suite of safety technology features, which now includes adaptive cruise control with lane centering and an Automatic Emergency Steering feature, in addition to features such as forward collision mitigation and lane departure warning. The GT and automatic Limited models also get a reverse automatic braking system. If you want the advanced safety gear, you'll have to choose the automatic transmission—Subaru doesn't offer the EyeSight features or reverse automatic braking on the manual-transmission WRX.
Test Drive: 2020 Ford Mustang EcoBoost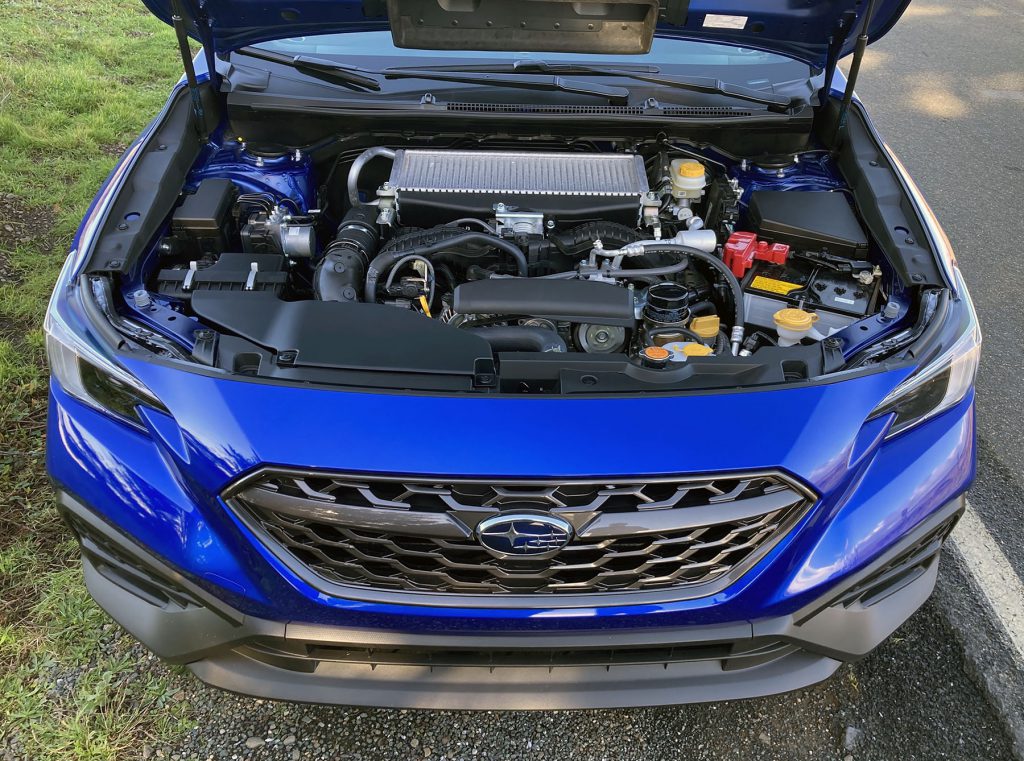 The WRX's full-time all-wheel-drive systems differ between manual-transmission and automatic models. With the manual, the AWD uses a viscous coupling and has a 50/50 front-to-rear torque split. With the SPT automatic, there is a variable torque distribution system with a hydraulic multi-plate clutch and a planetary gear. This setup has a nominal torque split of 45 percent front and 55 percent rear, but it will actively transfer more torque to the wheels with the best grip.
If we had to speculate about the forthcoming new-generation WRX STI, we'd wager a horsepower bump is in the works. The previous STI boasted a 2.5-liter turbo four good for 310 horsepower. VW's 2022 Golf R is rated at 315 ponies, so we think Subaru will find that number irresistible to top; our gut says the new STI will have a minimum of 320-325 horsepower. With Subaru holding their corporate cards so closely, we can only guess that a beefed-up version of the Subaru Performance Transmission may extend to the previously manual-only STI to more closely challenge the Golf R's DSG (Direct Sequential Gearbox) automatic.
Compared to the outgoing model, the new WRX is a bit bigger in most dimensions—it's about an inch wider and fractionally lower than the car it replaces. The wheelbase is 105.2 inches, up about an inch (for slightly improved rear leg room), and the 183.8-inch overall length is up about three inches. Curb weights range from 3297 pounds for a base manual to 3534 for a loaded GT—the previous-gen WRX covered a nearly identical spread from 3294 to 3545 pounds, so the larger dimensions haven't introduced a significant increase in mass.
Meet the 2022 Consumer Guide Best Buys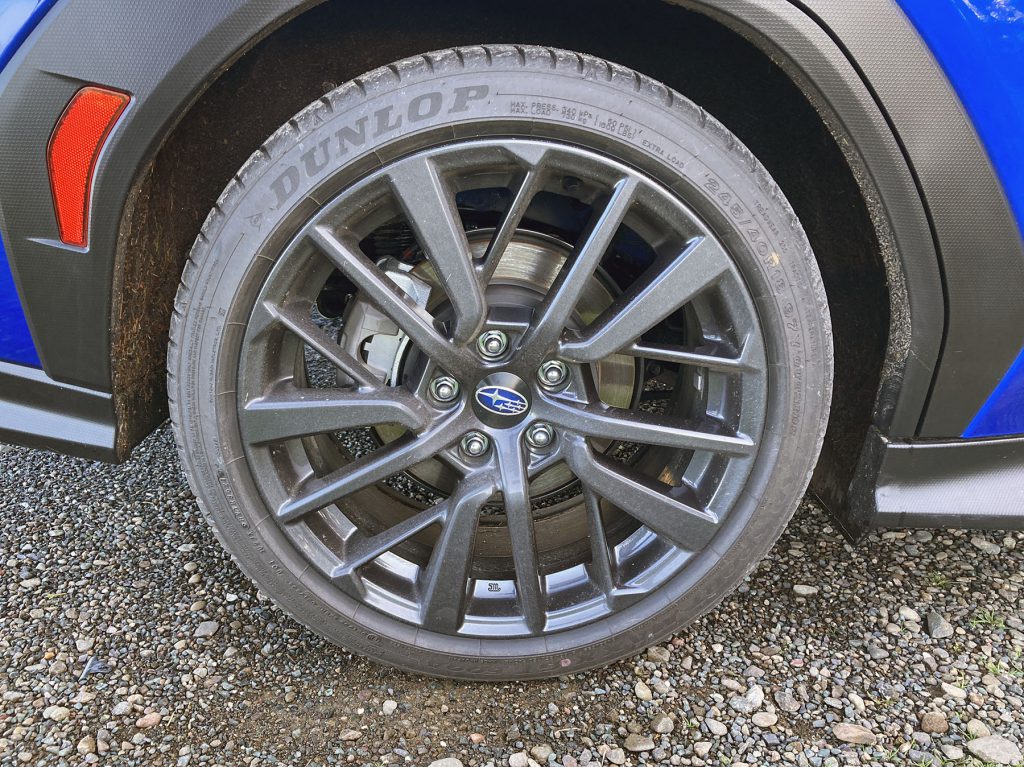 We haven't had the opportunity to measure fuel economy yet, but the official EPA estimates are 19 mpg city/26 highway/22 combined with the 6-speed manual transmission and 19/25/21 with the automatic. All-wheel drive typically means a fuel-economy hit of around two mpg over a comparable two-wheel-drive vehicle, but the WRX's numbers trail the more-powerful AWD Volkswagen Golf R (20 mpg city/28 highway/23 combined with the manual, 23/30/26 with automatic) as well as the similarly powerful front-wheel-drive Hyundai Elantra N (22/31/25 with manual, 20/30/23 with automatic). And like the Golf R and Elantra N, premium-grade gas is recommended for the WRX.
At the 2022 WRX's press-preview event in northern California, we got a good amount of seat time in a manual-transmission Limited model, but our evaluations of the Subaru Performance Transmission and the GT model's exclusive features will have to wait—there were no GT or automatic-transmission cars available at the event. Exact pricing will have to wait too, as it hasn't been released yet. However, Subaru says to expect WRX to be competitive with the Honda Civic Si and Volkswagen GTI—we'd guess this means the Base model will be somewhere around $30,000 to start, with the GT checking in around $36K.
Muscle-Car Face-Off: 2021 Ford Mustang Mach 1 vs Shelby GT500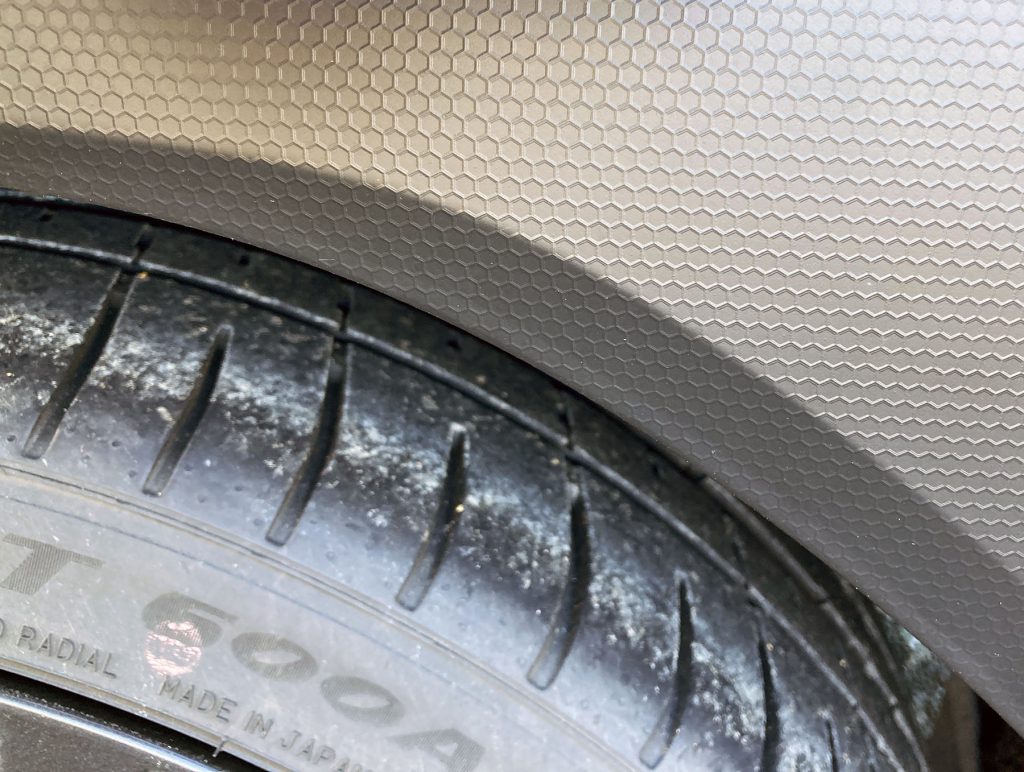 Though it sounds like a cliché, the new WRX honestly does look much better in person than it does in the early publicity photos we've seen. When it comes to the styling, it's fair to say the Outback-like matte-black wheel-opening/lower-body cladding has been the most controversial aspect among the various social-media peanut galleries. For what it's worth, Subaru says the cladding serves a functional purpose more than an aesthetic one; the cladding's surface is covered with a subtly raised honeycomb texture, which, like the dimples on a golf ball, is meant to improve the WRX's aerodynamics and stability by reducing turbulence at speed.
In some photos, particularly from a low angle, the new WRX looks tall and even a bit narrow. But in person, its appearance is aggressive, low, and wide—and to our eyes, suitably sporty. The roofline is quite "fast," with a dramatically sloped rear window blending into a very short decklid. The matte-black cladding is much less "in-your-face" when it's paired with darker body colors, such as the WRX-signature World Rally Blue Pearl paint that was on our test car.
The 2.4-liter turbocharged four is a delight. It feels lively nearly all the time, and we noted no real turbo lag—the short first gear likely helps with that from a stop. Throttle response is excellent, and the power band is wide enough that the powerplant doesn't require constant gear changes to keep it on the ready. The exhaust note sounds suitably sporty, but not so exuberant that it becomes tiresome.
Quick Spin: 2021 Dodge Charger SRT Hellcat Redeye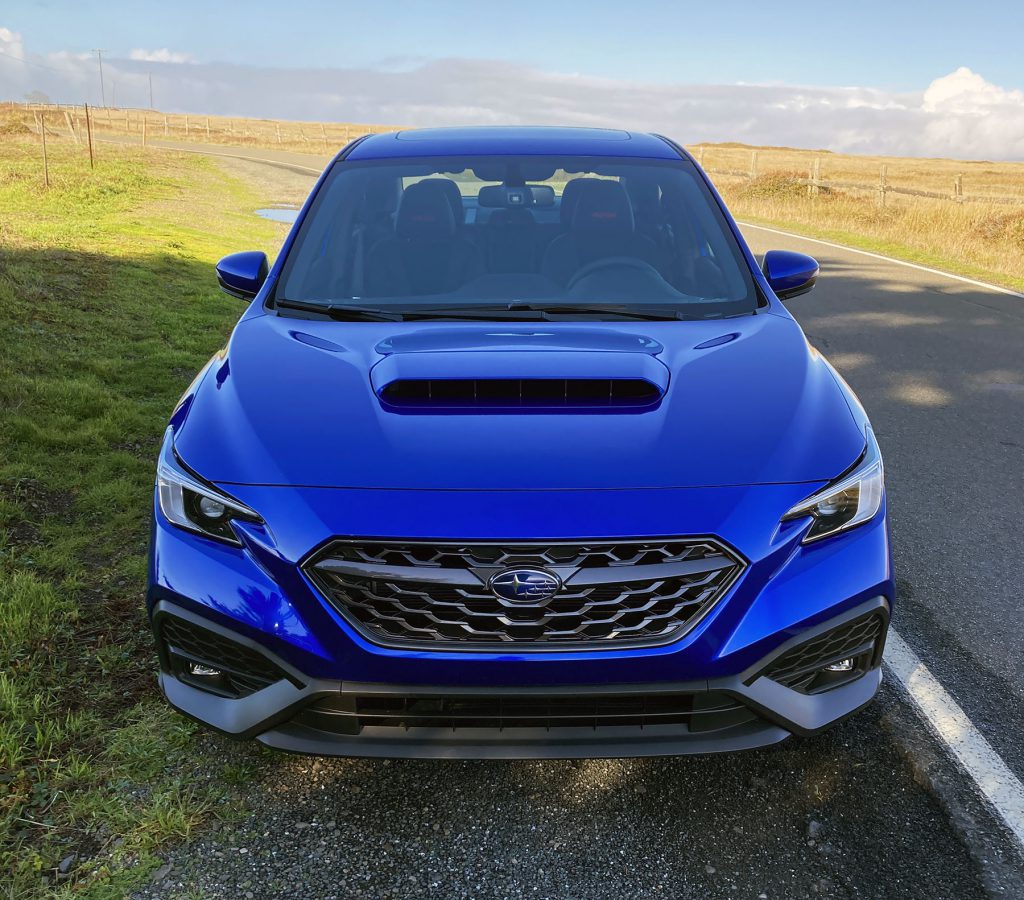 Most of our drive was on tight and twisty two-lane roads that kept us mostly in second and third gear, but we were able to stretch the WRX's legs a bit on a section of Interstate-style divided highway. At 65-70 mph in sixth gear, the WRX's engine is turning about 2500 RPM, and at cruise it doesn't quite feel relaxed. Rather, you get a sense it's eager to play harder, and it will respond instantly to throttle input if you need a bit more oomph to pass or merge. The shifter feels good, with precise action, and the light clutch is easy to use.
On the road, WRX's suspension does a good job balancing control and comfort. The ride is firm, but we never found it punishing on the relatively unblemished California roads of our drive route. Body roll is very well checked, but the suspension maintains enough compliance that it doesn't crash over large road imperfections. The new dual-pinion power steering is nicely weighted and very accurate. It rained heavily the night before our press-event drive, and thanks to the chilly morning air the roads hadn't completely dried out when we set out. Still, in the mixed conditions the sticky summer-performance Dunlops were very predictable and forgiving in tight corners. The tires roll quietly on smooth blacktop roads even at highway speeds, but kick up more ruckus on coarse surfaces. Wind noise isn't really an issue either; the WRX's cabin remains relatively serene for a performance compact.
All WRX interiors are black with red stitch detailing, but the upholstery material varies by trim level; the Limited and GT include grippy and attractive "Ultrasuede" faux-suede seating surfaces. The red accent stitching extends onto the dashboard and door panels, and along with the dark metallic gray trim and simulated carbon-fiber accents, contributes to tasteful and suitably sporty vibe. On our pre-production test car, the materials were attractive and assembly quality was to a high standard.
Test Drive: 2021 Lexus IS 350 F Sport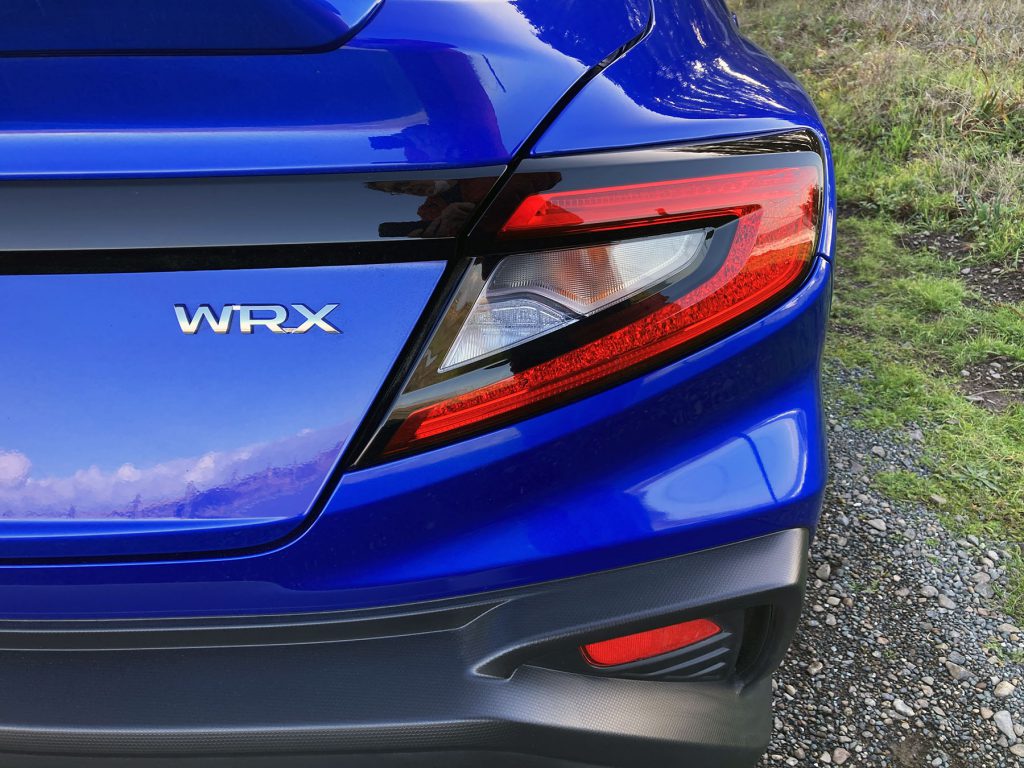 The front seats are comfortable, and the driver's seat includes 10-way power adjustment that makes it easy to dial in a good driving position. Up front, headroom and legroom are generous for occupants up to six feet tall or so. The rear seat is reasonably hospitable for average-sized adults—there's satisfactory legroom (as long as the front seats aren't adjusted all the way back) and just enough headroom to be comfortable.
The instrument cluster uses traditional analog gauges that are clearly marked and easy to read, but taller drivers may have to fiddle a bit to find a happy medium between optimal steering wheel placement and being able to see all of the tachometer and speedometer. The cluster also has a small central display screen that's easy to read at a glance—we appreciated its speed-limit, gear-selection, and digital-speedometer readouts. From the driver's seat you look out over a low cowl, which, along with the reasonably thin roof pillars, contributes to the excellent all-around visibility.
The Limited's standard Subaru STARLINK Multimedia Plus system comes with navigation; Apple CarPlay/Android Auto connectivity; and virtual controls for multimedia, climate control, and certain vehicle functions. The big 11.6-inch touchscreen features sharp graphics with large virtual buttons, and the system reacts quickly to inputs. Audio-system volume/tuning, cabin temperature, and the front/rear defroster are controlled via clearly marked physical buttons or knobs.
The trunk opening is quite short from front to back, but relatively tall, which should help make the most of the usefully shaped cargo hold. There's 12.5 cubic feet of cargo volume in the trunk—a cubic foot or two less than the compact-car class norm. The 60/40 split-folding rear seat easily flips forward; the resulting load floor isn't quite flat, but there is a smooth transition from the trunk floor to the seat backs.
In the presentation before our drive, Michael Redic, Subaru of America's Car Line Planning Manager, described the WRX's customers and what they are looking for. The buyers are young—the median age is 37, which makes them the youngest buyers of any performance car in the United States. More than seven out of ten buyers give performance as the first reason they choose a WRX, but these customers also value practicality, with daily drivability, cargo capacity, and a child-friendly back seat among the most important considerations.
The new WRX capably addresses those wants and needs—it's a bit more sophisticated and practical than the car it replaces, without losing its characteristic snarky edge. Production of the 2022 WRX is scheduled to start in January 2022. Subaru expects American sales to start in March, but the earliest cars will all have the manual transmission. Cars with the Subaru Performance Transmission should begin to show up at dealers during April.
Quick Spin: 2020 Mini Cooper SE Hardtop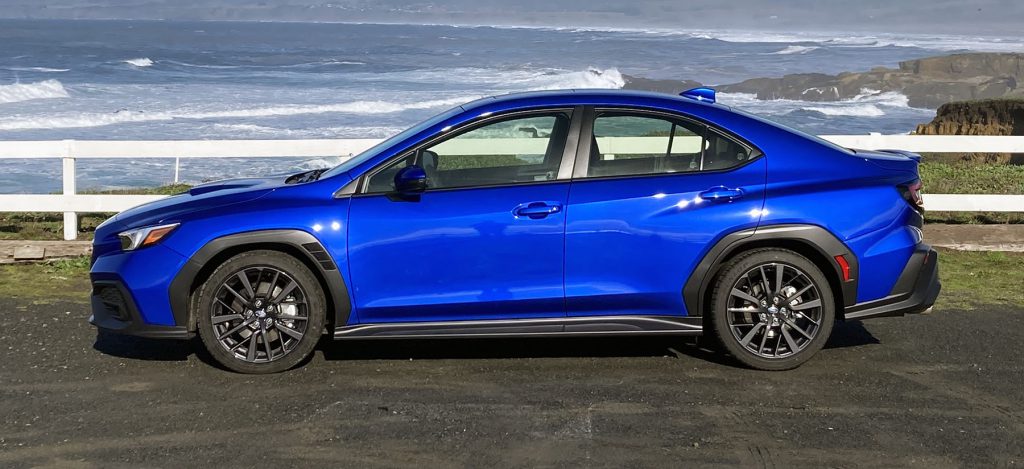 Listen to the Car Stuff Podcast
2022 Subaru WRX Gallery
Click below for enlarged images.
Consumer Guide Car Stuff Podcast, Episode 111: Catalytic Converter Thefts, Hyundai Ioniq 5