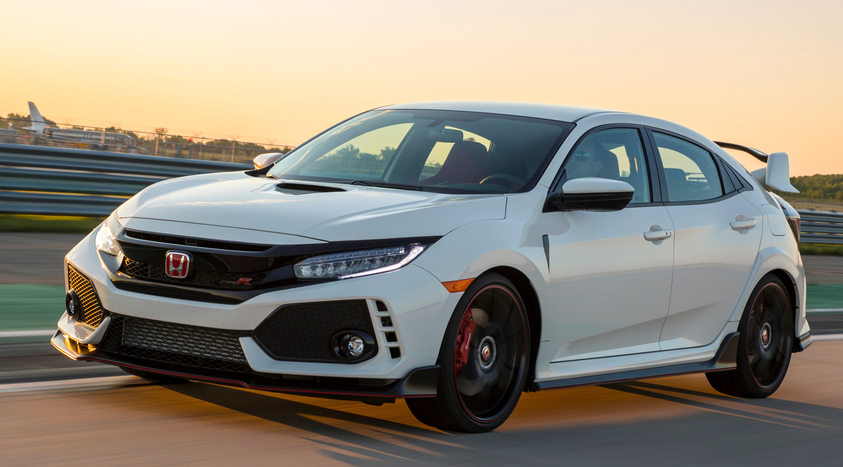 After 20 years and five generations, Americans will finally get their shot at a legendary car that has long been dangled in front of them like the proverbial basket of forbidden fruit.
Although they couldn't get their hands on it, tuner-car enthusiasts here were well aware of the Honda Civic Type R. First introduced in Japan for 1997, it was essentially the hyperactive twin of the sporty Si models that occasionally made their way to these shores. From the start, the Type Rs had a track-bred suspension and significantly more power than conventional Civics, and in recent years, more than contemporary Si models – which themselves gained somewhat of a cult following.
Civics in general have long been the darlings of the tuner crowd. And while these folks proved that everyday econoboxes could be turned into potent street machines, the cars typically lacked such items as the latest technology, production-car polish, and a factory warranty.
None of that is the case with the new Honda Civic Type R, which finally … finally … was made available in the U.S. earlier this summer as a 2017 model.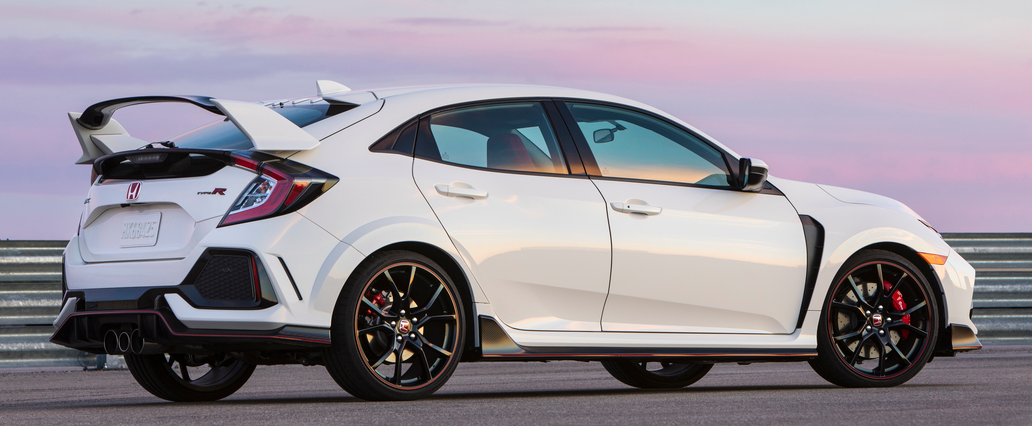 What took so long? Well, the Type R has typically been built off the Civic's hatchback body style, which hasn't always been offered in this country. However, after an absence of 12 years, a hatchback returned to the model line for 2017, and that opened the door for the Type R to make its grand entrance.
So what's the big deal? Power, mostly, but also some other go-fast goodies.
A couple of months ago we tested a Civic Si sedan, which truly impressed as a really good compact car with a decidedly sporty edge. And now that we've also driven the new Type R at a preview in Seattle … we can see what some folks have long been excited about.
Test Drive: 2017 Ford Focus RS
Whereas "normal" Civics are powered by either a 2.0-liter four making 158 horsepower or a 1.5-liter turbo four putting out 174-180, the Si is fitted with the latter, but with modifications that boost it to a stout 205 horsepower. The Type R uses much of the Si's engine technology, but not only starts with 33 percent more displacement (2.0 liters), it adds even more performance tweaks to produce a rousing 306 horsepower. Per Type R tradition, it also benefits from suspension modifications (more on this later), larger wheels and bigger brakes, and unique interior and exterior appointments that include body-hugging seats and a huge rear spoiler. Also per tradition, it's offered only with a 6-speed manual transmission. Premium fuel is recommended but not required, and EPA fuel-economy ratings (as if anyone cares) are reasonably good for the power provided, at 22 city/28 highway.
The result of all this is not only the expected level of performance, but also a rather unexpected level of refinement.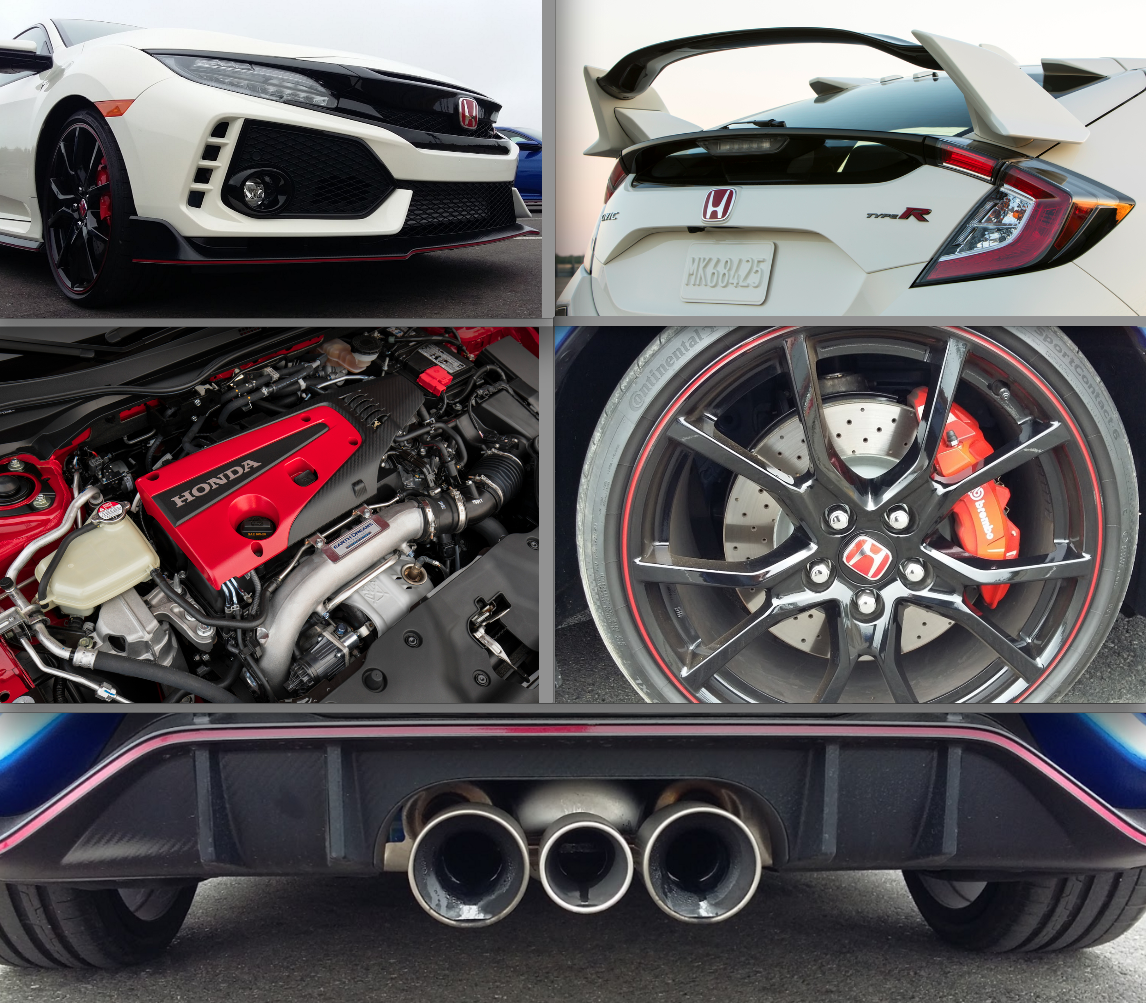 We had the opportunity to drive the Type R on both the street and the track, and found it felt right at home on both. Some of this dual personality came courtesy of the aforementioned suspension, which is electronically adjustable as part of three driving modes: Comfort, Sport, and +R. Even in the default Sport setting (which is automatically activated each time the car is started), the ride is firm but never harsh, and even street driving in track-tuned +R didn't rattle our teeth, at least on the relatively smooth (though coarse) roads of northern Washington state. As might be expected, however, Comfort was really best for most street driving, the selection of either Comfort or +R being made with the simple flick of a console flipper.
Test Drive: 2016 Subaru WRX STI
But it's on the track that the Type R really showed its stuff.
We had the pleasure of running The Ridge Motorsports Park in Shelton, WA, a newly opened "club" track of 2.47 miles in length. It hosts some very tight turns and dramatic elevation changes along with a long front straight that allowed us to top 100 mph without hardly trying.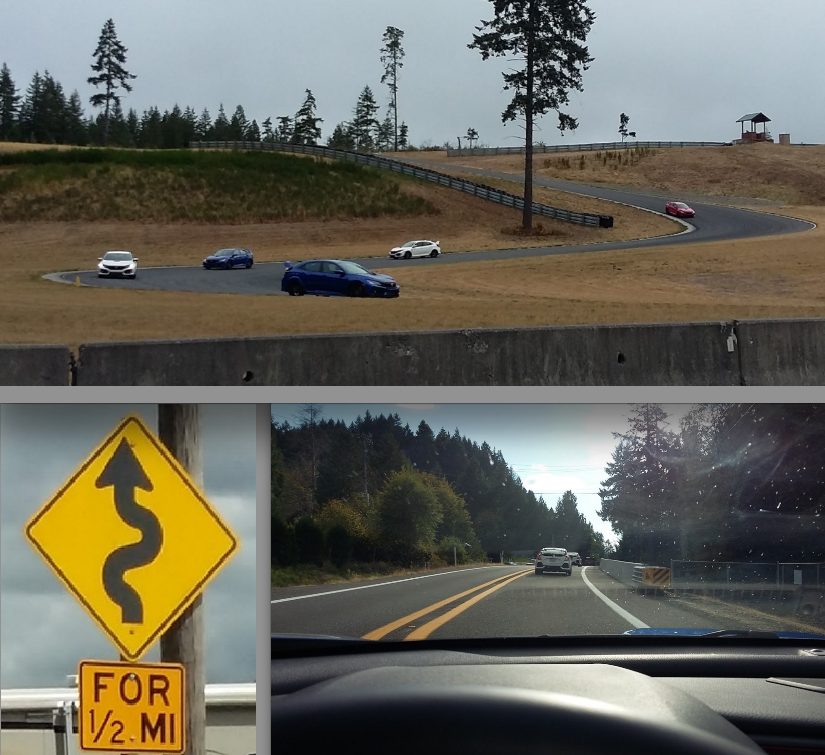 As we started with a warm-up lap before hammering it down the front straight, the first thing noticed (okay, the second thing) was that the Type R has some serious brakes. We were impressed with the same in the Si previously driven, as it took just a touch of the pedal and a hair of movement to bring on some serious whoa power, and that was equally evident here – and we (or at least, I) hadn't tried hauling the Si down from triple-digit speeds. Since this is where street cars typically fall short when driven on the track, it was nice to have this kind of reassurance. Backing up our experience is that, this past spring, a Civic Type R set the front-wheel-drive production-car lap record at the famed Nurburgring in Germany.
Whether street or track, it's easy to become intoxicated with the Type R's explosive power.
To pack 306 horses into a 2-liter corral takes some serious pressure (22.8 psi worth, to be exact), and that takes some time — and some revs — to create. There's not a whole lot of power available under about 2500 rpm, and hitting the throttle at any normal speed results in a bit of a delay until the boost builds — and it hits hard when it does — meaning there's a trickle of power before the ensuing flood. But the rush is well worth the wait.
Test Drive: 2016 Volkswagen Golf R
As mentioned, the Type R comes only with a 6-speed manual transmission, and it's a honey. Honda traditionally offers great manuals, but this is a special short-throw unit that's a joy to shift, aided by a pleasantly smooth and easily modulated clutch. A nice perk is that the instrument panel hosts a digital gear readout in the top left corner, so you can tell what gear you're in with just a glance. Also displayed is your mode setting (Comfort, Sport, or +R) in case you've forgotten.
Little was spared in making the Type R look the performance part. The front end boasts a more aggressive fascia, bright red Brembo calipers are visible through the 20-inch front wheels, and a huge rear spoiler towers above triple exhaust outlets; Honda says the center one is "quiet," the outer ones providing a more sporting tone — though many might wish for a louder "sporting tone."

Inside, the deep bucket seats — upholstered in rich red "Suede-Effect" fabric — are fairly comfortable, but some might find the cushion bolsters to be a bit narrow or wish for a bit more lumbar support (which is not adjustable). The right-side backrest bolster can catch your elbow on shifts.
Test Drive: 2016 Volkswagen Golf GTI SE
The Type R comes quite well equipped. Standard are all the expected features plus Apple CarPlay/Android Auto, keyless access and starting, dual-zone automatic climate control, 7-inch touchscreen, satellite radio, premium audio system, navigation system, and HondaLink telematics system. Conspicuous by their absence are a power sunroof (adds too much weight in the wrong place, perhaps) and any of the Honda Sensing high-tech safety features (forward collision warning and mitigation, lane-departure warning, lane-keep assist, and adaptive cruise control), and there are no options.

And finally (thanks for waiting so patiently), the cost: $33,900, plus $875 destination = $34,775. While that's seemingly a bargain for the performance offered, there's a potential catch.
You see, Honda says it will only bring about 2500 of the 2017 models to the U.S. through the end of this year, and only about 5000 in for 2018. That's an average of roughly two per dealer this year, just four next year — which won't likely be near enough.
After all, demand for this hottest of all Hondas has been building for nearly two decades, and it's hard to imagine there won't be plenty of folks willing to pay more than MSRP for this formerly forbidden fruit.