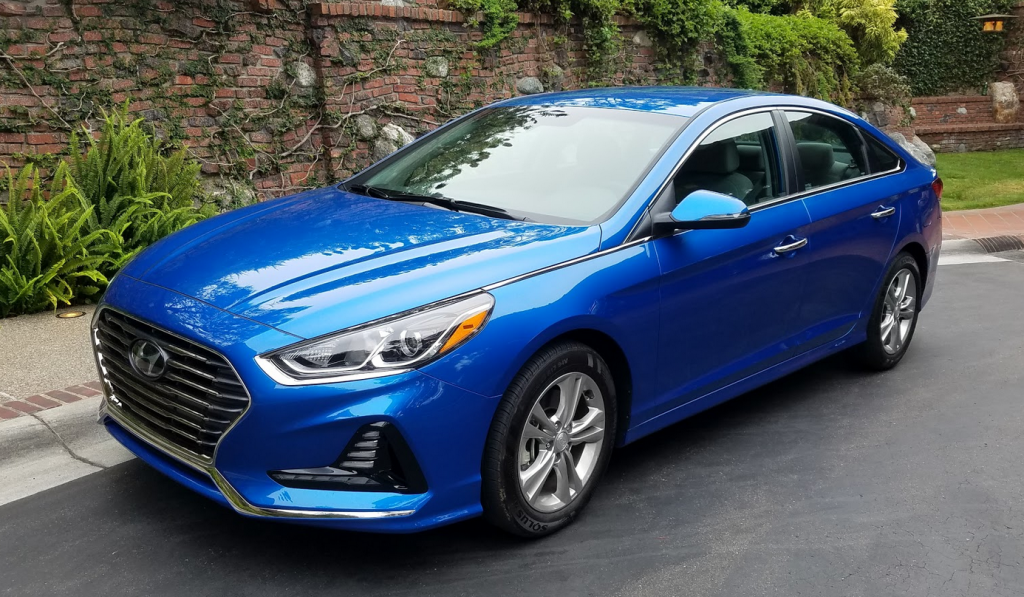 With the massive shift in consumer preferences to compact and midsize SUVs, the traditional midsize sedan isn't quite the sales juggernaut that it was just a few years ago, but that doesn't mean that manufacturers are abandoning the category. A redesigned, dynamically styled 2018 Toyota Camry is arriving in dealerships right now, Honda just unveiled an all-new Accord for 2018, and we just had our first test drive of the significantly refreshed 2018 Hyundai Sonata.
The 2018 Sonata is what auto-industry types call a mid-cycle refresh—it's a thorough update of the seventh-generation Sonata that debuted for the 2015 model year. The most noticeable revision is the exterior styling—though the basic architecture stays the same, the 2018 Sonata's bodywork is new from the cowl forward, and the rear fascia—including the trunk lid and taillights—is also redesigned. The new look is highlighted by a "cascading" grille (Hyundai says it's inspired by the shape of molten steel being poured) that gives the Sonata a more assertive, sculptural look. Inside, the dashboard's center stack has been revamped, and the steering wheel is new—the look is a bit more fluid and less angular than before, without compromising Hyundai's typically clear and straightforward control layout.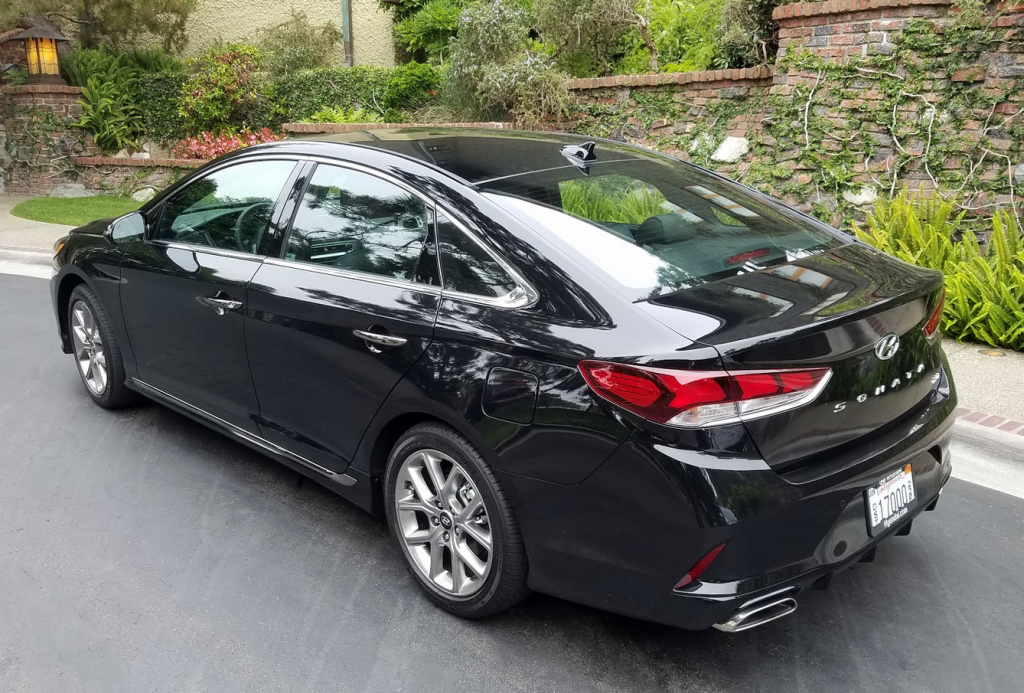 In keeping with the more dynamic styling, the Sonata's steering and rear suspension were retuned for a slightly firmer, more sporting feel. The base 2.4-liter 4-cylinder/6-speed automatic powertrain carries over with no changes of note; it produces 185 horsepower and is EPA-rated at 25 mpg city/35 highway/28 combined in all but the lightly-equipped base SE model (where it ekes out another mpg on the highway).
The fuel-economy-focused 1.6-liter turbocharged 4-cylinder/7-speed dual-clutch automatic remains exclusive to the Eco model, which will arrive in dealerships a bit later this summer. The 1.6 is rated at 178 horsepower and boasts EPA numbers of 28 city/37 highway/31 combined.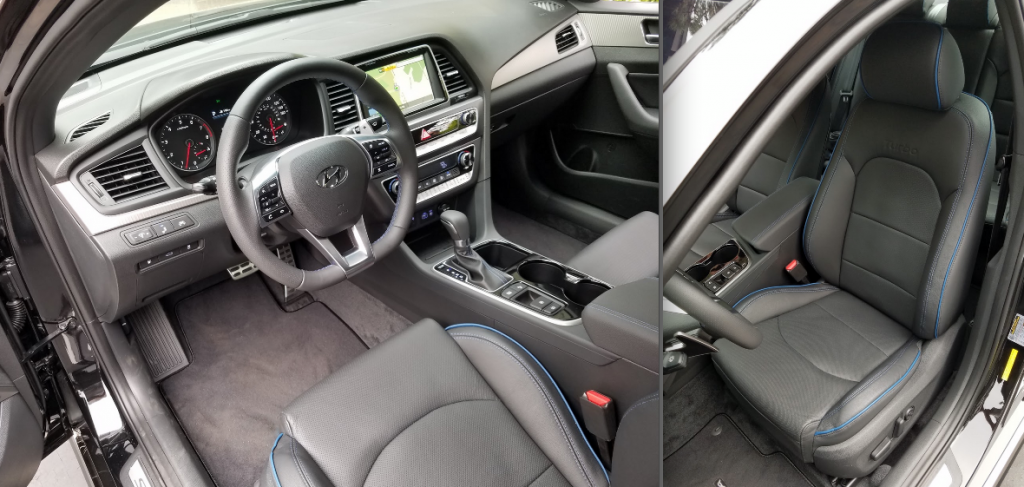 The zippy turbocharged 2.0-liter 4-cylinder continues as the Sonata's performance-oriented engine—as before, it puts out a healthy 245 horsepower, but is now mated to an 8-speed automatic transmission in place of the previous 6-speed automatic. The more efficient gearbox improves the 2.0T's EPA fuel-economy numbers by an mpg or so; it's now rated at 23 city/32 highway/26 combined.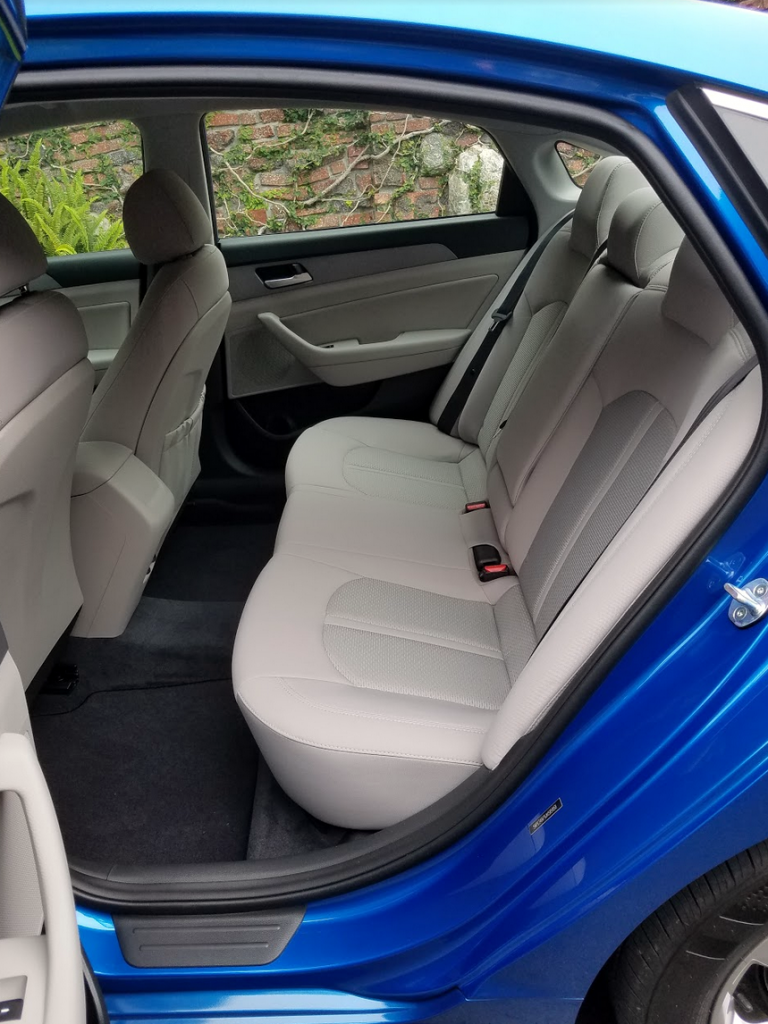 At launch, the 2018 Sonata lineup will consist of SE, Eco, SEL, Sport 2.4, Limited, Sport 2.0T, and Limited 2.0T models. (The Sonata Hybrid and Plug-in Hybrid are slated to rejoin the lineup early next year.) Base prices range from $22,050 for a base SE to $32,450 for a top-line Limited 2.0T. The SEL model is a new addition for 2018 that strengthens the Sonata's position in the $25-$26K price range—the heart of the midsize sedan market; Hyundai expects it to be the lineup's volume model.
Sport and Sport 2.0T models get sportier design touches inside and out, including a more-aggressive grille design, dark chrome body trim, dual exhaust outlets, sport front seats with more-pronounced side bolsters, a unique gauge cluster, aluminum pedals, and a flat-bottomed steering wheel. The Sport 2.0T and Limited 2.0T add a sport-tuned suspension, upgraded power steering, larger front brakes, and 18-inch wheels on Michelin tires.
A $1000 Tech Package for SEL models consists of automatic emergency braking with pedestrian detection, lane keep assist with driver attention alert (new for 2018), adaptive cruise control with start/stop capability, and an electronic parking brake with a brake-hold feature that's handy at long stoplights and drive-thrus.
A $2900 Ultimate Package for Limiteds is comprised of the aforementioned Tech Package features plus automatic high-beam assist, a rear park-assist system, navigation system with 8-inch touchscreen, HERE HD Traffic real-time traffic service, Infinity-brand premium audio system, Qi wireless cellphone charging (new for 2018), heated steering wheel, rear side window sunshades, and a 3-year complimentary trial of Hyundai's Blue Link Guidance Package. The Blue Link Connected services include various smartphone-controlled remote access functions and connectivity features, and the system is now compatible with connected-home devices such as Amazon Echo and Google Home. Most of the Ultimate Package's features are standard on the line-topping Limited 2.0T.
Additional new features for 2018 include a standard blind-spot monitor, a "hidden" exterior trunk-release button, LED running lights and adaptive LED headlamps, and a USB charge port in the rear-seat area.
At the 2018 Sonata's media preview drive in the hills surrounding San Diego, California, we drove a Limited equipped with the Ultimate Package and took a brief spin in a Limited 2.0T. The new car effectively builds on the strengths of the original seventh-generation Sonata. Chief among those strong points are a roomy, comfortable interior with a generously sized rear-seat area—three average-sized adults can fit back there in a pinch. Cabin trimmings are pleasant, and appropriate to the models' respective price levels; the top-line Limited 2.0T has a sporty, convincingly upscale feel.
Ride quality is similarly pleasant and composed, though opting for a 2.0T model takes a toll on comfort. Though the cornering moves are definitely sharper and more agile, the 2.0T's sport suspension and 18-inch wheels are noticeably stiffer over sharp bumps, and the performance-oriented tires make for significantly more road noise. That last demerit might be especially noticeable because the Sonata's cabin is laudably quiet otherwise.
Test Drive: 2016 Chevrolet Malibu Hybrid

Neither the 2.4 or 2.0T powertrains are class leading—especially against the redesigned 2018 Toyota Camry and likely the all-new 2018 Honda Accord—but they aren't too far off the pace for the class. The 2.4 delivers adequate acceleration all-around, but it's a bit sluggish from a stop, and felt a bit strained in some of the more challenging steep grades along our test-drive route. The 2.0T provides much brisker acceleration once the engine RPMs rise and the turbo is fully assisting, but it also feels a tad lackadaisical off the line compared to the step-up engines in some class competitors. We found the performance of the 2.0T's new 8-speed transmission to be unobjectionable—it shifted smoothly and didn't seem to get caught "hunting" for the appropriate gear during our drive.
Hyundai says that the Sonata accounts for 31% of all Hyundais sold in U.S. and is responsible 18% of the brand's conquest sales. Even if the era of the traditional midsize sedan's dominance in the U.S. market is past, that's an important part of Hyundai's bottom line. The 2018 Sonata's welcome updates, revised model lineup, and eye-catching new styling—along with its strong features-for-the-money quotient and Hyundai's 10-year/100,000-mile warranty–should help it remain a solid competitor in its segment.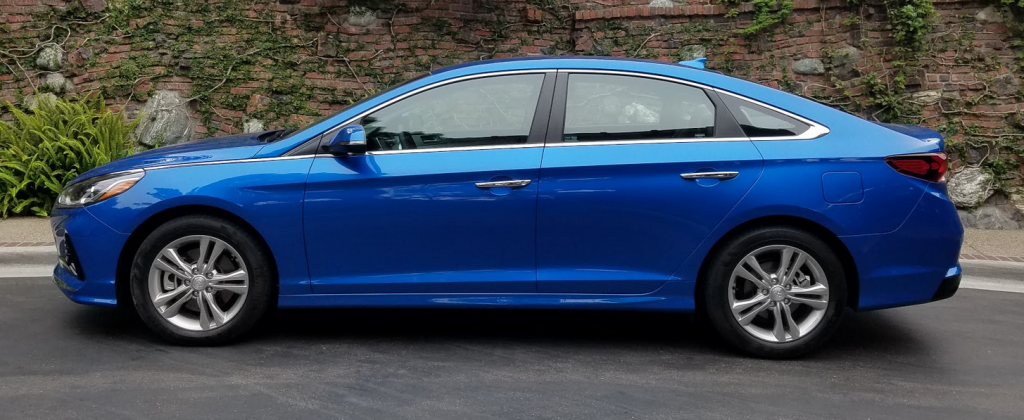 Test Drive: 2017 Ford Fusion Sport