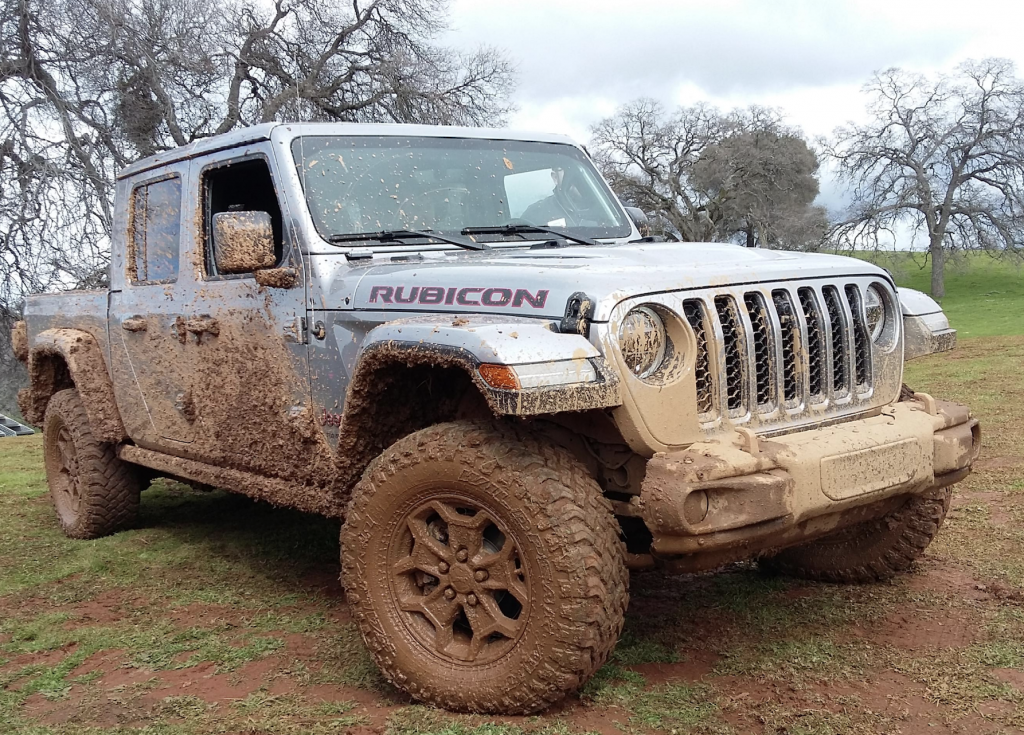 'What took you so long?"
That was one of the first questions raised during the preview for the 2020 Jeep Gladiator, voiced by someone (OK … me) who used to own a Jeep Scrambler pickup — and has been anxiously awaiting the versatile vehicle's second coming.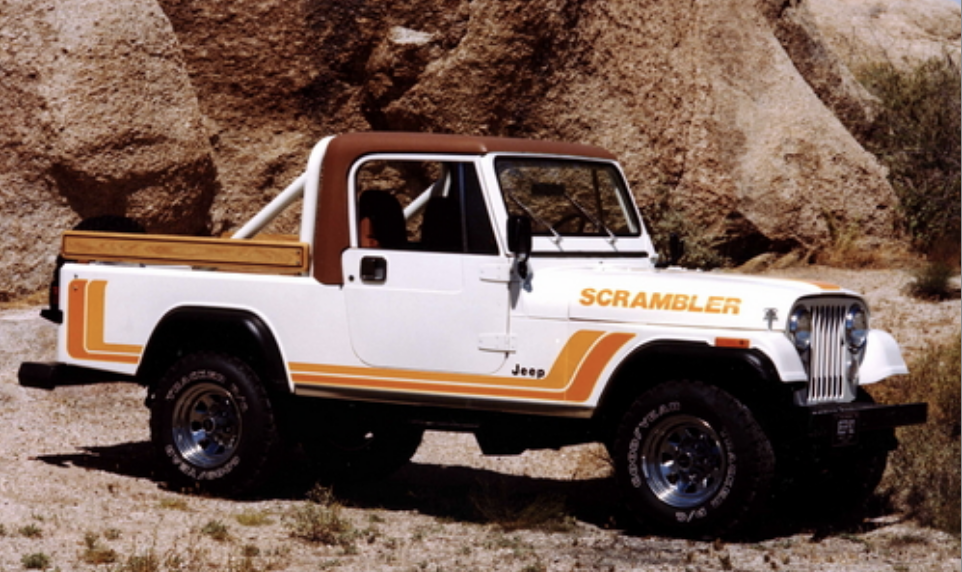 Although considered part of the growing compact-pickup segment, the new Jeep Gladiator — the first Jeep pickup in more than a quarter of a century — really has no direct competition.
That's largely because every model is a convertible, making the Gladiator unique among pickups – of any size. It's also available in versions that have what is likely unsurpassed off-road ability.
Based on Jeep's 4-door Wrangler but with 19 inches added to the wheelbase and 30 to overall length, the Gladiator hardly looks like a "compact." Indeed, at 218 inches stem to stern, it's a good six inches longer than crew-cab/short-bed versions of the Chevrolet Colorado, Ford Ranger, or Honda Ridgeline — though still seven inches shorter than a Chevrolet Colorado crew cab when fitted with its longer 6'2″ bed.
What that gets you, however, is a cabin large enough to accommodate four full-size adults – five in a pinch – along with a 5-foot cargo bed. It also gets you what Jeep says is class-leading hauling and towing capability of 1600 and 7650 lbs., respectively. Yet with up to 11 inches of available ground clearance and all sorts of traction aids, the Gladiator still offers surprising off-road capability, as demonstrated on a grueling course set up for just that purpose.
Test Drive: 2019 Toyota Tacoma TRD Pro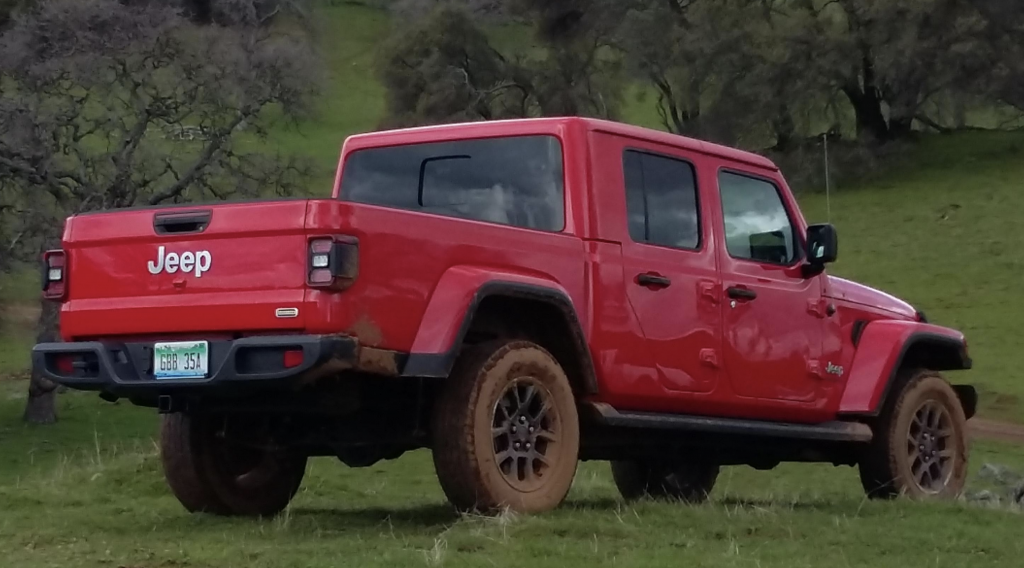 When it goes on sale in May, the Gladiator will be offered in three trim levels … four if you count the limited run of loaded First Edition models that can be ordered on April 4 ("4×4 Day"). All come with a part-time 4WD system — no full-time system being available — and a 285-horsepower 3.6-liter V6. (A 3.0-liter turbodiesel is expected to arrive next year.) Also standard is a 6-speed manual transmission, with an 8-speed automatic being optional.
The base Sport starts at $35,040 including the $1495 destination charge. Although air conditioning is standard — along with a trailer hitch, rearview camera, and push-button start — power-operated accessories such as mirrors, windows, and locks are not … though they're available as options. Other options include heated front seats and steering wheel, remote locks and starting, 7-inch touchscreen infotainment system with Apple CarPlay/Android Auto functionality, and high-tech safety features that include forward collision warning, blind-spot alert, rear obstacle detection, and adaptive cruise control.
Next up is the $41,890 Overland, which includes most of the convenience and infotainment features that are optional on the Sport, along with dual-zone automatic climate control, side steps, cabin air filter, and 115-volt AC (household) power outlet. The high-tech safety features are optional here as well, and it makes available such options as leather upholstery, keyless access, and a navigation system.

Topping the regular lineup is the Rubicon, which starts at $45,040. It brings a host of off-road-oriented features such as greater ground clearance, electronically locking front and rear axles, electronic sway-bar disconnect, a lower-geared transfer case, 33-inch off-road tires with raised fender flares that can accommodate up to 35-inch tires, and a front skid plate, and makes available a front-mounted camera.
While Wranglers have gotten increasingly more civil with each generation since their debut for 1987 – when they replaced the venerable CJ Series – they started from a pretty low bar in that respect. But with their redesign last year, they've finally become livable as everyday transportation.
Surprisingly, this is an area in which the Gladiator goes its SUV sibling one better. Although both ride on "primitive" (but durable) solid axles front and rear, they're suspended on coil springs rather than leaf springs, and on the Gladiator, those axles are spread 19 inches farther apart, which helps smooth the ride.
And the ride really is quite good, particularly on the highway, where the only demerit is that it seems to take a little more correction than usual to keep the Gladiator going straight. And despite its length … and height … and weight, it also handles corners surprisingly well. Add in a powertrain that provides more-than-adequate acceleration – with a good full-throttle jump off the line and quick kickdowns when hitting the gas from speed – and the Gladiator comes off as being perfectly suitable as everyday transportation.
4WD Madness! 10 Classic Jeep Ads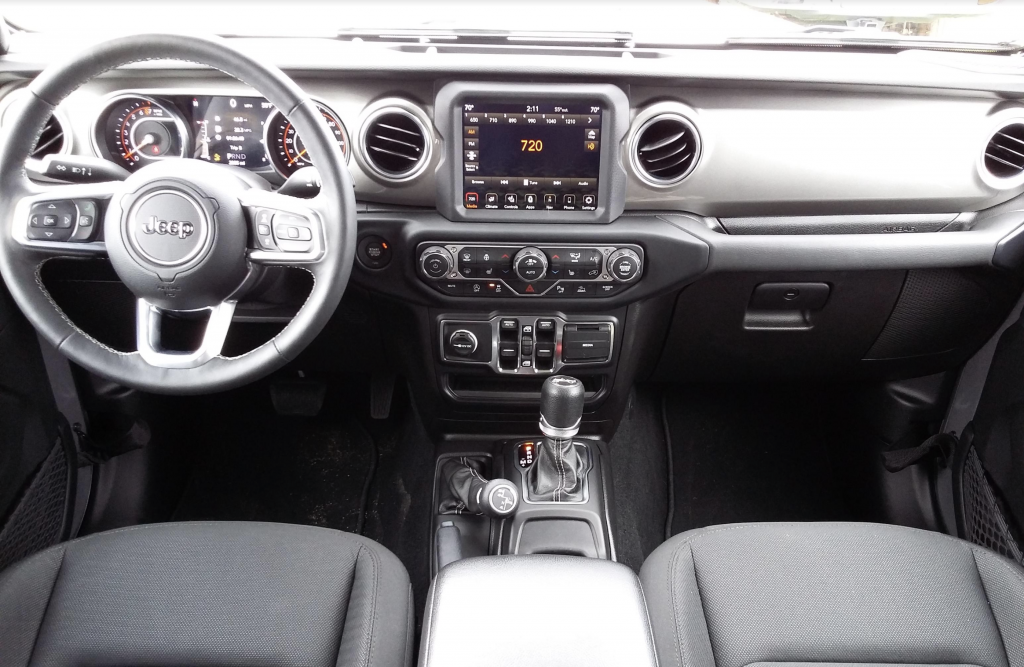 As the cab area is much like that of the Wrangler, we invite you to read that report for more details, as we'll concentrate on differences here. But suffice it to say that room (as mentioned) is good for four adults, visibility is just OK, the control layout is quite convenient, and noise levels are acceptable, though – as might be expected – are better with the hard top than the soft top.
Speaking of the tops, those on the Gladiator make for a strong selling point. While Wranglers used to be famous for their ability to go topless, they were equally famous for making that process a tremendous chore. Not any more.

Standard on all models is a removable soft top. Also offered is a "Premium" soft top, which was probably what was fitted to the examples at the preview. In any event, those on vehicles at the event detached from the windshield with two latches and folded back, leaving a good-size hole in its wake – a task fairly easily accomplished by one person in a matter of seconds. The rear window can be removed and the rear corners popped off to create a true open-air experience, and if that's not enough, the doors can be removed and even the windshield can be folded forward.

While the hard top makes for a more secure cabin and a slightly quieter ride, it's not quite as easy to open up. Four roof panels can be removed individually, but they have to then be stored somewhere. You can also remove what are essentially the frame panels of the top, but that takes tools. Hard tops are offered in black and body color, and are optional on all models.

In that vein is another neat feature of the Gladiator. All the tools needed to strip off the top pieces and doors are included in a kit, and the bolts can be placed in a little box – with each of the bolt holes labeled – that stores beneath a rear seat cushion. Also below the cushions is a huge, full-width bin that includes segmenting panels that can be moved around. Furthermore, there's a bit of storage space behind the seat backs, which can be folded forward to form a flat work surface. Also stored behind the seat back on the passenger side is an available Bluetooth speaker that can be detached and used outside the vehicle.
Then there's the whole point of the Gladiator: the bed.
Jeep Wagoneer: Vintage SUV That's Simply to Die For

At 5 feet long, it's on par with most rival crew cabs' beds in terms of length. Likewise its 56-inch width and 44-inch span between the wheelwells. It also has four tie-down hooks, lights on the side, and an available 115-volt/400-watt household outlet (enough power for an air pump, but not most tools). Also, the damped tailgate can be held at an angle that allows it to support a 4×8 sheet of plywood resting atop the wheelwells.
After a good bit of time spent on one of the roughest trails I've ever experienced, I can say that the Gladiator will go places I never dreamed it could go, and certainly would never take my own vehicle. And it did it with seeming ease. Amazing.
Yet while Jeeps are known for their off-road ability — and have probably the highest percentage of owners who put that to good use — the Gladiator is equally well suited to everyday driving. In fact, it's kind of the Swiss Army knife of vehicles: a 4×4 in the winter, a convertible in the summer, and a pickup truck all year round.
So seriously … what took them so long?

Check out our Compact Pickup Best Buys
Check out the Consumer Guide Car Stuff Podcast
2019 Jeep Gladiator