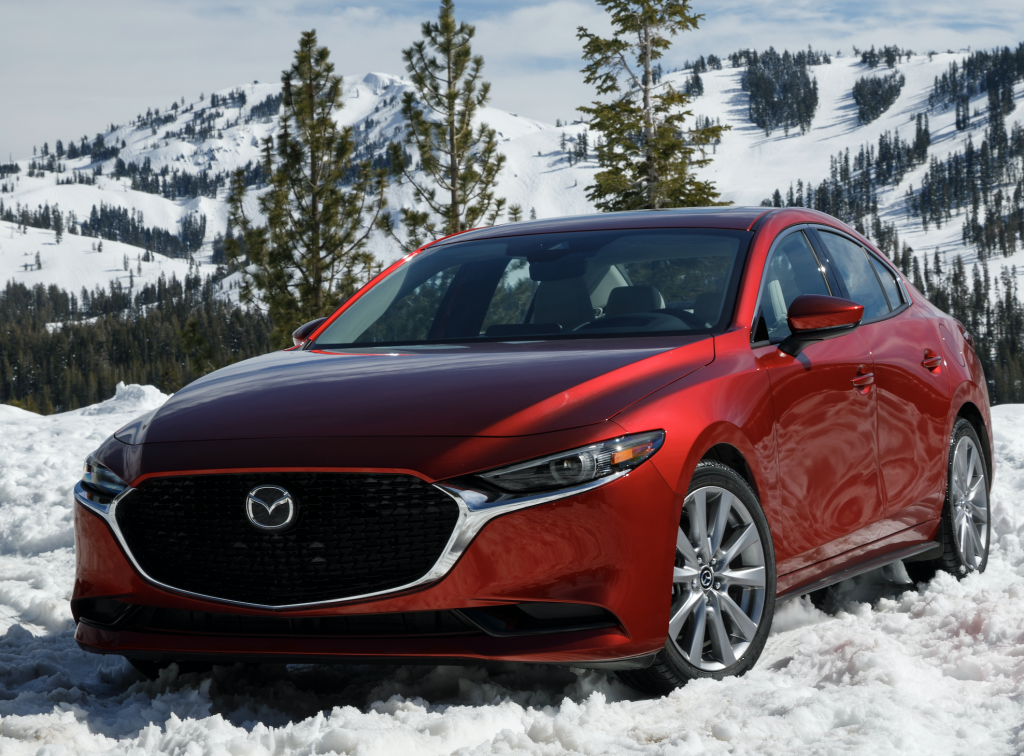 It's not often that a vehicle's redesign isn't necessarily its headline news.
Although powertrains have carried over, the 2019 Mazda 3 is otherwise completely new; even many chassis elements are different than before. But perhaps its most drastic change is that all-wheel-drive models are now offered, which is notable not only for the obvious reason, but because that makes Mazda's compact sedan and hatchback one of only four vehicles in the class to offer AWD – and two of those competitors — the similar Volkswagen Golf SportWagen and its "raised" sibling, the Golf Alltrack — come only as a station wagon.
Another change in philosophy with the new 3 is that Mazda is moving it somewhat upscale – something it's trying to do for the brand in general – which perhaps explains why the admittedly loaded AWD versions we drove at the press preview in Lake Tahoe bottom-lined at more than $31,000.
But while that certainly raised a few eyebrows, it wasn't until later that we received the complete 2019 Mazda 3 price list – which mitigated our shock a bit. For although you can indeed take either the Sedan or Hatchback (the latter of which generally costs $1000 more) to over thirty large, the base front-drive sedan starts at less than $22,000 including destination, with all-wheel-drive versions starting under $25,000.
Ah … that's better.

Although this is still considerably north of where the 3's chief competitor – the Subaru Impreza, which comes standard with AWD – starts, even the base 3 comes with a decent complement of equipment, and loaded models offer some unusually high-end features for the class.
The only engine offered for the Mazda 3 is a 186-horsepower 2.5-liter 4-cylinder that's carried over from last year. The base transmission is a 6-speed automatic, though a 6-speed manual is available on the top-line front-drive hatchback.
Although none of the 3's powertrain elements used to stand out in the class, they rather do now. The engine is large for a compact – particularly as standard equipment – and the availability of a manual transmission is becoming rare. So is having a conventional 6-speed automatic instead of the increasingly popular CVT, which has been adopted by the Honda Civic, Toyota Corolla, and Nissan Sentra – three prominent class competitors – along with the Subaru Impreza, the top rival for AWD versions.
While it's common for minor suspension tweaks to arrive with a redesign, those on the new Mazda 3 are somewhat more radical than usual. Most notable is that the rear suspension switches from fully independent to a beam axle – which would normally be considered a step backward – and Mazda says the suspension has been stiffened but the tires "softened" to keep the ride reasonably compliant while improving handling. Handling indeed felt nimble and the 3 very planted and competent during our twisty-road preview drive, though an evaluation of the ride will have to await testing on the pockmarked pavement around our Chicago HQ.

Nowhere is Mazda's attempted move upscale more evident than in the interior. While only models equipped with the top-line Premium Package were made available at the preview, they were quite top-line, indeed. Lots of surfaces are padded, trim looks very nice, and two-tone color choices are available, notably a black/red combo for Hatchbacks that is a rarity nowadays – in any class.
But there are also some new upscale features that join the upscale ambiance. Mazda's original head-up display — offered on several of its vehicles — projected its image onto a small screen that flipped up from the top of the instrument panel rather than being projected onto the base of the windshield as is usual practice. Now it follows the norm – being projected onto the windshield with a much larger display – and stands as an unusual feature for the class.
Also revised is the control layout. While those for the infotainment system stick with Mazda's "corporate" center-console control knob with dashboard screen – not one of our favorite strategies – both the layout and the logic have been changed. It used to be that the dashboard screen could be touch-activated when the car was stationary, though not when it was moving. No more. Now the screen is non-touch and moved farther away, while also being shorter but wider. Meanwhile, the center-console control knobs – a large one for screen adjustments, a smaller one for volume – have new control logic, and in the case of the volume knob, more functions. Playing around with it – both with the help of a Mazda rep and by myself – it's easier to use than it was before, but it remains a demerit in our book. Climate controls are now in a row along the centerline of the dash, and – at least on the Premium Package models tested – consist of rotary knobs for the dual temperature settings with less-convenient repetitive-step pushbuttons for mode and fan speed. Again, not an optimal design.
As in most other classes, vehicles that count themselves as compact cars tend to be growing larger, at least in interior volume. Following that trend, exterior dimensions have increased a bit with the 3's redesign, but it's on the tight side for the class when in comes to passenger space. Headroom and legroom in front are good but not great, meaning taller drivers may feel squeezed. And in back, headroom is only sufficient for those up to about 5'10″, with legroom disappearing if the seat ahead is moved all the way rearward. Furthermore, there's a large center floor hump to contend with for anyone stuck in the middle seat.

Far better, however, is trunk space … or at least, trunk versatility. Upon first inspection, there's nothing special here: The Sedan's lid opens wide but is on sickle-shaped hinges that dip into the load area when closed, and there's very little under-floor space; in fact, the only possibility is in the wheel indent of the space tire, and that was filled in our test vehicles by a big bass speaker that comes as part of the optional Bose audio system (which sounds great, by the way). No, the "versatility" advantage comes from the fact that – even in the Sedan – the rear seat backs fold nearly level with the cargo floor, an unusual advantage that makes it far easier to slide long cargo forward, even though the folded seat backs rest at a slight incline.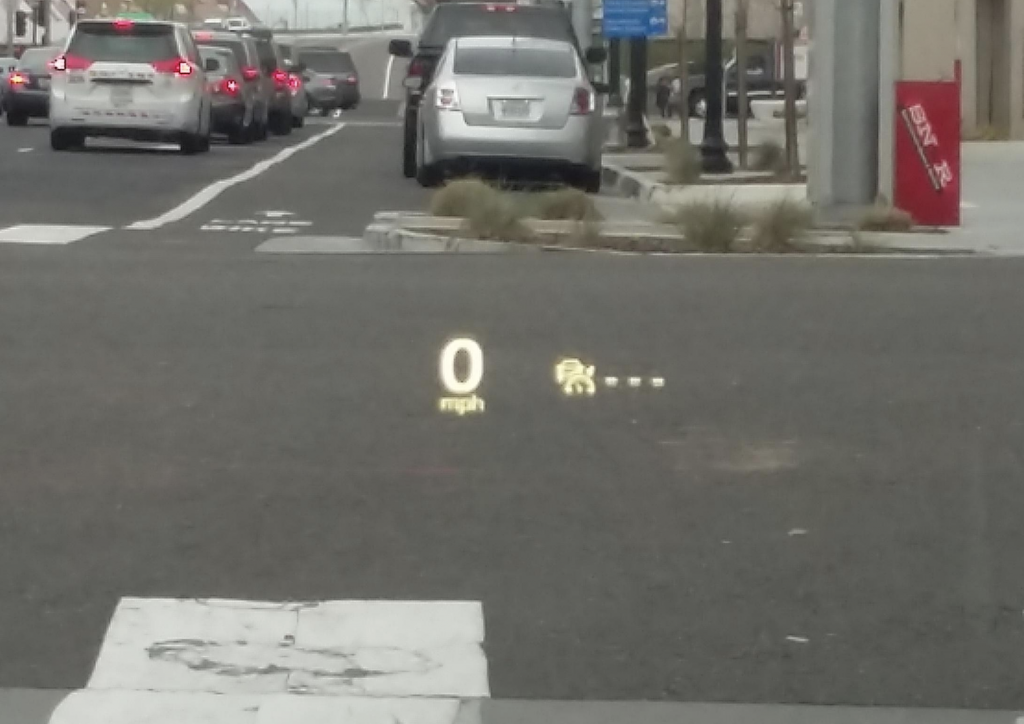 Base Sedans start at $21,895 including the $895 destination charge, and come nicely equipped, though they lack the high-tech safety features some others have as standard. However, the $24,495 base Hatchback comes with a complete complement of them, including forward collision warning and mitigation with pedestrian detection, lane-departure warning, lane-keep assist, blind-spot and rear-cross-traffic alert, automatic high beams, adaptive cruise control (manual transmission), adaptive cruise control with stop-and-go capability (with automatic transmission only — and really nice in traffic), and driver attention alert, which sounds an warning chime if it detects the driver isn't paying attention or is falling asleep. It also adds automatic climate control, 18-inch alloy wheels (vs. 16s), rain-sensing wipers, keyless access and starting, leatherette upholstery (instead of cloth), and Apple CarPlay/Android Auto functionality. Those features are included in the Sedan with Select Package for a bargain $1600 extra, bringing the tab to $23,495. Added in Preferred Packages for both body styles (also $1600) are 8-way power driver seat with lumbar adjustment, driver-seat memory, heated front seats, and Bose premium audio system with satellite radio. The top-line Premium Package for both ($2300) includes head-up display ("Active Driving Display" in Mazda-speak), adaptive headlights, leather upholstery, power sunroof, and paddle shifters (automatic trans only), with the Hatchback adding black-finish wheels and an available 6-speed manual transmission. All-wheel-drive is optional on all but the base Sedan for an extra $1400. Also available are several port-installed options, including a navigation system, auto-dimming rearview mirror with Homelink, and a Qi wireless charging pad.
The strength of the Mazda 3 has long been its sporty attitude compared to most others in the class. That remains. But so do some of its weaknesses: tight passenger space for larger folks and a cumbersome control layout for everyone. Get past those, however, and Mazda's compact now adds premium touches and features to its traditionally sporty moves, all of which makes it stand out from the compact-car herd – and support the upscale image Mazda now wants to project.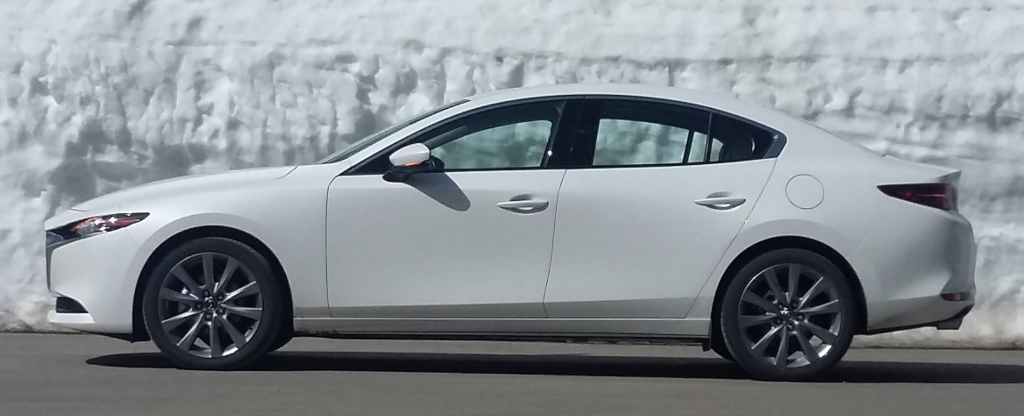 Check out our Compact Car Best Buys
Listen to the very entertaining Consumer Guide Car Stuff Podcast
Mazda 3 AWD