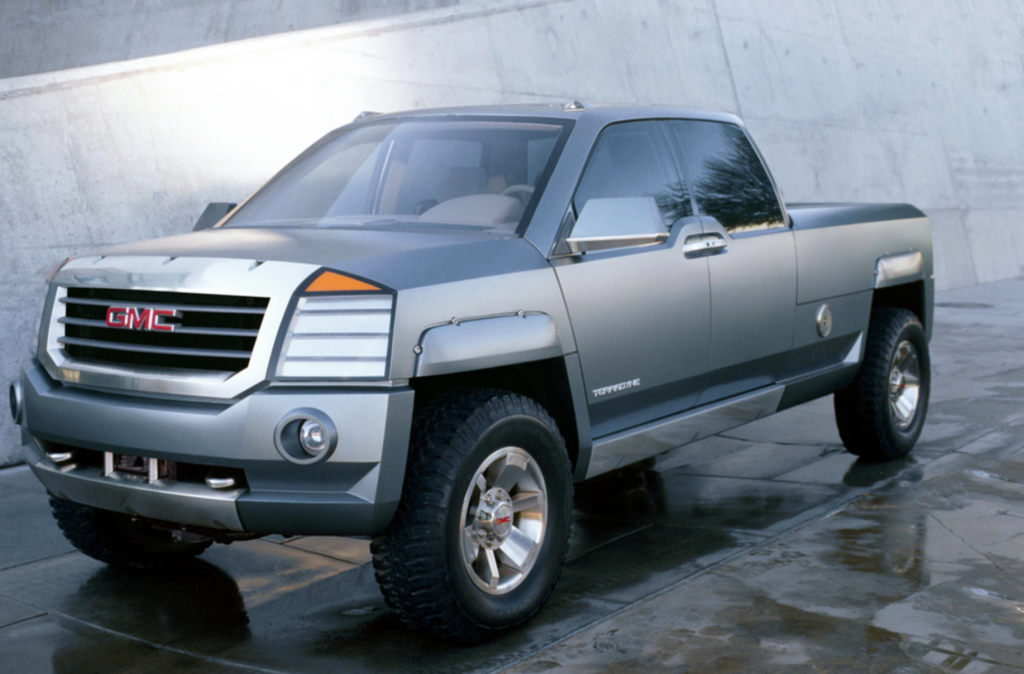 This is an installment in a series of posts looking back on show cars that we feel deserved a little more attention than they got. If you have a suggestion for a Forgotten Concept topic, please shoot us a line or leave a comment below.
GMC Terradyne
First Seen: 2000 Detroit Auto Show

Description: Heavy-duty pickup truck concept
Sales Pitch: "Terradyne features size, functionality and versatility, and is so finely crafted that it represents a new level of capability in the full-size pickup market, where it can be a job-site workhorse during the day and a valued member of the family in the evening."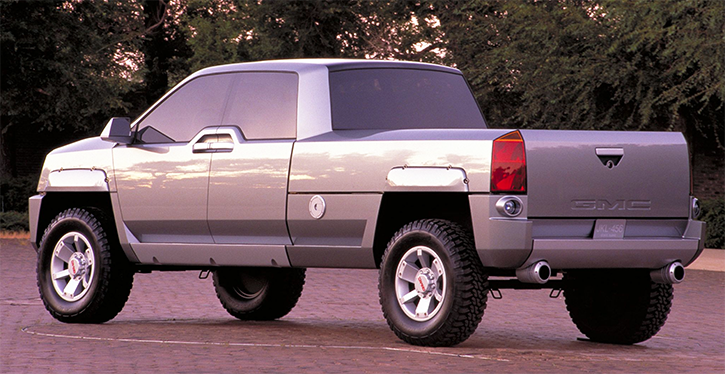 Details: The GMC Terradyne was much more than a design study. In addition to its predictive styling, this large-pickup concept was fitted with a next-generation Duramax diesel engine, as well as a number of features aimed at better practicality and drivability in urban environments.
The Terradyne's look was described by GMC exterior designer Carl Zipfel as "billet cut, with clean, beveled lines." To create more passenger space, a "cab-forward" greenhouse rose two inches higher than a production GMC pickup, and projected two inches further out into the hood. The fanciful front and rear doors pivoted forward and reverse, respectively, to create a pillarless opening that allowed easy entry and exit for up to five passengers. A Compaq laptop computer was stowed in the center console.
To make navigating crowded spaces easier, the Terradyne was equipped with GMC's Quadrasteer four-wheel-steering system–which would become a production feature beginning in 2002–and a back-up camera. GMC claimed that the raised roof and thin pillars improved outward visibility compared to production pickup trucks, further easing operation in city driving. For maneuverability, the Terradyne's length was kept in check via a tidy 6-foot bed. When more cargo space was needed, the bed could be extended up to 24 inches. Located in the bed was 110-volt outlet which provided up to 5000 watts of power.
The updated 6.6-liter Duramax turbodiesel V8 was good for a claimed 705 lb-ft of torque and was mated to an Allison 1000 5-speed automatic transmission.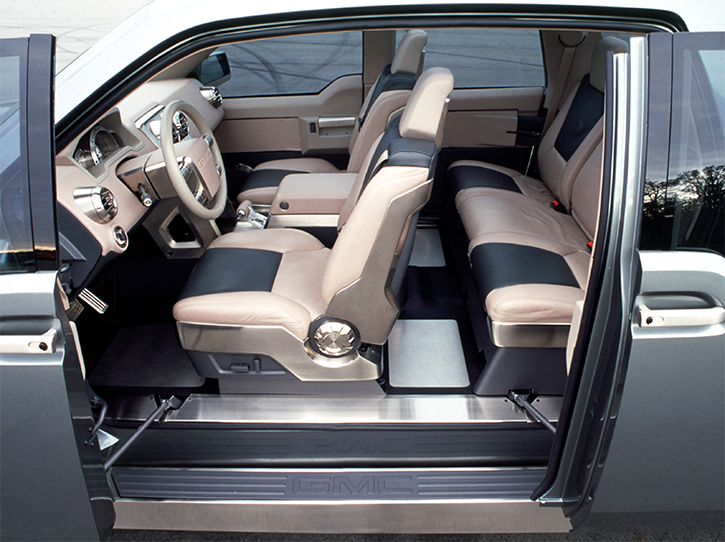 CG Says: The name Terradyne was created by combining the Latin word for earth (terra) and the Greek word for strength (dyne). Though cool sounding, the moniker isn't entire apropos to the concept's mission. As a tough-looking heavy-duty pickup decked out with an upscale look and high-tech driver-assist features, the Terradyne was an accurate predictor of future trends. The backup camera was a solid five years ahead of its time, but the four-wheel-steering thing has since come and gone, having proven too expensive an option to gain sufficient buyer acceptance.
The Terradyne did seem on track stylistically. Take note of how much the 2008 GMC Sierra 2500 looks like the concept truck. Though the unusually hinged side doors never saw production (we can't imagine they would have been that durable in the real world), pickup cabs have grown substantially in the past 20 years (as have the typical pickup truck's door openings), so easy of entry is really no longer an issue.