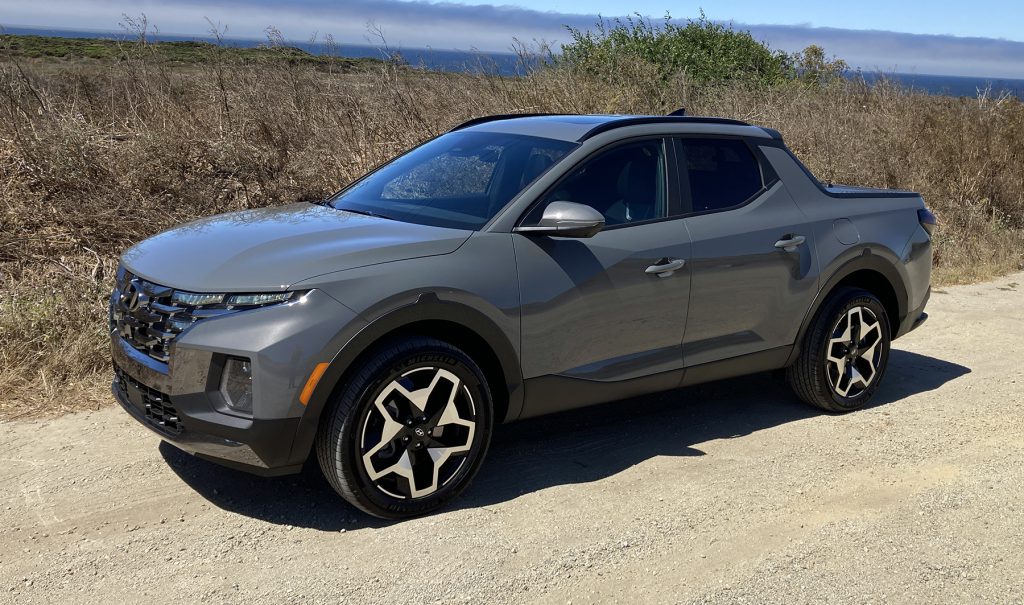 Though clearly a small pickup truck, Hyundai calls its new-for-2022 Santa Cruz a "Sport adventure vehicle," and to the company's credit, it is unlike any other car or truck currently for sale in the U.S.
The Korean automaker says Santa Cruz is not intended to compete directly with other small pickups, but is a niche vehicle designed for tech-savvy urban dwellers looking for crossoverlike comfort and convenience, along with open-bed truck utility and flexibility. Hyundai contends these customers also value a compact package that's easy to maneuver and park in the city.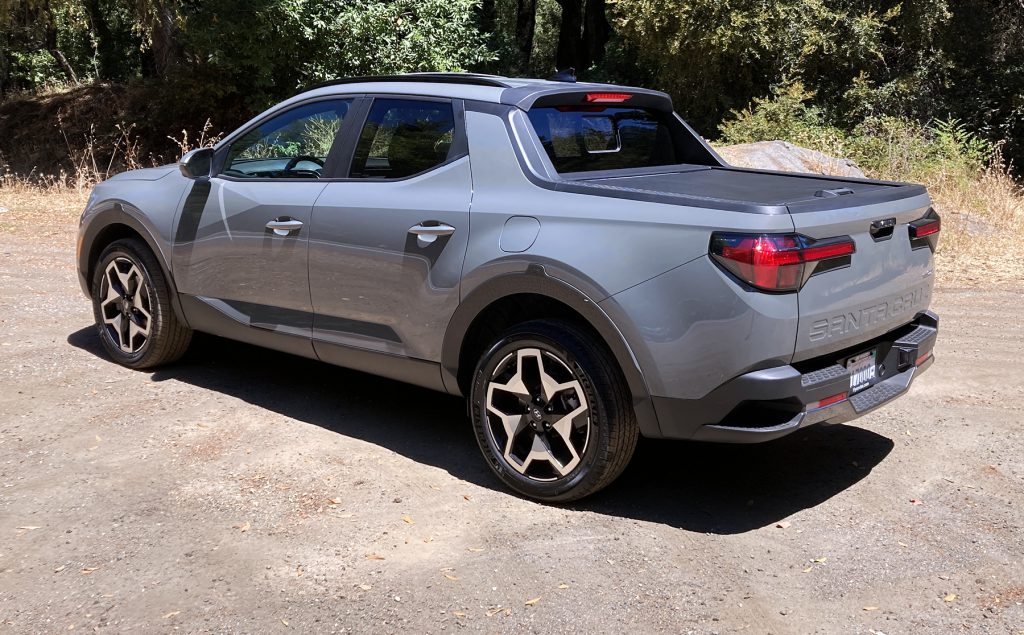 Though Santa Cruz shares its basic architecture with the newly redesigned Hyundai Tucson compact crossover, it is significantly larger and heavier. At 118 inches, Santa Cruz's wheelbase is 10 inches longer than that of the Tucson's, and at 196 inches, the 'Cruz is 13 inches longer overall. And, at around 3700 pounds, the Santa Cruz is almost 400 pounds heavier than the Tucson.
Still, Santa Cruz is small for a "small" pickup. The Toyota Tacoma and Honda Ridgeline stretch 212 and 210 inches, respectively, and even the new Ford Maverick is four inches longer overall than the Hyundai. Like the Maverick and Ridgeline, Santa Cruz features a one-piece body instead of the separate bed/body arrangement found on every other pickup truck currently available in the U.S.
First Spin: 2022 Hyundai Tucson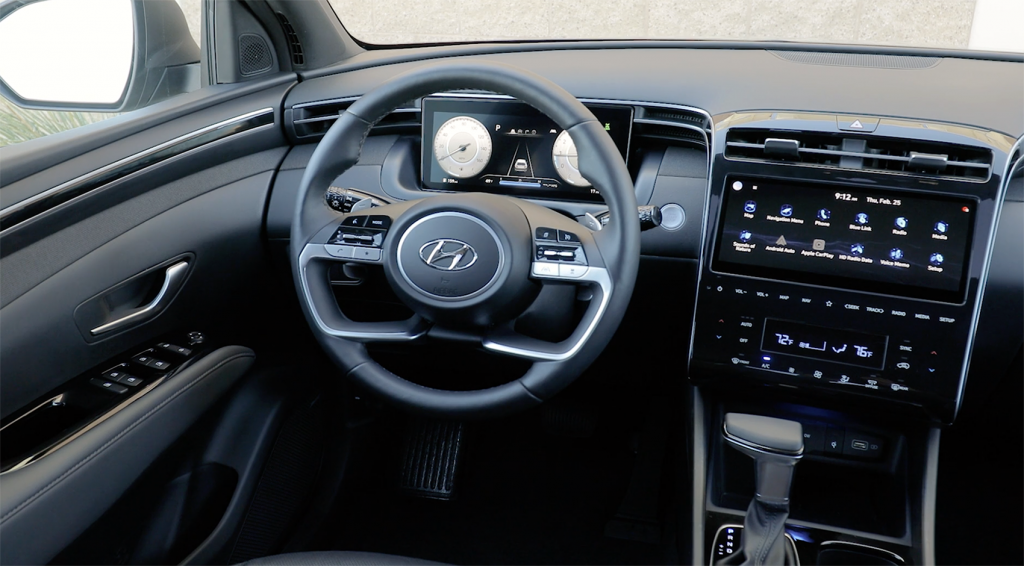 Santa Cruz design generally recalls the Tucson, but a close look reveals a number styling differences. Santa Cruz, for example, has rounder fenders and wheel openings, and the front fascia is bulkier below the grille. Of course, the most significant difference is the open bed area at the rear. We think Hyundai did a masterful job designing the Santa Cruz, and like many recently introduced Hyundai models, it looks great in person.
Santa Cruz is sold in SE ($23,990), SEL ($27,190), SEL with Activity Package ($30,460), SEL Premium ($35,680), and Limited ($39,720) models. All-wheel drive adds $1500 to SE, SEL, and SEL Activity models, and is standard on the SEL Premium and Limited. These prices do not include the $1185 destination charge.
First Look: 2022 Ford Maverick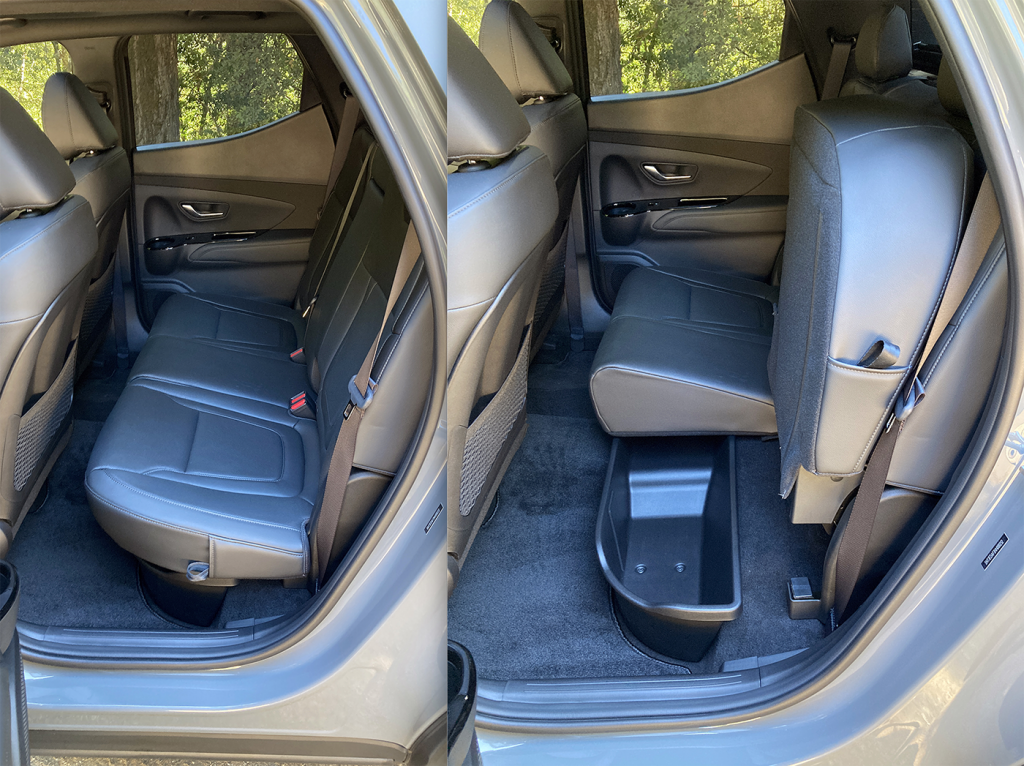 All 2022 Santa Cruz models come standard with driver-attention warning, forward-collision-avoidance assist, lane-keep assist, high-beam assist, rear-occupant alert, automatic on-off headlamps, and Apple CarPlay/ Android Auto connectivity. Additional safety features are available, including blind-spot collision avoidance, intelligent-speed-limit assist, rear cross-traffic collision avoidance, safe-exit warning, blind-spot-view monitor, and highway-driving assist.
Except for the base SE, all Santa Cruzes include keyless entry and push-button starting. Hyundai's Digital Key is available on higher trim levels. This smartphone app allows the car to be locked or unlocked and driven without the physical key fob, and allows the owner to grant family members or friends limited access to certain vehicle functions. Other available features include wireless-device charging, adaptive cruise control with stop-and-go functionality, a heated steering wheel, and heated and ventilated front seats.
2021 Toyota Tundra, Tacoma, and Sequoia Nightshade Editions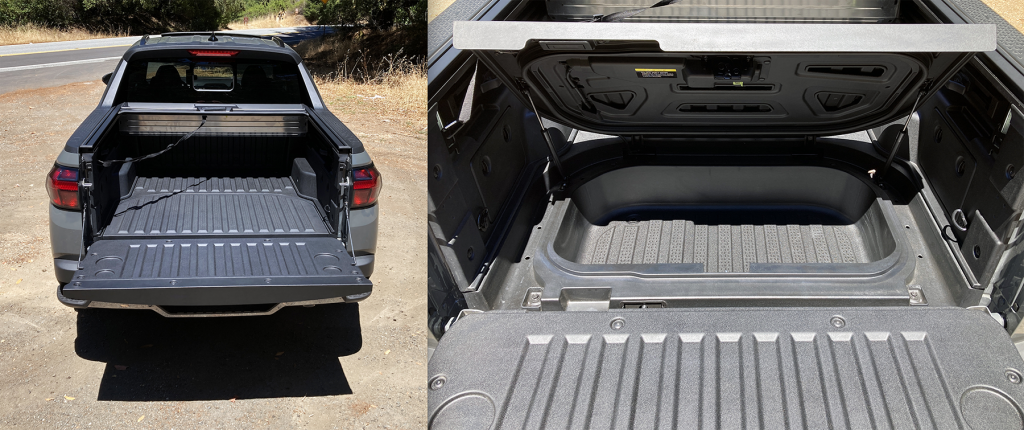 Two engines are available. Most trim levels are powered by a 191-horsepower 4-cylinder mated to an 8-speed automatic transmission. This setup is rated by the EPA at 21/27/23 mpg city/highway/combined with front-wheel drive. Highway mileage drops by one mpg with AWD.
SEL Premium and Limited models come with a turbocharged 2.5-liter four rated at a robust 281 horsepower. This engine mates exclusively to an 8-speed dual-clutch automatic and comes only with AWD. Mileage ratings for this powerteam are 19/27/22 mpg.
Test Drive: 2021 Honda Ridgeline HPD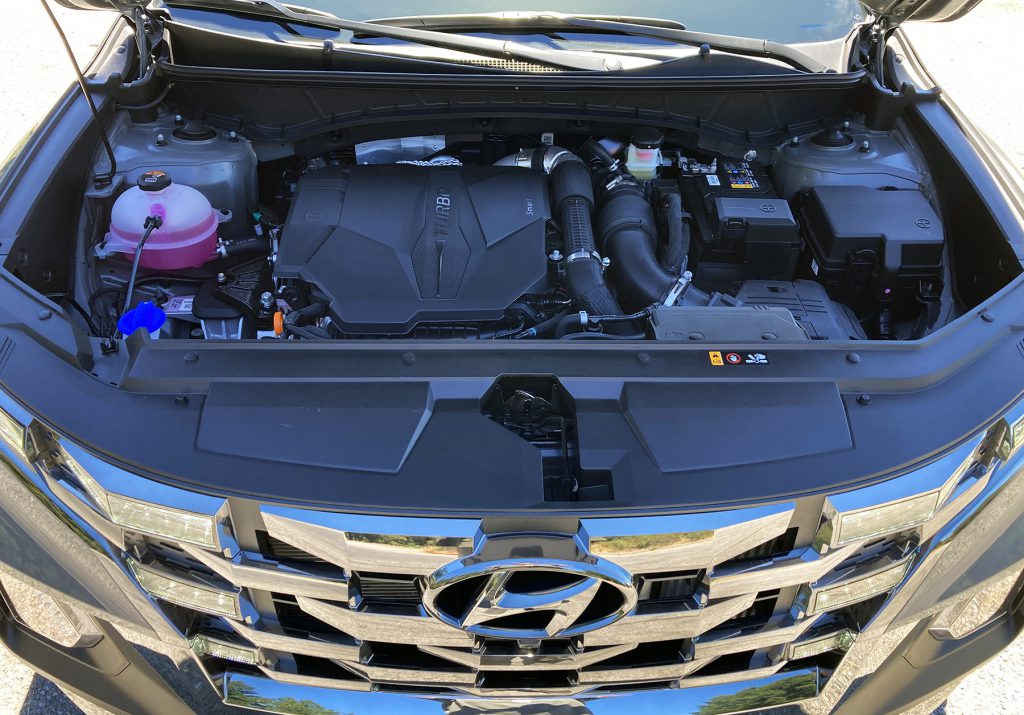 Though intended for urban adventure, Santa Cruz is rated to tow up to 3500 pounds with the base engine, and 5000 with the turbo. For the record, a pair of personal watercraft on a trailer generally comes in under 2000 pounds. Also robust is payload; Hyundai claims Santa Cruz will haul between 1609 and 1753 pounds depending on equipment.
Our First Spin took place near San Francisco, and was limited to the top-line Limited. The test truck stickered for $41,100 with floor mats and destination charge.
Perhaps predictably, Santa Cruz felt much like the Tucson from behind the wheel, and that's a good thing. The turbocharged engine provided ample, effortless power, and worked well with the dual-clutch transmission. Throttle response was sharp, and in relaxed situations the engine was nearly silent. We were impressed with the gearbox's general smoothness and intuitive gear selection; we found no need to employ the standard paddle shifters.
Ride quality was comfortable and well controlled, and the steering was nicely weighted and accurate, helping Santa Cruz feel confident on the tight-and-twisty two-lane roads Hyundai chose for the majority of our test-drive route. Cabin noise was well controlled overall, but road rumble can intrude on especially rough pavement.
The Santa Cruz cabin also borrows from Tucson. Overall, the cabin is stylish and attractive, though the plasticky dash top looked a bit shinier than that in the Tucson. Up front, Santa Cruz feels airy, and this 6' 2" tester found plenty of stretch-out room. Wide door openings contribute to easy entry and exit.
Santa Cruz's rear-seat area is notably tighter than the Tucson's. According to Hyundai's specifications, rear legroom shrinks from 41 to 37 inches. With the front seat pushed fully back, legroom is scarce—this reviewer wasn't able to sit behind a driver's seat set up to accommodate him. Grade-school-age kids will fit fine in the second row, but the lack of passenger space further defines Santa Cruz as an "urban-lifestyle" vehicle and not a family hauler.
What Was The Chevrolet Montana?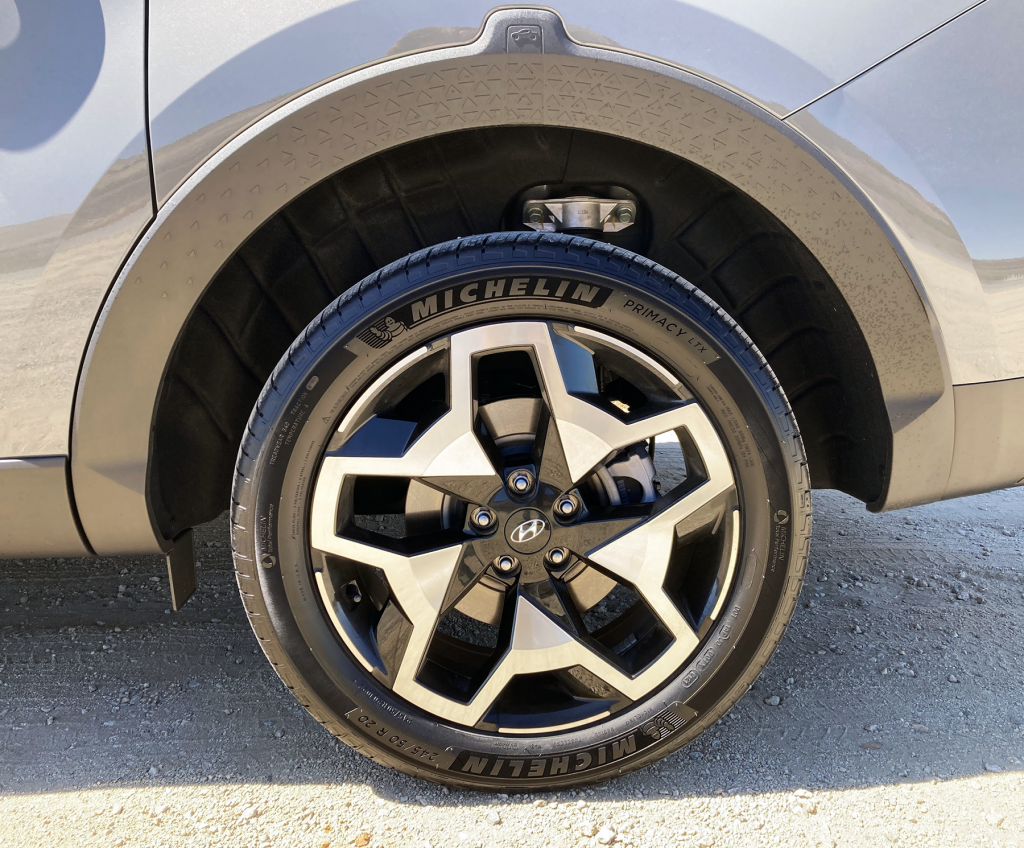 The rear bench is split 60/40, and the bottom cushions easily fold up and out of the way to reveal a handy floor storage bin, part of which is consumed by tire-changing equipment.
A 10-inch display screen is at the heart of the Limited infotainment system—an 8-inch screen is standard on lower trim levels—and it boasts sharp graphics and is easy to read even in bright light. We're still not completely sold on the touch-sensitive "virtual" buttons employed for most climate functions. Found under the touchscreen, these buttons provide no feedback when touched, and can be slow to respond to inputs.  What we do like is Santa Cruz's traditional gearshift lever. The stout-feeling shifter is a welcome alternative to the push-button arrangement found in top Tucson trim levels.
From the driver's seat, outward visibility is a mixed bag. The view forward is excellent, thanks in part to the low instrument-panel cowl and dashboard. Unfortunately, the view to the rear is limited by a number of factors. The rear glass is small, and the upward curve of the side glass limits visibility through the rear-door windows.
The side mirrors help, but looking over your shoulder to change lanes should be easier. Thankfully, our test vehicle was equipped with the available rear-facing blind-spot cameras that activate automatically with the turn signals and display clear blind-spot video in the instrument cluster. We think this setup is extremely handy, even though it's a bit odd at first to be looking forward while merging or changing lanes.
At 48 inches long, Santa Cruz's bed is small (Maverick's is six inches longer), but it is thoughtfully designed. An available lockable roll-top tonneau cover is optional on SEL, and standard on SEL Premium and Limited models. The cover opens easily and automatically rolls up into an enclosure at the base of the rear window. If you're having trouble picturing how this works, think old-school window shade.
To close the tonneau, simply grab a backpack-style cloth strap and pull it toward you—no need to climb into the bed. We were pleasantly surprised by the tonneau cover's ease of operation, but this tester grew up north of Chicago and can't help but wonder if it will work as smoothly when covered with snow as it did on a sunny 70-degree California day.
What is the Lordstown Endurance?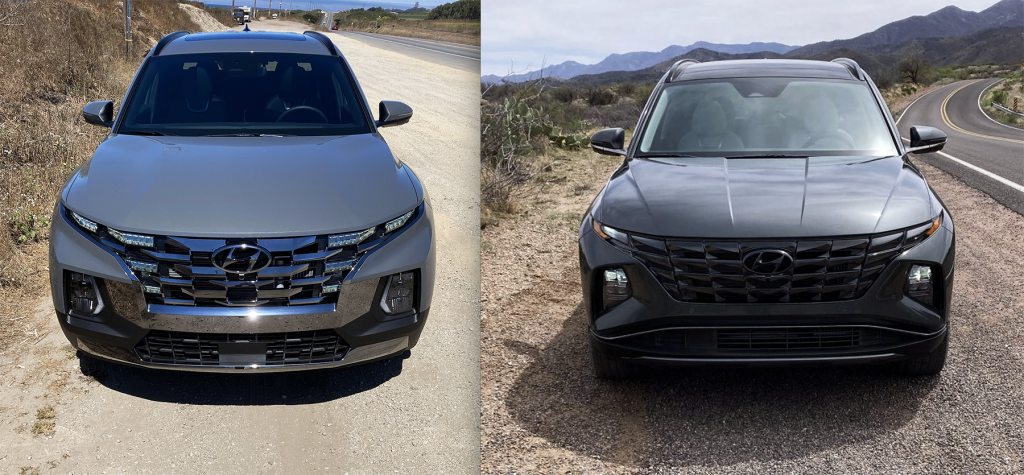 Santa Cruz's bed features a standard lockable weather-sealed underfloor "trunk." The trunklid is supported when open, and the compartment includes a removable drain plug so it can be used as an ice chest. The bed area also includes various tie-down points along with a utility rail and adjustable cleat system. There are small storage compartments in each sidewall, too. Available features include LED lighting in the bed sides (these lights help illuminate the trunk as well) and a 115-volt electrical outlet.
Pockets in the bedsides can be used to create a raised storage platform, and the tailgate can be set at various angles to support longer loads including the cargo-bed benchmark 4X8-foot sheet of plywood. Santa Cruz also offers a small pass-through section in the center of the rear window ideal for skis and other long items.
After a day behind the wheel, we think Hyundai has delivered on the promise of a small crossover imbued with the utility of a pickup bed. We also think it likely there is a meaningful audience for just such a truck. And while Hyundai is keen to accent the "adventure" in sport-adventure vehicle, we expect to see a good number of these small Hyundais in Costco parking lots as well.
What remains to be seen is the size of the market for a truly small pickup. Will the Santa Cruz be a single-generation vehicle not unlike the Subaru Baja, or is Hyundai (and Ford with the Maverick) about to rekindle America's love affair with small trucks? We're inclined to think there are plenty of car shoppers who will find the Santa Cruz's unique blend of style, sportiness, and practicality plenty appealing.
Forgotten Concept: Ford Ranger II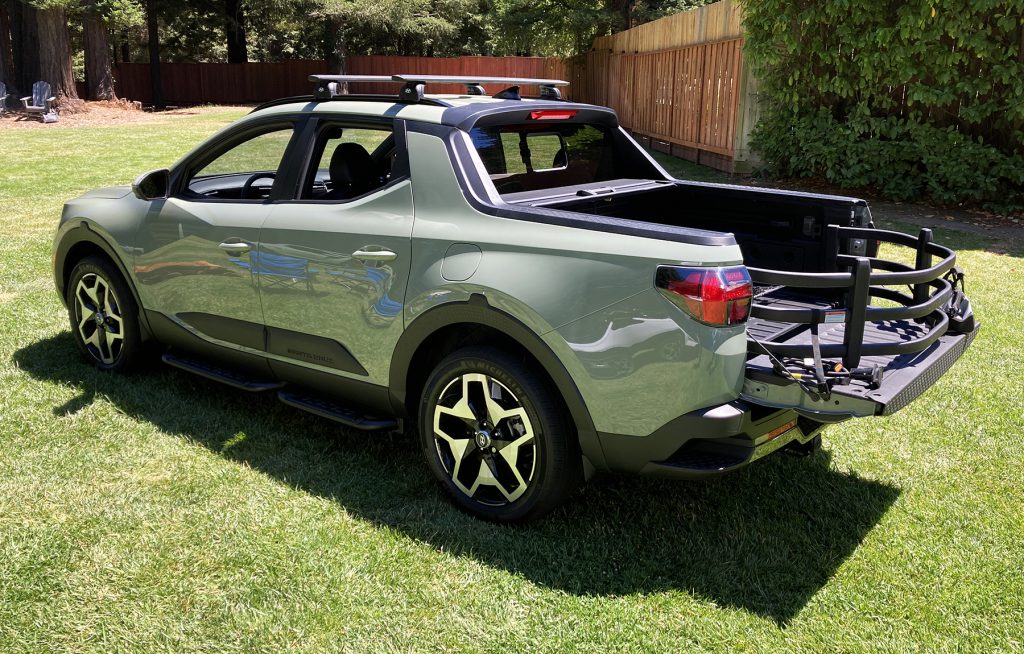 Check out the Consumer Guide Car Stuff Podcast
2022 Hyundai Santa Cruz Gallery
(Click below for enlarged images)
2022 Hyundai Santa Cruz
2022 Hyundai Santa Cruz