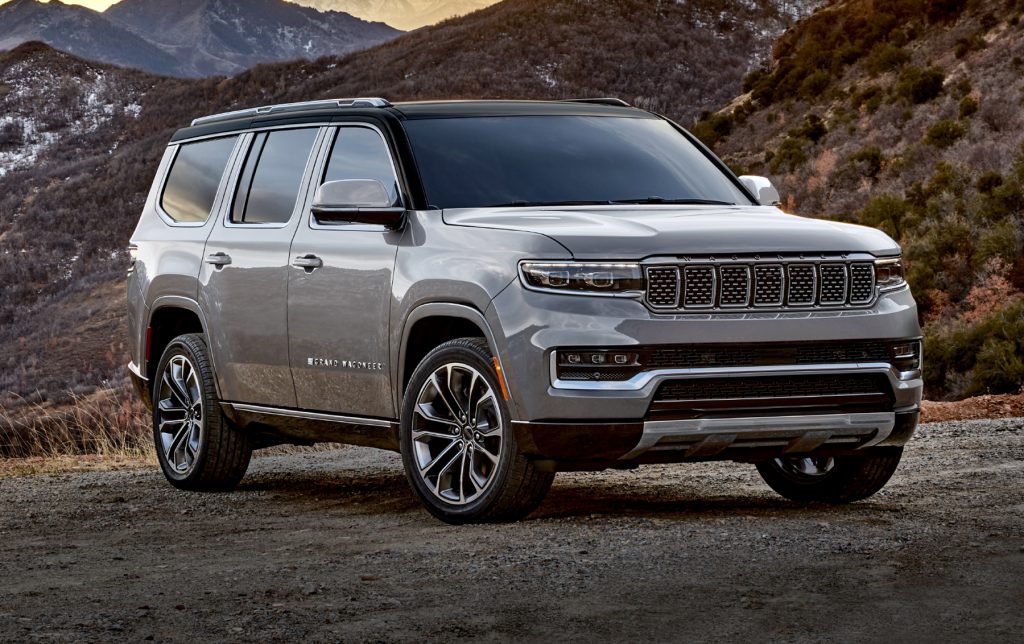 For decades, the iconic Jeep Wrangler off-road SUV has enjoyed being positioned in a segment of one. As such, Wrangler annual sales have hovered around 250,000 units in recent years, with almost all being sold at close to sticker price. Current Wrangler transaction prices are around $50,000, and can easily reach $60,000 on diesel models.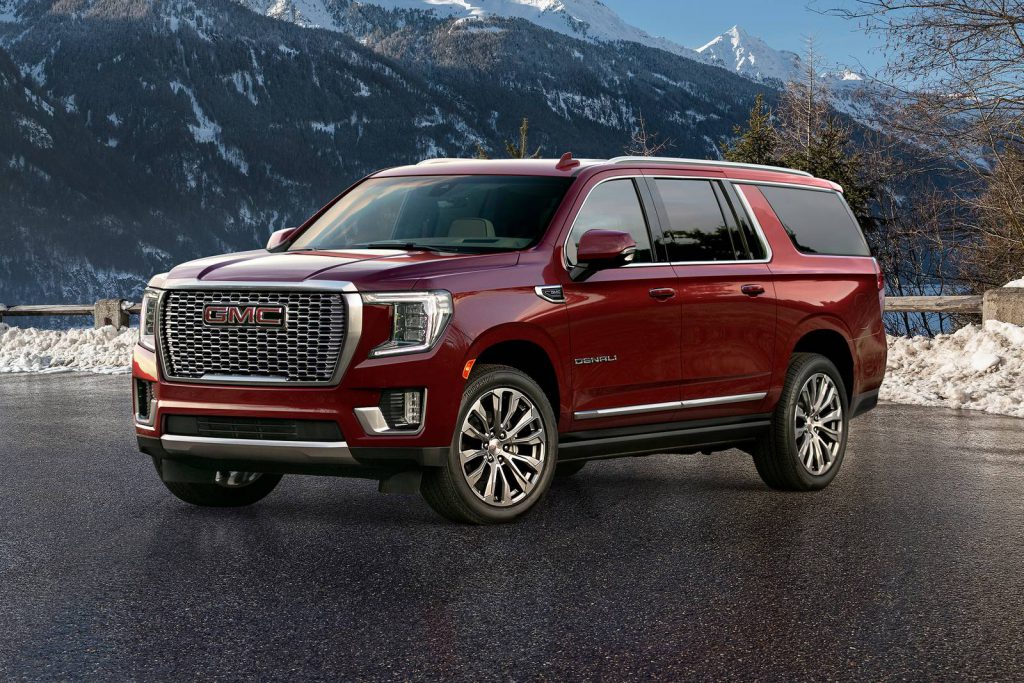 Jeep's perennially profitable off-roader isn't alone anymore, however. Ford's all-new Bronco has taken dead aim at the Wrangler, matching the Jeep's lineup with parallel 2- and 4-door soft-top and hardtop convertible models that boast some serious off-road-ready specs. Considerable enthusiast buzz, and an impressive number of pre-orders from consumers, have welcomed the reborn Bronco, which is rolling into dealers now as a 2021 model.
While it is unlikely the Bronco, despite all the fanfare, will outsell the Wrangler—at least not anytime soon—it's quite reasonable to assume Wrangler sales will decline in the face of serious marketplace competition, as will those enviable transaction prices. And it's the price thing that matters most to Jeep parent company Stellantis, because the Wrangler has been a serious profit center for the corporation.
Fortunately for Stellantis shareholders—and perhaps well-heeled SUV shoppers as well—Jeep has a new model up its sleeve for the 2022 model year, and its profit potential is massive. Welcome Wagoneer.
The large-SUV category has been dominated for decades by just two manufacturers: Ford and General Motors. The Ford Expedition and Lincoln Navigator account for roughly 25 percent of the segment, while GM's Chevrolet Tahoe and Suburban, GMC Yukon, and Cadillac Escalade command more than 50 percent. Nissan, Toyota, BMW, Lexus, and Mercedes-Benz also have models in the segment.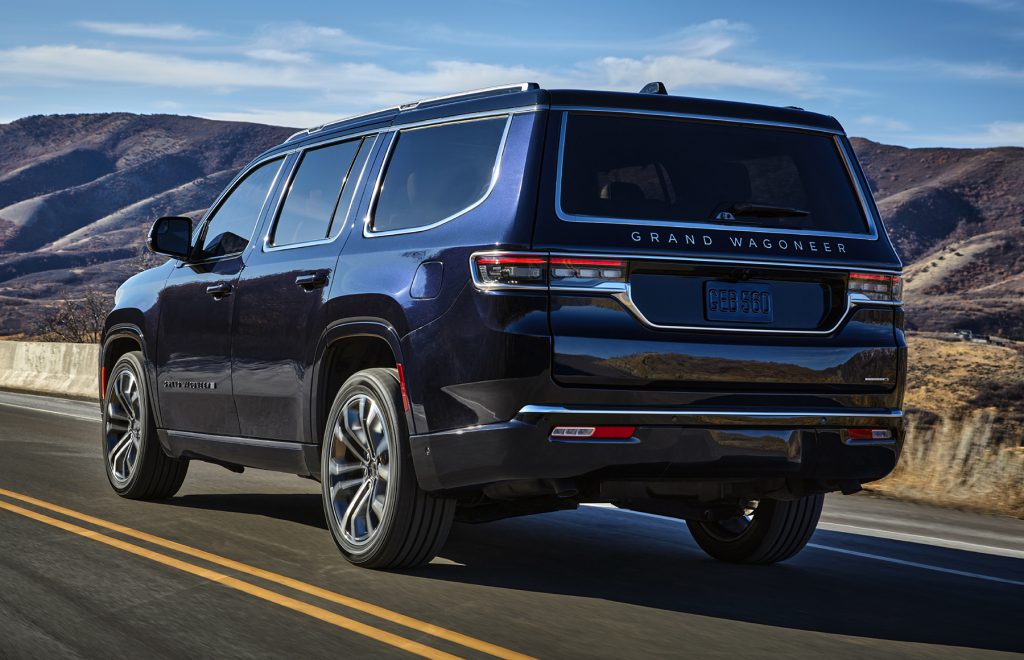 Vehicles in this class deliver room, comfort, power, luxury, and towing/off-road capabilities that are unmatched by vehicles in any other segment, and customers have grown accustomed to paying for that content and prowess. Base prices for the Tahoe and Expedition, the most affordable trucks in the class, now exceed $50,000. As for Jeep getting into the segment, consider this: Investment house Barclays estimates that General Motors sees a 30-percent net profit on each large SUV it sells, which is well above the industry per-vehicle average of approximately 7 percent. The profit potential for Stellantis is enormous.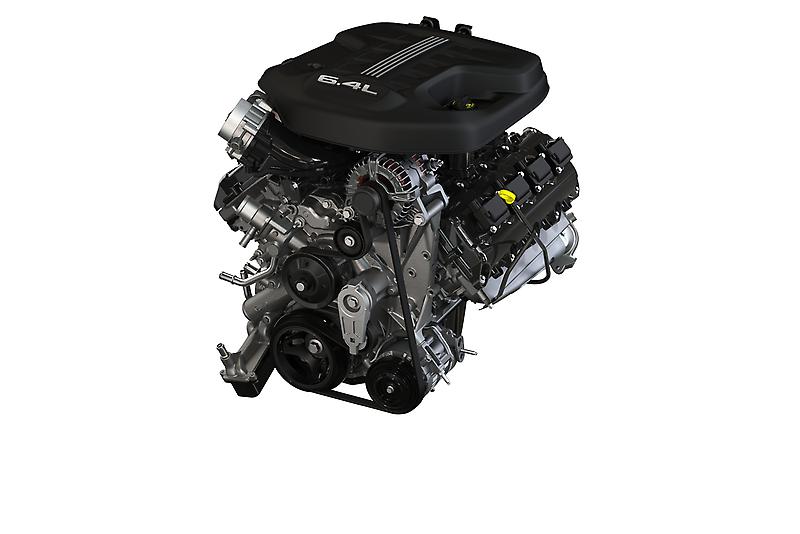 So, how does the Wagoneer stack up against the competition? Let's have a look. At least at introduction, the Wagoneer will come only in one length—unlike its Ford and GM rivals. At 215 inches long overall, the Wagoneer is two and nine inches longer, respectively, than the standard-length Expedition and Tahoe. The Wagoneer's 123-inch wheelbase matches the Ford but is two inches longer than the Chevy. So size-wise, Wagoneer is right in the thick of things.
Like the big Ford and GM SUVs, the Wagoneer is built on traditional body-on-frame architecture, which generally lends itself well to heavy-duty towing and hauling. Two V8 engines are on offer, and both are teamed with an 8-speed automatic transmission. Wagoneers are powered by a 5.7-liter mill paired with an "eTorque" mild-hybrid system, which provides supplemental torque when accelerating from a stop and includes engine stop/start functionality. The engine also employs cylinder-deactivation technology, which shuts down certain cylinders under light-load conditions. The 5.7 is rated at 391 horsepower when operating on the recommended midgrade gasoline.
The luxury-trim Grand Wagoneers come standard with a burly 6.4-liter V8. The larger engine does not employ eTorque or stop/start technology, but is equipped with a cylinder-deactivation system. It's rated at 471 horsepower and requires premium-grade fuel.
First Look: Jeep Grand Wagoneer Concept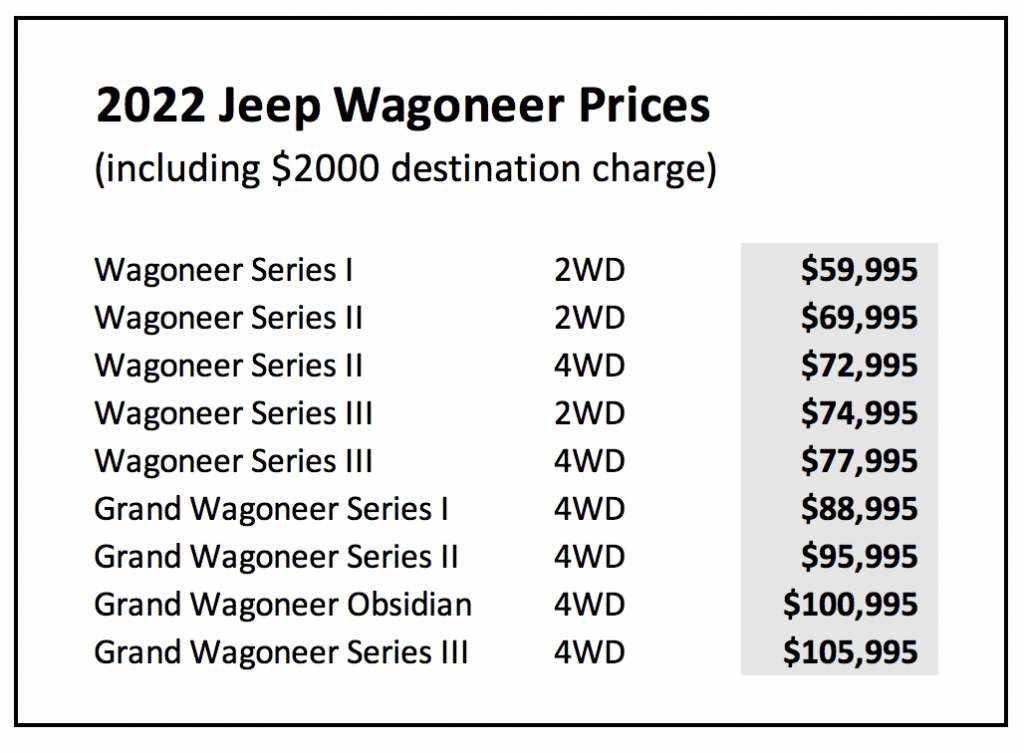 These being Jeeps, there are naturally several 4WD options, though some base models can be had with rear-wheel drive. The Quadra-Trac I setup is a full-time 4WD system that requires no driver input. The Quadra-Trac II system employs a 2-speed transfer case and can route as much as 100 percent of available torque to the wheel with the greatest traction. Finally, Quadra-Drive II expands on the Trac II system with the addition of an electronic limited-slip rear differential to further reduce slip in low-traction scenarios.
Included with Quadra-Trac II and Quadra-Drive II is Jeep's Selec-Terrain system. The system allows drivers to choose between Auto, Sport, Rock, Snow, and Sand/Mud modes as driving conditions demand.
The Wagoneer/Grand Wagoneer structure is a two-tier model strategy not unlike GMC with the Yukon and Yukon Denali, though the Grand Wagoneer steps further up to compete directly with the Cadillac Escalade and Lincoln Navigator. Both Wagoneer and Grand Wagoneer are available in Series 1, Series 2, and Series 3 trims. In addition, the Grand Wagoneer is also offered in an exclusive Obsidian trim level, which is priced between Series 2 and Series 3. Grand Wagoneers are differentiated from Wagoneers externally by their two-tone black-roof treatment, unique LED headlamp signature, and specific badging.
In terms of pricing and segment positioning, the Wagoneer and Grand Wagoneer cover a lot of ground. The entry-level Wagoneer Series I (which comes only with rear-wheel drive) starts at $59,995—$900 more than a midlevel 2WD GMC Yukon. On the opposite end of the spectrum, the Grand Wagoneer Series III starts at $105,995—$1705 more than a topline regular-length Cadillac Escalade in Sport Platinum trim. (All prices listed here include the $2000 destination charge.)
Quick Spin: 2020 Ford Expedition MAX Platinum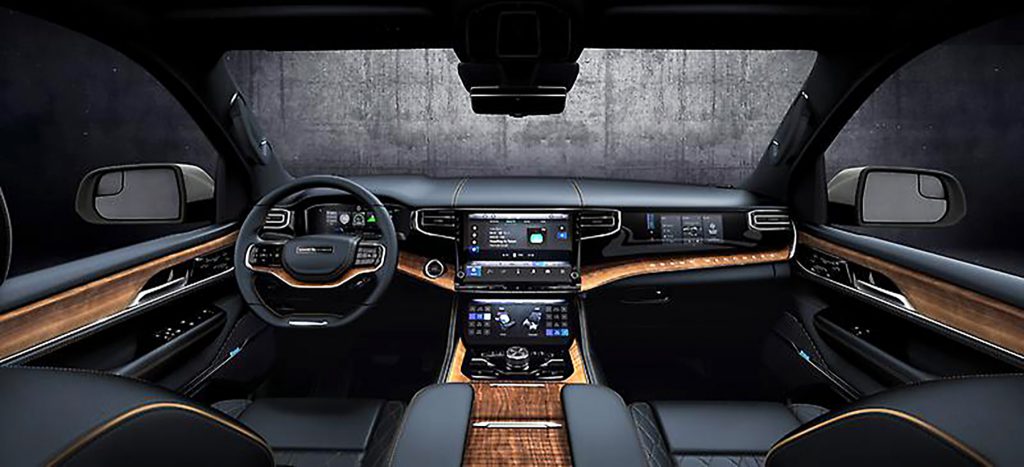 Complicating things somewhat, Series II Wagoneers are available in Standard and Premium variants, while Series III trucks come in Premium and Off-Road versions.
Note that the Wagoneer Series I will not be available when the truck goes on sale this summer. Until it comes online, the least expensive Wagoneer is the 2WD Series II, which starts at $69,995.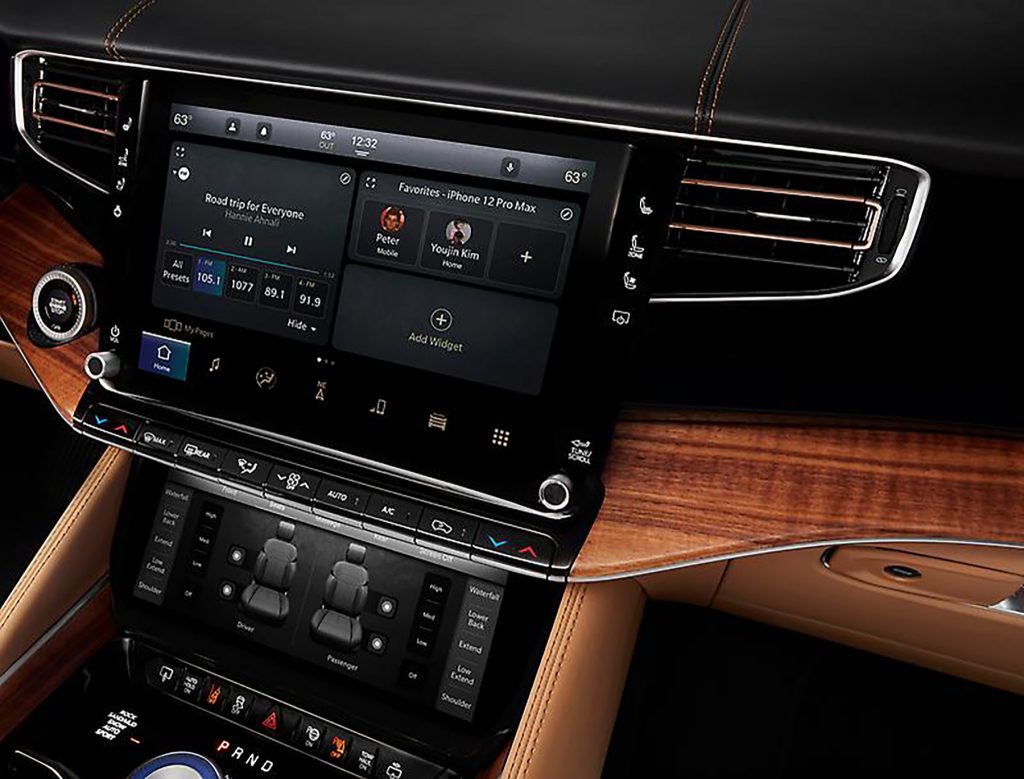 The Wagoneer Series II Off-Road will appeal most to those serious about leaving the pavement. Included is the All-Terrain group which features Quadra-Drive II 4WD plus Jeep's Quadra-Lift air suspension, under-body skid plates, all-terrain tires, and chrome tow hooks.
Inside Wagoneer, we find Jeep is keeping up with other automakers in the largest-advertised-size touchscreen wars. Wagoneer models come standard with a 10.1-inch touchscreen, while Grand Wagoneers boast a 12.0-inch unit. The infotainment system uses Stellantis' new Uconnect 5 software, first seen in the refreshed-for-2021 Chrysler Pacifica minivan.
Details are limited for Wagoneer Series I trucks, but all other Wagoneer/Grand Wagoneer variants come with some form of premium audio. An Alpine-brand 9-speaker system is standard on Wagoneer Series II, while a 950-watt 19-speaker McIntosh system is available or standard on all other models save for the Grand Wagoneer Obsidian and Series II. Available on Grand Wagoneer models a 1375-watt McIntosh system boasting 23 speakers.
Also available are wireless device charging, 4G LTE Wi-Fi connectivity, and Fire TV for Auto integration with Amazon Alexa. Fire TV allows users to access hundreds of thousands of movies, TV shows, and apps. In Grand Wagoneers, front-seat passengers can watch those Fire TV programs (and do lots more) via an available 10.25-inch touchscreen nestled into the passenger side of the dashboard—a gee-whiz feature on the Grand Wagoneer Concept that has indeed made the jump to the production model.
Leather upholstery is standard across the line (the Wagoneer Level I may be the exception—details to come at a later date). All Wagoneer models can seat up to eight passengers when equipped with the second-row bench seat.
Test Drive: 2019 Toyota Sequoia TRD Sport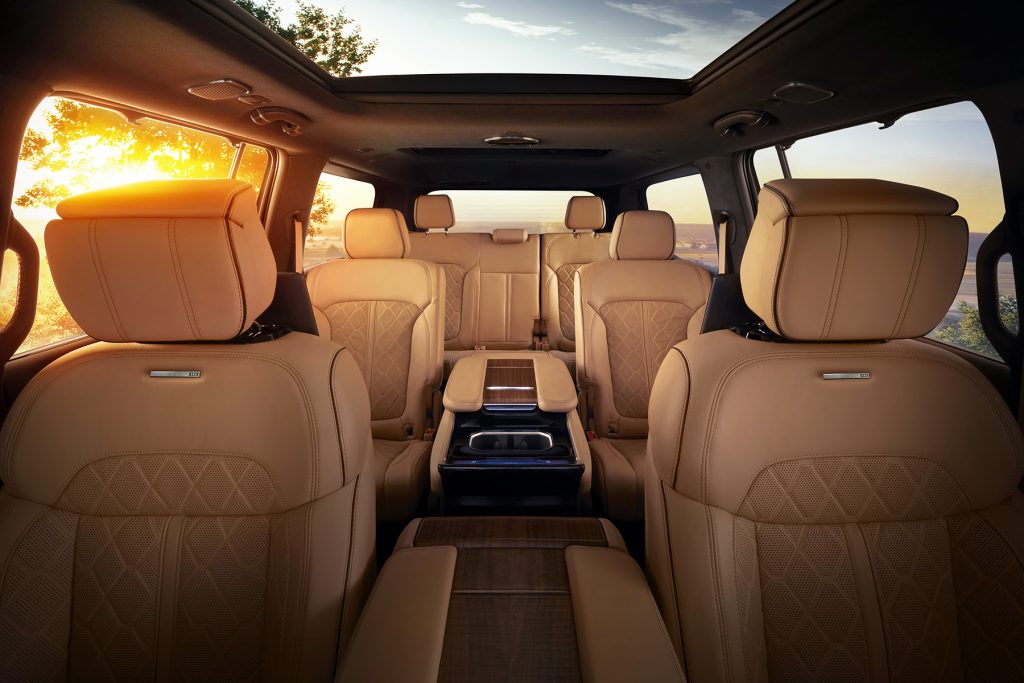 As expected from a modern premium vehicle, Wagoneers are loaded with safety and driver-assistance gear. Here are some highlights:
Outward visibility is enhanced by a digital rearview mirror, a 360-degree surround-view camera, night vision with pedestrian and animal detection, and a Trailer Hitch Line-Up Assist feature that uses a rear-facing camera with dynamic grid lines and a zoom function to make it easier to connect a trailer.
Hands-Free Active Driving Assist (late availability) allows hands-off driving on approved roadways. Considered Level 2 autonomy, the system requires the driver to pay attention to the road and take over if necessary.
Intersection Collision Assist helps to detect vehicles approaching from the side when nearing a crossroad. The system will provide audible and visual alerts and automatically apply the brakes should it determine that a collision is imminent.
In addition the vehicle itself, Wagoneer and Grand Wagoneer owners are treated to several Client Services perks, not unlike those included with the purchase of Black Label-trim Lincoln vehicles.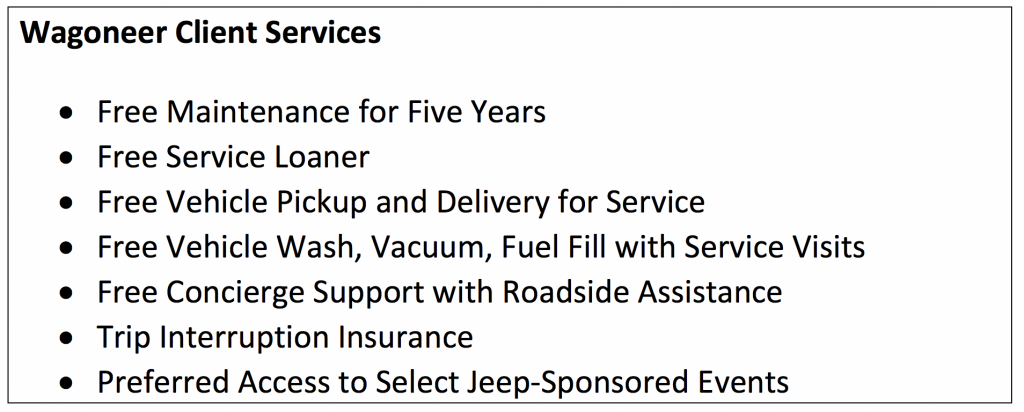 Not surprisingly, Jeep is concerned about the Wagoneer shopping experience. Customers looking to spend nearly $100,000 on an vehicle likely have different purchase-process expectations than customers trying to score a good deal on a sub-$30,000 Renegade. To that end, Jeep is requiring its dealers to be "Wagoneer Certified" to sell the new model.
Among the standards dealers must meet to be allowed Wagoneer inventory is possession of a current J.D. Power "Customer First" award. Standards for service proficiency, waiting-room accommodations, and sales training must also be met.
The 2022 Jeep Wagoneer and Jeep Grand Wagoneer are expected to begin arriving in showrooms this summer. As noted earlier, base-trim Wagoneer Series I models will not be available at launch, and, if the Wagoneer proves popular, may not arrive anytime soon.
Test Drive: 2020 Infiniti QX80 Limited
CG Says:
It is almost impossible to not to be left breathless by the scope of this lineup. The Jeep nameplate is marketing gold, however, and if any brand can successfully make a go of challenging Ford and GM in the large SUV segment, it's Jeep.
That said, GM's new SUVs are very good, and loyalty means a lot to shoppers in this segment. It is not difficult to see Jeep carving out a 40,000-60,000-unit big-SUV niche for itself—along with the substantial profits that selling vehicles in this class usually brings.
We're a little disappointed to see very familiar powertrains under the hood of the Wagoneer. Models equipped with the 6.4-liter V8 are likely to have a difficult time returning much more than 10 mpg—and that's on premium gas.
All that said, if the luxury and refinement standards seen in the Ram 1500 pickup (Ram is another Stellantis brand) are met here, the Wagoneer and Grand Wagoneer may prove to be extraordinary luxury vehicles.
Note: Jeep says that the Wagoneer name will be applied to a range of premium products. At the very least, we expect an extended-length, long-wheelbase model to be announced in the next 12 months.
First Spin: 2021 Cadillac Escalade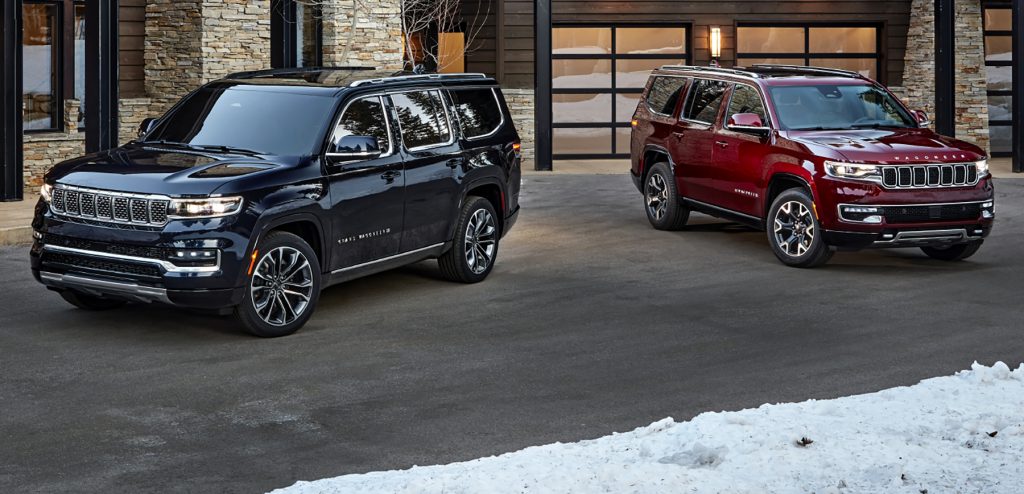 Listen to the Consumer Guide Car Stuff Podcast
2022 Jeep Wagoneer and Jeep Grand Wagoneer Gallery
(Click below for enlarged images)