If you trust Wikipedia, the Cord 810 was among the first automobiles to sport hidden headlamps. As far as design trends go, that's a pretty auspicious starting point. For the purposes of this gallery, we are making a clear distinction between hidden headlamps—those found in or near a traditional grille–and pop-up headlamps along the lines of those found on the early-generation Mazda Miata or RX-7.
Sadly, the in-grille concealed headlamp is now mostly a thing of the past. The large, rectangular grille—the traditional home of concealed headlights—has given way to more sloped, less chrome-y front clips that leave little space to hide a pair of headlights.
For your consideration, we have gathered a dozen classic car ads, each touting a car with hidden headlamps. If you have a favorite hidden-headlamp car, tell us about it. The place to leave comments is down below.
Ads Featuring Cars With Hidden Headlamps
1942 DeSoto
Dead-Brand Madness! 10 Classic DeSoto Ads
1967 Chevrolet Camaro
Chevrolet Camaro Z/28: A History in Photographs
1967 Oldsmobile Toronado
Rocket Madness! 10 Classic Oldsmobile Ads
1968 Dodge Charger
What was the Dukes of Hazzard Car?
1968 Pontiac Grand Prix
Art Fitzpatrick: The Man Who Drew Pontiacs
1969 Buick Riviera
Review Flashback! 1985 Buick Riviera
1970 Mercury Marquis Colony Park
The 5 Most-Expensive American Wagons of 1969
1971 Imperial LeBaron by Chrysler
Forgotten Concept: Chrysler Imperial
1971 Plymouth Fury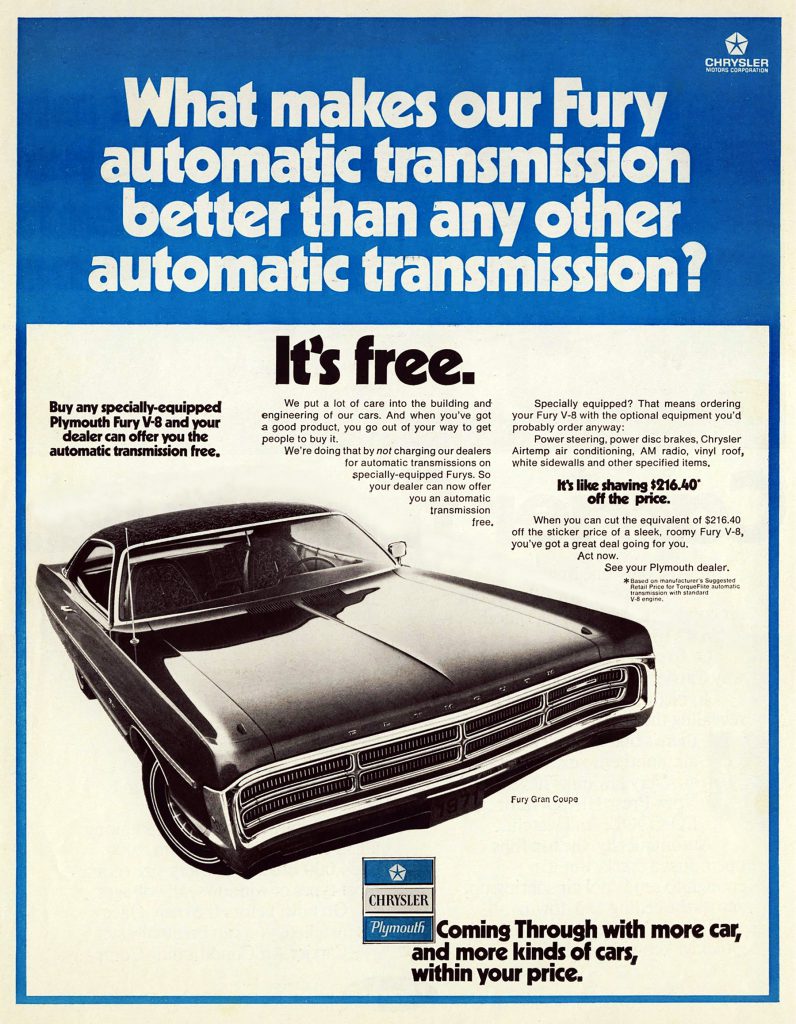 Readers Strike Back: 12 More Great Car Grilles
1981 Ford Thunderbird
Review Flashback! 1984 Ford Thunderbird Turbo Coupe
1988 Chrysler LeBaron
Mainstream Mainstay: 1977-1995 Chrysler LeBaron
1988 Oldsmobile Toronado Troféo
Listen to the Consumer Guide Car Stuff Podcast
Cars With Hidden Headlamps Gallery
(Click below for enlarged images)
Cars With Hidden Headlamps
Cars With Hidden Headlamps