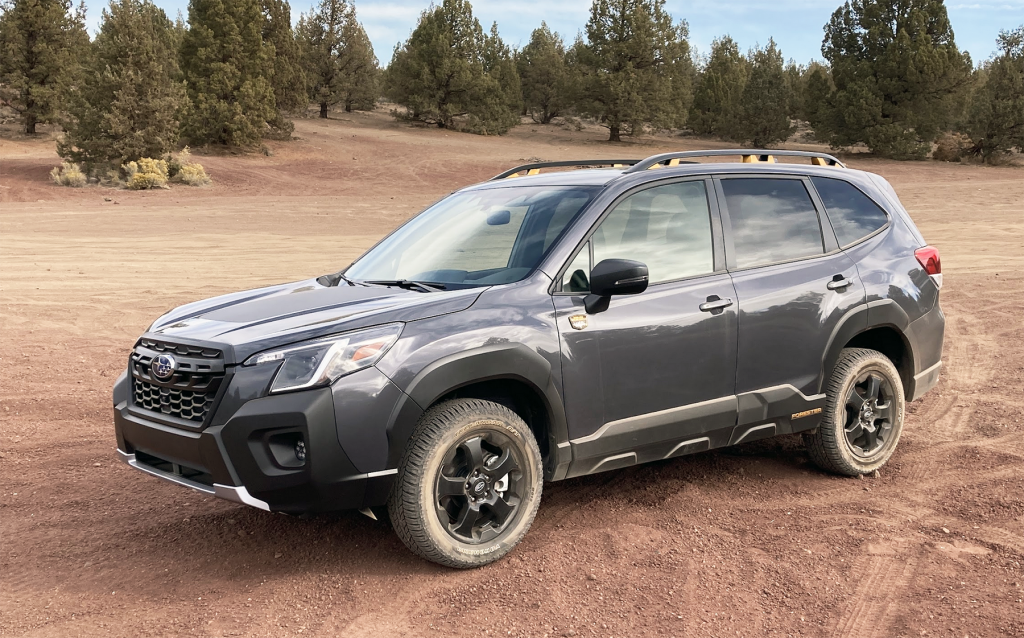 Here's a factoid for you: Nearly 1 out of every 5 Subarus ever sold has been a Forester, and since its debut as a 1998 model, Subaru has sold more than 2.3 million of its popular compact crossover SUV. For the last several years, the Forester's annual sales have been running in the neighborhood of 170,000-180,000 units in the US, and Subaru says those totals have been limited by production capacity rather than consumer demand. The current-generation Forester debuted for 2019, and for 2022 it gets a mild freshening, along with the addition of an outdoor-adventure-focused Wilderness model with improved off-road capabilities.
All 2022 Foresters get a new front bumper, grille, headlights, and fog lights, as well as a revised rear-bumper underguard design. All trim levels save the Sport get new roof rails, and the top-of-the-line Touring model gets new wheels, black roof-pillar trim, and silver roof rails.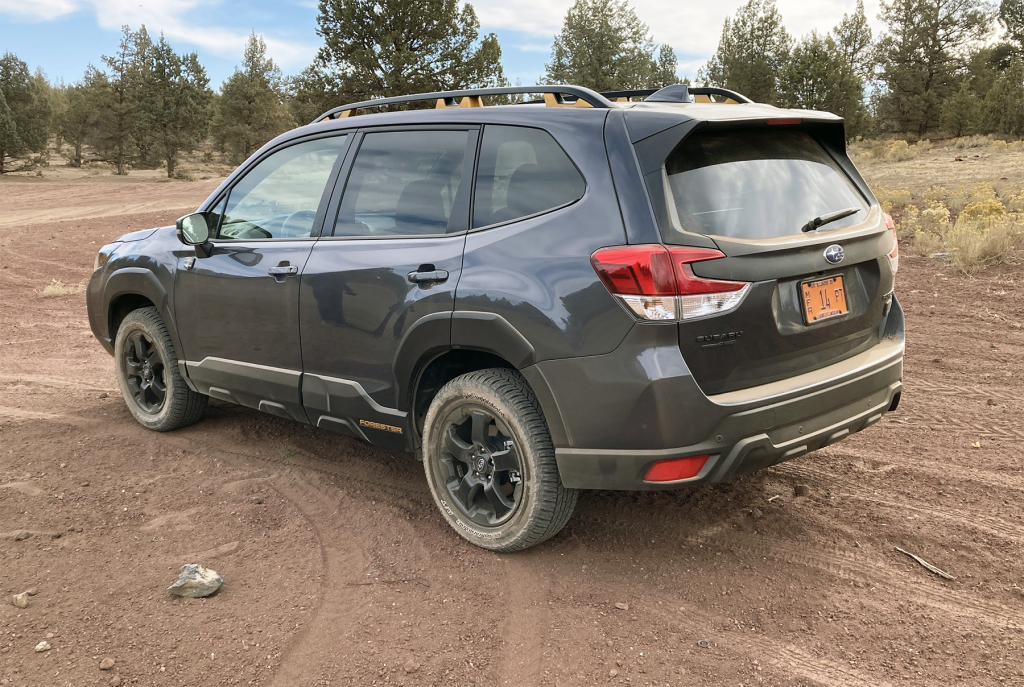 Foresters also benefit from Subaru's updated EyeSight Version 4.0, which has a wider field of view than previous versions and includes an Automatic Emergency Steering feature on most models. (At speeds less than 50 mph, Automatic Emergency Steering works in conjunction with the Pre-Collision Braking System to assist with steering control to help avoid a collision.) Interior tweaks include an LED dome light (with off-delay) and the addition of two cargo-area headliner hooks mounted just inside the rear liftgate. Mechanical changes include a new version of Subaru's X-MODE off-road driving system and revised suspension tuning.
First Spin: 2022 Subaru Outback Wilderness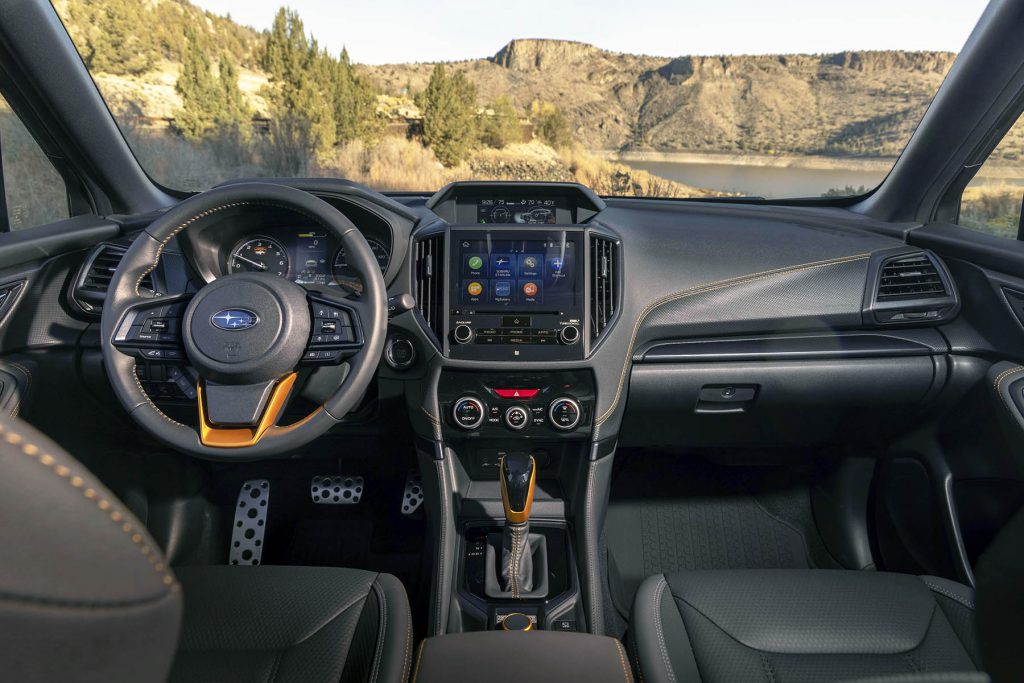 The Forester Wilderness is the second vehicle to wear the badge of Subaru's new Wilderness sub-brand—the first was the 2022 Outback midsize wagon, which debuted the nameplate earlier this year. Think of Wilderness as Subaru's halo brand for customers looking for more off-road capability than the standard models offer. It's a safe bet that Subaru will continue to expand the Wilderness brand further across its product lineup.
Quick Spin: 2021 Ford Bronco Sport Badlands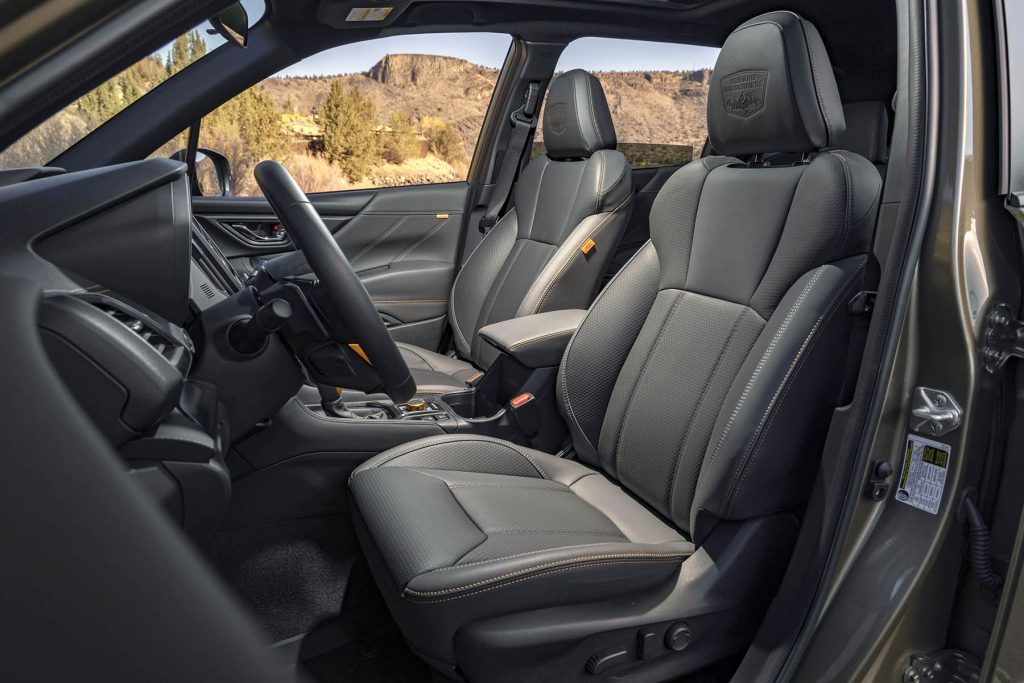 During a media briefing on the Forester Wilderness, Michael Redic, Subaru of America's Car Line Planning Manager for Forester, explained that the company's research shows that Forester customers are among the compact SUV segment's most active outdoor adventurers. However, those customers aren't specifically off-roading enthusiasts—they view off-road driving as something they need to do to get to out-of-the-way places, so they can start camping, hiking, backpacking, rock climbing, et cetera. Wilderness buyers are expected to be younger and skew more male than other Forester owners, but Subaru's research indicates that these customers don't want to sacrifice on-road comfort and safety for added off-road ability.
Like its Outback Wilderness stablemate, the Forester Wilderness slots in at the upper end of its model lineup. Its base price of $32,820 fits between the upscale Limited model (MSRP: $31,875) and the top-line Touring ($35,295) in the Forester model roster. That's quite a step above the $25,195 starting price of the base Forester, but then again, the Wilderness comes outfitted with a lot of special gear.
A number of unique exterior styling touches give the Wilderness a beefier, more aggressive look than the rest of the Forester lineup. These include specific front and rear fasciae, along with a bolder grille, six-segment LED fog lamps, extended protective matte-black body cladding, and ladder-style roof rails. Additional matte-black trim includes the mirror caps, window surrounds, badging, and an anti-glare hood decal. Subaru Wilderness badges adorn the front doors and liftgate, and the roof-rail supports and bodyside Forester emblems are finished in an anodized-copper color.
The Wilderness's roof rails have been repositioned approximately 20 millimeters further apart, which increases the dynamic roof-load capacity to 220 pounds. When the vehicle is stationary, the roof rack's weight capacity is a stout 800 pounds, which should be enough to support a three-person tent.
Test Drive: 2020 Toyota RAV4 TRD Off Road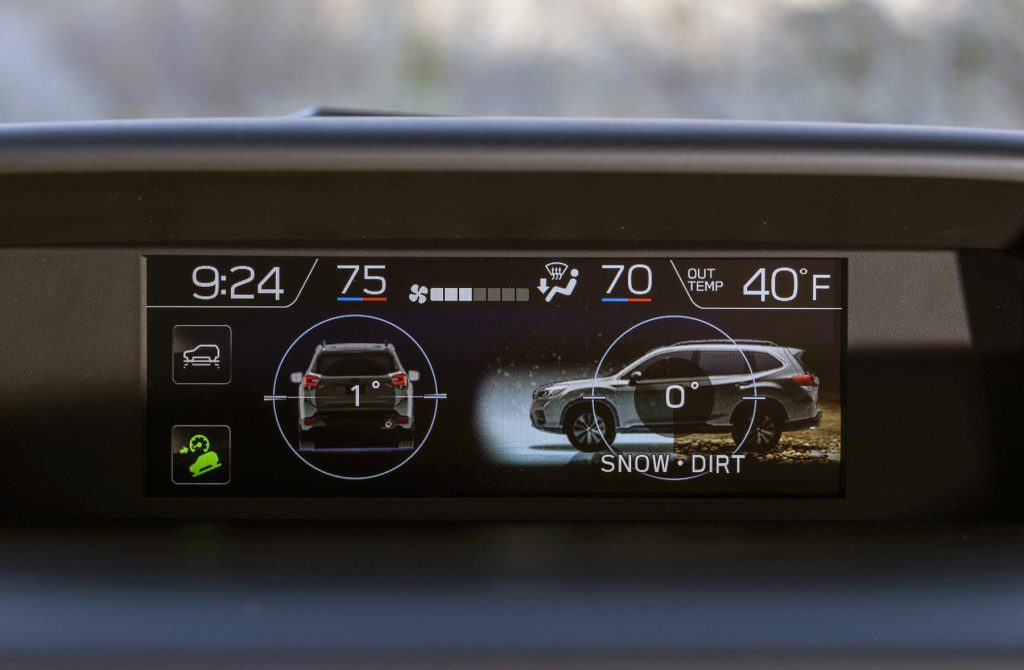 The Wilderness's cabin is outfitted to better cope with the often-muddy adventures its owners are more likely to engage in. Highlights include Subaru's "StarTex" water-repellent upholstery, all-weather floor mats, all-weather cargo mat, and washable textured plastic rear seat backs. The headliner is black, to help hide scuffs and marks from getting hit by dirty bicycle tires and the like. There is also a smattering of copper and gunmetal accent trim, unique gauges, small Subaru Wilderness cloth "tags" on the seats and door panels (like you'd find on brand-name outdoor clothing), and a handy LED cargo light mounted on the liftgate's inside trim panel.
Additional horsepower isn't among the Forester Wilderness's upgrades, however; it uses the same 2.5-liter horizontally opposed 4-cylinder engine—rated at 182 horsepower and 176 lb-ft of torque—as other Forester models. However, the engine has been fitted with an external oil cooler, and its Lineartronic CVT (continuously variable transmission) is different than the standard Forester unit—it has a strengthened variator pulley and chain, which has improved low-end torque availability. Its range of gear ratios has been expanded, and the final-drive ratio is lower as well. Subaru says these changes have improved the Wilderness's climbing ability. Towing capability is improved as well—the Wilderness is rated to tow 3000 pounds, doubling the 1500-lb rating of other Foresters.
Specific 17-inch five-spoke alloy wheels are finished in matte black, and they wear white-letter all-terrain Yokohama Geolander AT Tires. A matching full-size spare wheel/tire (complete with a tire-pressure-monitor sensor) is included to maintain full off-road capability in the event of a flat. The Wilderness runs a unique suspension setup as well—longer coil springs and shock absorbers have been fitted to increase the ride height, and the system has been retuned to compensate for the body lift. The changes raise the Wilderness's ground clearance to 9.2 inches, an increase of 0.5 inch compared to the standard Forester's (and the Jeep Cherokee Trailhawk's) 8.7 inches of clearance. The suspension changes have also helped improve Wilderness's approach and departure angles, as well as the breakover angle.
An aluminum under-engine guard—or skid plate— is standard. Subaru also offers accessory bolt-on underbody metal guards. These include a beefier replacement for the stock under-engine piece along with guards that protect the transmission, differential, and fuel tank.
Test Drive: 2019 Chevrolet Colorado ZR2 Bison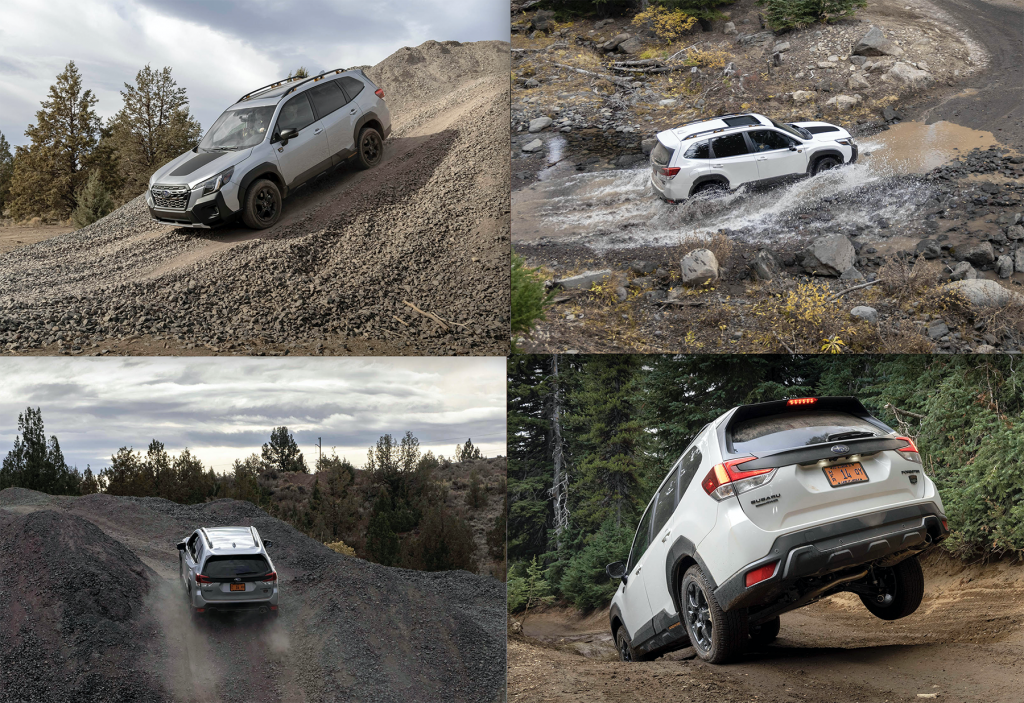 Also included is Subaru's driver-selectable X-MODE dual-function all-wheel-drive system. The system offers Snow/Dirt and Deep Snow/Mud modes that optimize engine and transmission output to help reduce wheelspin in more-challenging conditions. X-MODE also has a Low Speed/Low Ratio Gradient Control system that automatically engages and shifts the transmission to its lowest ratio when it senses the Forester is at low speed on a steep incline. Subaru says this effectively creates a low range to increase torque at the wheels when traveling uphill. The X-Mode display screen features a new roll-angle monitor to help the driver better judge the vehicle's angle on steep off-road terrain to potentially avoid a rollover.
At a press-preview event Subaru hosted in central Oregon, we sampled a Forester Wilderness equipped with an $1850 option package that added STARLINK multimedia navigation with an 8-inch touchscreen display, a 9-speaker Harman Kardon premium audio system, and a power-operated rear liftgate. Our test vehicle was also fitted with an $220 under-engine guard (skid plate) that, along the $1125 destination charge, pushed the bottom-line price to $36,015.
Future Collectibles: 2009-2010 Hummer H3T Alpha

Our day-long drive took us down several unpaved US Forest Service roads of varying quality, as well as on street drives that covered rural two-lane highways and a bit of stop-and-go small-town traffic. We also visited an off-road park where Subaru had prepared a large gravel hill. Here, with the nose of the Forester pointed skyward, we used the standard 180-degree front-view camera (pressing a button on the center console brings up the front-camera view on the infotainment touchscreen) to help us see as we motored up the steep incline with little drama. Coming down the other side was just as easy; the standard hill-descent control system took care of vehicle speed while we steered.
On challenging, rock-littered gravel and dirt Forest Service roads, the Forester Wilderness feels at home. Traction is excellent, and there is sufficient ground clearance that during the day we only heard one rock bang off the under-engine skid plate. Our on-road drives largely took place on glass-smooth asphalt, where the Forester Wilderness rode very comfortably. Body roll is well checked, the handling is reassuring, and the naturally aspirated engine is responsive, with excellent throttle control. Only the often-clunky engine stop/start feature disappoints, and it can be turned off. A Forester is no undercover sports car, but its overall demeanor is relaxed and confident, and the Wilderness model's off-road makeover has introduced no real comfort tradeoffs that would annoy during daily-grind commuting.
4WD Madness! 10 Classic Lada Niva Ads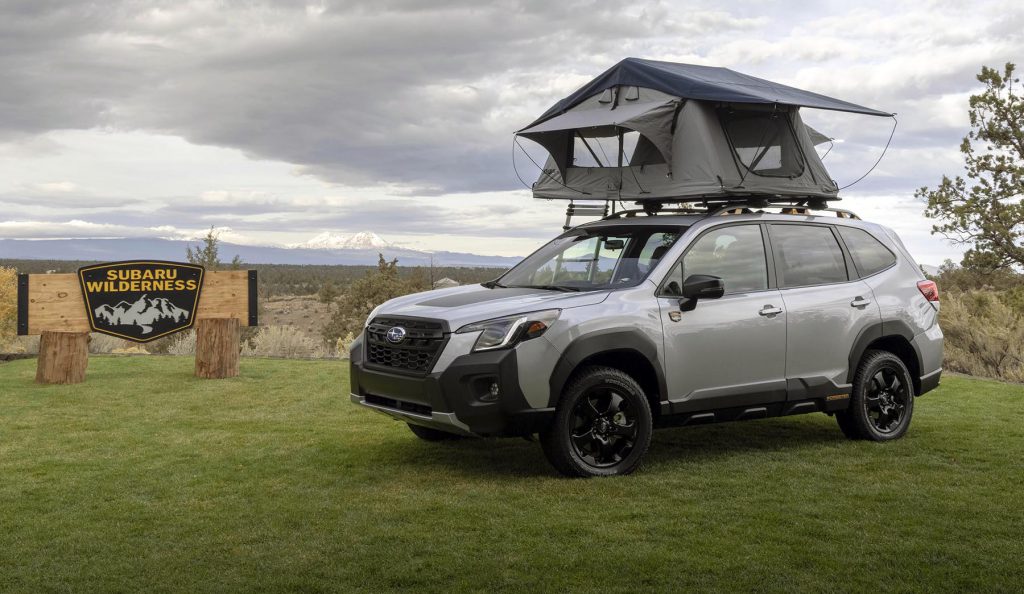 Also, we were pleasantly surprised with how relatively quiet the Forester Wilderness was inside. We didn't encounter any of the roughly textured concrete highways that are common around our home base in the Chicago suburbs, but on the smooth roads of central Oregon we were pleased to find that the aggressively treaded all-terrain Yokohamas kicked up only the slightest hint of road noise.
The main downside to the Forester Wilderness's trail-tackling added features and chassis tuning is a hit in fuel efficiency—particularly fuel efficiency in highway driving. EPA-estimated fuel economy for Forester Wilderness is 25 mpg city/28 mpg highway/26 mpg combined, a penalty of up to five mpg from the 26/33/29 rating of all other Foresters. (Choosing an Outback Wilderness model over a comparable Outback brings a similar fuel-economy penalty, though the drop isn't quite as pronounced.)
As expected, the virtues of the basic Forester's spacious-for-its-class interior carry over unaltered. Your 6' 2" test driver had plenty of room and was very comfortable up front, and he found excellent headroom under the panoramic sunroof housing. The easy-to-clean StarTex upholstery material looks similar to vinyl or leather, but its surface has a more matte-finish appearance—we think it looks great and feels very nice, though some of our fellow Consumer Guide editors complained that the upholstery in the Outback Wilderness doesn't "breathe" very well, and can get uncomfortably warm on hot days. The interior's copper-color accents add a bit of visual pizzazz, thankfully without being overdone. The control setup is fairly straightforward, and the audio and climate controls use traditional knobs and buttons. Thanks to the Forester's tall roofline and generously sized windows, outward visibility is excellent all-around.
Also, your tester found just enough rear-seat legroom behind a front seat set for himself. While the headroom under the sunroof is adequate, it's noticeably tighter than up front. All around, entry and exit are easy. The rear liftgate has a wide opening to help make the most of the cargo area.
We've been impressed with the current-generation Forester since it debuted for 2019, and we made it a Consumer Guide Best Buy in 2020 and 2021 (stay tuned to see if it retains its Best Buy honors for 2022). The overall package remains roomy, comfortable, and practical, and it's very pleasant to drive. The enhanced off-road chops of the new Wilderness model introduce no real day-to-day penalties beyond the lower estimated fuel economy. If you're one of the increasing number of Americans who enjoy camping or off-the-beaten-path outdoor activities, the Forester Wilderness may be exactly what you've been looking for.
What was the Chevrolet Bonanza?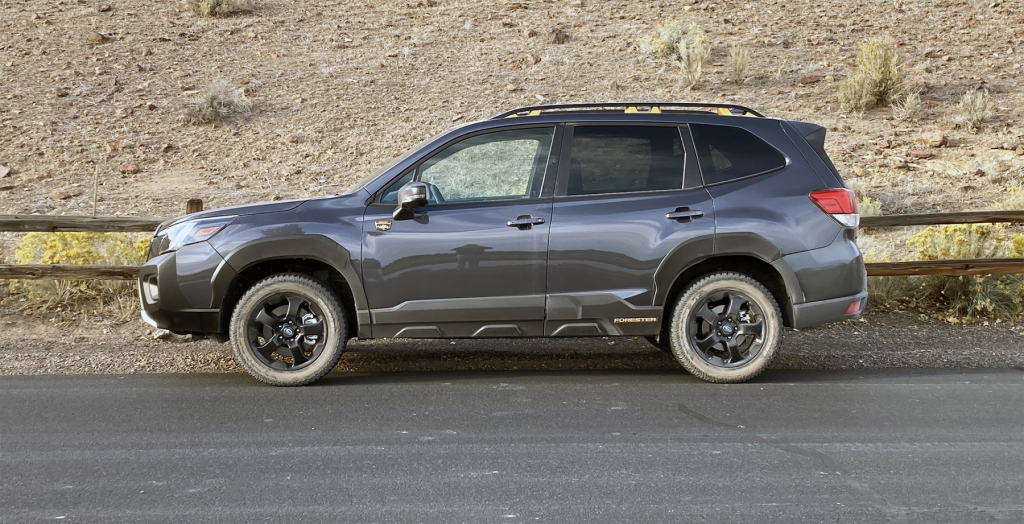 Check out the Consumer Guide Car Stuff Podcast
2022 Subaru Forester Wilderness Gallery
(Click below for enlarged images)