Most Americans have a fairly myopic view of the off-road-vehicle world. Ask any of us what the most popular 4×4 on the planet is and you'll get the answer "Jeep" nine times out of ten. Not that Jeep is a bad answer–the Wrangler remains one of the most capable rock pounders you can purchase–but despite the Jeep brand's power, there are markets where it isn't all that well established.
Just as Americans have Jeep, the United Kingdom has Land Rover, Germany has the Mercedes-Benz G-Class "Gelandewagen," and Japan boasts both the Toyota Land Cruiser and Nissan Patrol. And all of these vehicles have a strong presence outside of their homelands.
However, there is another off-roader of more modest stature that has, despite all odds, carved out for itself a serious international following, and that's the Lada Niva.
Virtually unknown to Americans, the Niva is the product of Russian car builder AvtoVAZ, and has been in production since 1977. Compared to the Jeep Wrangler, the Niva is a humble machine; it's smaller in every dimension, and packs considerably less engine under the hood. But off road, the Niva holds its own, as demonstrated in the video above.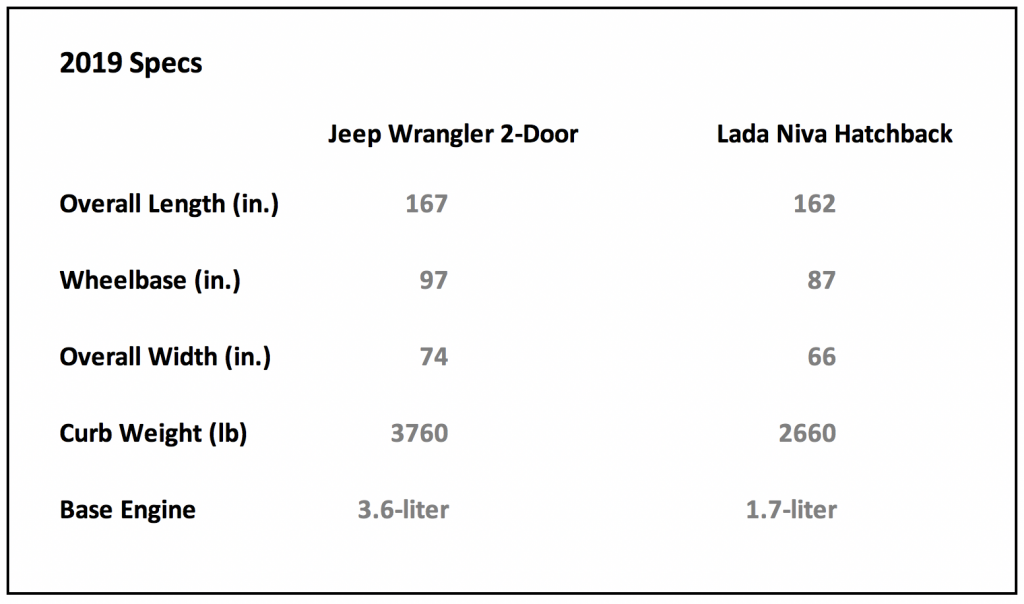 The Niva is still in production, and often sees the same sort of owner modifications and customization as Jeep Wranglers do. And because of its low base price, the Niva is often pressed into use as an economy car in many markets, where the little SUV is generally praised for its reliability and low cost of ownership.
Though Lada has never tried its luck in the U.S., the company has been exporting vehicles to countless other markets for decades, including Canada.
Collected for you here are ten Lada Niva print ads from a number of different countries.
If you've had the pleasure of spending time with a Niva, please tell us about it. The place for comments is down below.
Australia
4WD Madness! 10 Classic Jeep Ads
Happy Easter! Jeep Rolls Out Seven Concepts for Holiday Safari
Canada
Review Flashback! 2001 Isuzu VehiCROSS
What was the Chevrolet Bonanza?
Finland
Cheap Wheels: 1996-98 Suzuki X-90
Germany
What is the difference between 4WD and AWD?
Full-Size 4WD: The Big Rigs of 1989
Spain
One and Out: The 2009 Hummer H3T
South Africa