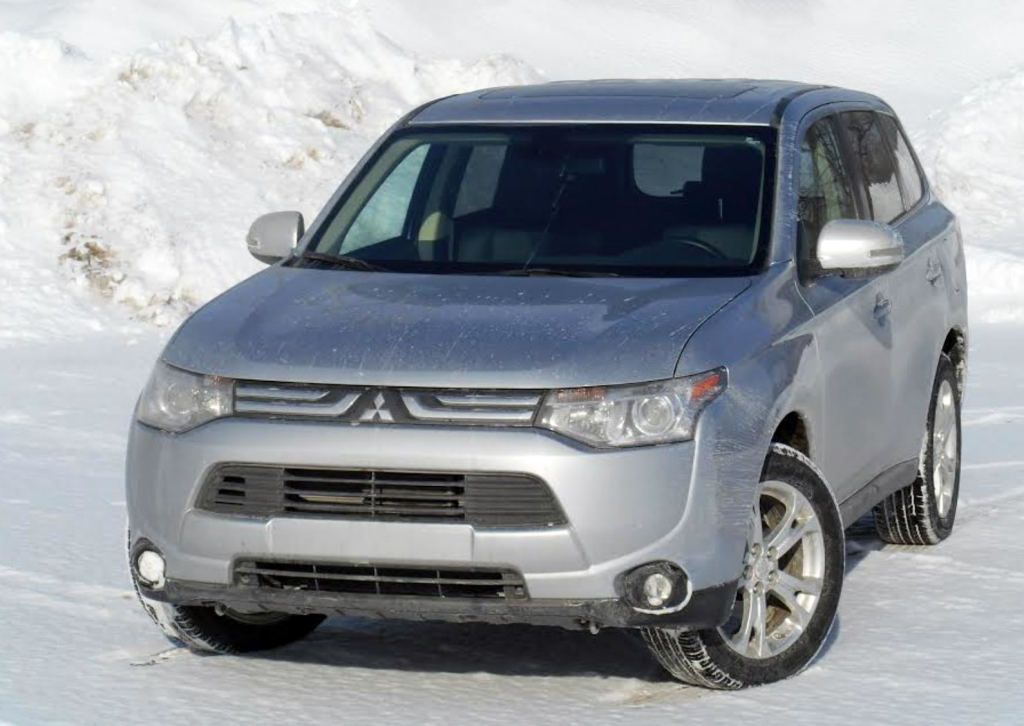 Although we've had our long-term Mitsubishi Outlander for more than six months now, it wasn't until I looked up some information on Mitsubishi's website last week that I noticed this nearly invisible stunner: For 2014, most Mitsubishi vehicles – including our Outlander – are covered by one of the industry's best warranties. For all practical purposes, it matches the famed – and widely publicized — 5-year/60,000-mile bumper-to-bumper warranty and non-transferrable (original buyer only) 10-year/100,000-mile powertrain warranty of Hyundai and Kia.
More Mitsubishi news and reviews
But who knew? And why didn't we?
Admittedly, I don't watch much TV. But I asked others on staff if they'd seen any prominent promotion of this in Mitsubishi's ads, and they weren't aware of it, either.
As far as we're concerned, this is one more point in the Outlander's favor. Here's another: The Outlander has won Kelly Blue Book's 2014 "5-Year Cost to Own" award among midsize SUVs.
But those of us on staff had already branded the Outlander a winner – or at least, a really strong contender. Its combination of three-row versatility, available high-end features, good driving dynamics, and fine value-for-the-money are really pretty hard to beat.
Extended-Use Welcome: 2014 Mitsubishi Outlander
Unlike Kelly Blue Book, we consider the Outlander a compact SUV rather than a midsize, though in many ways, it straddles the two classes. As a compact, it's the only one to offer both three rows of seats (which are standard) and an available V6 engine. Our top-line GT has both – along with all-wheel drive. Although the well-equipped GT starts at about $29,000 including destination, our tester is fitted with the $6100 Touring Package that adds such unusual-for-the-class features as forward collision mitigation, lane-departure warning, and adaptive cruise control.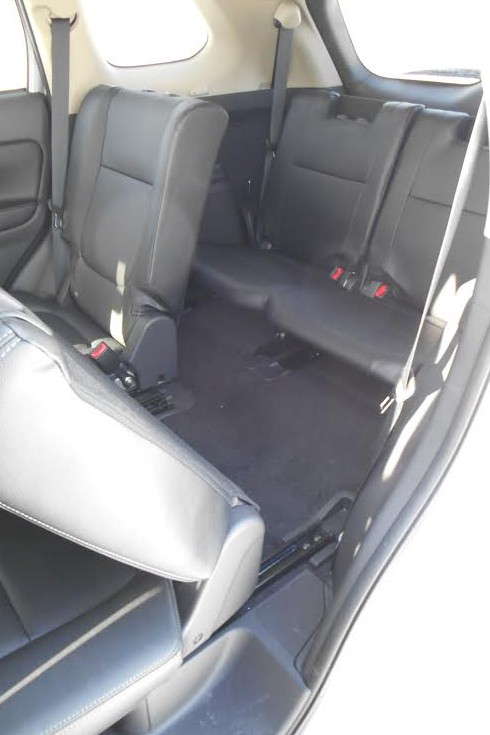 For the most part, it all works together very well, though we do have some complaints.
Universally disliked are the audio controls. Part of our Outlander's Touring Package is a navigation system, and although those are often culprits in complication, some of the problems here are simply in logic. Although you eventually figure out how to perform the functions, many still aren't quick or easy to execute.
As mentioned previously, the Touring Package also includes "high-end" safety features such as lane-departure warning. While it's a great idea, some drivers feel it's a little too sensitive, and particularly on semi-snowy streets, it sometimes goes off for seemingly no reason. "This car beeps for everything," one driver noted. "Additionally, each beep is the same sound, so I found myself having to look at the dashboard to see what might have been wrong."
On the other hand, the combination of lane-departure warning and adaptive cruise control was a real help during a long-distance fall trip. Watching the colors can be distracting, and it was nice to know the Outlander had your back if you veered out of your lane, and the adaptive cruise control did a great job of keeping a safe distance behind a leading vehicle.
Rand Road Revisited: A Used Car Dealer Gallery
There's nothing really outstanding from a dynamic standpoint other than that the V6 adds a healthy dose of power (and the automatic transmission chimes in with quick kickdown response) that isn't offered elsewhere among the "regulars" in the compact class. (Only the off-road-oriented Jeep Wrangler has a V6.) In terms of passenger and cargo space, the Outlander sits about where you'd expect: on the large side for a compact, a bit on the small side for a midsize. However, cargo versatility is about as good as it gets, with a long, flat load floor (though it's a bit difficult to fold the seats all the way down) and good interior storage space.
And then there's fuel economy. The Outlander GT's large size and V6 engine would seemingly be detriments in this regard, but we feel mileage has been rather impressive, all things considered. Long highway trips netted in the 25 mpg range, while regular commuting mileage was typically in the high teens to low 20s. An oddity was that although the tank holds 16.6 gallons, the low-fuel warning light would come on when the fuel gauge was down to its last "bar" (level was displayed as a stack of 16 bars rather than with a dial gauge), but in one instance, filling the tank took only 13.7 gallons. In that particular case, the trip odometer read 246 miles, which doesn't seem like very far on a "tank." Although it would suggest that there was nearly three gallons remaining when it lit, you really hate to second-guess that low-fuel warning light.
Our winter here in Chicago has been one of the snowiest and coldest in recent memory, and the former, in particular, has made the all-wheel-drive Outlander a popular choice among our drivers. But particularly for those wanting a three-row vehicle, it's really a good choice any time. And the new, longer warranties make it an even better one.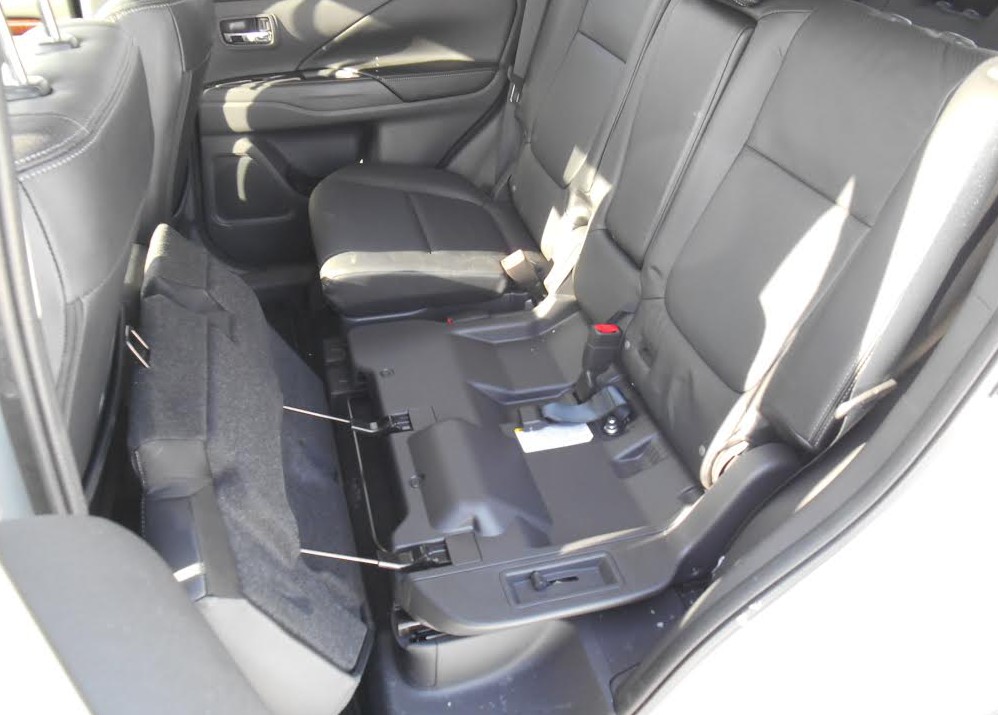 In the case of Hyundai and Kia, their famed warranty (introduced in the late '90s) arguably saved the U.S. arms of those companies. Both makes had been suffering from a poor reputation for quality, and instead of just saying they'd made changes to correct those problems, the sister Korean companies put their money where their mouths were. And then talked really loudly about it. Mitsubishi doesn't have quite the same problem going in, but if the company's new extended warranty is going to have the same effect, it's going to have to be more prominently promoted.