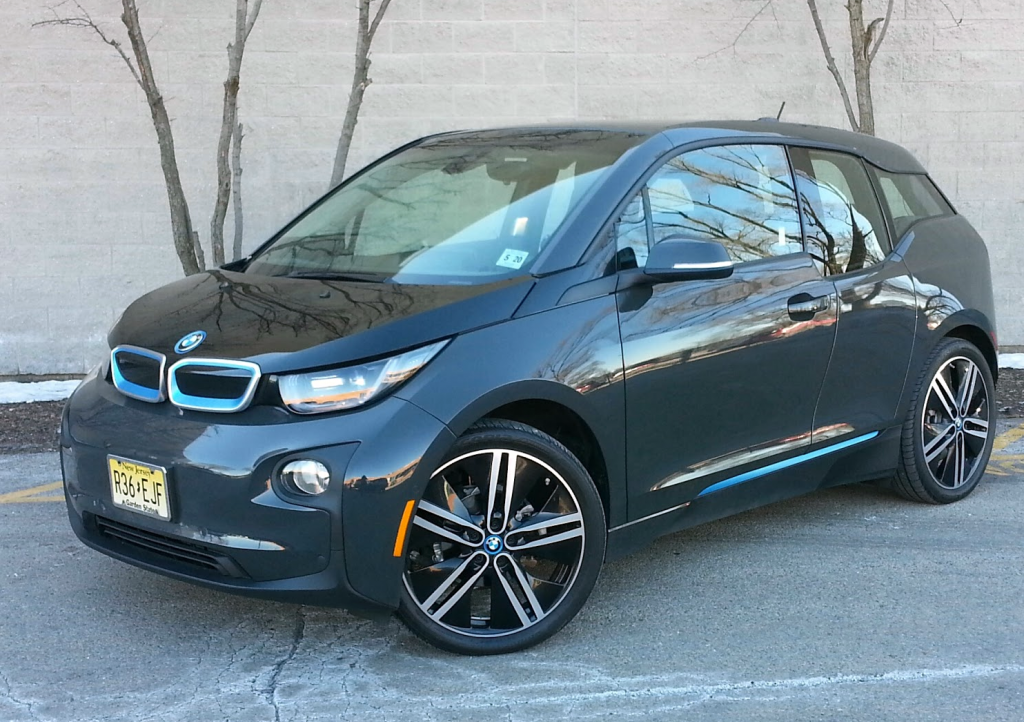 2015 BMW i3 with Range Extender  

Class: Electric Vehicle

Dates tested: 1/18/2016 – 1/25/2016
Miles Driven: 334
Fuel Used: 1.5 gallons
CG Report Card
Report-card grades are derived from a consensus of test-driver evaluations. All grades are versus other vehicles in the same class. Value grade is for specific trim level evaluated, and may not reflect Consumer Guide's impressions of the entire model lineup.
Room and Comfort
B-
Power and Performance
A-
Fit and Finish
B+
Fuel Economy
A+
Value
C+
Real-world fuel economy: 223 mpg
Driving mix: 60% city, 40% highway
EPA-estimated fuel economy: 117/39 (MPGe/mpg)

Base price: $46,250 (not including $950 destination charge)

Options on test car: Tera World Package ($2500), 20-inch wheels ($1300), Parking Assist Package ($1000), Tech + Driving Assist Package ($2500)

Price as tested: $54,400
Quick Hits
The great: Sporty demeanor, front-row room and comfort

The good: Cool and modern-looking cabin, effective gas-engine backup

The not so good: Limited grip on wet/salty surfaces, premium pricing

John Biel

I'd like to be able to tell you what kind of gas mileage the BMW i3 gets, but I don't know. I can tell you what it's supposed to get—the EPA says 39 combined city/highway mpg. In terms of actual rubber-meets-the-road personal experience, though, I've got no idea.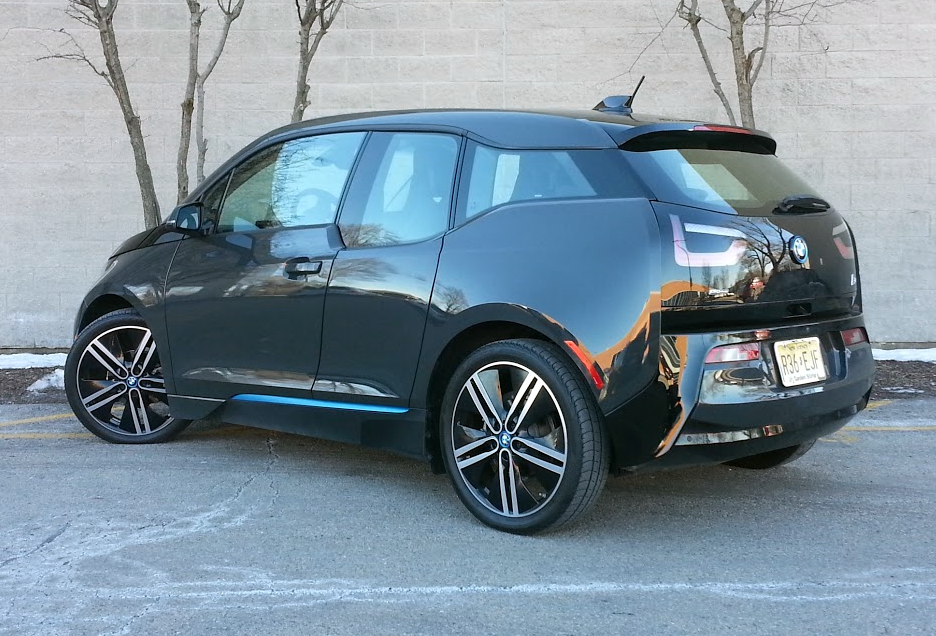 Here's why: In 147.6 miles of travel in BWW's funky little extended-range electric hatchback, I drove all of 6.2 miles with the two-cylinder gas engine engaged in replenishing the 22-kilowatt/hour lithium-ion battery pack with enough spark to keep the 170-horsepower electric drive motor humming. I wouldn't trouble any self-respecting gas pump for the piddling few drops it would take to, ahem, top off the tank after that.
Of course, not using gasoline is the whole point of electric cars, and the i3 buyer can completely avoid that—and save $3850—by selecting one without the small internal-combustion range extender. The tradeoffs are a lack of range, and the need to clear out a block of charging time during which there's little or no chance of using the car should a pressing need arise—or charging at every available chance.
2016 Nissan Leaf Breaks 100-Mile Barrier

Under optimal conditions, the i3 can go up to 81 miles on a full electric charge, or 150 miles after the gas engine kicks in to generate more juice. In the winter months, however, "optimal conditions" and "Consumer Guide® test car" are often mutually exclusive terms. Cold saps battery strength, and with daytime temperatures ranging from the single digits to the mid 30s Fahrenheit during CG's week with the car, the prospect of an 81-mile all-electric drive was as remote as an 81-degree day.
https://blog.consumerguide.com/2016-nissan-leaf-breaks-100-mile-barrier/
My four days in the i3 came at the warmer end of the spectrum. With a full charge, the car took me home and back to work the next morning, a 54.3-mile round-trip, with three miles of projected electric range still showing on the system display. Recharged again at Consumer Guide® Supreme World Headquarters, I returned home for the weekend with 32 miles of range in the bank. However, after sitting out overnight, that had slipped to 28 miles by the time my official test spouse and I set out on a midday shopping trip. On the way home, at the 59.1-mile mark, the battery charge was finally expended and the gas engine quietly kicked in to take us the rest of the way. With an overnight recharge, the i3 was ready for a short hop on Sunday and another trip back to work on Monday, a 28-mile stint with an indicated remaining range of 31 miles. Note that evening commutes were with lights, heat, and radio working; the morning returns and afternoon errands were without lights on.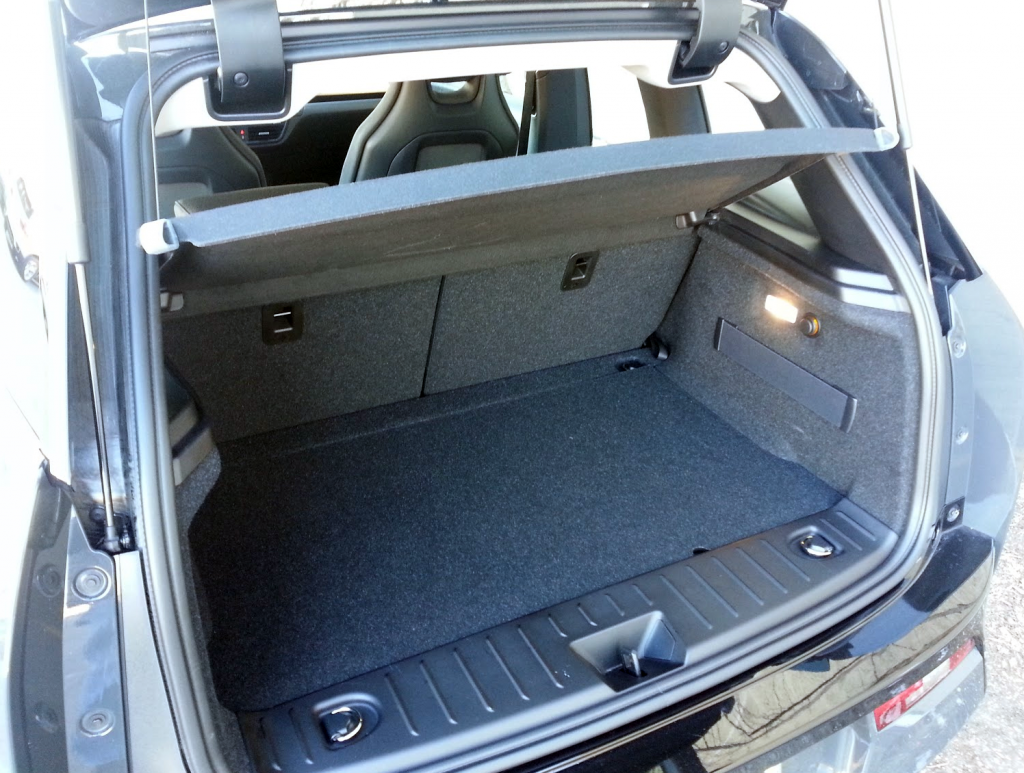 Range projections aren't a strict zero-sum calculation. You don't automatically lose one indicated mile of range at the turn of each statute mile. Drive hard and the "miles" seem to fly by; drive steadily—even on the expressway—and the range projection will stay more stable than the trip odometer. (Curiously, even when you're not using the gas engine, the car's prediction of how far you'll go on dinosaur nectar continually changes as it "reads" your driving style.) Of course, charging time is variable. CG's nominal 240-volt level-2 charger had the i3 ready to go well before a normal workday was done; a full level-1 charge using 110-volt household current took almost 16 hours. However, an available direct-current "fast-charge" unit cuts workable charge times to less than 30 minutes.  
Test Drive: 2016 Mitsubishi i-MiEV
In performance, the i3 is no drudge. Instant-on torque, 184 lb-ft of it, makes the 2900-pound carbon-fiber-intensive car plenty eager off the line, and easily capable of attaining citation-worthy highway speeds. "EcoPro" and "EcoPro+" drive settings claim to limit top speed to 56 mph, and acceleration does flatten out there in normal use, but should an emergency arise, a determined tromp of the accelerator will override this.    
With brake-energy regeneration, the car rapidly slows itself, and, on flat terrain, will stop without creeping even without a foot on the brake pedal. The sensation certainly would delight fans of engine braking. (Where are my engine-braking people? Put your hands in the air and make some noise!) With minimal front and rear overhangs, the 101-inch-wheelbase i3 is nimble and maneuverable in tight spaces. It corners well and steering is highly responsive, if a little artificial—electric, if you will—in its feel. Ride is firm, and passengers get pitched around a bit over road imperfections.             
BMW seemingly did everything in its power to show that the i3 is not your grossvater's Bimmer. As if being a tiny lightweight electric weren't enough, the body lacks a pillar between the front and rear doors. Speaking of rear doors, they are the rear-hinged "suicide" type for easier access to the rear seats. (They do not open independently of the front doors, however.) For controls, a couple of iPad/Surface-like flat screens are perched atop a tan eucalyptus-wood dash top with a gullwing design. Areas of the carbon-fiber-reinforced body structure are allowed to show through around the cabin.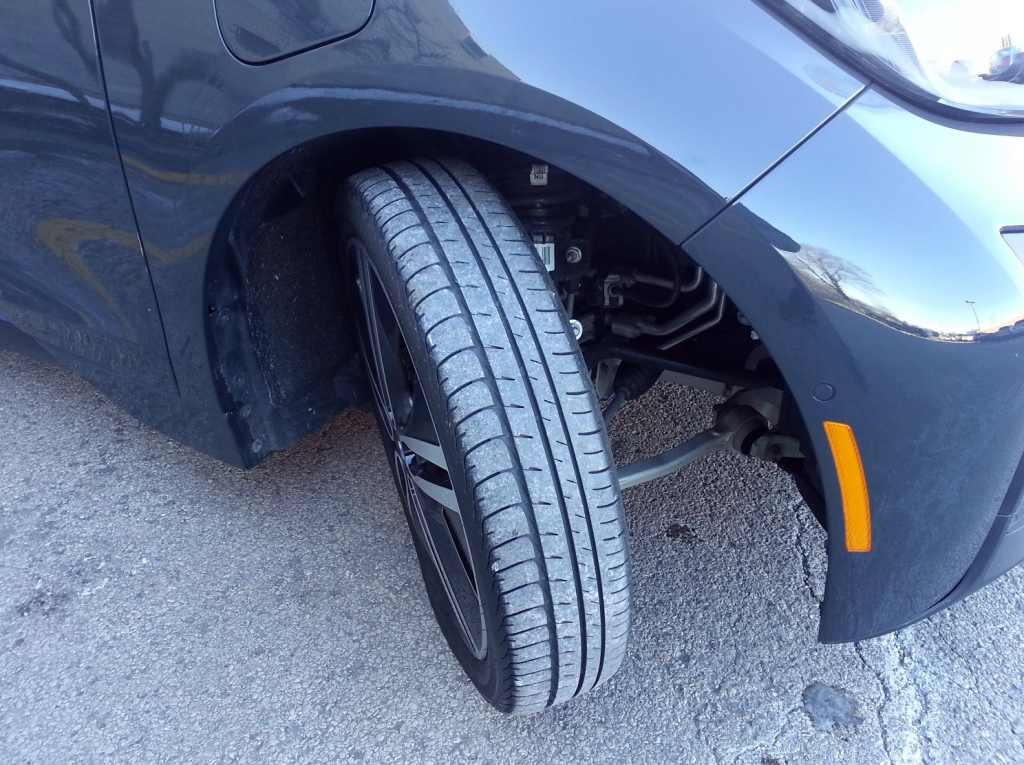 The screen in front of the driver shows a digital speed readout, vehicle range, and a graphic that tracks instantaneous power use from "charging" to "power." The larger screen at the center is for climate, audio, and navigation displays. Be warned that BMW's complicated iDrive control, with its console-mounted dial and attendant buttons, governs audio and navigation. It helps to be all thumbs to operate the i3. Starter and park buttons are on a control module that sprouts from the right side of the steering column, as is the drive-range selector. All require the use of the opposable digit that separates humans from the other animals.  
Front seats are roomier than the subcompact footprint might suggest. Two rear passengers can sit with knees bent, and while they won't have a lot of leg room, they won't be punished, either. Head room is good in either row. Over-the-shoulder vision suffers somewhat due to the rear roof shape. Personal-item storage is skimpy. Rear cargo room is slight, but 50/50-split rear seats fold flat to expand the space.
The base price for an i3 with the range extender is $46,250, quite a lot for a tiny car, though federal electric-vehicle tax credits cushion some of the blow. Even green-car stalwarts can have their luxuries, though. CG's test car came with the top-line Tera interior with leather upholstery and heated front seats, plus a pair of technology packages that brought the as-delivered total to $54,500.
Tom Appel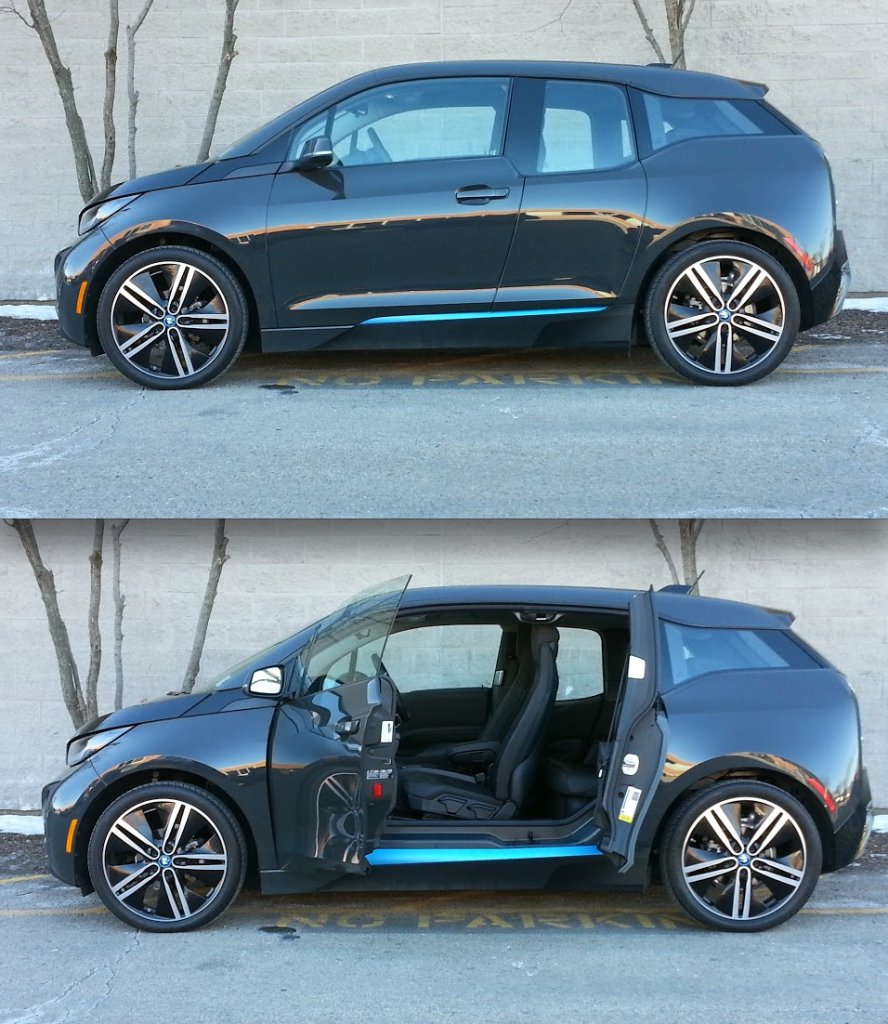 Just as I should avoid discussion of opera or classical literature with people I just met, the BMW i3 shouldn't be experienced for the first time during a Chicago cold snap. Why? Because I don't know squat about opera or classical literature, and the i3 is at its worst when temperatures slip below freezing.
With temperatures in the single digits, our test car failed to provide more than 50 miles of real electric-only range, and the super-narrow hard-compound tires sometimes scratched nervously for grip on the city's cold, salt-dusted streets.
All that said, I found the i3 to be a joy to drive. BMW's junior i model is quick from a stop, almost BMW sporty in the curves, and cool and classy inside. Likewise, the ride is surprisingly composed, despite the short wheelbase. Additionally, I had no problem folding my big frame into this tiny car.
I jokingly referred to the periods of extended-range gas-engine operation as "Evinrude Mode," though the buzzing from the tiny two-cylinder engine was actually well muted and not at all obtrusive.
As we were evaluating the i3, news came that the 2017 model will boast more than 100 miles of electric range–exciting news for anyone already taken in by this green ride's many charms. As far as small EVs go, the i3 is a little expensive, but for green-intenders looking for a sophisticated and exclusive ride, this stubby little BMW makes all sorts of sense.
2015 BMW i3