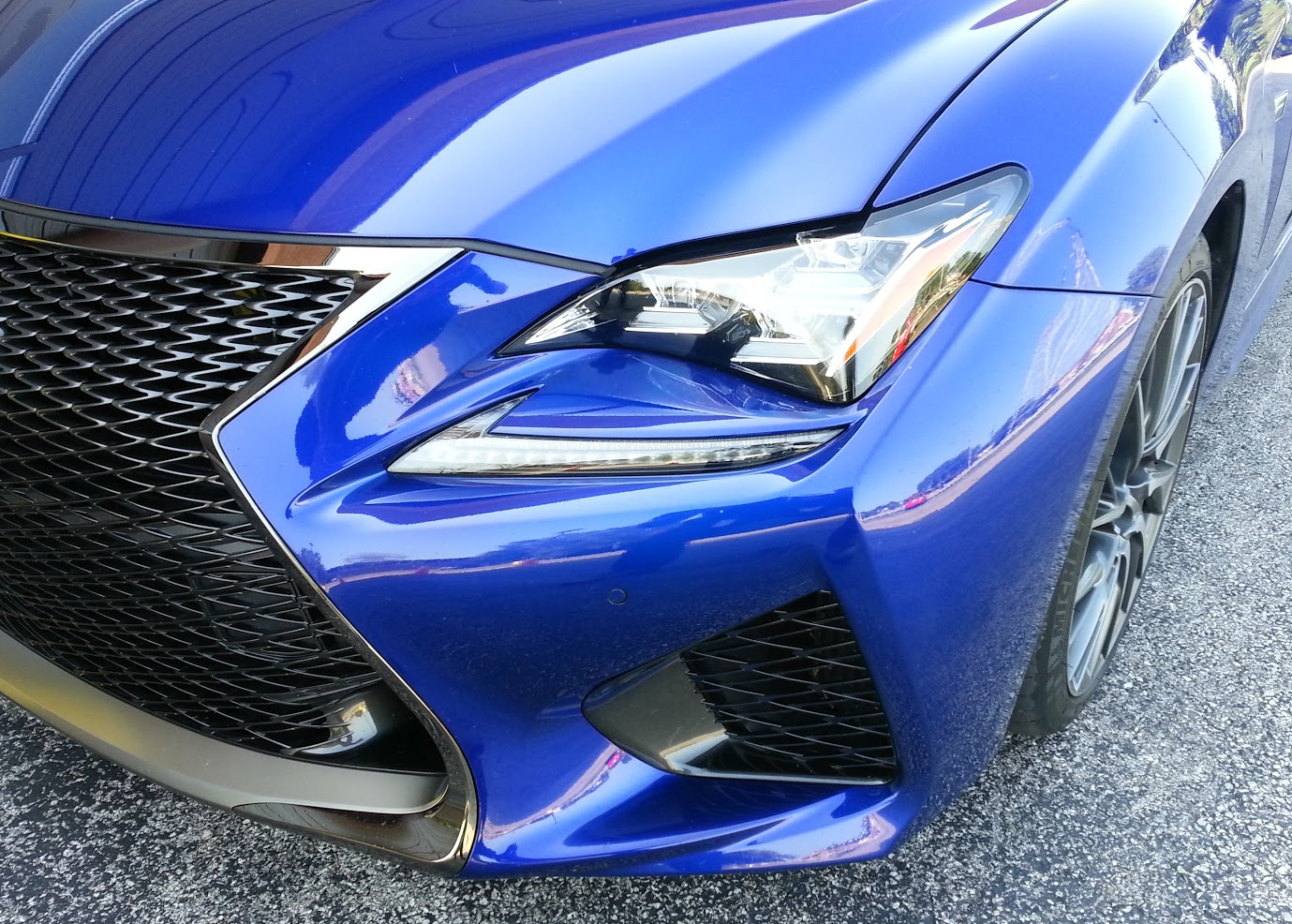 Damon Bell
I took our RC-F tester on a solo road trip from Chicago to Grand Rapids, Michigan, and back, so I had a good chunk of time to evaluate its capabilities. Not surprisingly, my favorite thing about the car is its powertrain. The 467-horsepower 5.0-liter V8 delivers fantastic acceleration, aided by a crisp 8-speed automatic that cracks off upshifts faster than a traditional "slushbox" has a right to.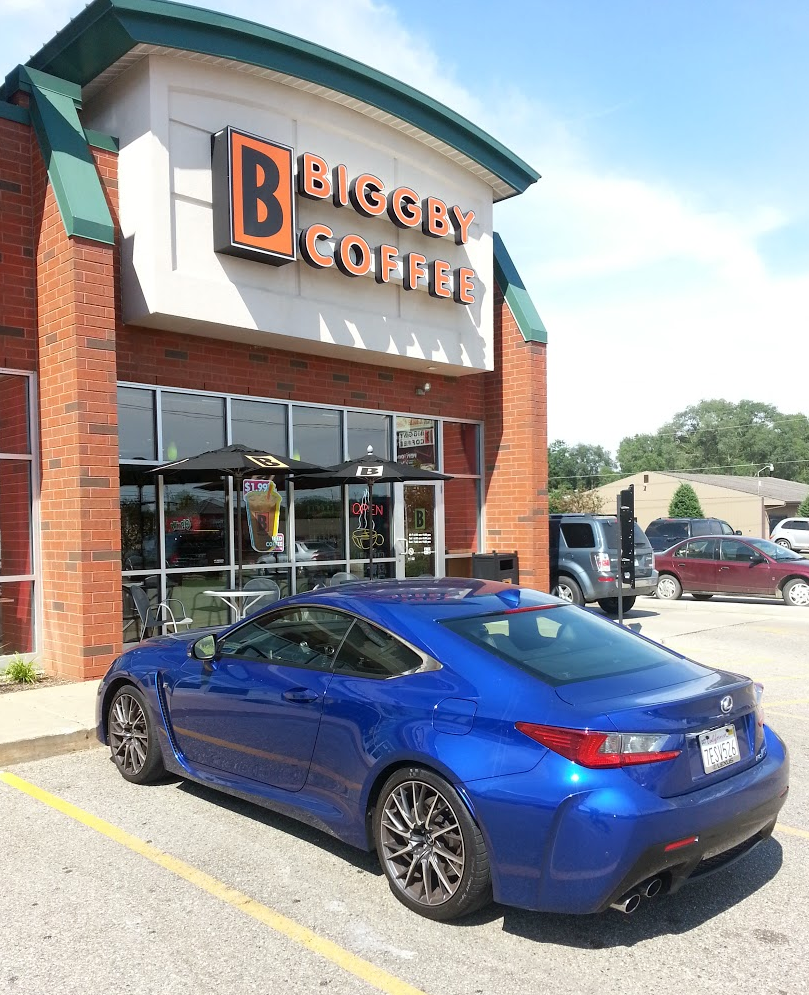 The soundtrack is equally invigorating. At around 4 grand or so, the exhaust note shifts in tone from a throaty rumble to a full-on NASCAR roar, all while maintaining luxury-level isolation from other noise. I was also pleased with the 25 mpg I averaged during my test, which was spot-on with the EPA highway estimate.
Despite the low ride height and cozy roofline, the cabin is long-haul comfortable, and is full of attractive high-end touches. The door panels themselves, with their carbon-fiber switch panels, microfiber upholstery inserts, satin trim accents, and two-color contrast stitching, are a thing to behold.
Still, I have gripes. The console-mounted touchpad control was frequently tricky and distracting to use, and it made inputting a destination into the navigation system especially tedious. The temperature was hovering in the high-80s for most of my test, and I found that the ventilated front seats couldn't really cool things down as well as other similar seats I've tested.
My biggest complaint is ride quality; I find the RC-F's ride to be much stiffer than my CG colleagues do. It was harsh over pronounced freeway expansion cracks, and "clunkier" over relatively smooth pavement than a vehicle with luxury aspirations should be. An adaptive suspension system would be at the top of my wish list for potential upgrades to the 2016 RC-F. The stiff ride is at odds with the RC-F's gentleman's hot rod/grand tourer mission.
The RC-F is still a compelling vehicle, and even in the $70K range, its price is class-competitive. However, be sure to check out the BMW M4 and a good ol' Chevrolet Corvette if you're shopping in this market.
Test Drive: Lexus RC 350 F Sport
John Biel
Spend any time with Lexus's new RC-F sport coupe—and Consumer Guide® certainly has, having now tested 2 with slightly different equipment—and you can't help but be impressed by its performance capabilities wrapped up in a still-well-turned-out luxury package. It may be the Japanese Jaguar.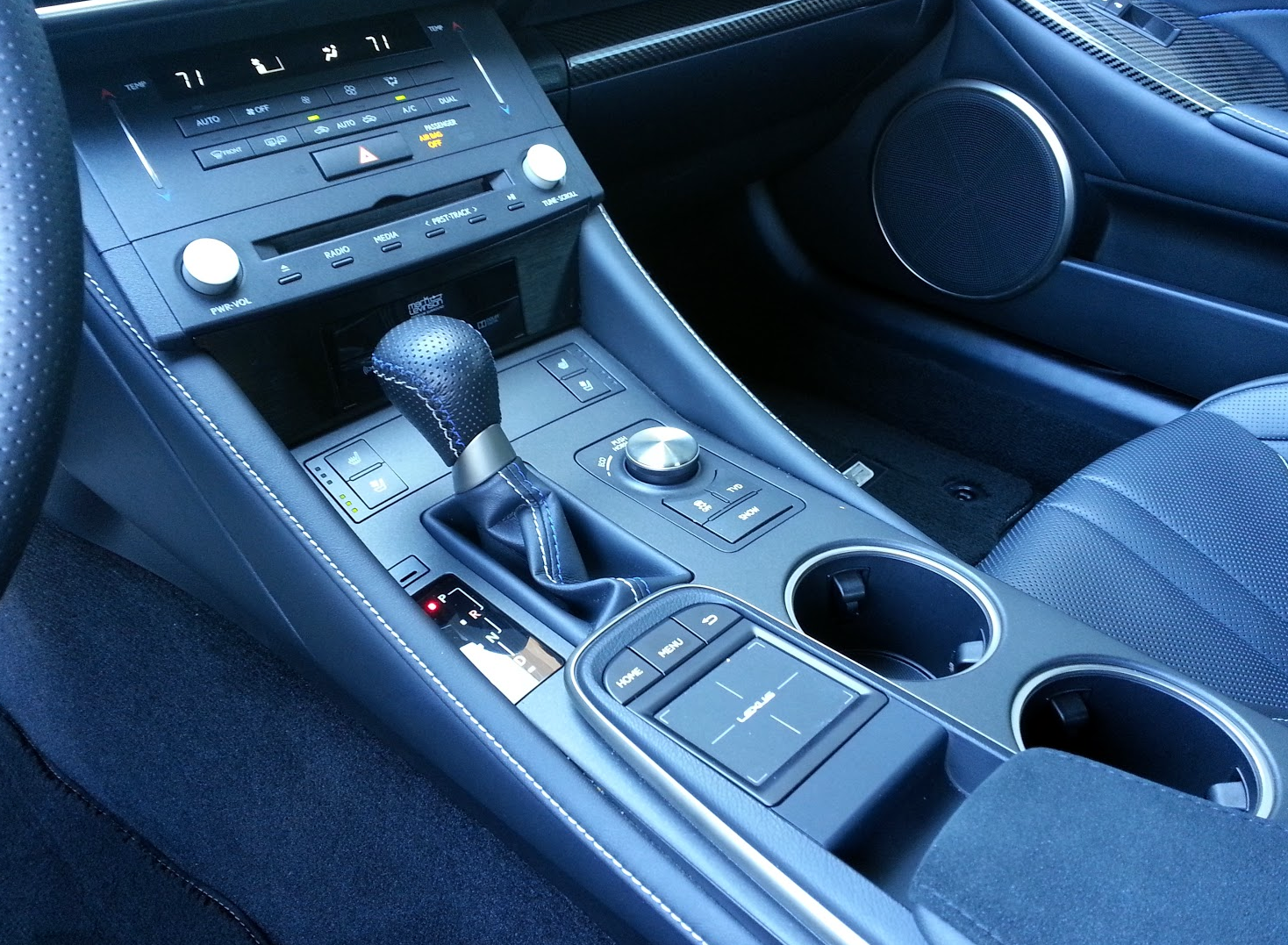 There's only one layout for the RC-F: 5.0-liter V8 in front, drive axle in back, and 8-speed automatic transmission between them. These items and meaty Brembo ventilated disc brakes, a Torsen limited-slip differential, 255/35R19-front and 275/35R19-rear tires on forged-alloy wheels, and a speed-activated rear spoiler are the essential go-fast features on the nominal 4-passenger coupe that Lexus claims goes 0-60 mph in 4.4 seconds and tops out at 168 mph. The starting price of an RC-F with these features is $62,400.
The dohc V8 with variable valve timing and a 12.3:1 compression ratio pumps out 467 horsepower at 7100 rpm, and 389 lb-ft of torque at 4800 rpm. Tailoring the use of that power is accomplished via the standard Drive Mode Select system. "Normal" mode delivers a balance of fuel economy and engine performance, while the "ECO" setting moderates throttle response, power output, and climate settings for thriftier operation. Otherwise, the console-mounted selector can be rotated to either the "Sport" or "Sport S+" modes. Sport alters the powertrain for quicker throttle response, while Sport S+ also tightens up steering resistance a bit.
To the driver, it's all a matter of how far he has to put his foot into the gas to feel (and hear) power. In Sport S+, that's not very far at all. It's clearly the most responsive and fastest acting of all the modes. Not only does Sport S+ deliver quicker downshifts than Sport S, Lexus says that it is designed to automatically downshift during hard braking for a corner, hold a lower gear through the corner for added control, and then provide a quicker corner exit by selecting a suitable low gear.
Motoring to the Motor City: Sometimes it's the Journey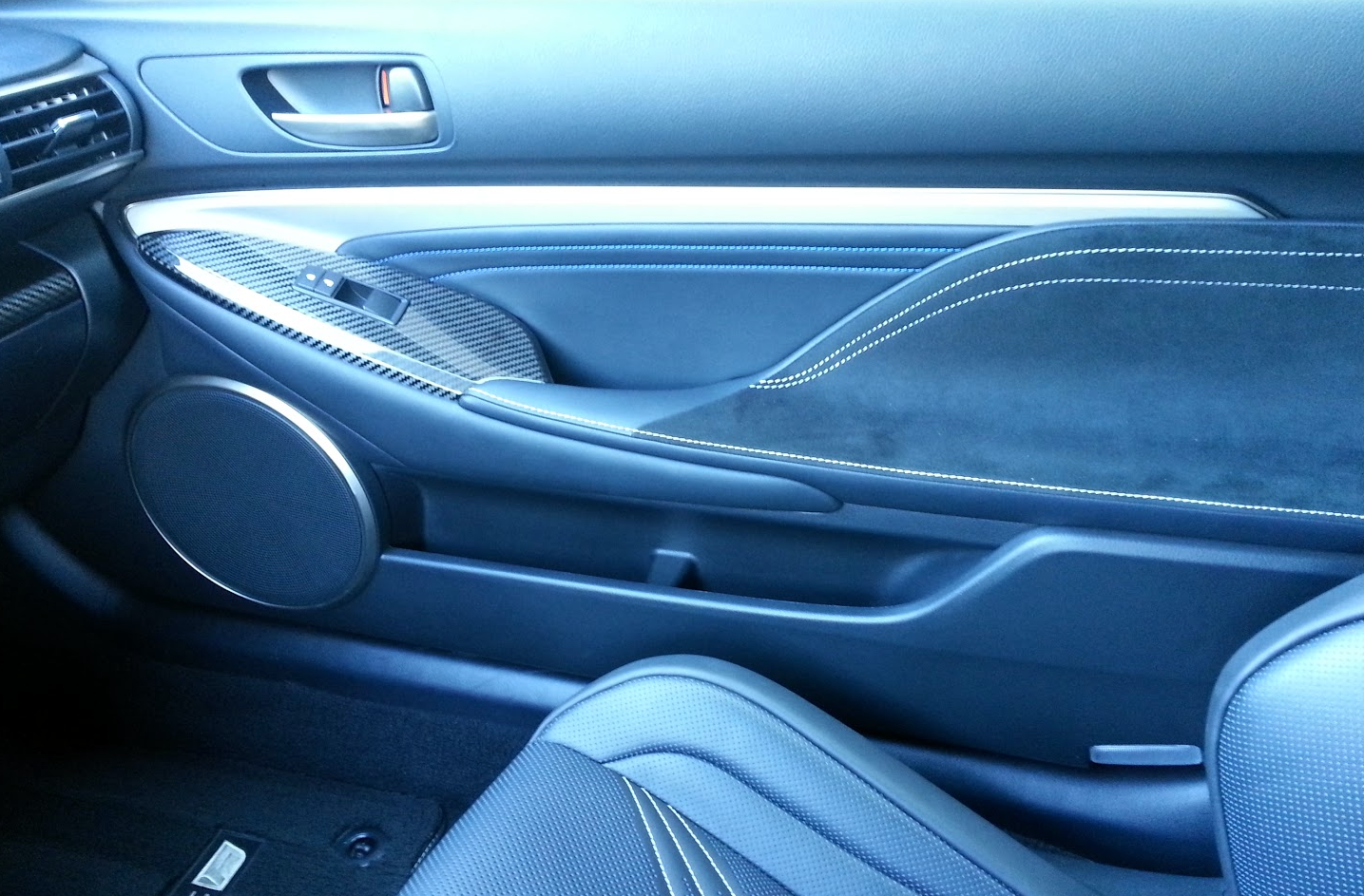 When the engine gets into its sweet spot up the tachometer a bit, the exhaust tone suddenly changes from an amped-up purr to a sinister cackle. The aural feedback is at its snarling best in Sport S+, due to the RC-F's Active Sound Control feature, which lets the driver control the degree of exhaust, intake, and mechanical sounds within the cabin. An electronic control unit mounted beneath the instrument panel takes input from engine sounds and generates augmented sound through an actuator. Separate from the audio system, it has no impact on music fidelity, and is activated only in Sport S+ mode. Still, because the car does such a good job of isolating outside noise, this exhaust report never becomes annoying.
EPA fuel-economy estimates for the RC-F are 16 mpg city, 25 mpg highway, and 19 mpg combined. Commuting mostly in Normal mode, but with some time spent sampling the 2 Sport settings, this tester averaged 18.45 mpg from a 105.7-mile trip with 63 percent of miles traveled in city-type conditions. (Oddly, that was almost 1 mpg better than he did in CG's earlier RC-F test car with a lot of ECO-mode driving!)
While the standard-equipment limited-slip diff might be just fine for a lot of drivers, Lexus also makes available a Torque Vectoring Differential (TVD) that distributes power between the rear wheels, helping to rotate the RC-F in the direction of a turn for more confident cornering. The $1750 option, which was added to the car tested for this report, has settings activated by a push button on the console. This tester's urban-expressway driving would hardly have taxed the "Standard" mode. Other choices are "Slalom" and "Track" settings. The former concentrates on enhancing steering responsiveness for better agility; the latter is designed to help ensure that the vehicle holds its line for better acceleration and cornering in track sessions.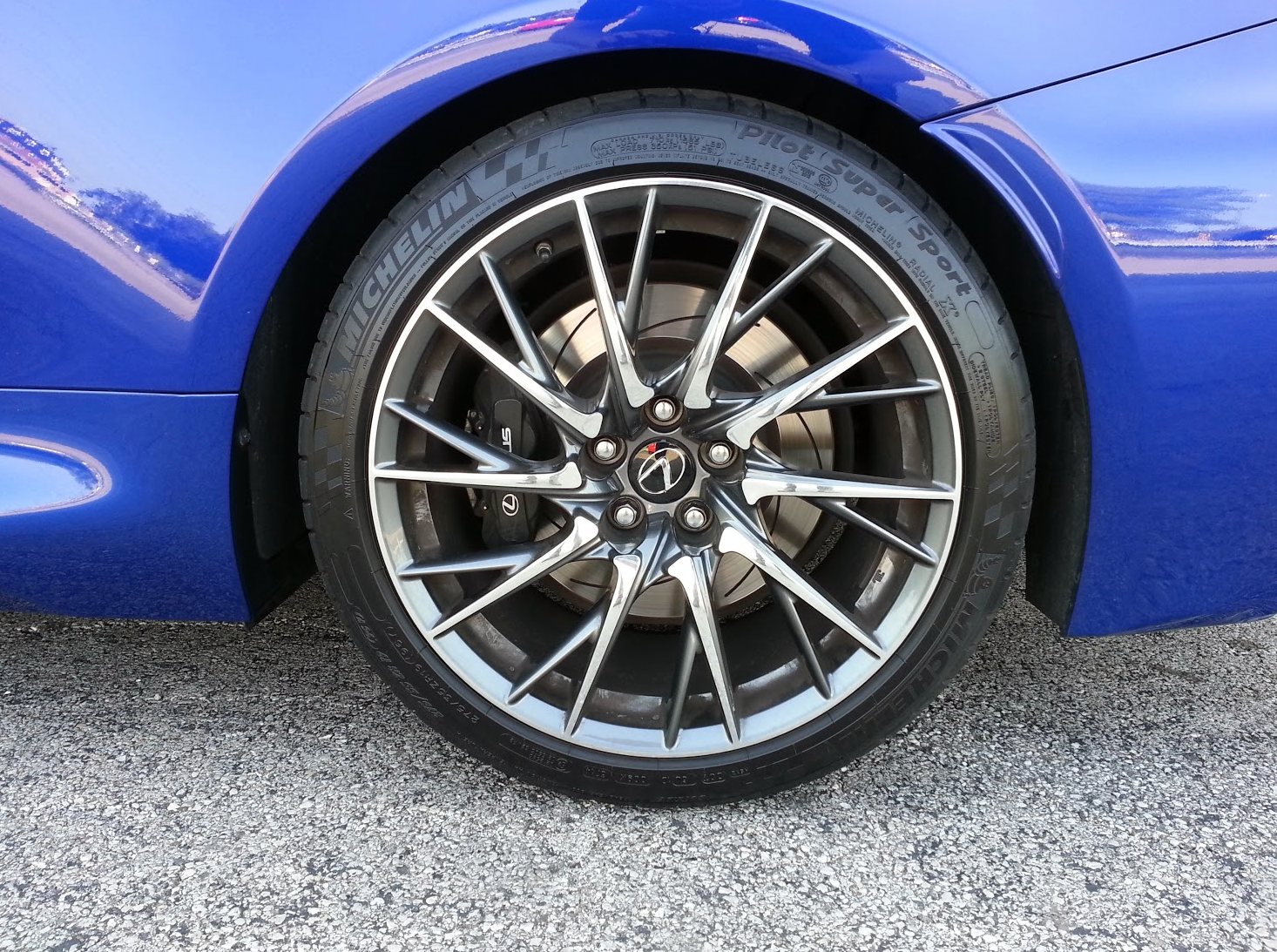 Suspension is fully independent, with gas-pressurized electronically controlled shock absorbers and stabilizer bars at each end. The RC-F has a firm ride, but one that's damped well. "Normal" surface imperfections elicit an audible clack, but they cause little disturbance through the car's solid structure and don't jolt passengers. Cornering lean is well controlled, too. The Brembo binders consist of 14.9-inch discs and 6-piston calipers up front and 13.5-inch rotors and 4-piston calipers in back. They deliver sure stopping power with easy modulation.
Our most-recent RC-F tester topped the 1st one in price somewhat, coming in at $75,210 with options and delivery. Both cars had the extra-cost leather upholstery (a surprising thing to have to add at RC-F prices), navigation/Mark Levinson audio package, and convenience-laden Premium Package, but a different mix of additional options on the latest test car included the TVD, special paint, and hand-polished 20-spoke wheels. Even with some add-ons, though, the RC-F is still an attractive value in the premium sporty/performance segment.
Test Drive: Lexus NX 200t F Sport