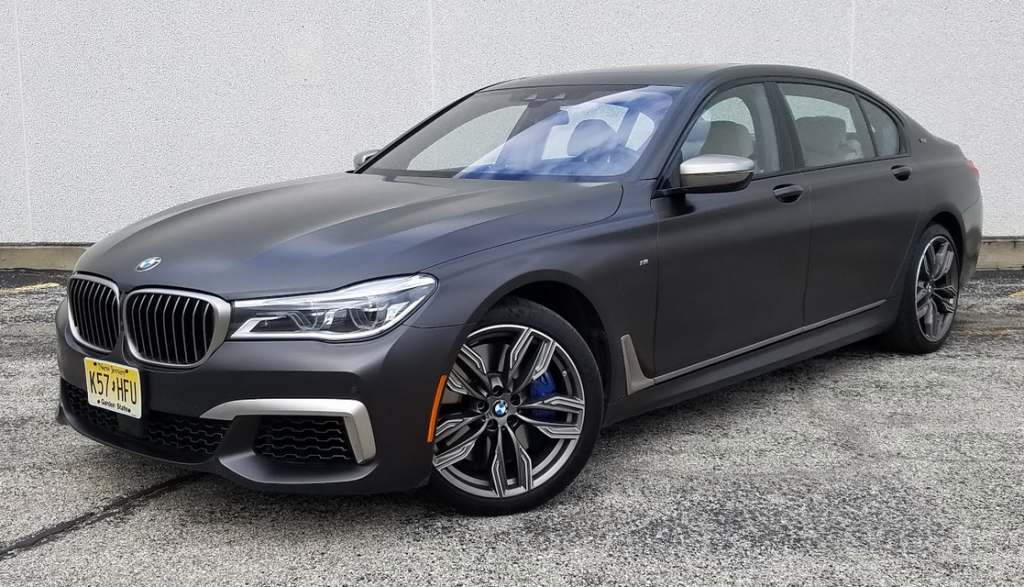 2017 BMW M760i  

Class: Premium Large Car
Miles Driven: 283
Fuel Used: 20.5
Real-world fuel economy: 13.8 mpg

Driving mix: 65% city, 35% highway
EPA-estimated fuel economy: 13/20/16 (city, highway, combined)

CG Report Card
Big & Tall comfort ratings are for front seats only. "Big" rating based on male tester weighing approximately 350 pounds, "Tall" rating based on 6'6"-tall male tester.
Room and Comfort
A
Power and Performance
A+
Fit and Finish
A+
Fuel Economy
D
Value
C-
Report-card grades are derived from a consensus of test-driver evaluations. All grades are versus other vehicles in the same class. Value grade is for specific trim level evaluated, and may not reflect Consumer Guide's impressions of the entire model lineup.
Big & Tall Comfort
Big Guy
C
Tall Guy
B+
Base price: $153,800 (not including $995 destination charge)
Options on test car: Special paint ($5200), Cashmere Beige/Black Merino cabin trim ($4000), Driver Assistance Plus II package ($1700), Luxury Rear Seating Package ($1800), Rear Executive Lounge Seating ($5750), Ambient Air Package ($350), Panoramic Sky Lounge LED roof ($900), Bowers & Wilkins audio system ($3400), Gas Guzzler Tax ($1700)

Price as tested: $179,595

Quick Hits
The great: Breathtaking power, opulent cabin

The good: Mechanical refinement, loads of technology features

The not so good: Price, fuel economy

More 7-Series price and availability information
John Biel
In the second year of its current configuration, BMW's flagship 7-Series sedan now comes quite a few ways. The most audacious of them is one of the newest: the M760i.
Newcomers for 2017 include the plug-in-hybrid 740e, the high-performance-V8 Alpina B7, and the V12 M760i. The Alpina and M760i have fairly similar power and 0-60-mph acceleration numbers, but nothing can touch the latter for cost. At $153,800, it starts at $15,000 more than the Alpina, and the one Consumer Guide® tested was amply optioned up to a total of $179,595 with delivery and $1700 in Gas Guzzler Tax factored in, too.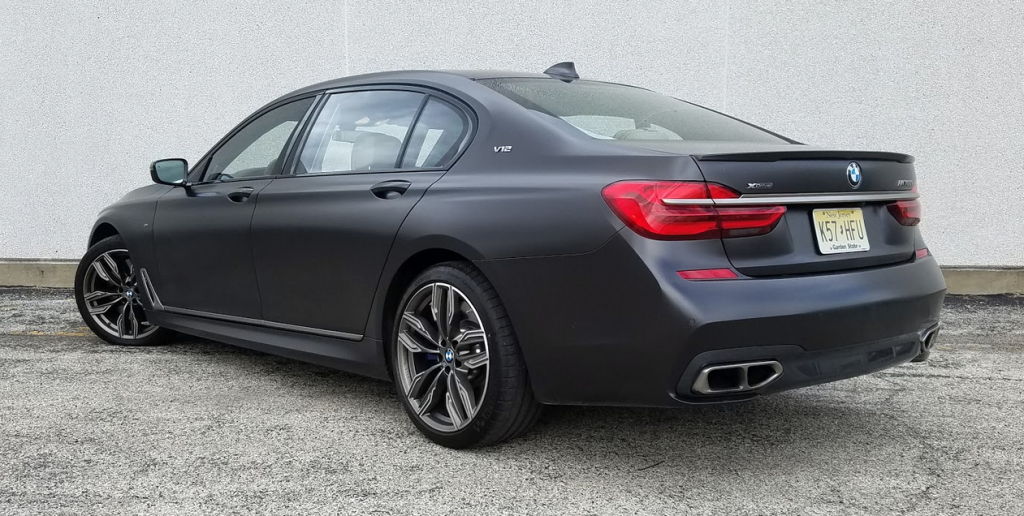 Whether your reaction to that is "What the . . .?" or "Is that all?" it doesn't change the fact that the 760 is swift, smooth, excellently appointed, and boasts more technology than a Silicon Valley cocktail party.
Compared to other 7s CG has tested recently (a 2016 750i and a 2017 740e), the M760i certainly stands out by dint of its engine. There's nothing groundbreaking about a V12 BMW; the company has been offering such engines in its biggest sedan for 30 years. However, the M760i welcomes a new version, a twin-turbocharged 6.6-liter job that makes 601 horsepower and 590 lb-ft of torque.

Joined to a fine 8-speed automatic transmission, the 760 charges off the line instantly, and by about 2000 rpm the engine really seems to come into its own. (The hefty torque peak is reached as early as 1550 revs.) BMW claims the 5128-pound executive sedan will reach 60 mph in 3.6 seconds. Clicking into "Sport" or "Sport+" mode through the Driving Dynamics Control alters shift points somewhat for a more aggressive feel and lets out a throatier report through the M Sport exhaust system. On the highway, power for passing or easy cruising is abundant. Top speed is electronically limited to 155 mph, so don't let that 200 on the speedometer fool you.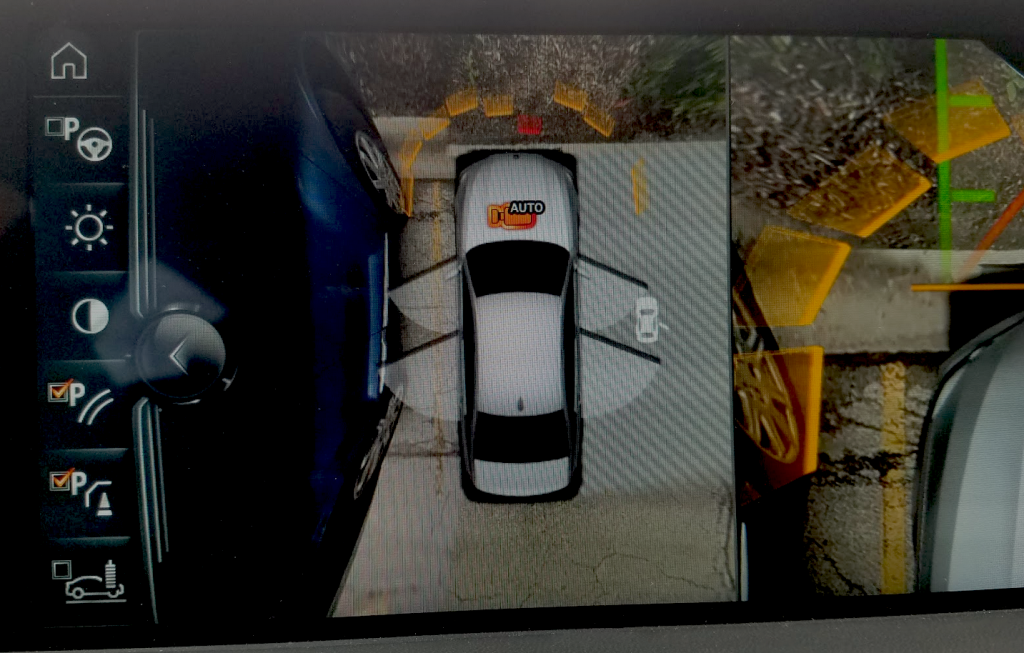 Even at something considerably less than top speed the M760i driver will find himself or herself getting to gas stations in a hurry. EPA fuel-mileage estimates for the car are 13 mpg in city driving, 20 mpg on the highway, and 16 combined. When this driver put 156.4 miles on the test car (61 percent in city-type driving), he saw 14.06 mpg.
One other thing that set the 760 apart from CG's earlier 7-Series testers was the optional Executive Lounge Seating package. The $5750 option group—a bargain considering that the car's Frozen Dark Brown Metallic satin-finish paint cost $5200—includes a full-length rear console with a covered bin in which is stored a tray table that folds out to serve the right-rear passenger. Said occupant is further pampered by a footrest that folds from the back of the right-front seat. The supple Nappa-leather seats (which are more comfortable than the front buckets that seemed somewhat stiff to this reviewer) have reclining backs, are ventilated, and can give a massage. The option is topped off with a rear video entertainment system controlled by the iPad-like "Touch Command" tablet that can be removed from the console. If there's any downside to this sybaritic luxury it's that it precludes the exceptionally roomy back seat from being able to carry a third passenger.
A new Display Key is standard on all 7-Series models. It shows digital readings of the car's status. This key can also be used to operate Remote Controlled Parking, a new option (which CG's test car did not have) that allows the driver to order the car in or out of a parking spot while standing outside the vehicle.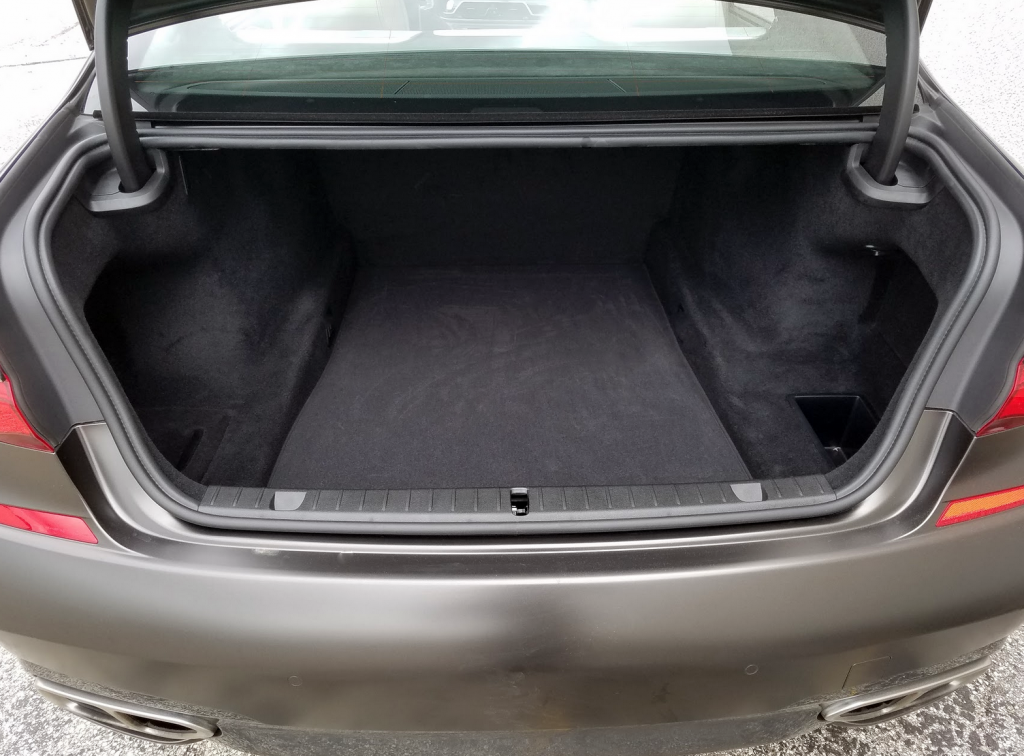 Quite a few items that come standard on the M760i are extra-cost features in other 7s. Among them are Active Comfort Drive with Road Preview, which uses a camera to detect changes in the oncoming road surface and adjusts the suspension accordingly; alcantara headliner; front massaging seats; head-up instrument display; M steering wheel; and M 20-inch light-alloy wheels. Other equipment of note common throughout the 7-Series lineup includes things like a twin-panel panoramic moonroof, WiFi, four-zone automatic climate control, power-closing doors, hands-free power trunklid, wireless device charging, navigation, Harman Kardon surround-sound audio system (superseded on our tester by a $3400 Bowers & Wilkins system), and satellite radio. BMW's console-mounted iDrive controller, which requires multiple steps to get anything done, governs audio, navigation, and communications settings but it is moderately intuitive. Then, too, there is "Gesture Control" to perform tasks like raising and lowering audio volume by waving and pointing within proximity of an interior sensor.
Test Drive: 2017 BMW 740e xDrive
The M760i is available only with all-wheel xDrive. A standard adaptable air suspension skews the ride to varying degrees of comfort depending on the driver's desires. In the V12 car, with Driving Dynamics in the "Comfort" mode, ride didn't seem as pillowy as it had in the 750i (a good thing) but was still pleasing. Clicking into "Sport" lowered the ride height—and cinched in the front-seat side bolsters a little bit to remind passengers that they could be in for a little bit of a spirited ride. Even then, it's hard to forget you're driving a large car.

Interior room is quite good, doors open wide to ease entry and exit, and drivers enjoy good outward vision to most every angle. Soft-touch material runs all the way down the door panels. Cabin storage space is pretty good—all the more so with the Executive Lounge option with its second console box. Trunk space is somewhat limited, and it's oddly configured. Where the floor narrows between the wheel houses it also sits slightly lower than the side portions near the back of the trunk. Gooseneck hinges are covered, and there are cargo tiedowns in the floor. As in most large sedans, rear seats do not fold.
BMW is out to give its Germanic rival, the Mercedes-Benz S-Class, a run for its money in the überauto class. The technology, comfort, and variety of 7-Series cars show it's a serious pursuit.