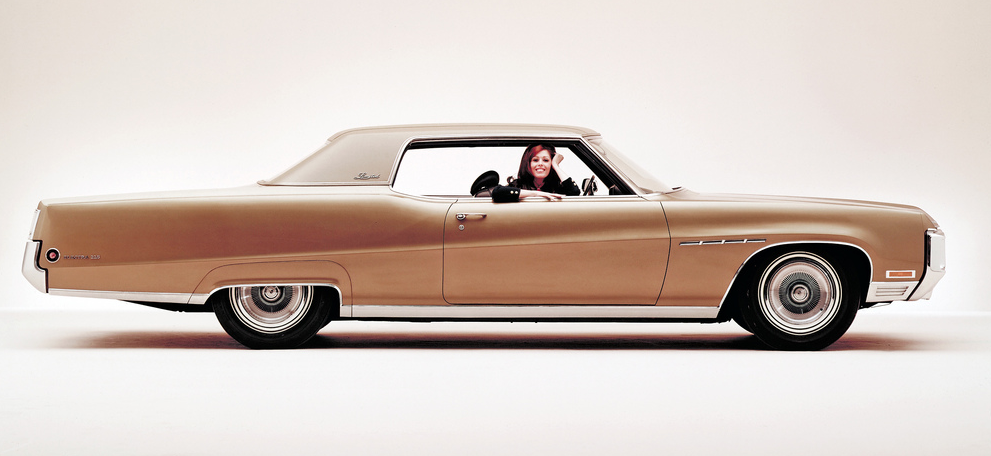 We can talk all day about how much cars have changed over the past four decades. It's easy to point at the demise of large sedans, the ever-growing popularity of SUVs and crossovers, and the rise of import brands. But, one of the most telling indicators of how much things have changed is the language we use to describe vehicles.
Today, we at Consumer Guide divide the market by body type (compact car, midsize crossover/SUV, large car, etc.). We also make the distinction between popularly priced vehicles and "premium" models. We use the term premium predictably, applying it to most luxury-brand vehicles and the occasional popular-brand vehicle that crosses into premium-price territory. The Toyota Land Cruiser is a good example of such a vehicle.
'60s Madness! 10 Years of Classic Pickup Truck Ads
We didn't always look at things so simply. A quick review of the Consumer Guide: Auto '70 buying guide exposes a more complicated system of categorizing the new-car product lineup.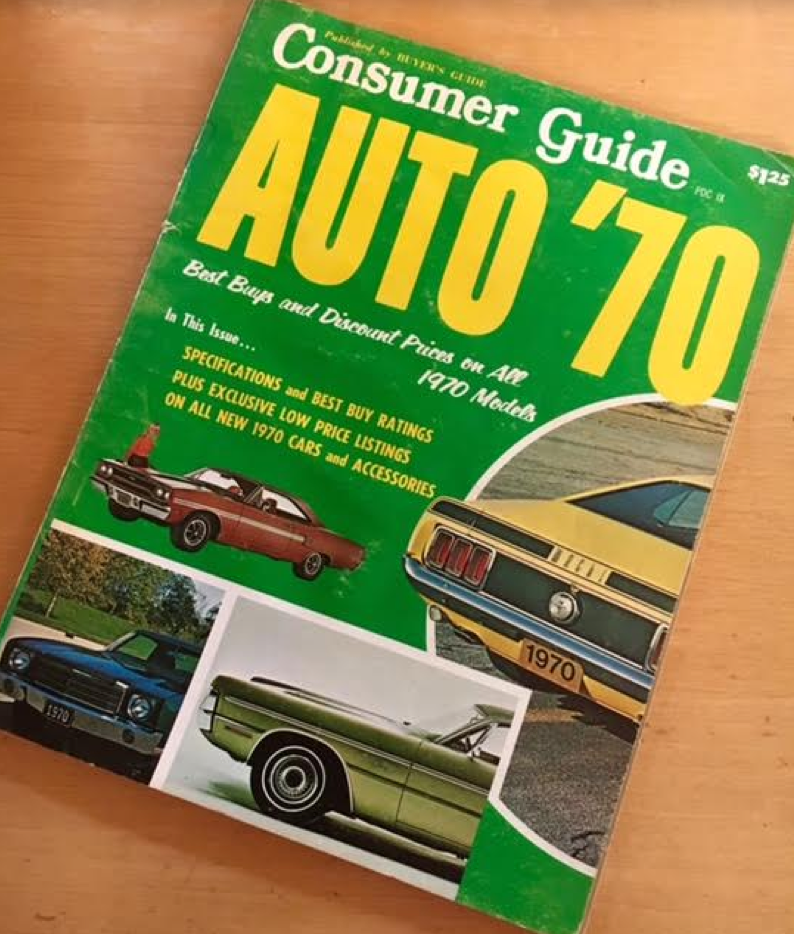 First came the COMPACTS. Predictably, these were the smallest and most-affordable vehicles available that year. Included were:
AMC Hornet

Chevrolet Nova

Dodge Dart

Ford Falcon

Ford Maverick

Plymouth Duster

Plymouth Valiant
The SPORTY COMPACTS were the small cars with at least some semblance of sportiness:
AMC AMX

AMC Javelin

Chevrolet Camaro

Dodge Challenger

Ford Mustang

Mercury Cougar

Plymouth Barracuda

Pontiac Firebird
Next came the INTERMEDIATES, a group we might now call midsize–take note of how many of these cars deserve the "sporty" prefix:
AMC Rebel

Buick Skylark

Chevrolet Chevelle

Dodge Charger

Dodge Coronet

Ford Torino

Mercury Cyclone

Mercury Montego

Oldsmobile F-85

Plymouth GTX

Plymouth Road Runner

Plymouth Satellite

Pontiac Tempest
Next up were the STANDARDS. At one time full-size cars were considered the norm, and until the first OPEC oil embargo, they garnered the bulk of U.S. sales:
AMC Ambassador

Chevrolet Caprice

Chevrolet Impala

Ford Galaxie

Ford LTD

Plymouth Fury III
Classic Car Ads: Sexy Aftermarket Edition
Here's where things get interesting. MEDIUM STANDARDS were the midsize and large cars that were a step up in content and market position relative to the "base" intermediates and standards, but they weren't quite luxury vehicles:
Buick LeSabre

Buick Wildcat

Chrysler Newport

Dodge Monaco

Dodge Polara

Oldsmobile Cutlass

Oldsmobile 88

Pontiac Catalina

Pontiac Executive

Mercury Marauder

Mercury Monterey
LUXURY STANDARDS were the vehicles that came just below the Cadillac/Lincoln line in terms of content and price:
Buick Electra

Chrysler 300

Chrysler New Yorker

Mercury Marquis

Oldsmobile 98

Pontiac Bonneville
PRESTIGE cars were the truly luxurious, top-of-the-heap flagships:
Cadillac DeVille

Cadillac Fleetwood Brougham

Imperial Crown/LeBaron

Lincoln Continental
An interesting group of vehicles was the STANDARD PERSONALS class. These coupes came from a variety of manufacturers, but were all two-passenger oriented and relatively pricey. 
Buick Riviera

Cadillac Eldorado

Chevrolet Corvette

Chevrolet Monte Carlo

Ford Thunderbird

Lincoln Mark III

Oldsmobile Toronado

Pontiac Grand Prix
Today a nearly non-existent segment, STATION WAGONS commanded enough of the new-car market in the early Seventies to merit a group of their own:
AMC Ambassador

Buick Estate Wagon

Chevrolet (multiple midsize)

Chevrolet (multiple large)

Chrysler Town & Country

Dodge Coronet

Dodge Polara

Dodge Monaco

Ford Falcon

Ford Torino

Ford (multiple large)

Mercury Montego

Mercury (multiple large)

Oldsmobile Vista Cruiser

Plymouth Satellite

Plymouth Suburban

Pontiac (multiple large)
It's worth noting that Auto '70 made no mention of foreign vehicles. Likewise, no trucks then in production merited serious consideration as personal transportation.
Presented here for your consideration are all the 1970 models that comprised the Luxury Standard segment—the cars that came just short of being full-on luxury vehicles. If you've ever spent time with one of these big, cushy cruisers, please tell us about it.
Classic-Car Word Search, Part 3: Buick Mega Challenge
Buick Electra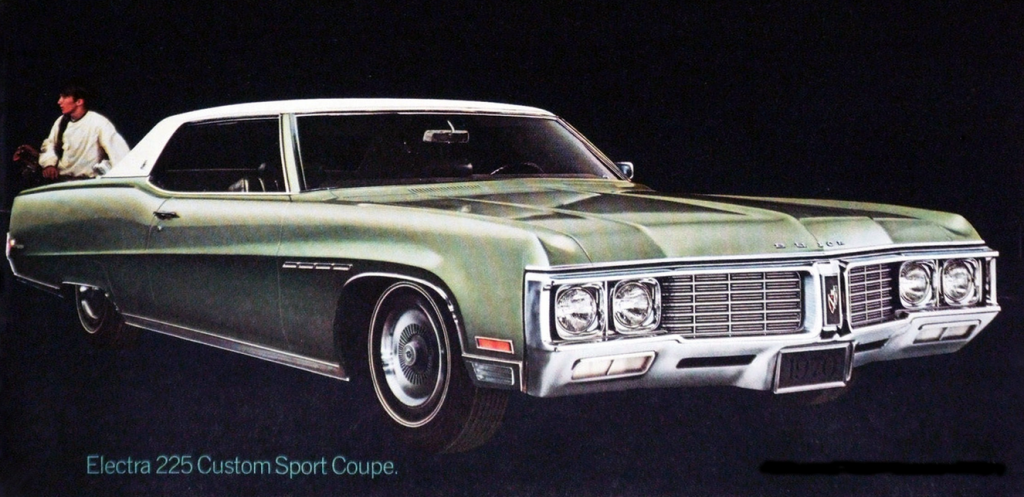 Base Price Range: $4461 (base sedan) – $4802 (Custom convertible)
Overall Length (inches): 225
Curb Weight (pounds): 4500
Base Engine: 370-horsepower 455-cubic-inch V8
Chrysler 300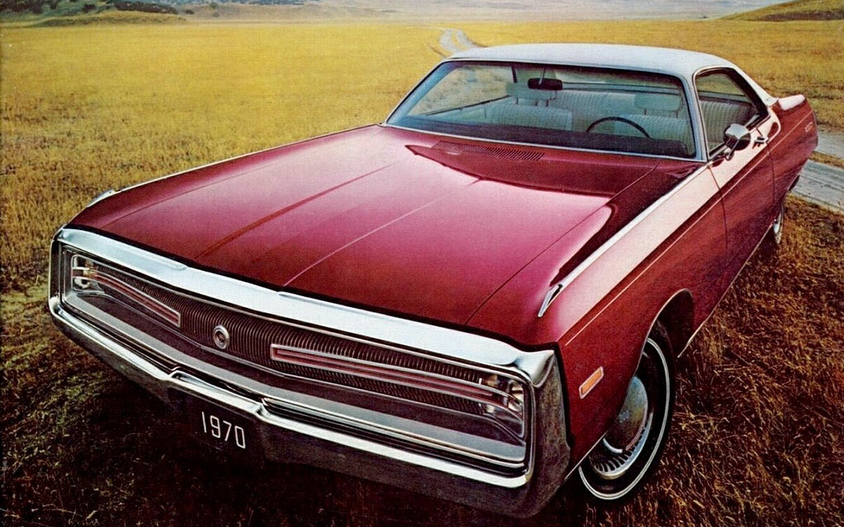 Base Price: $4234 (coupe) – $4580 (convertible)
Overall Length (inches): 225
Curb Weight (pounds): 4700
Base Engine: 350-horsepower 440-cubic-inch V8
Chrysler New Yorker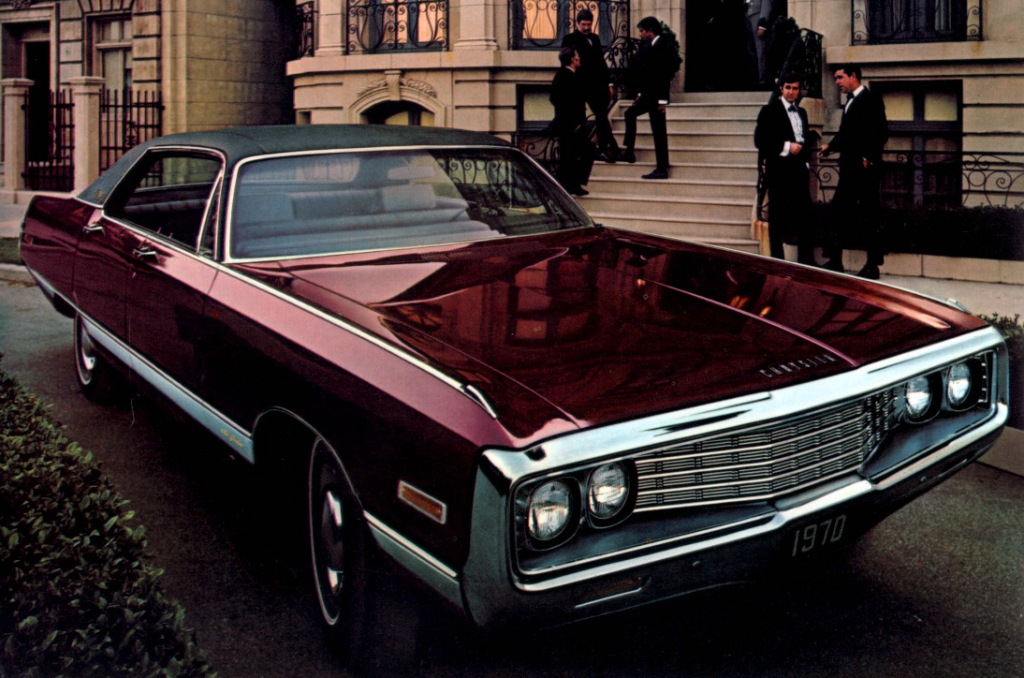 Base Price: $4630 (base sedan) – $4761 (hardtop sedan)
Overall Length (inches): 225
Curb Weight (pounds): 4700
Base Engine: 350-horsepower 440-cubic-inch V8
Mercury Marquis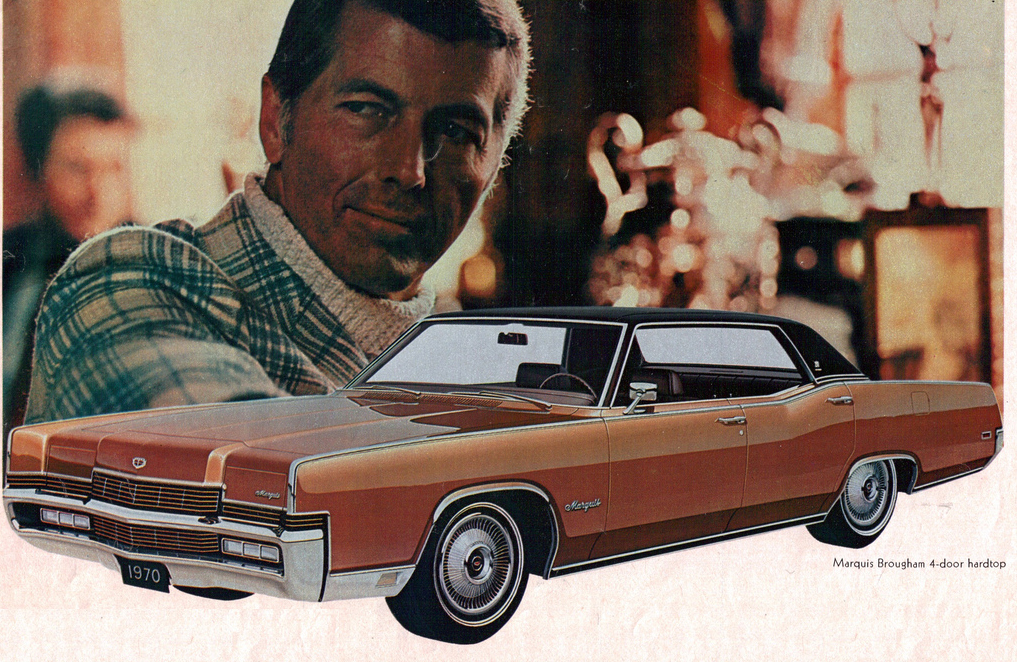 Base Price: $4052 (base sedan) – $4500 (Brougham hardtop sedan)
Overall Length (inches): 224
Curb Weight (pounds): 4300
Base Engine: 320-horsepower 429-cubic-inch V8
Oldsmobile 98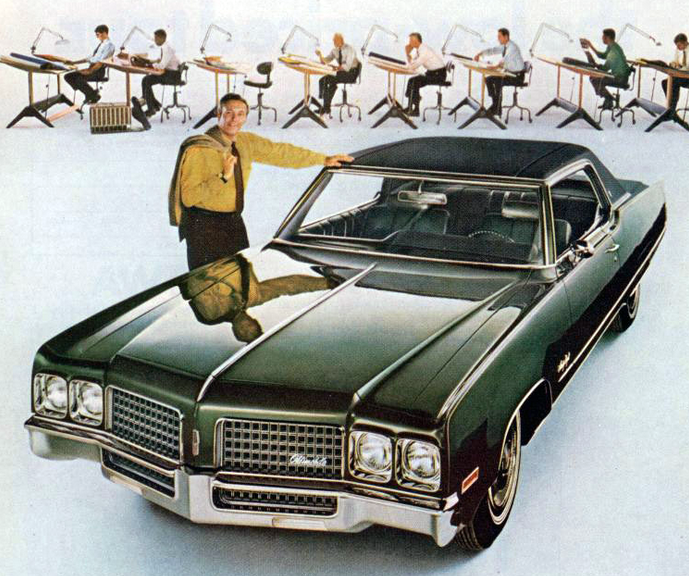 Base Price: $4451 (Town Sedan) – $4951 (convertible)
Overall Length (inches): 225
Curb Weight (pounds): 4500
Base Engine: 365-horsepower 455-cubic-inch V8
Pontiac Bonneville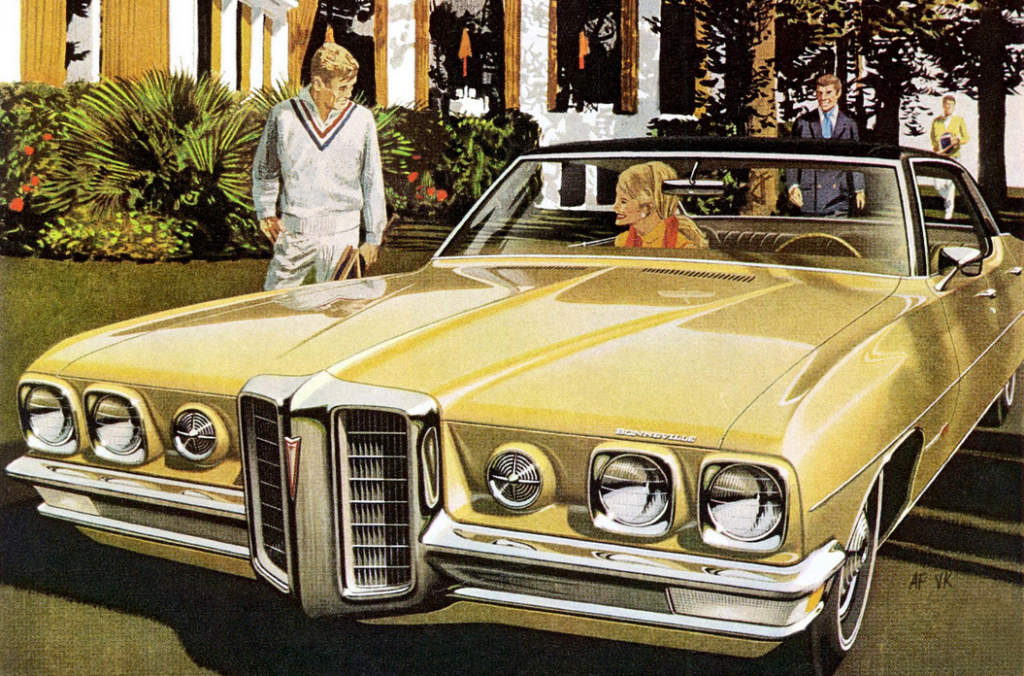 Base Price: $3832 (coupe) – $4004 (convertible)
Overall Length (inches): 224
Curb Weight (pounds): 4200
Base Engine: 360-horsepower 455-cubic-inch V8
Kenosha Madness! 10 Classic AMC Ads