This time we made it hard, or at least tried to. Buried in the provided grid are the following:
30 Classic and contemporary Buick model names
2 Model names that appears twice
5 Varieties of cheese
General Motors Historic Figure Bonus Challenge
Once all of the cheese and Buicks have been located, the remaining letters will spell out the name of a GM historic figure. Let us know when you identify our mystery man.
For more automotive crossword fun, check these puzzles out:
Dead Car Brand and Meat-Substitute Word Search
Classic-Car Word Search, Part 2: Trim Levels
Buick Word Search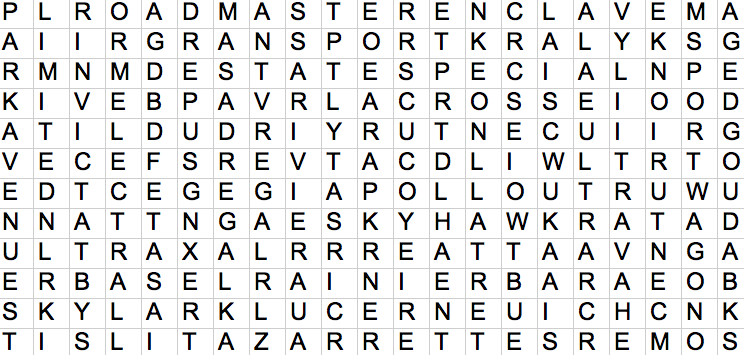 More Automotive Trivia and Quizzes
Dead Car Brands and Meat-Substitute Word Search
Classic-Car Word Search, Part 2: Trim Levels
The 1980 Auto Brochure Power Quiz
See You in Spring! The Snow-Bound Vehicle Power Quiz
Snow-Bound Vehicle Power Quiz, Part II: Advanced Car-Spotter Edition
Buick Word Search
Classic Car Photo Galleries
Photo Feature: 1963 Volkswagen Type 34 Karmann-Ghia
Photo Feature: 1960 Plymouth Fury Hardtop Coupe
Photo Feature: 1910 Buick 60 Special "Bug" Racecar
Photo Feature: 1952 Crosley Pickup
Photo Feature: 1931 Ford Model A Ice Cream Truck
Photo Feature: 1973 Ford Gran Torino Sport
Photo Feature: 1953 Plymouth Cranbrook Convertible Coupe
Buick Word Search