The compact-SUV class is one of the most popular vehicle classes today, and with good reason. These sensible little haulers offer an attractive mix of attributes that make them smart choices for wide variety of buyers. Most compact SUVs have a "footprint" that is not much bigger than the average compact car, but they offer better passenger and cargo room because of their taller, upright bodies. Thanks to their elevated ride heights and the availability of all-wheel drive, compact SUVs offer better all-weather capability than most passenger cars and minivans, as well as off-roading abilities that range from nominal (e.g. most class competitors) to advanced (e.g. appropriately equipped Jeeps).
True, the average compact SUV can't match the 7-passenger capacity or towing power of many midsize SUVs, but it's also significantly easier to maneuver in close quarters, and less thirsty at the fuel pump as well.
Be sure to check out the '10 Best Compact Cars'
Another factor in the popularity of these practical, versatile vehicles is that fact that there are a lot of great entries in the class, from a broad range of manufacturers. We've highlighted our ten favorite compact SUVs below:
 Ford Escape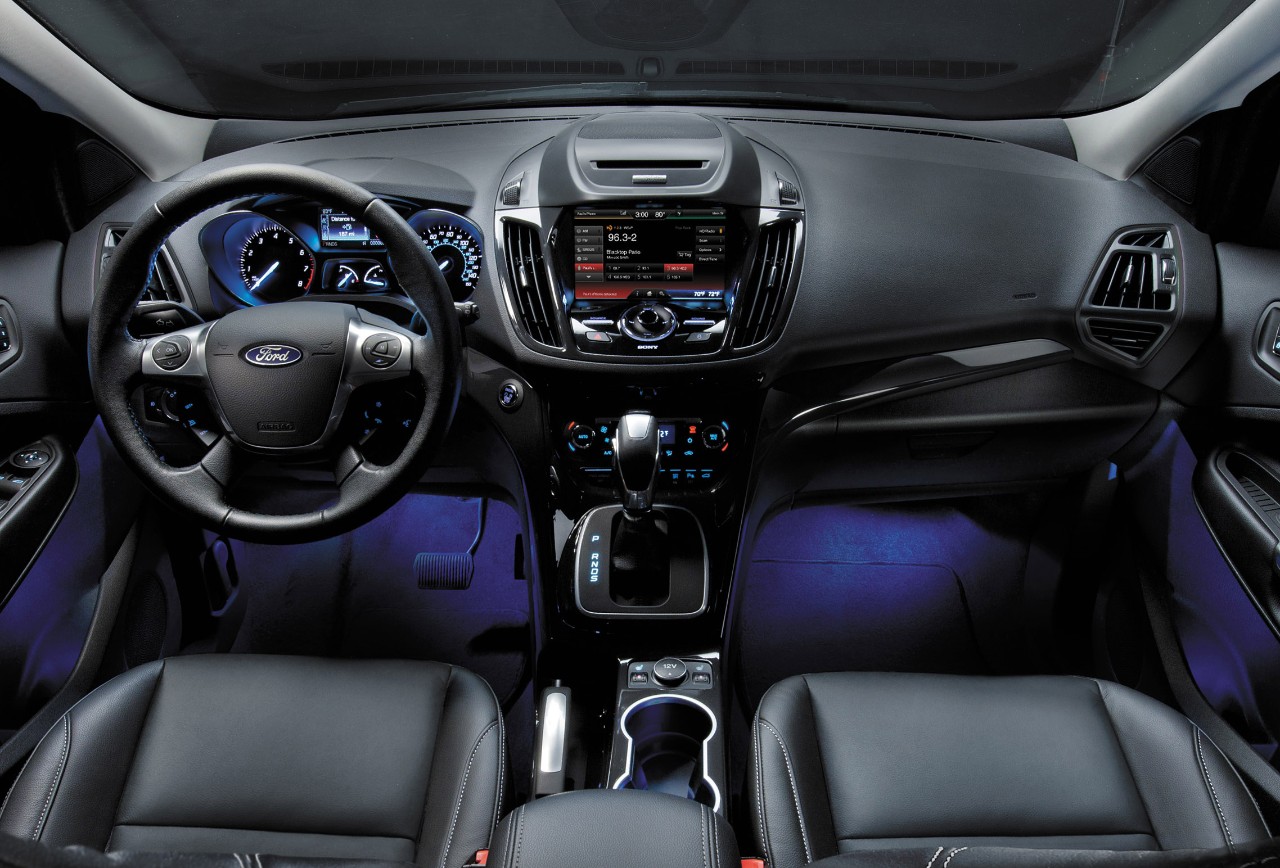 The Ford Escape was redesigned for the 2013 model year and sees minor changes in trim levels and feature availability for 2014. The Escape boasts a fine ride and handling balance, a raft of available high-tech infotainment and safety features, and a classy cabin with a contemporary design feel. Ford's spunky 2.0-liter EcoBoost engine is optional on SE and top-end Titanium models. It costs an additional $1195, but adds almost 60 horsepower without a significant penalty in fuel economy.
One of our favorite Escape features is the hands-free power liftgate, which is standard on Titanium models. This system allows for the tailgate to be opened and closed automatically via a gentle kicking motion under the center section of the rear bumper. It's a handy feature that's incredibly helpful when your hands are full with grocery bags or whatever. The only "catch" is that the person doing the kicking must be carrying the vehicle's key fob either on their person or in a purse or briefcase for the system to activate.
On the downside, Escape can get a bit pricey compared to class competitors—the Titanium model starts out at more than $30,000. And, not all drivers like the MyFord Touch touchscreen infotainment system… our testers complained of occasionally slow operation and of virtual "buttons" that can be difficult to press when the vehicle is in motion. Still, the Escape is well worth checking out.
Be careful when considering options for your Ford Escape
Honda CR-V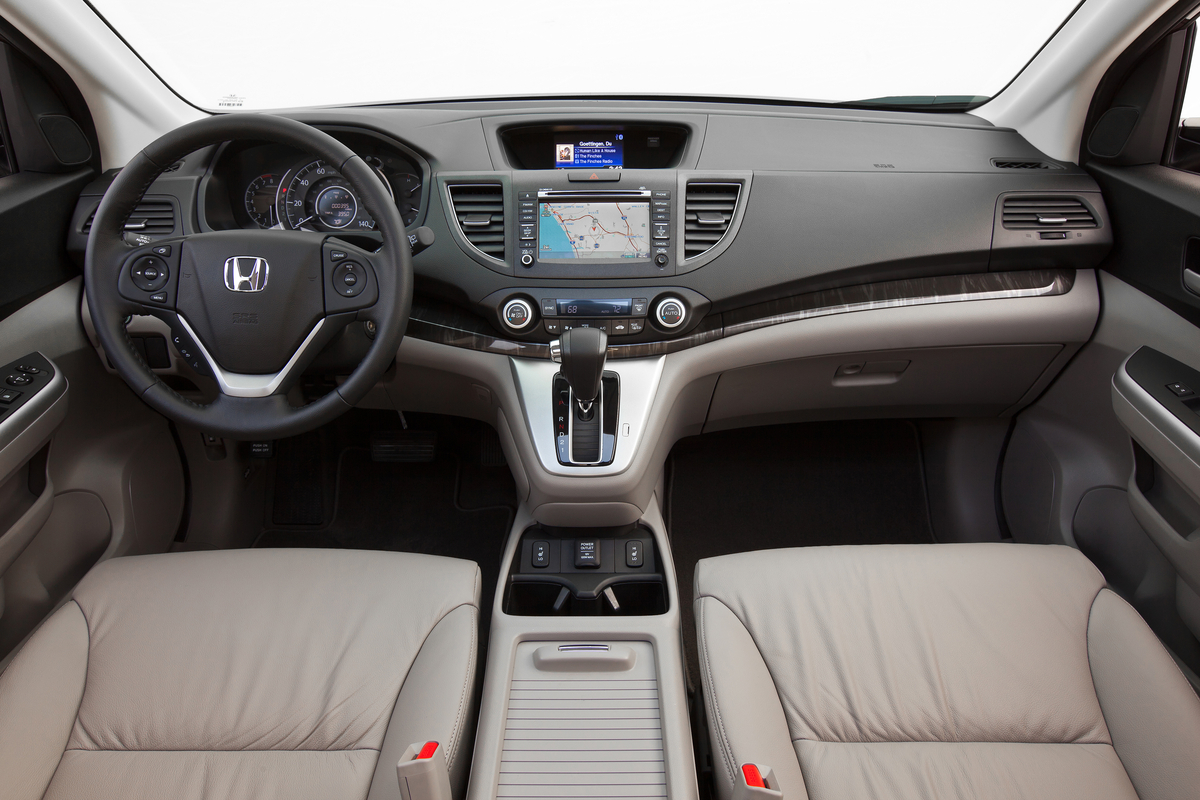 The Honda CR-V helped kick start the era of the modern-day compact SUV back in 1995, and the 2014 model is still one of the best in the segment. The current-generation CR-V was introduced for 2012, and hasn't seen any significant changes since.
The CR-V boasts impressive passenger and cargo room within its sensible overall dimensions—the main highlights are generous rear-seat space and rear seatbacks that fold with ease to create a large, almost-flat load floor. The CR-V's cabin materials might be a bit drab compared to some class competitors, but the overall build quality is top notch.
The CR-V isn't quite as customizable as many of its rivals; only one engine is available, and the lack of stand-alone options means that the buyer must step up to a more-expensive model to gain certain desired features. And some of its tech features, particularly the navigation system, feel a bit dated. However, these quibbles are minor in light of the CR-V's outstanding all-around versatility and pleasant road manners.
Check out the Consumer Guide 2014 compact crossover Best Buys
Hyundai Tucson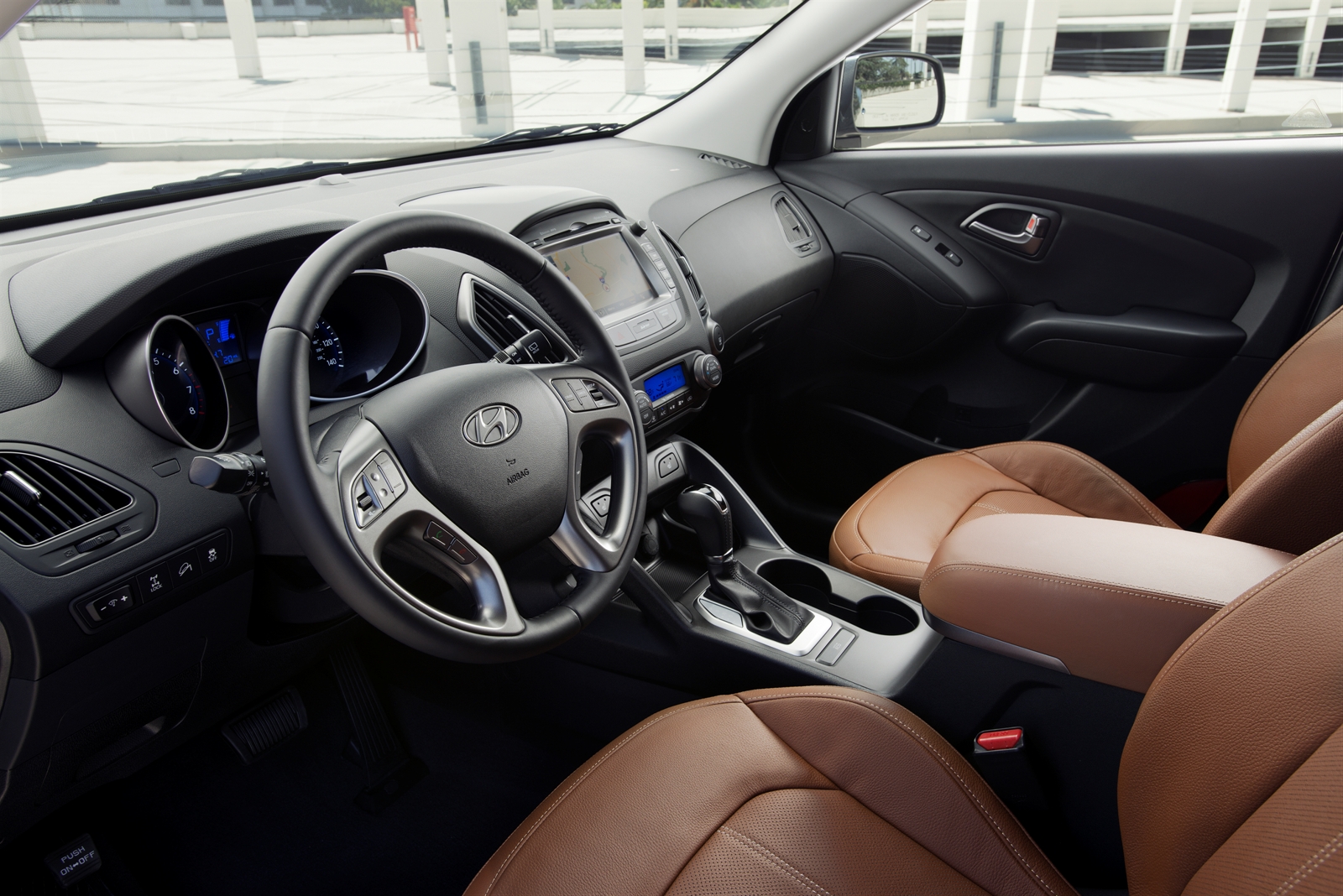 The current-generation Hyundai Tucson was introduced as a 2010 model and has seen minor revisions each subsequent year. For 2014, both Tucson engines are updated with direct injection; exterior styling is mildly freshened; trim levels are changed; and new standard features such as Bluetooth wireless connectivity, a tilt-telescopic steering column, and a reclining rear seat are added.
Competitive pricing across the model lineup means that most any Tucson is a compelling value from a features-per-dollar standpoint. The simple, straightforward control layout also won raves from our testers–it's especially easy to use. Handling is sportier than most in the class, but the tradeoff is a ride that is a bit stiff for the class.
Tucson's styling is also sportier and more expressive than many compact SUVs, but the swoopy roofline means that it doesn't feel as airy inside, and rear visibility trails some competitors as well. Likewise, Tucson's rear seat is a bit tighter than most class rivals, and its cargo room isn't quite as large either. Still, for those who want a compact SUV with verve, the Tucson is a good choice.
Check out the Consumer Guide 2014 compact crossover Best Buys
Jeep Cherokee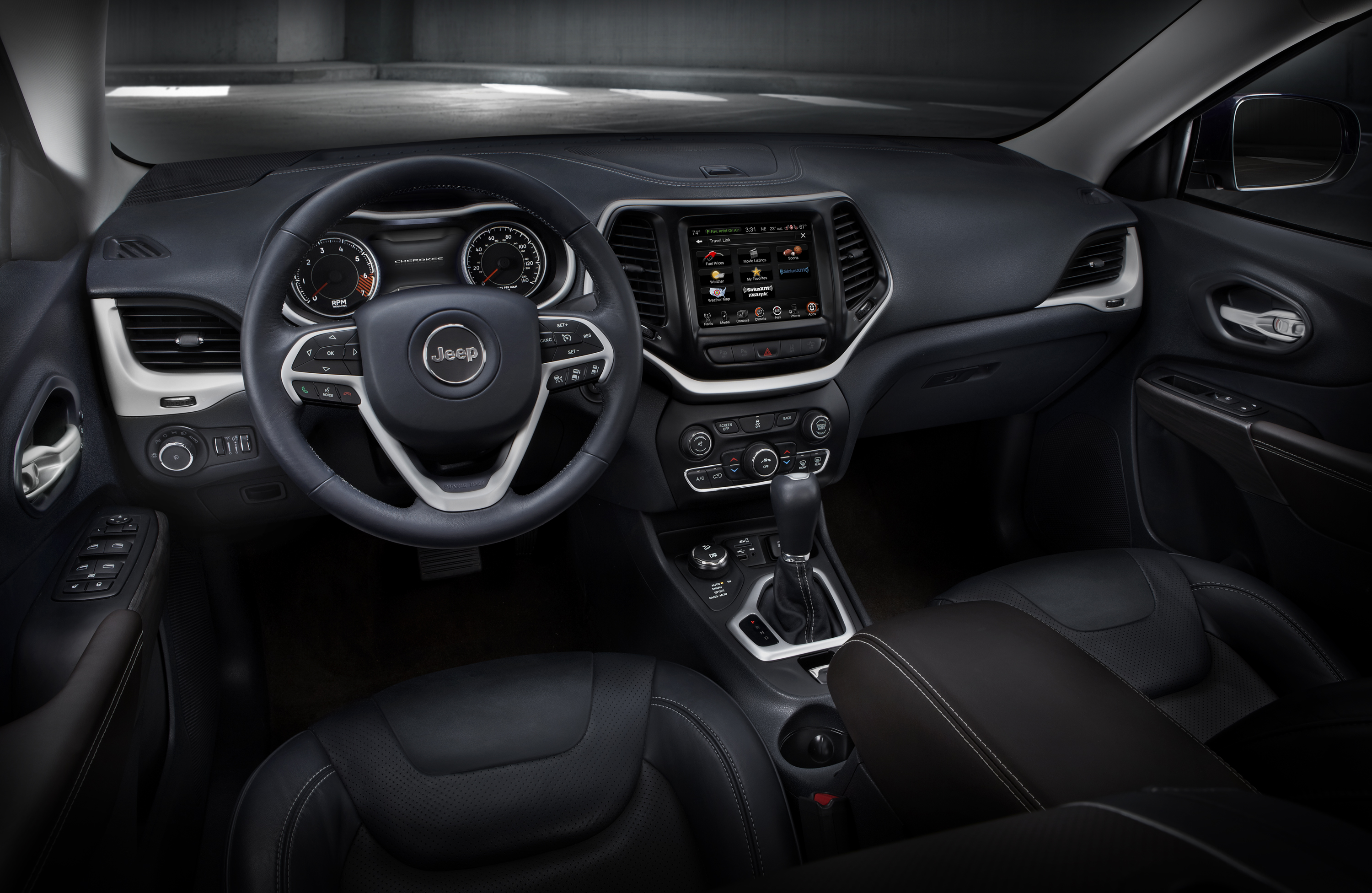 Jeep revives the Cherokee name for 2014 on a platform that's shared with the Dodge Dart compact car. Its aggressive front-end styling makes certain that the Cherokee won't be mistaken for anything else, even if it is a bit too radical for some Jeep purists. The base 4-cylinder's acceleration never rises much above adequate, but the available V6 delivers robust go. The on-road ride is impressively smooth for the class, but Cherokee doesn't feel as nimble in turns as, say, a Mazda CX-5 or Ford Escape.
In keeping with the Jeep brand's legendary character, the new Cherokee can be equipped to offer off-road prowess that other compact SUVs can't match. The Active Drive II 4-wheel-drive system includes low-range gearing, and the Trailhawk model adds front and rear tow hooks, underbody skid plates, a bit more ground clearance, and other rugged-terrain accouterments. Another highlight is the nicely finished interior, which can be outfitted with high-tech features such as an automated parallel parking system and forward collision, lane-departure, and blind-spot warning systems.
Some Cherokee models get quite pricey as the options are added, and cargo and passenger room are a bit stingier than most. Still, its cutting-edge features and off-road potential make Cherokee a compelling choice.
Test Drive: 2014 Jeep Cherokee Limited
Kia Sportage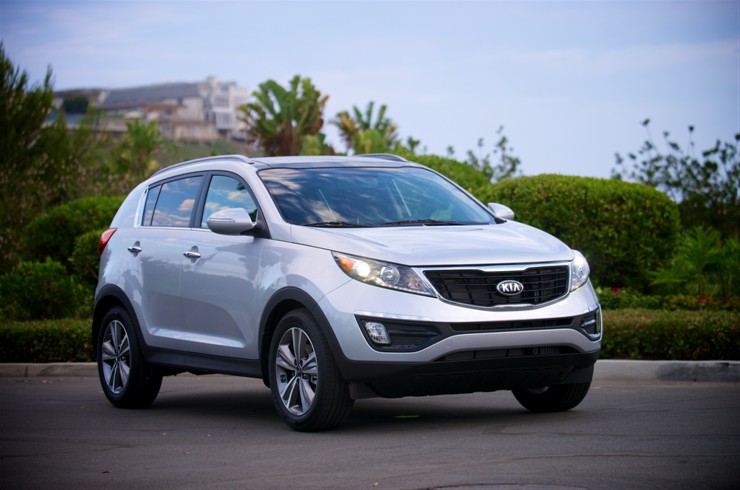 The current-generation Kia Sportage was introduced as a 2011 model, and sees a number of updates for 2014. Exterior styling is freshened, the base engine has been upgraded with direct injection, the suspension is retuned, and the interior gets several available-feature upgrades, such as a new touchscreen infotainment system.
The Kia Sportage is closely related to the Hyundai Tucson, and shares many of the same strengths and weaknesses. The handling is sharp for the class, and SX models offer a gutsy 260-hp turbocharged four-cylinder that provides zippy acceleration. Styling is distinctive inside and out, and Kia's control layout and infotainment features are among the best in the business.
However, the Sportage is not as big inside as other compact SUVs, in terms of both cargo space and rear-seat passenger room. Also, the sloped rear window and thick roof pillars compromise rear visibility. Fuel economy is a bit mediocre for the class as well. Still, Kia's warranty is strong and Sportage pricing is very competitive, and that, along with its other winning traits, make the Sportage a compelling choice.
Check out the Consumer Guide 2014 compact crossover Best Buys
Mazda CX-5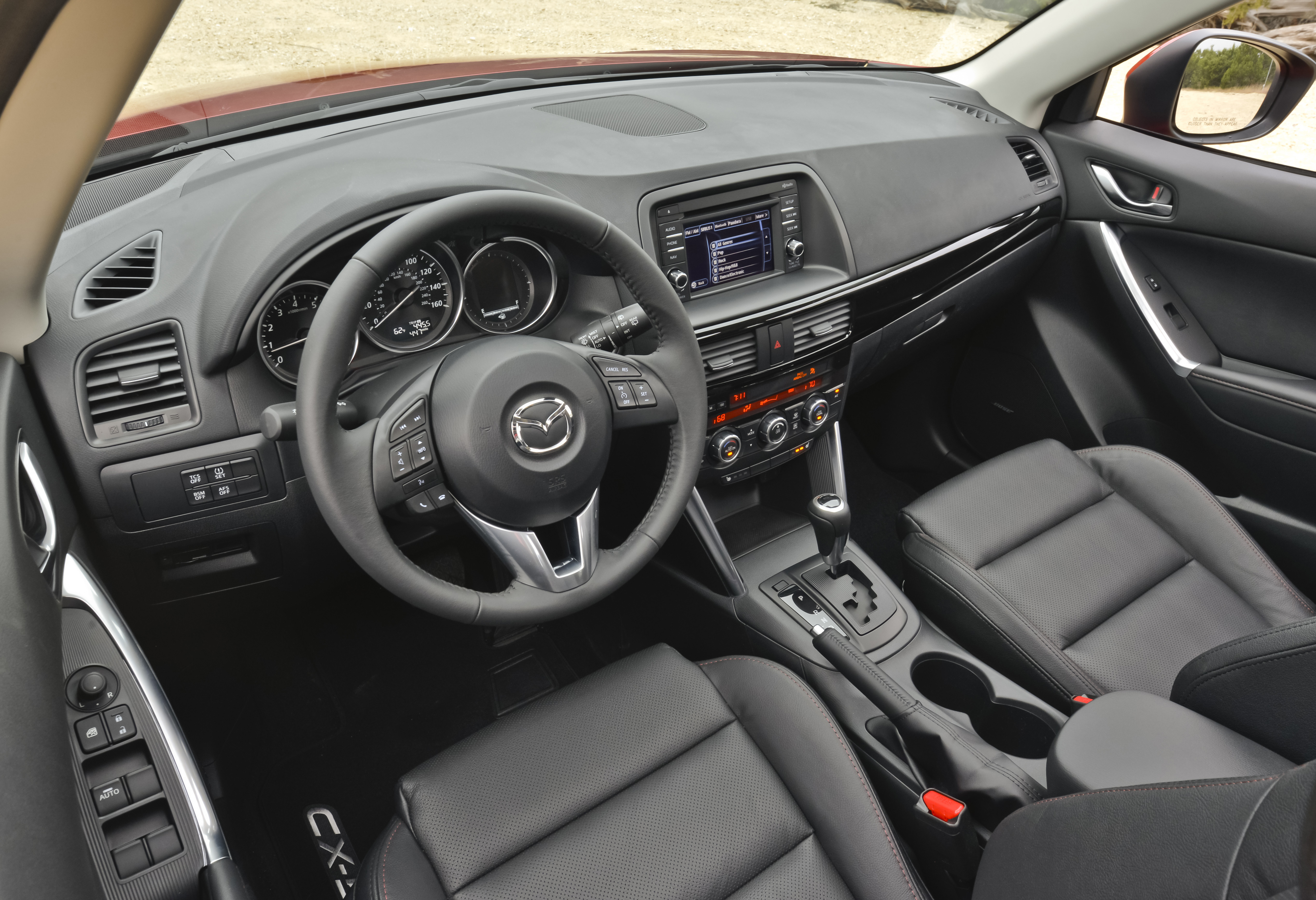 The CX-5 debuted for 2013 as the first Mazda vehicle designed from the ground up to incorporate the company's SKYACTIV-branded technology. Mazda says SKYACTIV focuses on lightweight, efficient overall vehicle design to maximize fuel economy while maintaining a fun-to-drive character. For 2014, CX-5 gets a larger, more-powerful available engine, updated infotainment features, and new available safety features.
At Consumer Guide, we've been fans of the CX-5 from the start; we ranked it as a Best Buy for both 2013 and '14. No other compact SUV matches the CX-5's blend of frugality, sportiness, and practicality. Standout fuel economy is strong point in all CX-5s. The EPA numbers are impressive, and Consumer Guide's front-wheel-drive, 2.0-liter long-term tester averaged close to 30 mpg in everyday driving during its yearlong stay with us. The CX-5's handling is about as crisp and nimble as a small SUV gets, with wonderfully responsive steering. The cabin, though a bit smaller than some rivals, is comfortable and well appointed.
The 155-horsepower 2.0-liter versions can feel a little underpowered at times; many buyers will find it's worth stepping up to the new-for-2014 2.5-liter engine. The 2.5 has 184 horsepower and delivers better acceleration without a serious penalty in fuel economy. Any CX-5 is a compact SUV must-see.
Hey Buddy: Our Mazda CX-5 Is Getting 30 MPG!
 Mitsubishi Outlander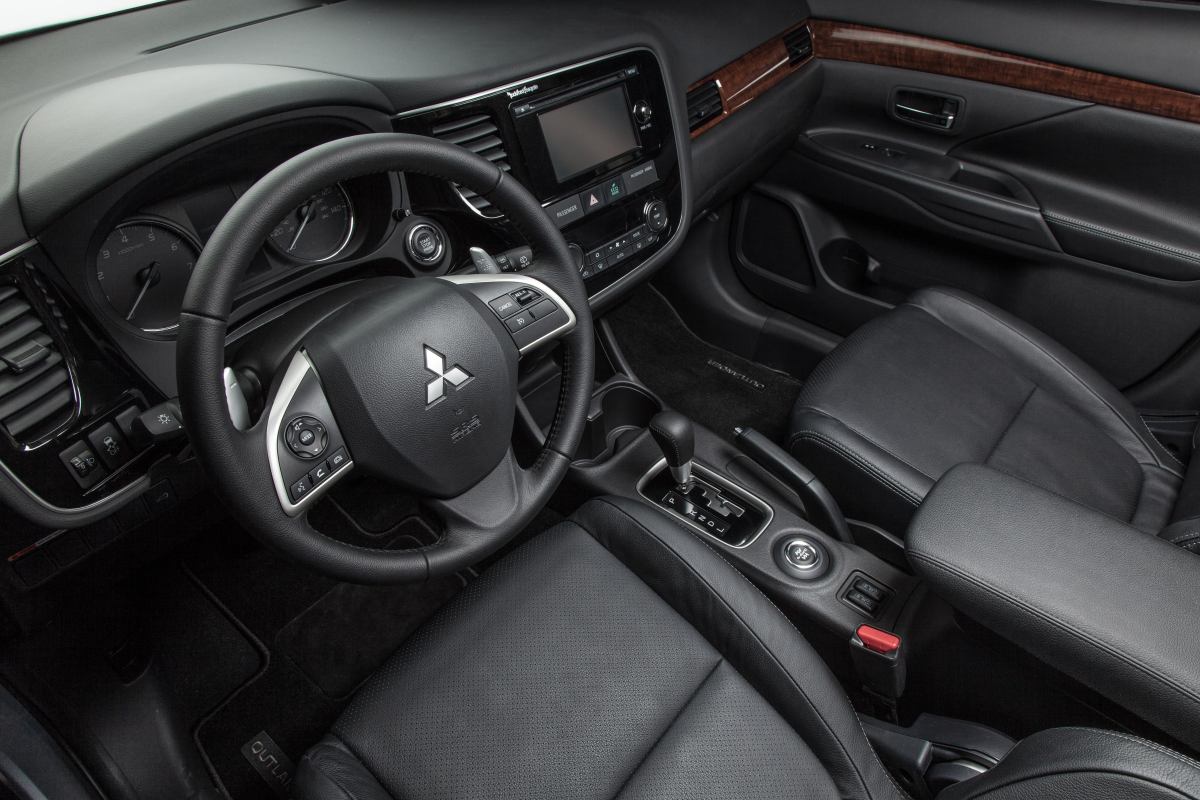 The Mitsubishi Outlander is redesigned for 2014. The previous-generation Outlander was never a frontrunner in the compact SUV race, but the new model offers plenty of attractive features that help it separate it from the pack. One of the most obvious ways Outlander stands out is size: It's one of the biggest vehicles in the class, occupying something of a middle ground between a compact and midsize SUV. Along the same lines, Outlander is the only compact SUV to offer both a V6 engine and a third-row seat. (The Jeep Cherokee and Wrangler also offer a V6, and the Nissan Rogue offers a third-row, but only Outlander offers both.) Outlander also boasts some rare-for-the-class available safety features, namely a forward-collision warning/mitigation system, lane-departure warning, adaptive cruise control–all of these are packaged together in a separate (and pricy) Touring Package.
 Power with the base 4-cylinder engine is decent around town, but a bit wanting in highway driving. The V6 delivers robust acceleration, and also manages respectable fuel economy.  Outlander's dimensions provide generous cargo space and passenger room in the first and second rows. The third row is plenty cramped for adults over 5'9", though the sliding second-row seats ease access somewhat.
Outlander offers an impressive selection of optional features, but our testers were often annoyed by the overly sensitive lane-departure warning system, and the navigation/infotainment system isn't as easy to use as most class competitors. It's not without its idiosyncrasies, but Outlander is a worthwhile choice if you need a bit more space and power than the norm in your compact SUV.
Long-Term Update: 2014 Mitsubishi OUtlander
Nissan Rogue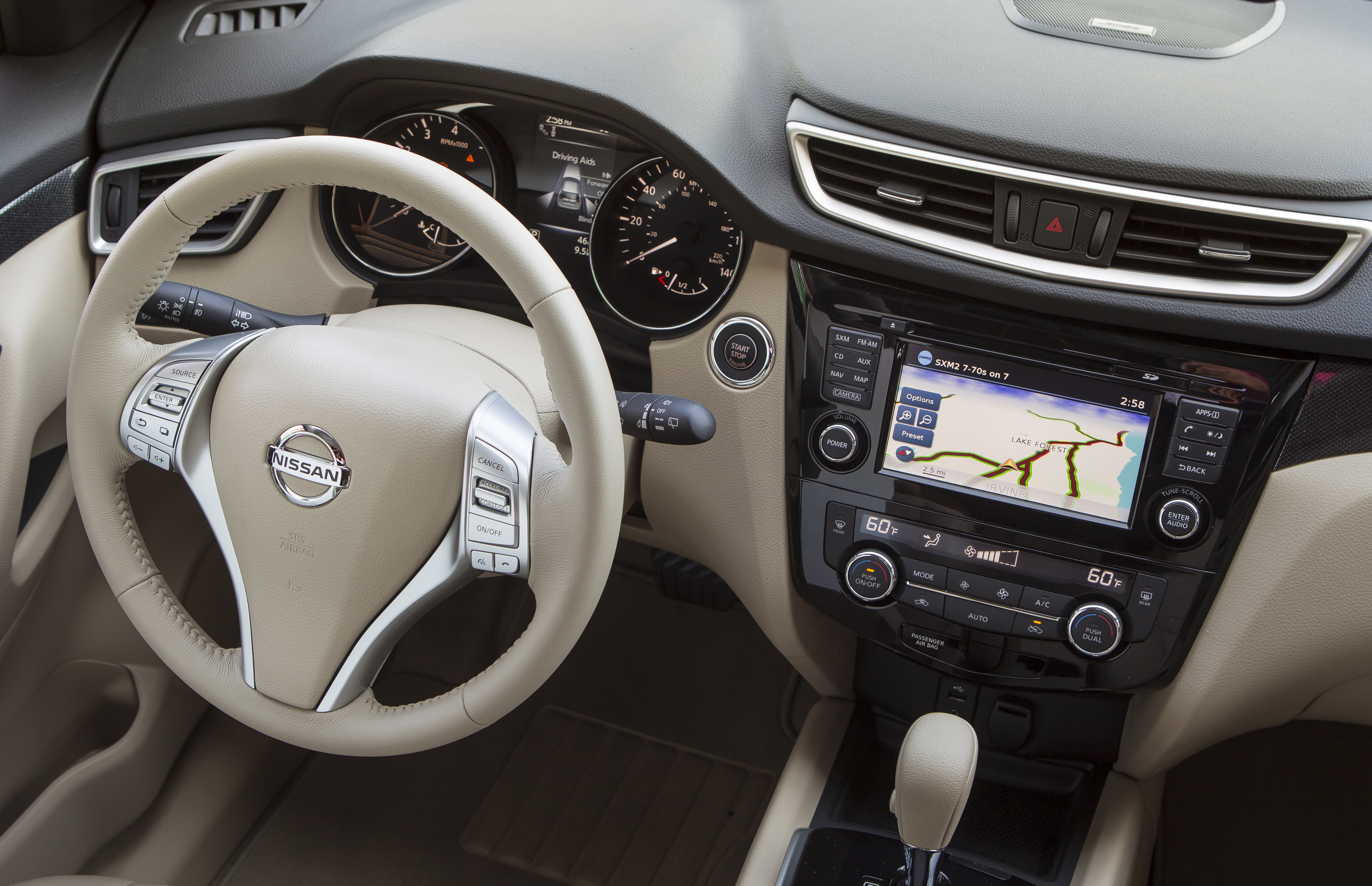 Redesigned for 2014, the Nissan Rogue gains a host of new features, including an optional third-row seat. (The Mitsubishi Outlander is the only other compact SUV to offer a third row.) As a fresh design, the new Rogue offers many of the latest comfort and safety features as standard or optional equipment. The up-level SV and SL models can be had with blind-spot warning, lane-departure warning, forward collision warning, and Nissan's Moving Object Detection. The available navigation system sports an Around-View Monitor (a 360-degree camera), a suite of infotainment apps, and weather/traffic info.
The configurable rear cargo area is an ingenious feature–the cargo floor behind the second row seats is split into two sections, with a fore panel and an aft panel. The panels can be set at different levels to provide two-tier storage, increased cargo height, or access to a waterproof under-floor storage compartment for wet or dirty items. The sliding second-row seat is another well-designed feature. It can slide fore and aft about nine inches to favor second-row passenger space or third-row space/cargo room. Not surprisingly, however, that available third-row seat is rather cramped… it's really sized only for kids, or teens at best.
Despite price increases with the new model's introduction, Rogue pricing is still very competitive. Interior materials are about the best in the class, too. Our biggest complaint is Rogue's middling acceleration—the 170-horsepower 2.5-liter four can't always move this hefty-for-the-class vehicle with vigor. Note that the previous-generation Rogue carries on for 2014 as the "Rogue Select."
2014 Nissan Rogue: Stepping Up The Game
Subaru Forester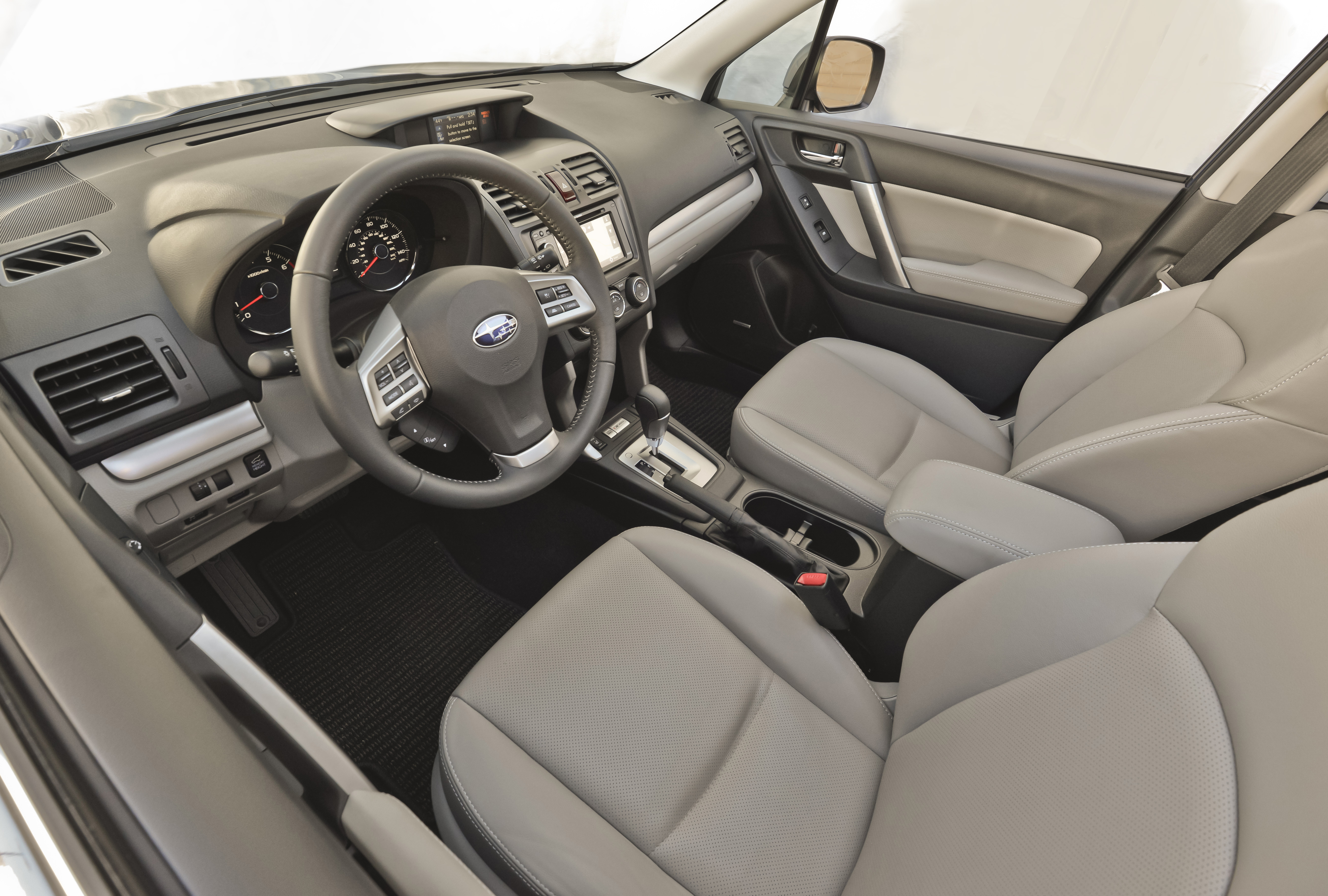 The Subaru Forester is redesigned for 2014, gaining new styling, slightly larger dimensions, continuously variable transmissions (CVTs), and new technology features. Subaru's trademark all-wheel drive remains standard, and the CVTs and other powertrain changes improve fuel economy slightly, giving the new Forester laudable mpg numbers for an AWD vehicle.
Overall, the Forester's cabin design might not be as dazzling as some competitors, but many Subaru shoppers appreciate the brand's typically simple, no-nonsense control layout. The interior materials are sturdy and assembly quality is commendable. And, as with previous-generation Foresters, a high roofline provides a wonderfully airy cabin with outstanding headroom and visibility.
Acceleration with the 170-horsepower 2.5-liter base engine is middling, and not all testers like the behavior of its CVT transmission, which tends to hold the engine at higher (read: noisy) rpms when accelerating. Subaru also offers sportier XT models with a 250-horsepower 2.0-liter four that should satisfy buyers with a desire for more get up and go, but they cost about $3000 more than comparable 2.5 models. Though it's more of a traditional passenger car than the rest of the SUVs on this list, Subaru's Impreza-based XV Crosstrek is worth a look as well.
Test Drive: 2014 Subaru Forester 2.0XT
Toyota RAV4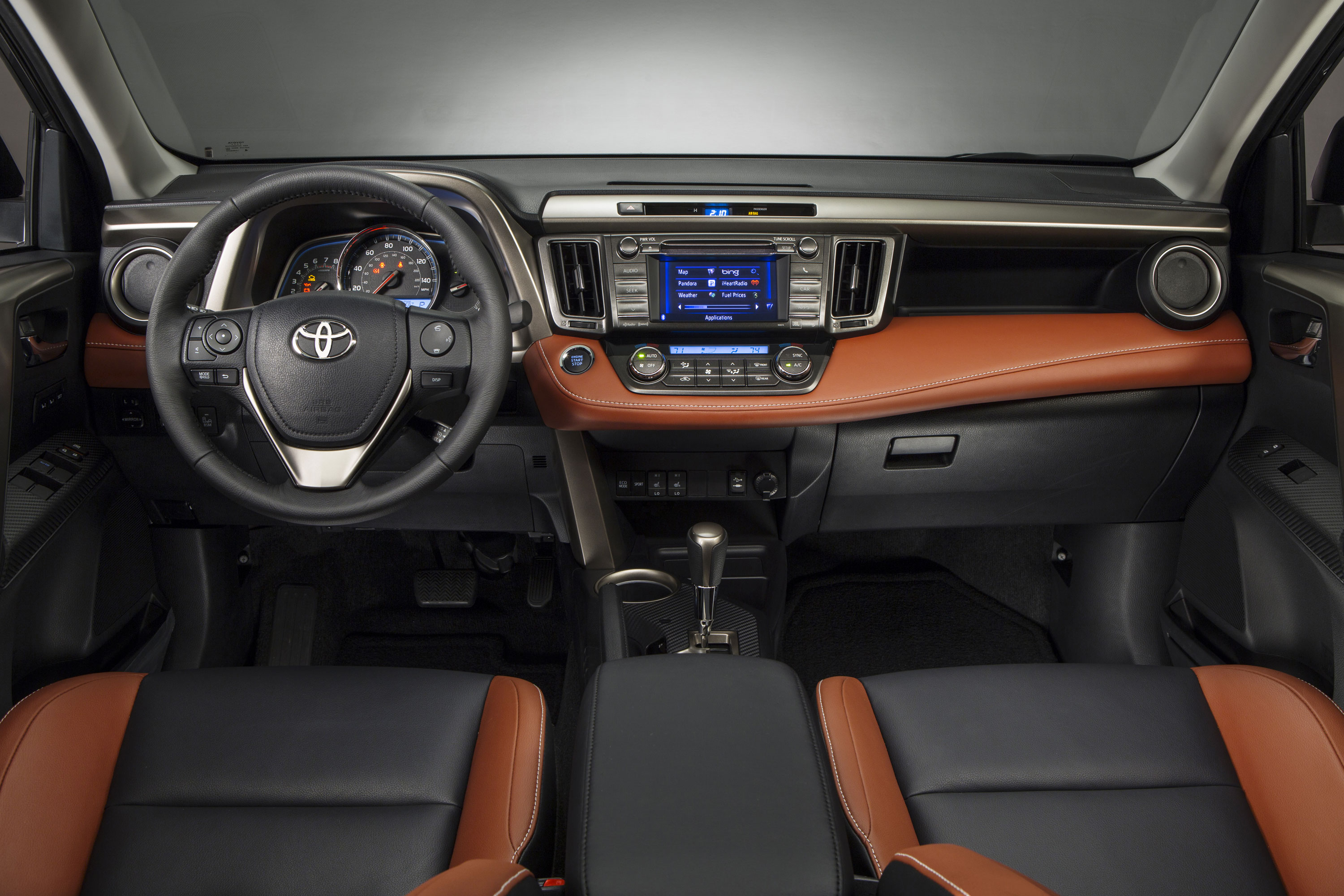 Toyota's RAV4 was redesigned for 2013 and sees only one change of note for 2014: a Technology Package on Limited models that includes a blind-spot monitoring system, lane-departure warning, and automatic high-beam headlamps.
RAV4's strengths include a quiet-for-the-class cabin, good fuel-economy numbers, and storage space that ranks among the best in the class. Driving manners are pleasant as well; the responsive brakes and steering contribute to excellent close-quarters maneuverability. However, the ride gets a bit stiffer with the Limited model's 18-inch wheels.
Base prices are a bit steep compared to some competitors, and cabin materials are only so-so. Rear-seat room is decent, but the seat itself is thinly padded and the seatback sits near upright, diminishing passenger comfort. With its 2013 redesign, the RAV4 lost some of its distinctive traits, most notable its available third-row seat and V6 powertrain option, but it you're a shopper who won't miss those features, the 2014 RAV4 is well worth checking out.
Check out the Consumer Guide 2014 compact crossover Best Buys
Also Consider: Volkswagen Tiguan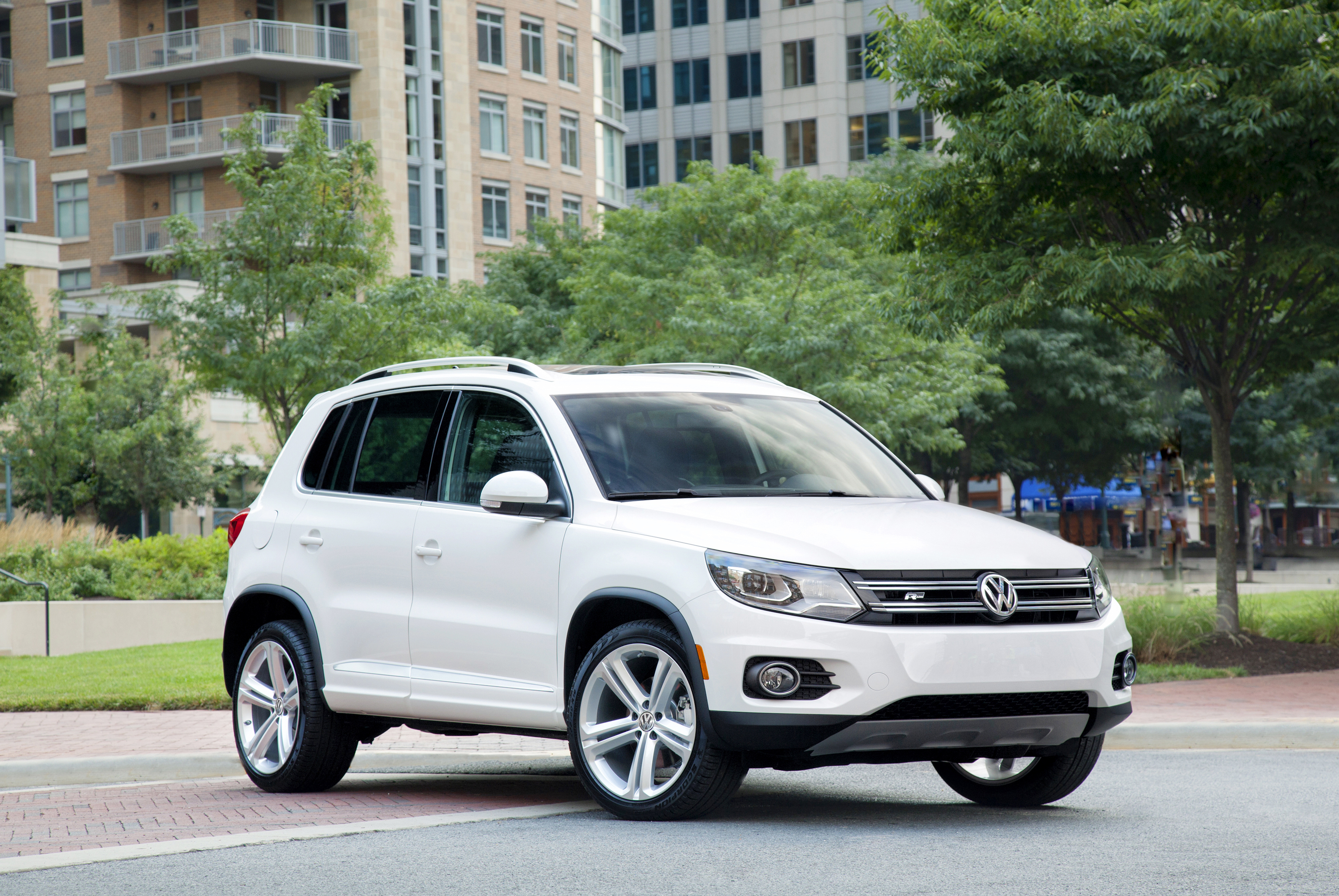 Though its base prices are a bit too steep for us to include it in this list, the Volkswagen Tiguan is a fine compact SUV that offers car-like ride and handling, a roomy, user-friendly cabin, and high-class trimmings that approach luxury-class offerings. New for 2014 is a sporty R-Line model that should be one of the most fun-to-drive compact SUVs around.
Tight budget? Check out 'Hitting a Price Point: Seven Great Vehicles For Around $20,000'
Also check out the '10 Best Compact Cars'