Blame Audi, Saab, and Volvo if you like, but by the mid Eighties, turbocharging had a sophisticated European cachet to it, and a number of American carmakers were working to get in on the trend.
Ford bought in on the turbo wave, installing a blown version of the maker's ubiquitous 2.3-liter four-cylinder engine in a number of vehicles, including the Mustang, Mercury Capri, and the short-lived Merkur XR4Ti.
One early application of the engine was in the redesigned-for-1983 Ford Thunderbird. Often referred to as the Aero Bird, the rear-drive coupe cut a sporty figure, and it seemed a fitting place to wedge a performance-oriented powerplant.
Not a company to mince words, Ford dubbed the turbocharged Thunderbirds Turbo Coupes, which capped a lineup that included base and luxury-themed Heritage models. Non Turbo Coupe T-Birds could be had with a standard 110-horsepower 3.8-liter V6, or an available 140-horse 5.0-liter V8.
The turbocharged 2.3-liter mill cranked out a solid 145 horsepower and 180 pound-feet of torque. It's worth noting here that while the little turbo actually beat the available Thunderbird's available V8 by five horsepower, it came in well shy of the bigger motor's 250 pound-feet of torque.
This fact probably didn't matter much for 1983, when the Turbo Coupe was equipped only with a 5-speed manual transmission—the only self-shifter offered in the T-Bird lineup.
Our review here covers a 1984 Turbo Coupe equipped with the then-new 3-speed automatic transmission. Not surprisingly, our editors at the time questioned the need for the turbocharge engine, largely because the available V6 and V8 engines were so much smoother and more refined.
You can read our full report below.
An interesting feature of the Turbo Coupe was a dash switch allowing drivers to select the type of fuel they were using: "Regular" or "Premium." Presumably use of low-octane fuel meant accepting a certain reduction of horsepower. Such a switch would have been useful in cars sold in Mexico, where gasoline quality has been know to trail that of fuel sold in the States.
We think it a bit odd that, given the sophisticated note Ford was attempting to strike with the Turbo Coupe, it was possible to equip one without air conditioning or an FM radio, though we seriously doubt very many were built without those options.
The Turbo Coupe remained in the lineup until 1989 when the Thunderbird was completely redesigned. It's spiritual successor, the Super Coupe, was powered by a 210-horsepower supercharged V6.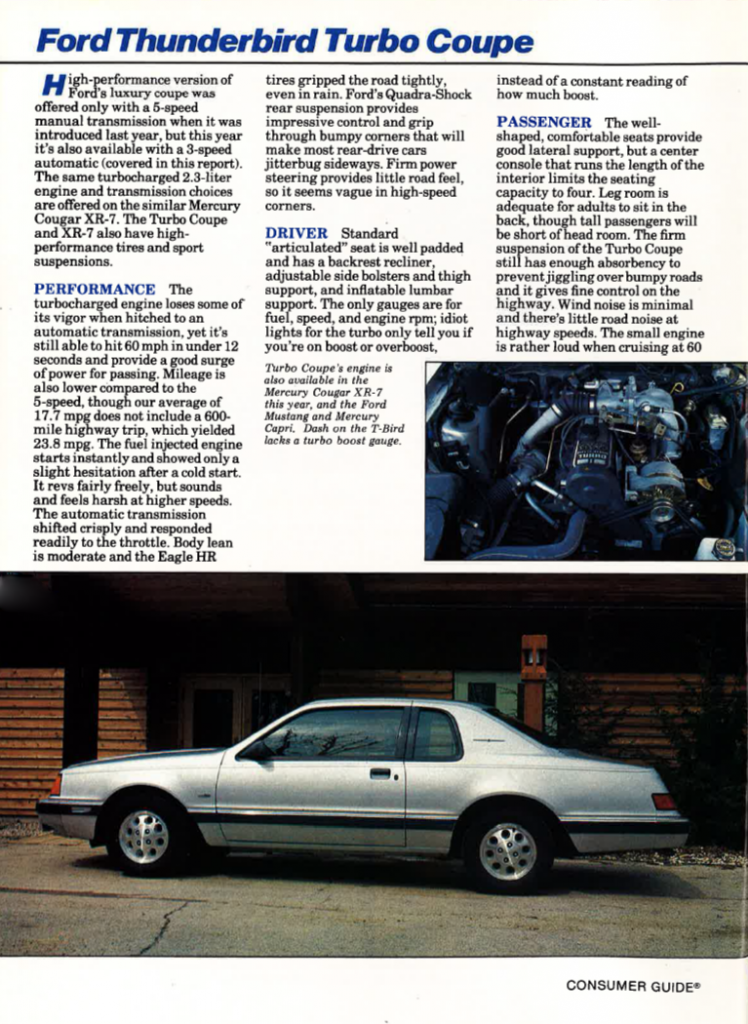 10 Most-Expensive American Coupes of 1976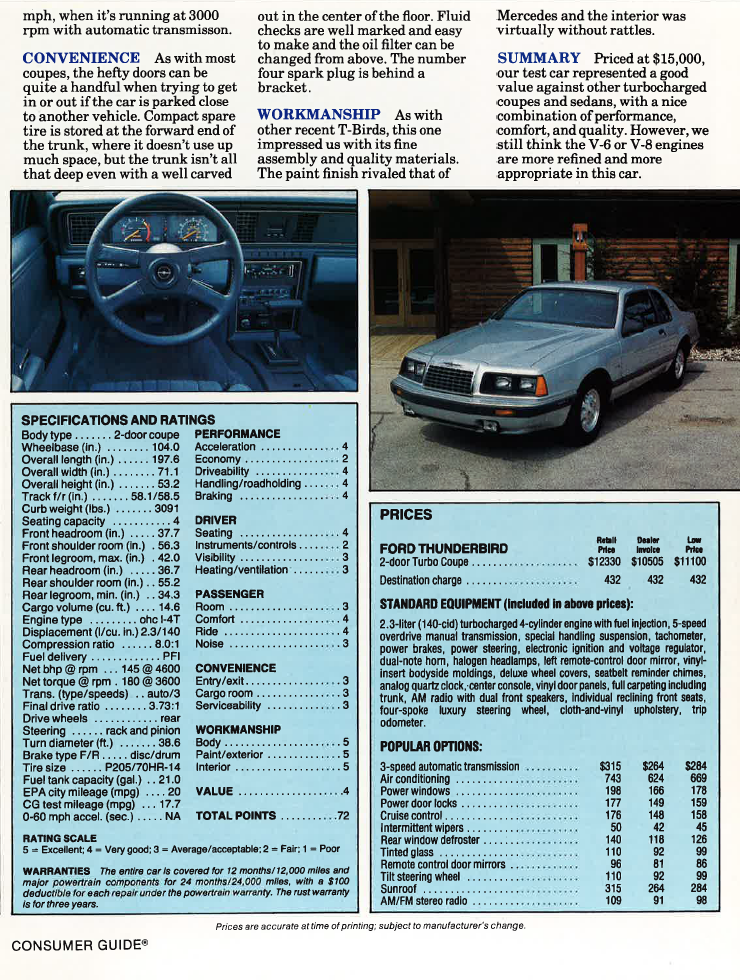 Personal-Luxury Place Holder: 1975-1976 Ford Elite