The passage of time can play tricks on your memory. Here's a question to prove this point: For how many years did sales of the Dodge Magnum overlap with the run of the TV sitcom Big Bang Theory?
Would you believe just two? Production of Dodge's burly, rear-wheel-drive wagon wrapped up in 2008, just one year after the debut of Bang.
Built on Chrysler's Mercedes-Benz-derived LX architecture, the Magnum was one of four American-market full-size cars that would be built on that platform–and three of those cars are still production. The Magnum and the LX-based Chrysler 300 debuted for 2005, the Dodge Charger sedan for 2006, and the sporty Dodge Challenger coupe for 2008.
Technically, the shorter-wheelbase Challenger rides on what the maker calls its LC architecture, but the two platforms are very similar, and the cars share many  components.
When the LX cars were first introduced to the buying public, it was the Magnum that enjoyed the greatest fanfare. Auto enthusiasts were delighted by the notion of Dodge again selling a large, rear-drive, V8-powered station wagon—though Dodge marketing avoided the term station wagon.
Sadly, as is often the case, enthusiast buzz wasn't enough to generate meaningful Magnum sales, and the car was discontinued as part of Chrysler's pre-Fiat-merger housecleaning.
As just short of 170,000 Magnums were built, the car isn't especially rare—though V8-powered examples seem to be a little more difficult to come by. What is rare is the Magnum SRT8, a high-performance model sold only between 2006 and 2008. Packing an enlarged Hemi V8, the SRT8 boasted a sport suspension, unique trim, and some legitimately impressive performance numbers. Per Car and Driver magazine, the Magnum SRT8 would squirt to 60 mph from a dead stop in just over five seconds—not bad for a five-passenger wagon with 72 cubic feet of cargo volume.

Depending on the model year, SRT8s sell for about three times as much money as rank-and-file Magnums do, with good examples fetching between $15,000 and $20,000. It's safe to say that only the SRT8 was met with a big bang…
What follows here is Consumer Guide's original review of the 2008 Dodge Magnum, the model's last year of production. If you've ever spent time with a Magnum, please tell us about it. The place to leave comments is at the bottom of the page.
2008 Dodge Magnum
Overview
The 2008 Dodge Magnum gets mildly freshened interior and exterior styling for what Dodge says is this large wagon's final model year. Magnum shares its basic design with the Chrysler 300 and Dodge Charger sedans. V6 and V8 engines are available, as are rear-wheel drive and all-wheel drive. SE models have a 178-hp 2.7-liter V6. SXT versions have a 250-hp 3.5-liter V6. R/Ts have Chrysler's 340-hp 5.7-liter Hemi V8. The available Road/Track Performance Group increases the 5.7-liter engine's horsepower to 350. High-performance SRT8s have a 425-hp 6.1-liter Hemi. The 5.7 V8 has Chrysler's Multi-Displacement System cylinder deactivation. All Magnums have an automatic transmission: a 4-speed on SEs and rear-drive SXTs, a 5-speed on all others. SRT8s aren't rating for towing, but Magnums with the 5.7 V8 can tow up to 3800 lb. Available safety features include ABS, traction control, antiskid system, curtain side airbags, and front side airbags. SRT8 models have specific trim and uprated brakes. Power adjustable pedals and a wireless cell phone link are available. Chrysler's MyGIG Multimedia system is optional, and it includes a 20-gigabyte hard drive for storing pictures and digital music files. Among other changes are a slightly updated dashboard and revised interior trim.
 Acceleration
SE with the 2.7-liter V6 feels tepid and requires lots of passing room; Dodge says 11.3 seconds 0-60 mph. The 3.5 V6 is okay in town and has good passing punch. Dodge claims 9.3 seconds with rear drive, and it feels little different with AWD. R/T versions have ready power from any speed; test Magnum did 5.8 sec 0-60. SRT8 models are bona fide muscle cars at around 5.0 seconds 0-60 mph.
Fuel Economy
No opportunity to measure with the 2.7 V6 or AWD. A Magnum R/T averaged 15.9 mpg over 11,935 miles in a Consumer Guide extended-use test. Other test Magnum R/Ts averaged 18.4 mpg with more highway work. SRT8 averaged 14.3 mpg. Dodge recommends 87-octane gas for 2.7 V6, 89 for 3.5 V6 and 5.7 V8, and 91 octane for the SRT8.
Ride Quality
Little difference between Magnum and more-luxurious Chrysler 300. The ride is generally smooth and composed, but rippled pavement triggers annoying jiggling, especially in V8 models with their firmer suspensions. SRT8s are even stiffer but never punishing.
Handling
Linear steering with good road feel. Stable at highway speeds. These big cars aren't nimble in quick direction changes, but they have fine balance and grip in turns, SRT8s in particular. All have confident stopping control, but some testers complain of long pedal travel. Test rear-drive V8 models negotiated rainy roads without undue slip. Extended-use rear-drive Magnum R/T was difficult to maneuver in snowy conditions, despite traction control and all-season tires. We recommend AWD for the best all-weather traction.
Quietness
Noticeable roar from V6s during acceleration. V8s make throaty full-throttle growl–SRT8s sound like race cars–but are quiet enough in gentle cruising. Magnum suffers more road ruckus than 300 or Charger, mostly because of its open cargo area vs. a closed-off trunk. R/Ts and SRT8s have more tire roar than other Magnums. Wind rush is evident at highway speeds.
Controls
The instruments are large and easy to read, but the steering wheel rim cuts into the view of the turn-signal arrows and gauges for fuel and temperature. Most controls are within easy reach, though some are too low to easily adjust while driving. The navigation system is easy to program, but it absorbs too many audio functions.
Review Flashback! 2011 Lincoln Town Car
Details
Interior materials are a slight grade below those of the 300, but are appropriate for these prices, with a solid feel and a nice array of padded surfaces.
Comfort
(Front Seats) Spacious. Ample headroom and legroom, though AWD versions have a slightly narrower passenger footwell. Generously sized seats, but flat cushions allow occupants to slide during aggressive cornering. SRT8 and Magnum R/T with the Road/Track Performance Group address this problem with sport buckets. SRT8 seats have good lateral support and outstanding comfort. Thick front roof pillars obscure view to front corners. Magnum's low roofline obstructs visibility to the sides and rear.
(Rear Seats) Easy entry and exit. Great room for two. Legroom and foot space are ample, even with the front seats lowered and pushed well back. Head clearance is ample. There's enough thigh support for long-trip comfort, but the middle rider must straddle a bulky driveline hump.
Cargo Room
Magnum's wagon shape means lots of room, but low roofline forces carrying tall objects flat; available cargo nets/bins handy for small items. Versatility is enhanced by the standard split folding 60/40 rear seatbacks, but they don't lay completely flat.
Test Drive: 2019 Dodge Challenger R/T Scat Pack Plus Widebody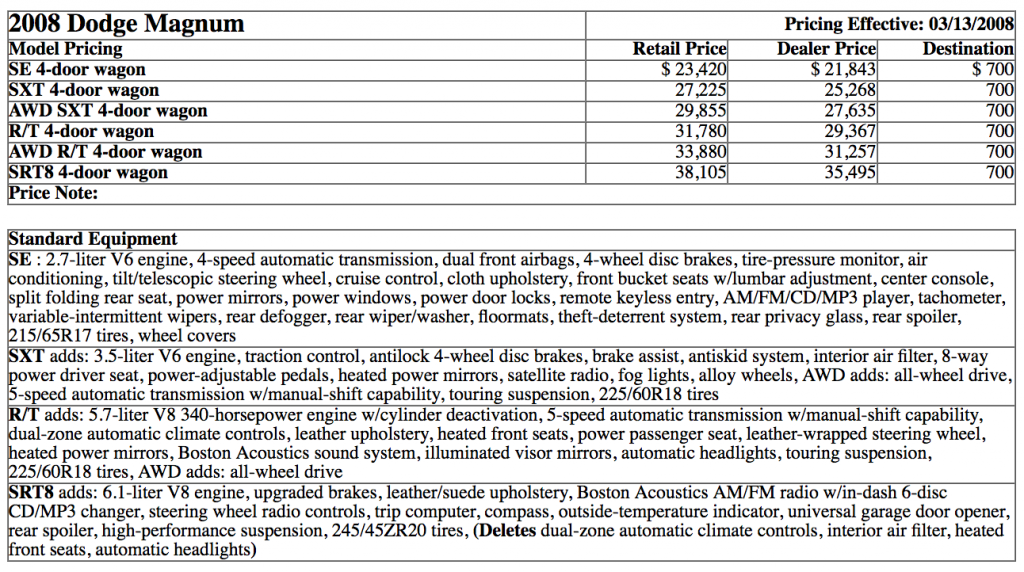 Review Flashback! 1974 Pontiac GTO
Value
Passenger room, cargo versatility, available all-wheel drive, and solid construction inside and out make Magnum a Best Buy value. The 2.7-liter V6 can't move this big car with much verve, but the 3.5 V6 provides more-than-adequate power, as does the R/T version's Hemi V8. SRT8 models are modern muscle cars.
News
Charger got a kid brother in the 2007 replacement for Dodge's midsize Stratus sedan. Called Avenger, it shares a platform, powertrain and many features with Chrysler's just-launched Sebring sedan, but looks like a scaled-down Charger. Dodge hasn't released particulars yet, but Avengers should have fewer standard features and lower list prices than Sebring sedans. More news soon, so keep checking back. Meantime, Dodge says the Charger SRT8 will offer a special cosmetic option reviving the "Super Bee" name from the muscle-car 1960s. The exterior wears "Detonator Yellow" paint set off by black patches on hood and rear deck and large Super Bee logos in the original style. Yellow stitching adorns seats, steering wheel and shift knob. Further out, sources say the big Dodges and Chrysler's 300 will be "restyled and reengineered" for 2009, which likely means a full makeover. Also expected for Chrysler's LX-platform trio is more parts-sharing with the C- and E-Class lines at corporate cousin Mercedes-Benz. This is said to involve a new vehicle-electronics system and, from model-year 2010, replacement V6 engines designed for higher mpg. Last but not least is the promised 2008 return of Dodge's early-1970s Challenger "ponycar." Already previewed in concept form, this sporty coupe wears modernized styling on a Charger platform with a 4-inch shorter wheelbase. Dodge will shun an entry-level V6 for 5.7- and 6.1-liter Hemi V8 models. Sources expect prices upstream of equivalent Ford Mustangs. Convertibles are not assured, but might be offered later on.
Review Flashback! 2009 Pontiac G8