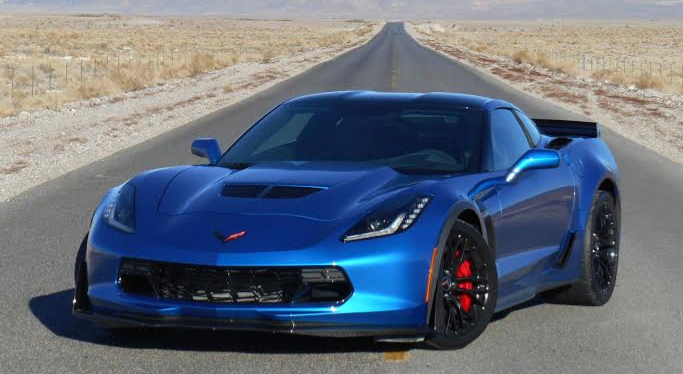 Several times in the past few years I've driven a car and thought, "It just doesn't get any better than this." And then I prove myself a liar.
2015 Chevrolet Corvette Z06
It seems almost surreal to those of us who suffered through the horsepower slaughter of the Seventies to once again see those figures rising—and recently to levels we never dreamed possible (or at least, realistic), even during the halcyon days of the Sixties. Yet power and performance are now at all-time highs. Today, common midsize sedans cut quarter-mile times that used to be reserved for muscle cars, and muscle cars are running in a rarified performance stratosphere even excruciatingly expensive exotics couldn't reach 15 years ago.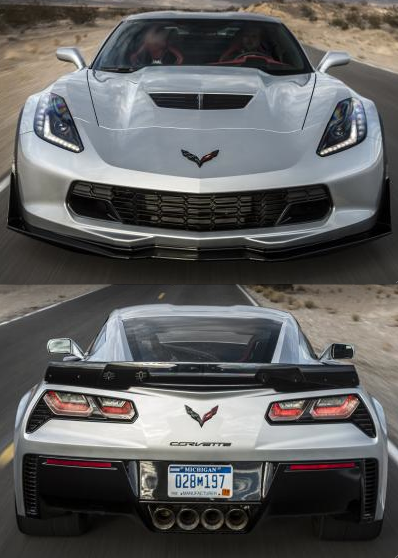 Case in point. A few years back, Chevrolet unleashed a revived ZR-1—a name that had previously graced the highest-performance Corvettes—with a supercharged, 6.2-liter, 638-horsepower V8. Six hundred and thirty-eight horsepower. Pinch me. Although I never had the opportunity to drive one, by all accounts, it was a monster.
Last year, Chevrolet redesigned the Corvette for only the sixth time in its 61-year history, and the top engine of the new C7 put out "only" 460 horsepower. When someone at the press preview asked the inevitable question, Corvette chief engineer Tadge Juechter gave the usual "We can't talk about future products" line. But the curl at the corners of his mouth said he desperately wanted to.
And now we know why.
Reviving another performance name from its storied past, the ascending King of the Corvette Hill is the 2015 Z06. Although previous Corvettes bearing this designation topped out at 505 horsepower, this newest version carries a supercharged 6.2-liter V8 that trumps even its ZR-1 forbearer with a rousing 650 horsepower.
It's worth noting, however, that although both the ZR-1 and Z06 engines are supercharged 6.2-liter overhead-valve V8s, neither the superchargers nor the engines themselves are the same. In the case of the supercharger, it's now much smaller but is spun at significantly higher rpm, yet maximum boost is a bit lower than before. That's made up for by a completely new engine (even the block is new) that boasts modern direct injection, variable valve timing, and—in the interest of fuel economy—cylinder deactivation.   
Yes, it is Fast: Driving the New Corvette
Although "on paper" the power is up only slightly over the old ZR-1, the effect is magnified by the fact that the new C7 Corvette is significantly lighter and stiffer than the C6 generation. And as a result, performance has increased by measurable amounts.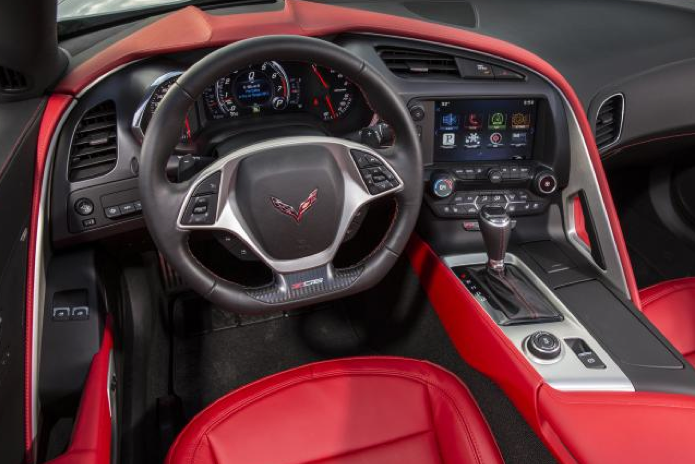 Furthermore, the new Z06 is offered in a couple of new variations never before available in either the Z06 or the ZR-1, and both rectify what may have been deal breakers for many potential buyers.
First, the Z06 is now available with an automatic transmission—a doozy of an 8-speed, to be exact. Secondly, it can be had in never-before-offered convertible form.
While some (including myself) might wince a bit at the idea of offering an automatic transmission in such a performance-oriented car, there are two things that render it palatable: One, it makes the Z06 notably quicker than with the 7-speed manual, and two, it is one fine-behaving automatic transmission.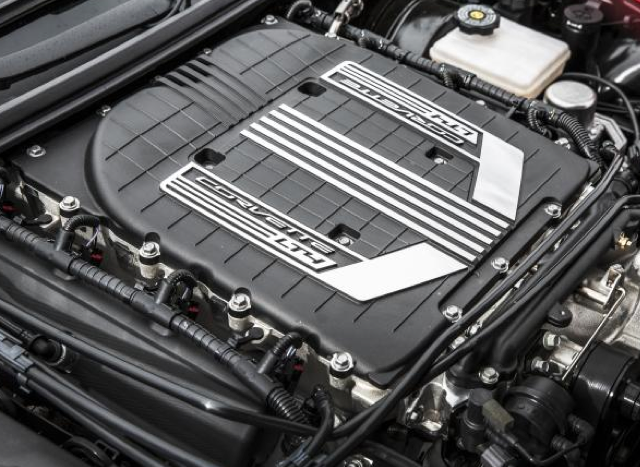 To the first point, Chevrolet says that—when equipped with the optional Z07 Performance Package (which we'll get to in a bit)—the Z06 manual will do the 0-60 sprint in a blistering 3.2 seconds; really darn quick in most books. But the company also says the automatic version will do it in "under 3 seconds." Granted, that claim requires taking the official time of 2.95 seconds out to hundredths of a second and then not rounding up, but still … that's positively stunning. And best of all, there's really not that much skill involved in matching it; just engage the automatic's Launch Control, floor the throttle, and try not to get caught.
Furthermore, the automatic downshifts with lightning response. Whether you tap the throttle from speed or mash it to the floor, there's a nearly instant drop in gears. And being as the big V8 is supercharged rather than turbocharged (the latter sometimes suffering from a delay in power delivery as the turbo spools up), the engine does its part by delivering an equally instant surge of power that slaps you back in your seat. An added attraction is that the exhaust includes a bypass valve that opens when you stab the throttle, a transition that produces a raucous, ripping rort that is pure music to the ears. All this results in a combination of sensations that is simply… glorious. And intoxicating. In fact, I defy any owner to not sample it at least twice during any given drive.
Meanwhile, the 7-speed manual is no slouch. The clutch engages with less effort than you'd expect of something tasked with harnessing 650 horsepower (that number still gives me chills), and the shifter works with smooth precision. My only complaint is that the shift lever sits a little too far back in the console, forcing me to recline the seat back farther than I'd like to avoid hitting my elbow on the seat bolster when shifting into the even-numbered gears.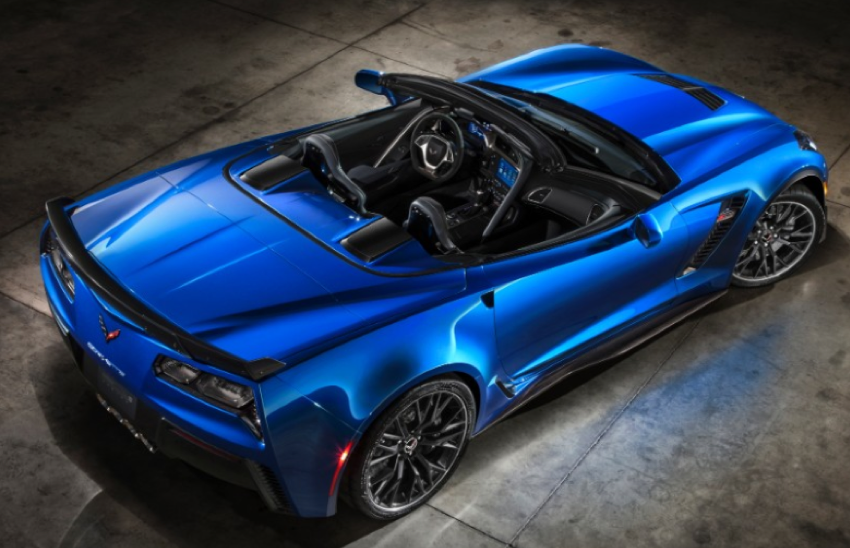 Most of the roads we drove during the preview in Nevada were smooth, but coarsely paved. The latter set the tires to singing at speed, which became the primary audible irritant—though one that was not only minor, but could be easily overcome by turning on the radio. There weren't any potholes to speak of, but even in the car's "Touring" mode (which provides the softest of three suspension settings), the ride was firm, but never harsh. Switching to "Sport" or "Track" made the ride noticeably and progressively stiffer, the last rendering it downright brittle over even small bumps. But as might be expected, handling precision also increased with the latter settings, though it's so good even in Touring mode that few would likely find it wanting for cornering power. There's also an "Eco" mode, though I can't for the life of me figure out why … this is a Corvette for heaven sakes.
As mentioned, the other big addition to the Z06 lineup is a convertible body style. While we didn't have the opportunity to drive one at this event, we have driven a regular Corvette convertible. As droptops go, it had an impressively stiff structure and a surprisingly usable trunk. Shorter drivers may find that the windshield header goes so far back as to negate some of the open-air feeling, and others may reasonably argue that the hatchback's lift-off hardtop does a good job of simulating a convertible without the added expense. But for those who feel that part of the sports car allure is having a top that folds back (and I have to admit, I'm rather among them), this is big news. Besides, history has shown that convertibles more than make up for their initial higher cost once the car goes collectible—partly due to typically lower production numbers—and there's virtually no chance that won't someday be the case with the Z06.
In most other ways, the Z06 mirrors its Stingray counterpart. We've already covered that car in depth, so we'll just cut to the high (and low) lights here.
Depending on your size—and whether there's a car parked next to you—just getting in can be a hassle. The Corvette is wide, and opening the long door far enough for anything that might be considered "easy" access requires it be opened quite a ways, something that might not be possible if another car is parked next to you.
Then there's the wide doorsill to step over and the less-than-graceful "drop" into the seat (and just as challenging for some, the "climb" to get back out). Once situated, however, there's a decent amount of headroom and legroom, and the controls are reasonably easy to use and fall readily to hand. Interior storage is minimal, though it includes a neat hidden compartment behind the retractable touchscreen. Visibility is only restricted to the rear corners, and the standard rearview camera helps in that regard.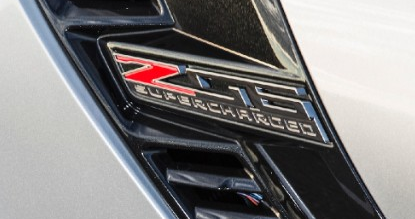 There are a number of different virtual gauge clusters that can be brought up on the electronic instrument panel, and there's also an available head-up display that can project an assortment of info (including speed, rpm, and even cornering Gs) on the windshield. Newly available is a Performance Data Recorder, which records video with a forward-facing camera and can overlay the image with speed, rpm, cornering Gs, and transmission gear selected—all useful for post-race diagnostics. It can also be used on the street, and Chevrolet says a 32 GB SD card will hold up to 13 hours of (potentially incriminating) video.
Although the Z06 substantially ups the straight-line performance ante over the regular Stingray, it also brings cornering and braking advantages as well as some unique styling touches. Wider tires are hidden beneath broader fenders, the brakes are upgraded, and there are larger vents and numerous added spoilers and aero pieces to aid engine, brake, and transmission cooling along with downforce at speed.
Performance is further enhanced with the optional Z07 package, which includes additional aero enhancements along with race-oriented tires and carbon-ceramic brake discs with massive Brembo calipers. (It's the greater grip of the tires and the significantly lighter weight of the ceramic discs that aid the aforementioned 0-60 time.)
As impressive as the Z06 is from a performance standpoint, what is perhaps more impressive is the price: All this supercharged goodness can be had for as little as $78,000. Granted, that doesn't include the Z07 Performance Package, and there are a host of options that can be added (one car we drove listed for well over $100K), but considering the Z06 ranks among the quickest cars available in the U.S—and that its ZR-1 predecessor started at a cool $111,000—the Z06 seems like a relative bargain.
It would be very tempting to say that—at least as far as Corvettes go—"It just doesn't get any better than this." But that would be foolish. After all, the vaunted ZR-1 moniker is just sitting back there, waiting in the wings…
Listen to the very entertaining Consumer Guide Car Stuff Podcast
2015 Chevrolet Corvette Z06