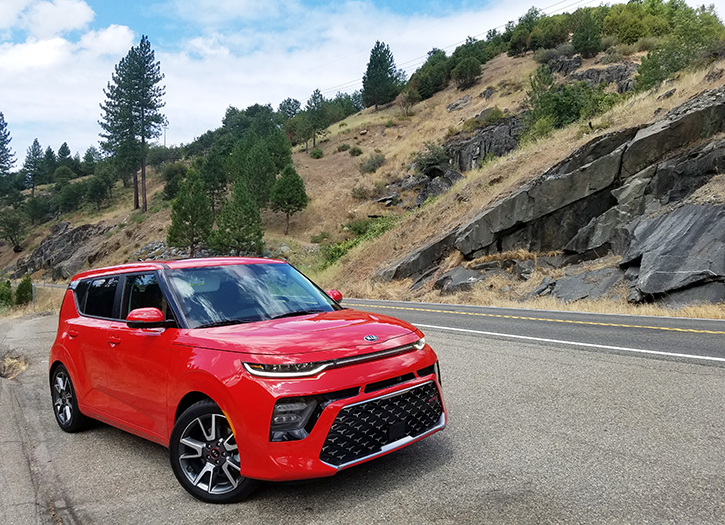 2020 Kia Soul GT-Line Turbo
Class: Subcompact Crossover
Miles driven: 456

Fuel used: 14.9 gallons
CG Report Card
Room and Comfort
A-
Power and Performance
A-
Fit and Finish
B
Fuel Economy
A-
Value
A-
Report-card grades are derived from a consensus of test-driver evaluations. All grades are versus other vehicles in the same class. Value grade is for specific trim level evaluated, and may not reflect Consumer Guide's impressions of the entire model lineup.
Big & Tall Comfort
Big Guy
A
Tall Guy
A
Big & Tall comfort ratings are for front seats only. "Big" rating based on male tester weighing approximately 350 pounds, "Tall" rating based on 6'6"-tall male tester.
Drivetrain
Engine Specs
201-hp 1.6-liter
Engine Type
Turbo four
Transmission
7-speed automatic
Drive Wheels
Front-wheel drive
Real-world fuel economy: 30.6 mpg

Driving mix: 20% city, 80% highway
EPA-estimated fuel economy: 27/32/29 (city/highway/combined)

Fuel type: Regular

Base price: $27,490 (not including $995 destination charge)

Options on test vehicle: Red Interior Package (no charge), carpeted floor mats ($130), cargo tray ($95)

Price as tested: $28,710

Quick Hits

The great: Excellent passenger and cargo room within petite exterior dimensions; easy-to-use control layout

The good: Zippy acceleration from turbocharged engine; good selection of comfort and convenience features

The not so good: Quirky behavior from dual-clutch transmission; significant price premium for GT-Line Turbo model

More Soul price and availability information
Damon Bell
When the Kia Soul debuted for the 2010 model year, we considered it something of a "me-too" model that followed in the footsteps of the boxy Scion xB and the Nissan Cube (the latter of which debuted in North America for 2009). Well, fast forward a decade, and the Soul is the last box standing. The Cube and xB were dropped after the 2014 and 2015 model years, respectively, and the Soul is now kicking off its third generation with a redesigned model for 2020.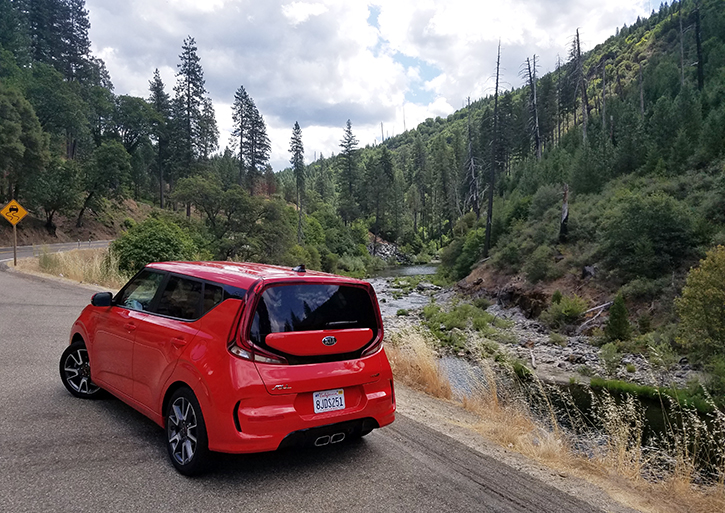 Our first home-turf test drive of the new Soul came in the form of an X-Line model earlier this summer; you can check out that review here. We've now had the opportunity to test two identical Inferno Red examples of the GT-Line Turbo, the performance-oriented flagship of the new Soul lineup. One was in our Chicagoland test fleet, and the other was my family's transportation for a weeklong family vacation in the Lake Tahoe area—a gorgeous alpine wilderness that sits at the border of California and Nevada.
Test Drive: 2020 Kia Soul X-Line (2.0)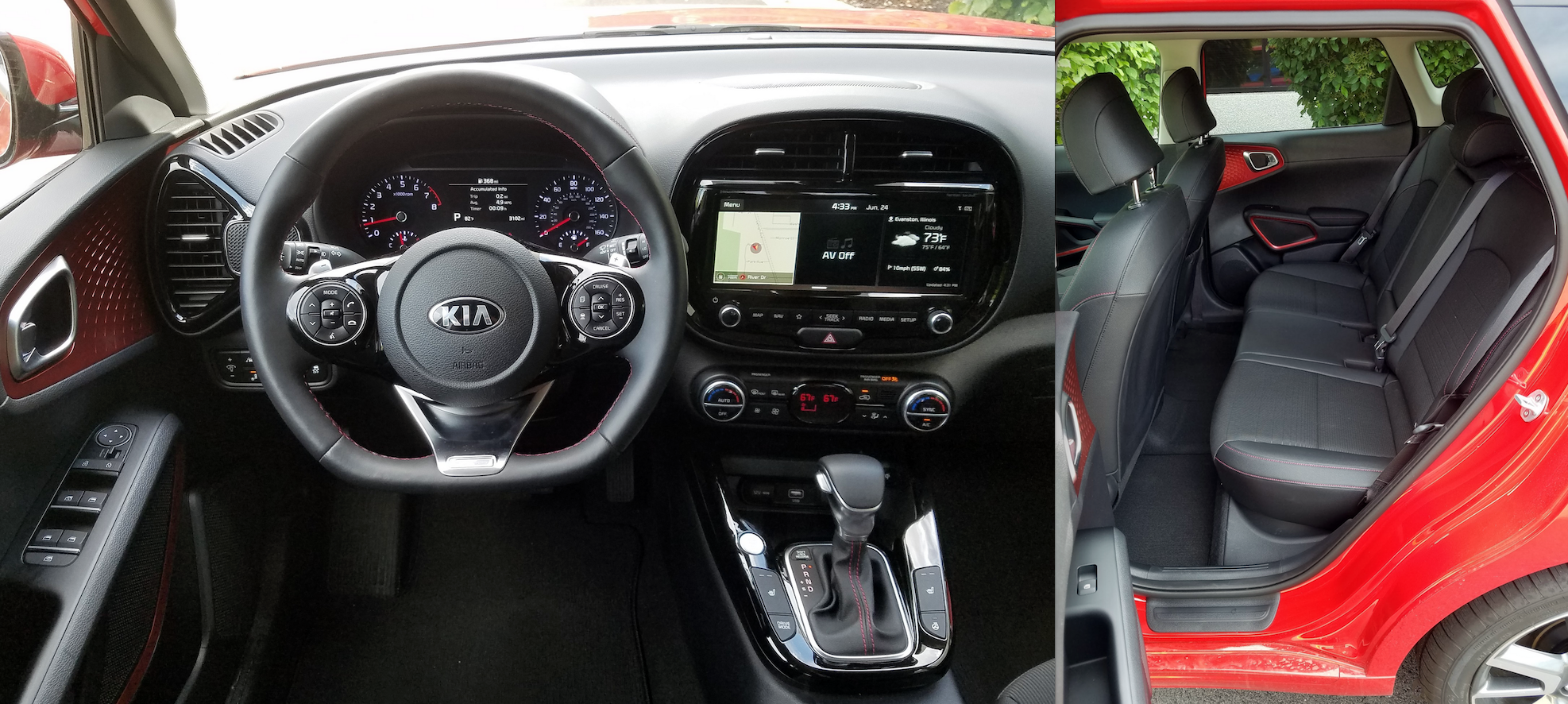 The first question on my mind as we picked up the Soul at the airport in Oakland, California, was, "Will everything fit?" The Kia Soul straddles the line between a subcompact car and a subcompact SUV (despite its lack of available all-wheel drive, we've categorized the redesigned 2020 Soul as a subcompact SUV), but the operative word is subcompact. With a width of 70.9 inches and an overall length of 165.2 inches, the Soul's footprint is pretty small; it's about two inches narrower and just over 11 inches shorter than Kia's Sportage compact SUV.
Steve and Johnnie Road Test: 2019 Hyundai Kona Ultimate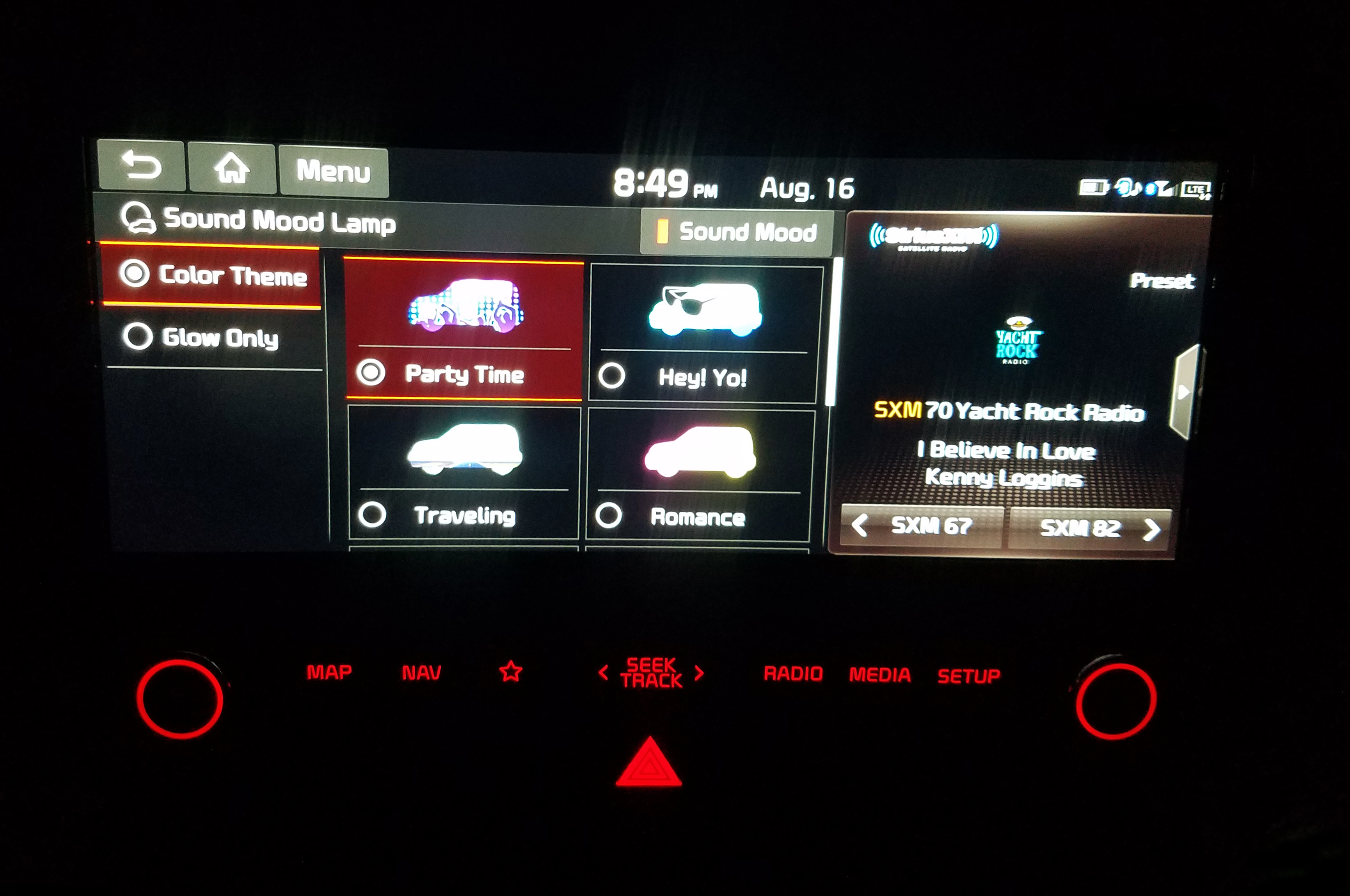 We needed to carry me, my wife, our two boys (7 and 5 years old), two hard-sided carry-on suitcases, one extra-large duffel bag, three adult-sized backpacks, and one kiddie backpack for the 5-year-old. As it turned out, no sweat. Everything fit in the rear cargo area with a bit of room to spare (well, almost everything… the kids' backpacks rode with them in the back seat).
Equally important, I fit. I'm a shade over 6'6" tall, and finding adequate headroom in vehicles can sometimes be a challenge. No problem in the Soul; the boxy, upright body shape makes for an airy cabin with headroom to spare, even with the sunroof that comes standard in the GT-Line 1.6 Turbo. I also appreciate that the Soul's seats are set higher than those in most passenger cars, for easy step-in/step-out entry and exit.
The Soul's tidy exterior dimensions came in handy several times during our trip. We stayed in a cabin near the shore of Fallen Leaf Lake, a small, narrow-oval-shaped mountain lake just south of Lake Tahoe itself. Getting to Fallen Leaf Lake requires navigating a 4-mile-long access road that snakes along some rather tight quarters and is essentially single-lane in many spots. There's traffic in both directions, so it's often necessary to pull off to the shoulder or side of the road when you meet vehicles headed the opposite way. The Soul's trim footprint made it easier to navigate this somewhat claustrophobic route, and also made it a relative cinch to park—like when we went on a day hike to nearby Eagle Lake. All of the official parking lots were full, so we had to squeeze the Soul into a roadside spot right along Route 89 that a larger vehicle couldn't have easily fit into.
The Soul's ride is decently absorbent for a subcompact crossover, but the GT-Line's 18-inch alloy wheels make for a slightly stiffer feel that can get a bit jittery over rough roads—and Lake Tahoe has plenty of those. Frost heaves and broken pavement are fairly common—the region gets lots of snow in the winter, and the remote location and tight quarters of many wilderness-area access roads means that they get patched often but not repaved.
Future Car: 2021 Chevrolet Trailblazer

Test Drive: 2019 Nissan Kicks SR
The biggest addition to the GT-Line Turbo model is right in its name—a 201-hp 1.6-liter turbocharged 4-cylinder engine replaces the naturally aspirated 147-hp 2.0-liter 4-cylinder found in the rest of the Soul lineup. The transmission changes too; the 1.6 engine is paired exclusively with a 7-speed dual-clutch automated manual instead of the 2.0's continuously variable automatic transmission.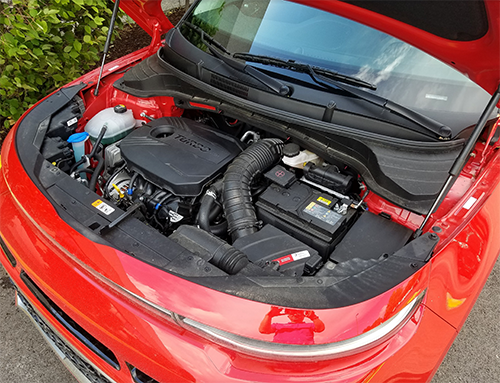 The turbo engine provides enough power for confident acceleration–even up steep mountain grades–but its transmission isn't free of the quirks that are often associated with automated-manual gearboxes. When accelerating from a stop, there is often a slight but frustrating pause before the transmission engages a gear and the vehicle moves—this "dead spot" was disconcerting when turning left in front of oncoming traffic. The transmission was also sometimes slow to downshift when we were at cruising at highway speeds and looking for a bit of extra juice to pass another vehicle. The steering-wheel-mounted paddle shifters helped here, and were also handy to summon a quick downshift or two when we wanted some engine braking on a steep downhill grade with some fairly sharp switchbacks.
On the steep, low-speed roads around our cabin, when the engine was spinning at a low rpm, the transmission would occasionally have to downshift (usually from second to first) so we could climb a particularly sharp incline. Nothing wrong with that, but when the lower gear was engaged, the engine rpm would jump up rather abruptly and the Soul would surge forward a bit. Not startling—just a little annoying is all.
The transmission's peccadillos made the throttle pedal tricky to modulate in those "dead-spot/surge" situations. I think it's something an owner would adapt to in fairly short order; I had mostly (but not fully) acclimated by the end of the week.
If you can live without the GT-Line Turbo's extra horsepower, the Soul EX model offers a similar level of comfort and convenience equipment, and its CVT doesn't exhibit the hiccups of the Turbo's dual-clutch transmission. It's also about $4800 cheaper to start. But whichever Soul you choose, you'll get a practical-yet-fun runabout with more space inside than you might think.
Steve and Johnnie Road Test: 2019 Mazda CX-3 Grand Touring
Tom Appel
Often, it's the things we find hardest to define that we appreciate the most. I'm thinking of things like the Coen brothers film Fargo, breakfast burritos, and the Kia Soul. Especially the Kia Soul.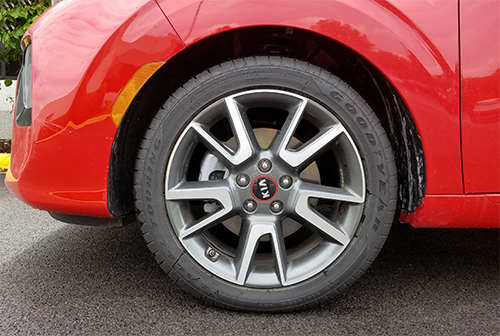 Since Kia's boxy little 4-door was introduced for the 2009 model year, Consumer Guide has categorized it as a subcompact car. That changes for 2020, as we move the redesigned Soul to our Subcompact Crossover class.
The move is less about how much the Soul has changed, and more about how the market has evolved around the Soul. Since the vehicle's inception, a number of very small crossovers have been introduced, including the Ford EcoSport, Hyundai Kona, and Nissan Kicks.
Yet, despite the Soul's square, utilitarian design, it is perhaps the most carlike of the vehicles in the Subcompact Crossover class, with a relatively low ride height and an innate sportiness that help define it.
Thankfully, the redesigned Soul is everything the previous one was, just a little better. The new Soul is a little quieter on the road, the cabin a little more richly appointed, and the infotainment system a little more cooperative.
The new range-topping GT-Line with the turbocharged 1.6-liter engine is a hoot to drive, and still lists for under $30,000 even if you deck it out with dealer-installed accessories. The turbo engine is pretty economical too, considering the power on tap—the test vehicle we had in our Chicagoland fleet averaged 28.7 mpg in a test that consisted of 60-percent highway driving.
The Kia Soul has been quietly racking up annual sales in excess of 100,000 units since 2011, and for good reason. Part small, spunky car and part crossover, Soul may be hard to put a label on, but a lot of people put one in their garage, and I am good with that.
Test Drive: 2019 Toyota C-HR Limited