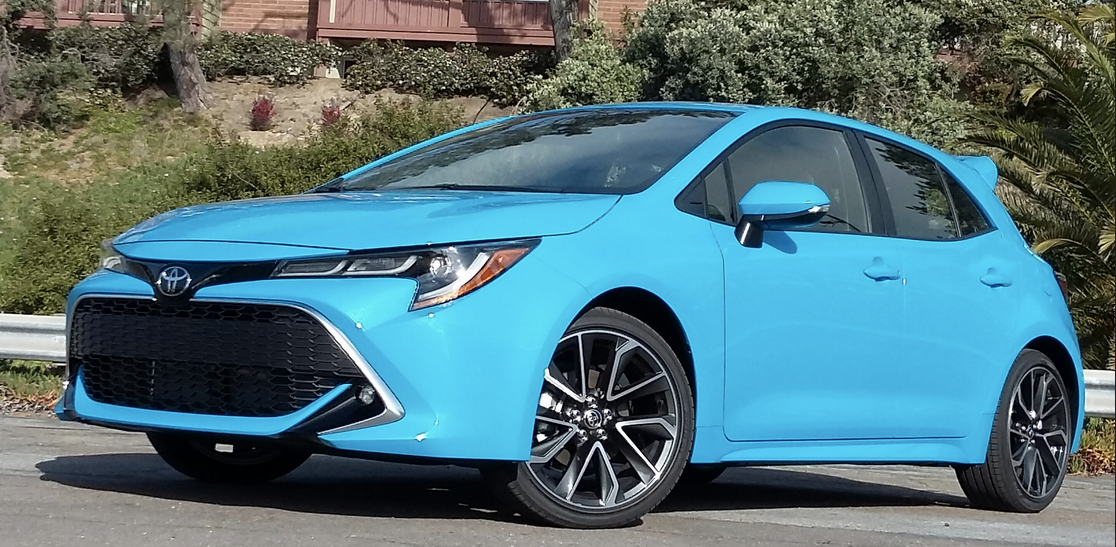 First, let me allay your fears: This is not THE redesigned 2019 Corolla; it's the redesigned 2019 Corolla Hatchback, which will be sold alongside the existing 2018 Corolla sedan when the Hatchback hits dealer showrooms in July. (When asked about a corresponding 2019 Corolla sedan, a Toyota rep gave the usual, "We can't comment on future products" line. But chances are strong it's coming by the end of 2018.)
Test Drive: 2018 Toyota Corolla SE
2019 Toyota Corolla Hatchback
As such, the Corolla Hatchback replaces the Corolla iM, which had been the Scion iM before Toyota's youth brand was killed off at the end of the 2016 model year.
Now that we have that straight, let's get to the car itself.
The 2019 Corolla Hatchback comes only as a 4-door that is slightly lower, wider, and shorter than the iM, but it rides a 1.5-inch longer wheelbase. Under the hood lies a 168-horsepower 2.0-liter four that replaces a 137-horsepower 1.8. Transmission choices include a 6-speed manual with a new rev-matching feature, and a CVT automatic with a new fixed "Launch" gear. More on these later.

Only two trim levels are offered: SE with 16-inch alloy wheels, and sportier XSE with 18-inch alloys, a rear spoiler, and some added features. Prices will be announced closer to the car's July on-sale date, but as a guide, the iM started at just under $20,000 with manual transmission, about $20,500 with automatic. But the new Hatchback has a lot more features than the outgoing iM.
Standard equipment on the base SE notably includes Apple CarPlay (Corolla's first taste of that), Toyota's Entune 3.0 infotainment system with 8-inch touchscreen and Amazon Alexa Connectivity, keyless access and starting, automatic climate control, heated power mirrors, LED headlights and taillights, Safety Connect emergency assistance, and Toyota Safety Sense 2.0, which consists of forward collision warning and mitigation with pedestrian and cyclist detection, lane-departure warning and mitigation, automatic high beams, adaptive cruise control, and road-sign identification. Added on CVT-equipped models are lane-keep assist and paddles shifters, along with the option to add a blind-spot monitor and upgrade to Entune 3.0 Plus with satellite radio and Connected Services.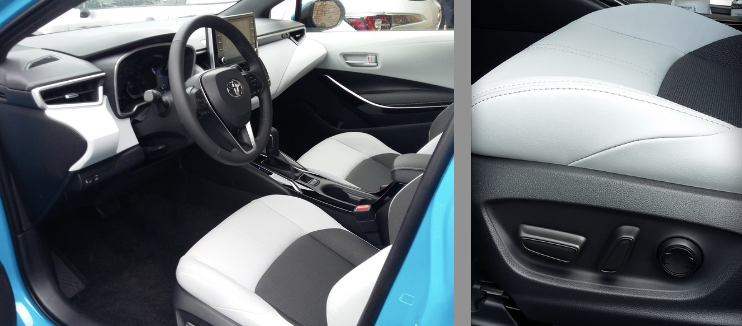 Moving up to the XSE brings Entune 3.0 Plus as standard, along with leather/cloth upholstery, heated front seats, power-adjustable driver seat, and dual-zone automatic climate control. Models with the CVT also get a blind-spot monitor and adaptive headlights, along with the option of adding Qi wireless charging, JBL audio system, and a navigation system.
Climb inside the new Corolla, and you'll find that visibility is good to the front corners, less good to the sides and rear corners. However, a 180-degree rearview camera (rare, and not just in the compact class) really helps when backing, as you can see both ways down a parking-lot aisle.
Materials are rather upscale, as even the dash face and door tops are padded, and a 2-tone black/light grey (nearly white) color scheme is available to brighten things up. Interior storage is only about average, with a good-size glovebox being on the up side, a tucked-in forward console bin with awkward-to-reach USB port on the down side.
Quick Spin: 2017 Toyota Corolla iM

Audio controls include volume and tuning knobs along with eight physical buttons, all of which eases use, as does the fact that all are mounted high, within easy reach. Climate controls on the SE include easy-to-use temperature and fan-speed knobs with a less-convenient repetitive-step pushbutton for mode; the XSE trades the fan-speed knob for a second temperature knob (for its dual-zone climate system) and gives fan speed a rep-step pushbutton.
There's no shortage of headroom and legroom up front, and XSE buyers get a power seat with tilt cushion and lumbar adjustment – both nice comfort features. Even 6-footers should find enough headroom in the rear seat, though they'll be short of legroom if the seat ahead is pushed far back, and egress is slightly restricted by a smallish door opening.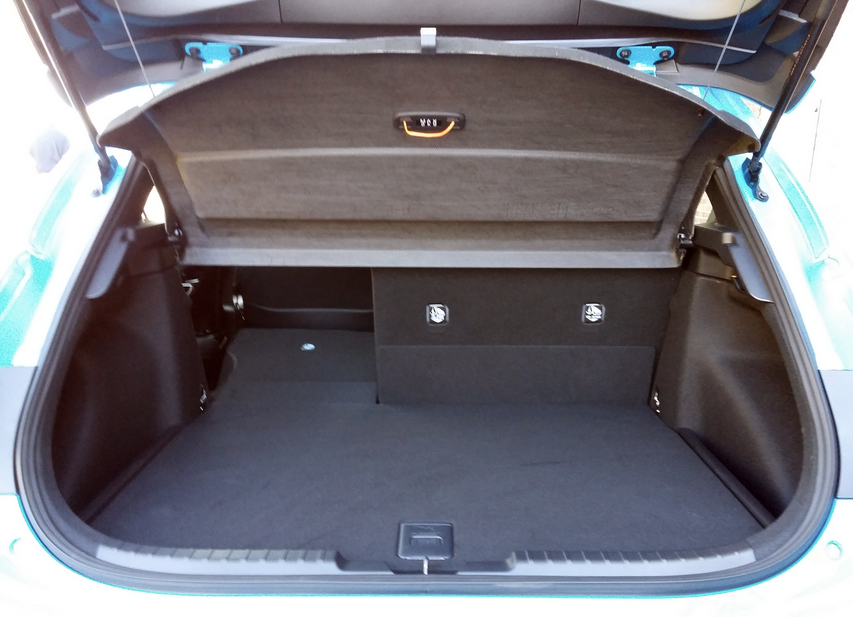 The cargo area is wide at the rear, with handy bins molded into the sidewalls. The floor is rather high with no "official" space beneath it (though you could toss some items into the indented spare-tire hub), but folding the rear seat backs creates a long, flat load floor, which makes it easy to slide long items forward.
Dynamically, the new Corolla is really a leap forward. Not only does the engine make 23 percent more power, but both transmissions add to the sporting feel. Not only is the manual's shift lever and clutch pleasant to use, but the rev-matching capability makes for smoother downshifts when rounding corners.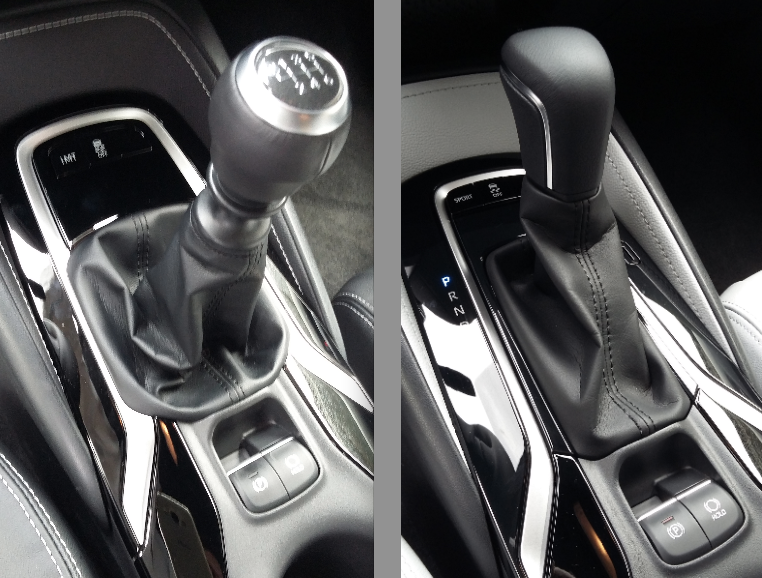 But the real star is the automatic – which roughly 95 percent of people will likely buy – as the added Launch Gear really makes a difference on takeoff. While the belt-and-pulley CVT remains, a physical gear set was added that essentially becomes a low first gear; when you get going fast enough, it disengages and power flows through the CVT. The end result is that mashing the throttle from a stop makes the Corolla leap off the line, and if you stab the throttle from speed, the transmission quickly "kicks down" to a lower gear ratio for good passing response.
What few good bumps we were able to find on our California drive route revealed a fairly compliant suspension, and curves – which were in no short supply – were taken confidently with a rather sporty feel. All of these dynamic properties contribute to what a Toyota spokesperson called the Corolla's "hot-hatch persona," which isn't that far off the mark.
As Corolla plays in the crowded compact-car class, even the hatchback — which generally makes up only about 20 percent of sales in the segment — has a host of direct competitors, including the Chevrolet Cruze, Ford Focus, Honda Civic, Hyundai Elantra GT, and Mazda 3. But the Corolla more than holds its own against those rivals, with its greatest competitive strengths being its standard and available features along with a great automatic-transmission powertrain.
For those who don't know, the Corolla holds its place in history as the #1-selling nameplate of all time. While its reputation may have been built more on reliability than road manners, that may change with this 2019 update – particularly if the same sportiness finds its way into the far more popular sedan.

Check out our Compact Car Best Buys
Listen to the Car Stuff Podcast
2019 Toyota Corolla Hatchback
2019 Toyota Corolla Hatchback
2019 Toyota Corolla Hatchback