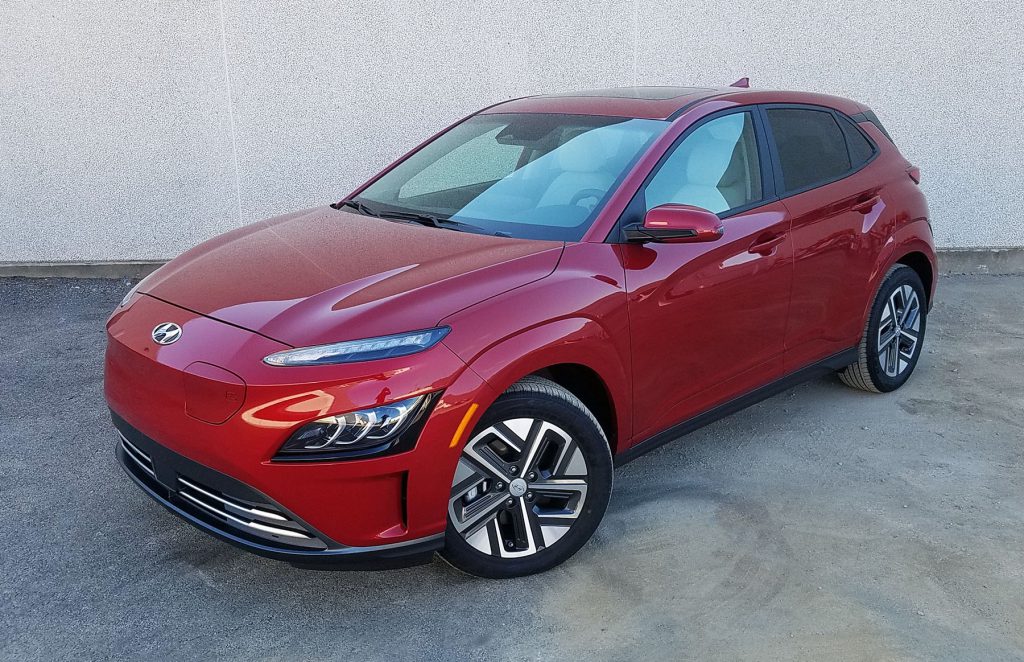 2022 Hyundai Kona Electric Limited
Class: Electric Vehicle
Miles driven: 412
Battery capacity: 64 kWh
CG Report Card
Room and Comfort
B-
Power and Performance
A-
Fit and Finish
B
Fuel Economy
A
Value
B
Report-card grades are derived from a consensus of test-driver evaluations. All grades are versus other vehicles in the same class. Value grade is for specific trim level evaluated, and may not reflect Consumer Guide's impressions of the entire model lineup.
Big & Tall Comfort
Big Guy
B+
Tall Guy
B+
Big & Tall comfort ratings are for front seats only. "Big" rating based on male tester weighing approximately 350 pounds, "Tall" rating based on 6'6"-tall male tester.
Drivetrain
Engine Specs
201 horsepower
Engine Type
Electric motor
Transmission
Automatic
Drive
Front-wheel drive
EPA-estimate MPGe: 132 city/108 hwy/120 combined

EPA-estimated driving range: 258 miles
Consumer Guide range estimate (ideal conditions): 270+ miles
Base price: $42,500 (not including $1185 destination charge)
Options on test vehicle: Carpeted floor mats ($155)
Price as tested: $43,840
Quick Hits
The great: Zippy acceleration; nimble handling; generous selection of standard comfort and technology features

The good: Competitive driving range; decent ride quality for a short-wheelbase vehicle; helpful EV-specific settings and info displays
The not so good: Available only in select U.S. states; some other subcompact crossovers offer better rear-seat space; unconventional push-button shifter requires acclimation; markings on silver-finish buttons can be hard to see
More Hyundai price and availability information
John Biel
One of the improvements that Hyundai has made to its electric-powered Kona subcompact crossover for 2022 is a change that automakers rarely get to—or need to—make. The Kona Electric is now available in more places. Colorado and Washington are added to the list of states where it's sold, joining California, Connecticut, Maine, Maryland, Massachusetts, New Jersey, New York, Oregon, Rhode Island, and Vermont.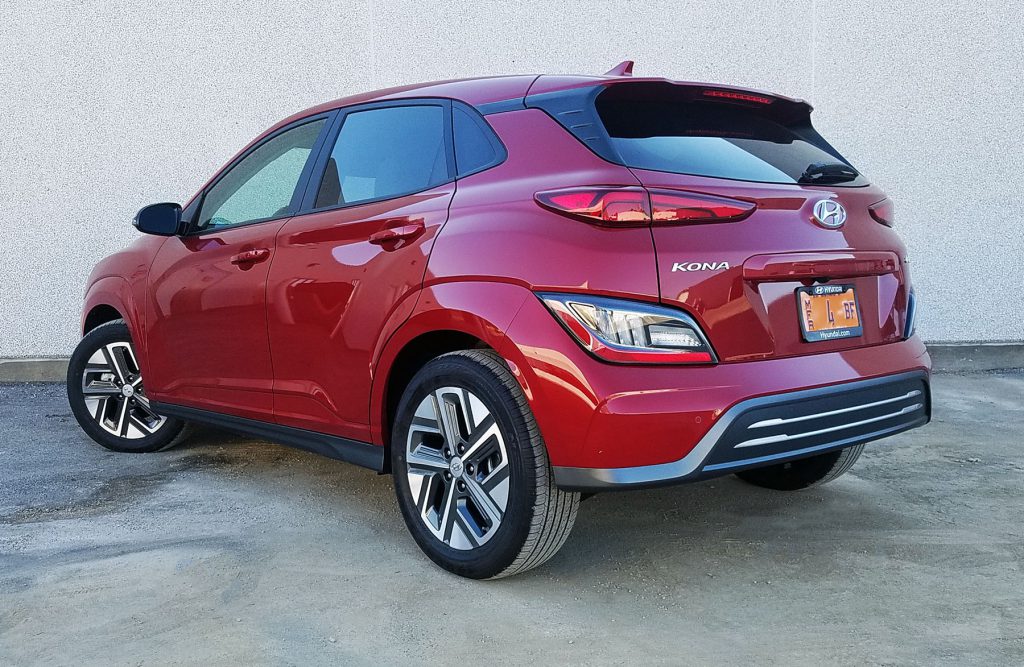 EV adopters in the other 38 states may need to feel a little envious about that because this Kona drives well and goes far. For '22 it does all that with updated looks, a new digital gauge display, and a simplified choice of models.
Consumer Guide's test of a top-line Limited (there's also an SEL that starts for $8500 less) was carried out far from the vehicle's eastern and western habitats but the change of scenery to Illinois didn't disorient it. Indeed, considering the time of year and the temperatures, CG's tester appeared to be enjoying a Goldilocks moment during its Midwest visit, or so it was telling us.
2021 Los Angeles Auto Show: 2023 Fisker Ocean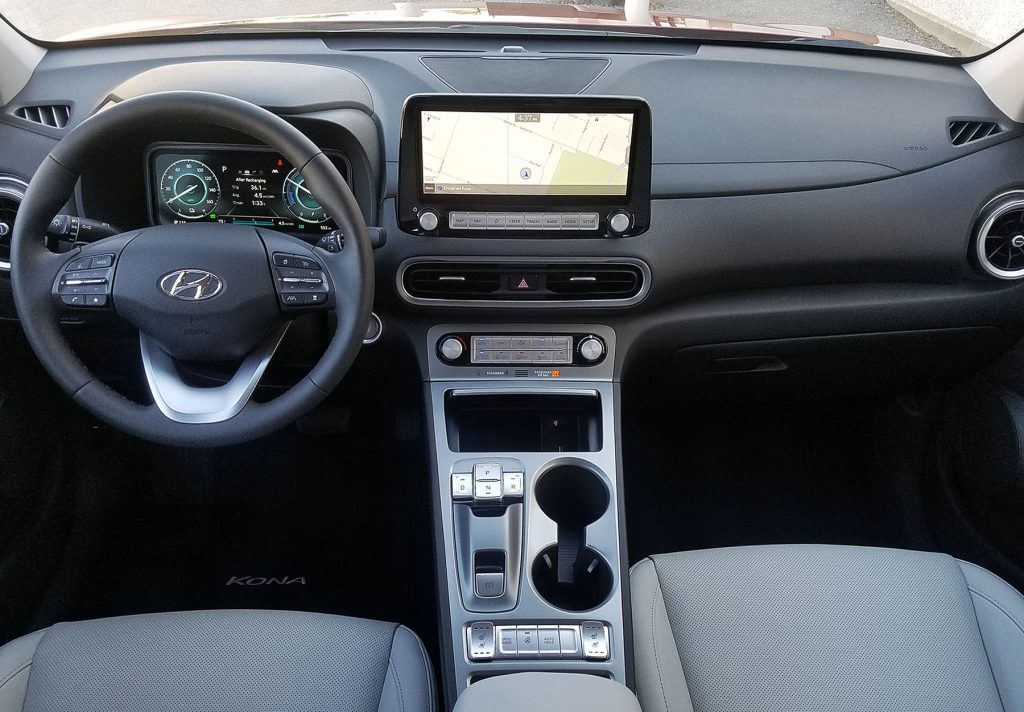 Hyundai claims the Kona's 201-horsepower electric motor fed by a 64-kWh battery can be expected to take it 258 miles on a single full charge, or just a mile shy of the advertised range of the subcompact-class leader Chevrolet Bolt EV. However, ambient temperature extremes affect energy storage in any battery—and passenger-comfort needs for heat or air conditioning during those extremes also play a part—so actual range can be considerably less. But more moderate temperatures like the 60s (and even high 50s) the week that summer gave way to fall seemed to get the most out of the battery in CG's Kona.

When this reviewer began his 114.7-mile stint, the vehicle displayed full-charge range projections in excess of 258 miles in all three drive modes—"Comfort," "ECO," and "Sport"—with ECO at 296 miles, though it promptly dropped off to 280 when forward drive was engaged. At the end of two full round trips between work and home, remaining range projections were 197 miles in ECO mode, 192 miles if run in the Comfort setting, and 190 for Sport. Air conditioning was used on just one leg, as air temperatures made for comfortable driving without it, and clicking on A/C brings an instant indicated-range drop of around 5 miles in any mode.
iPhone Maker Foxconn Enters EV Fray: Meet Foxtron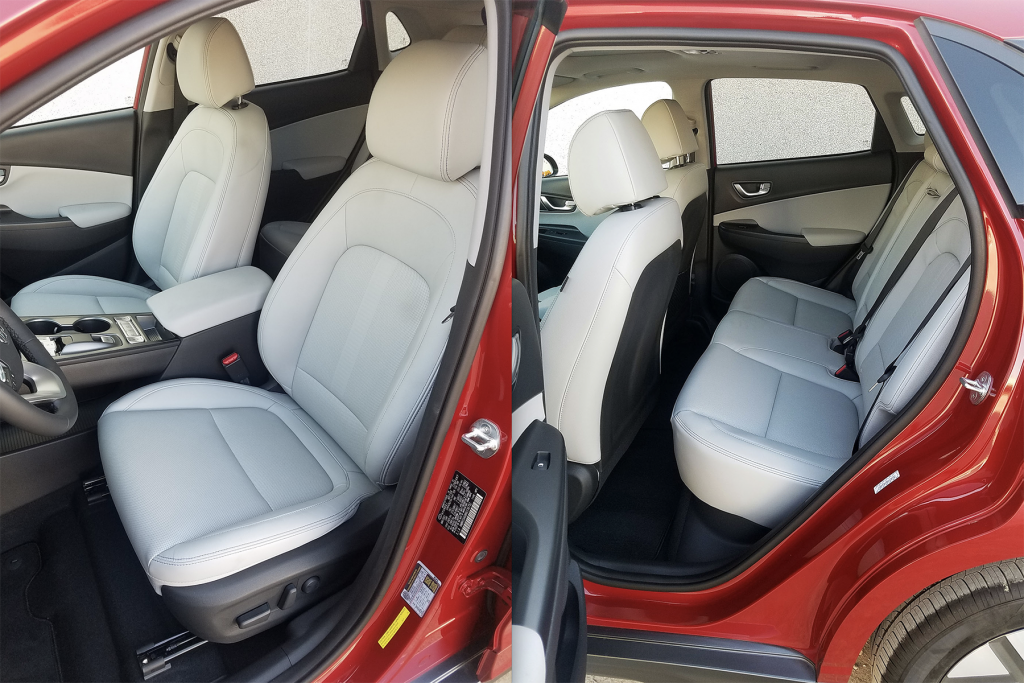 Naturally, fast driving will burn off battery reserve at a quicker rate, and this tester saw clear evidence of it in the rare speedier stretches of his commutes. (Respective city/highway operation was 65 and 35 percent). One readout showed us getting as much as 5.3 miles per kWh in slower driving but it quickly plunged to around 4.5 when opened up on a free-flowing expressway. Of course, during braking or coasting the Kona Electric captures energy that is routed to the battery, and what look like shifter paddles behind the steering wheel actually let drivers set the degree of regenerative force; the highest setting comes with enough resistance to practically brake the car just by letting off the accelerator. To really scrimp on juice use, a "+" setting available in ECO mode restricts speed and climate-system function. The EPA tags the Kona at 132 MPGe in the city, 108 in highway driving, and 120 combined.
Meet GM's Best Selling EV: Wuling Hongguang Mini EV

Plugged in at the end of this tester's turn, the Kona reported that it still had a 69-percent charge, and it would take just over 4 hours to fully recoup on the 240-volt station at CG's offices. The EPA projects a 9.5-hour charge time for a virtually drained battery at 240. A DC "fast-charging" port that drastically reduces powering time is included in the charging bay in the vehicle's nose.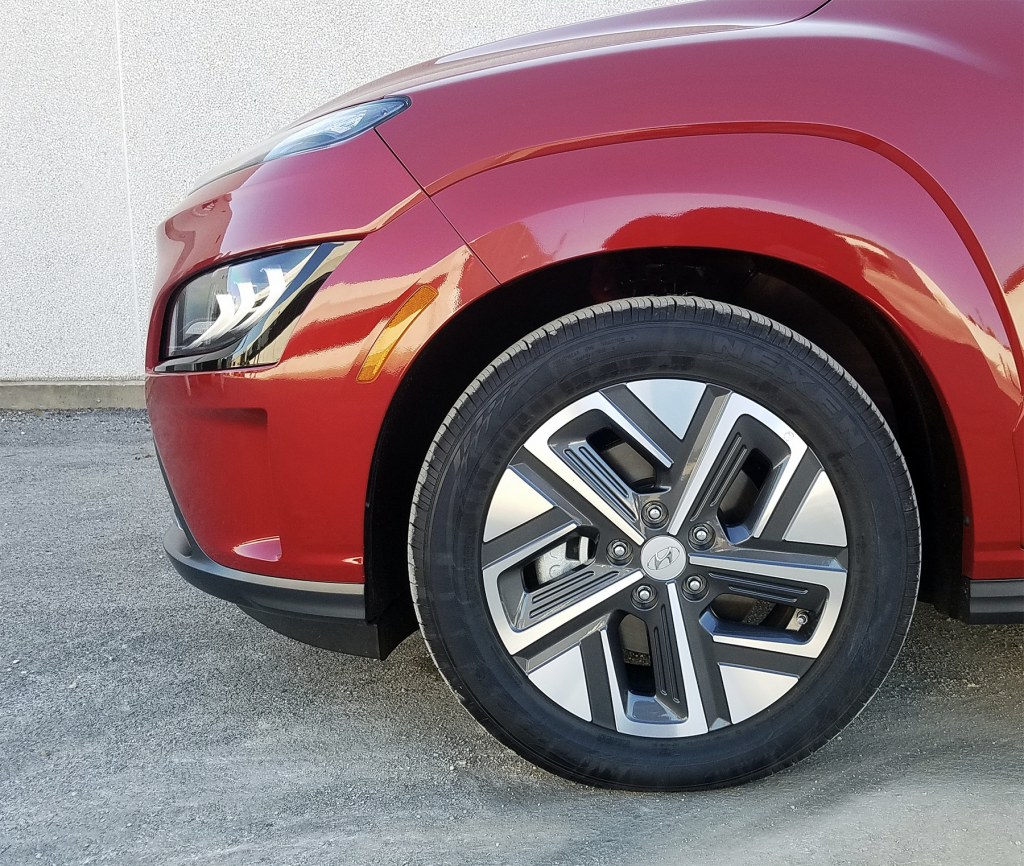 Speaking of charge, that's what the Kona Electric likes to do when you tap the accelerator. In Sport—or even in Comfort, where response to input is still very immediate—a healthy tromp of the pedal will push you back in your seat. All 291 lb-ft of the Kona's torque are immediately available, which makes for effortless passing and merging. There's a meatier-than-expected feel to the responsive steering, decent body control in cornering (the battery placed low in the chassis helps here), and a pretty composed ride for something with a 102.4-inch wheelbase. Note that Kona Electrics come in front-wheel drive only.
The freshening for '22 includes a new frontal look that does away with even the hint of a grille. The rear bumpers and wheel designs are redone too. Inside, drivers face a new 10.3-inch digital gauge display.
The tested Limited had a starting price (with delivery) of $43,685. That's hardly cheap, but it's still subject to one-time federal tax credits up to $7500 that bring the purchase price nearly in line with the Bolt EV, which is no longer eligible for the tax breaks. Limiteds stand out by dint of standard equipment like a convenient infotainment system with a 10.3-inch screen and navigation, an 8-speaker Harman Kardon audio system, leather upholstery, heated and ventilated front seats, leather-wrapped steering wheel, sunroof, wireless device charging, Hyundai Digital Key, and a battery warmer. The arrangement of infotainment controls has been redone, but wording on the silver buttons can be hard to read at a glance.
Test Drive: 2021 Volkswagen ID.4

There's good passenger space in front and just enough leg- and headroom to support two average-sized adults in back. (A modest floor hump means three pre-voting-age persons could fit in.) The Electric's high-bridge center console, which is different from the one in gas-engine Konas—rides over floor-level storage space, but other containment options for personal items are modest. Cargo space behind the second row isn't voluminous, but there is a little shallow organized space under the floor. Rear seats are split 60/40 and fold almost flat to expand cargo space.
To everything there is a season, it is said. CG may have found the ideal one for the 2022 Hyundai Kona Electric, albeit in an unexpected place. The folks at the far ends of the country who actually get to buy one should be so lucky.
The End of Terrestrial Radio? Electric Cars and AM Radio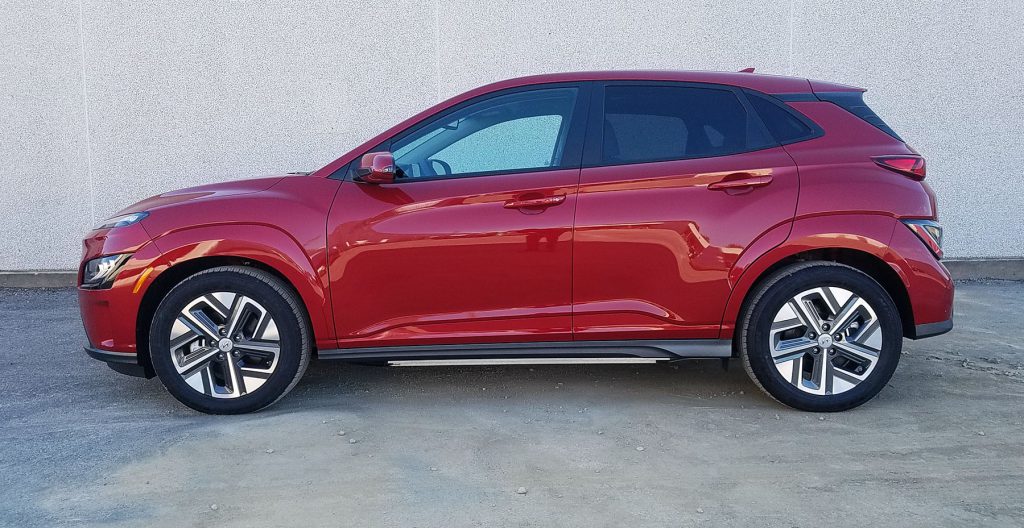 2022 Hyundai Kona Electric Limited Gallery
Click below for enlarged images.