If you were a Volkswagen fan in America in the early Seventies, and you were looking for something sporty to drive, you were kind of out of luck. There was the coachbuilt-body Karmann Ghia—a car which was arguably gorgeous, but not really all that sporty. Mechanically identical to the contemporaneous Beetle, the Karmann Ghia was more of a casual touring car—it was a little too slow, and its handling a little too pedestrian, to be engaging. However, Brazilian VW fans of the day had it a little better.
Established in 1953, Volkswagen do Brasil (VWB) not only retails VW products in Brazil, it also manufactures them—and has even engineered products exclusively for that South American market. This is the story of one such product.
What Was The Hindustan Ambassador?
The Volkswagen SP2 was the brainchild of then VWB head Rudolf Leiding. Leiding instructed his staff to design a replacement for the Brazilian-market Karmann Ghia that would establish VWB's independence from its German overlords.
Given a wide berth, but not a lot of money, VWB's design and engineering team went to work. To contain development costs and reduce manufacturing complexity, the new sporty coupe was designed around an existing VWB product, the Variant. Similar to the 412 models Volkswagen sold in the U.S., the Variant shared the Beetle's rear-engine layout, but was larger and rode on a longer wheelbase.
What Was The Zimmer QuickSilver?
Dubbed SP2—the "SP" was short for Sao Paulo—VWB's new sporty coupe was introduced in 1973 and was largely regarded as a work of art. Volkswagen do Brasil designer Marcio Piancastelli is credited with the car's shape, which at the time of introduction was favorably compared to expensive exotic cars.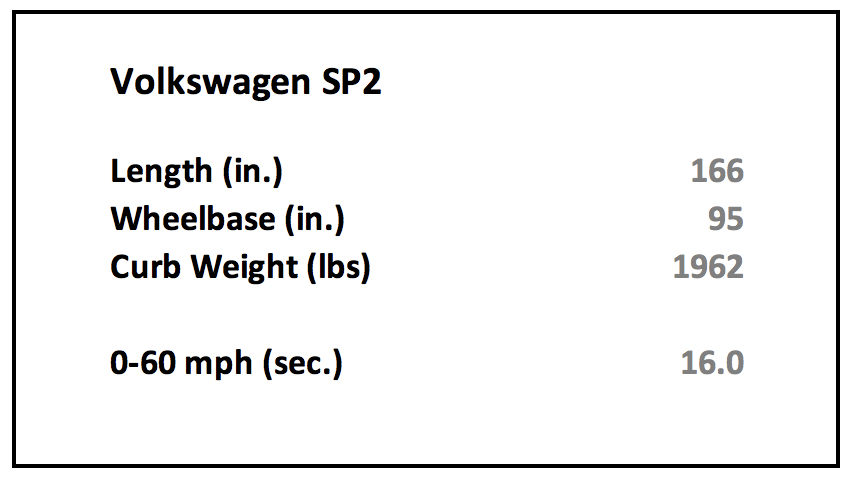 There was nothing exotic about the SP2 mechanically, however—power came from an enlarged 1.7-liter version of the Variant's 1.6-liter flat four. Good for 75 horsepower,  the engine could propel the SP2 to 0-60-mph runs of about 16 seconds, with a reported top speed of around 100 mph. While less than sports-car fast, the SP2 was quicker than the Karmann Ghia it was to replace. A 1.6-liter version of the SP, dubbed SP1, was briefly made available at the beginning of SP production, but was too underpowered for the intended market and production was limited to just 88 units. All SPs were equipped with a 4-speed manual transmission.
Though roughly the same price as a Variant, the SP2 enjoyed a more upscale cabin with a dynamic design and some real leather trim (though the seats themselves were textured vinyl).
Despite its sexy good looks and reasonable price, sales of the SP2 never met VWB's expectations, with total production coming in at just 10,205 units over the car's four-year run. Almost every source with an opinion on the matter blames the SP's tepid powerplant for its lack of public acceptance.
Development of an SP3 model with more power was well underway when the SP2 was discontinued in 1976. The SP3 was to make use of a 100-horsepower, 1.8-liter water-cooled four with twin carburetors. Though the car never saw production, an aftermarket engineering firm which worked with VW on the SP3 project made an upfit kit available, allowing SP2 owners to install the 1.8 engine into their cars. Unfortunately, the price of the upgrade was considered exorbitant, and there were few if any takers.
All but 670 of the SP2s produced were sold in Brazil. Of those exported, 155 were shipped to Nigeria, 1 to Portugal, and the remainder to other countries outside of Europe. None were sent to the United States.
A number of SP2s have made their way to the U.S. over the years, though we can find none listed for sale at the moment. Recent asking prices seem to hover around $30,000–that might seem like a lot for an air-cooled Volkswagen, but it's kind of a deal if you find this car as attractive as many enthusiasts do.
What Was The Packard Twelve Concept?
What Was The Cadillac Eldorado Evolution?