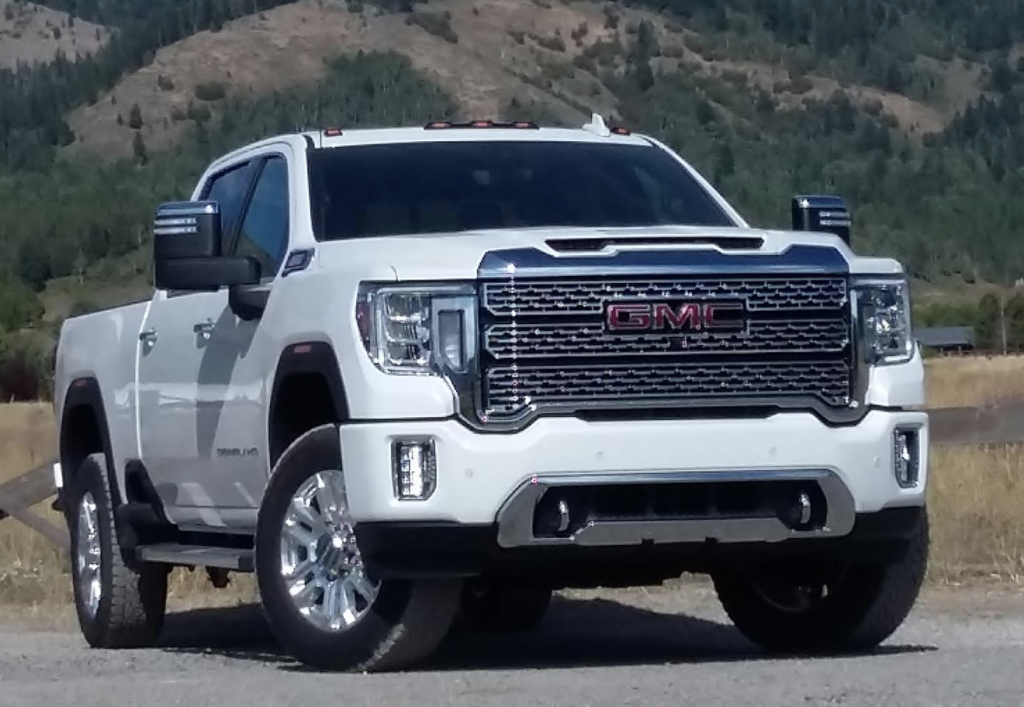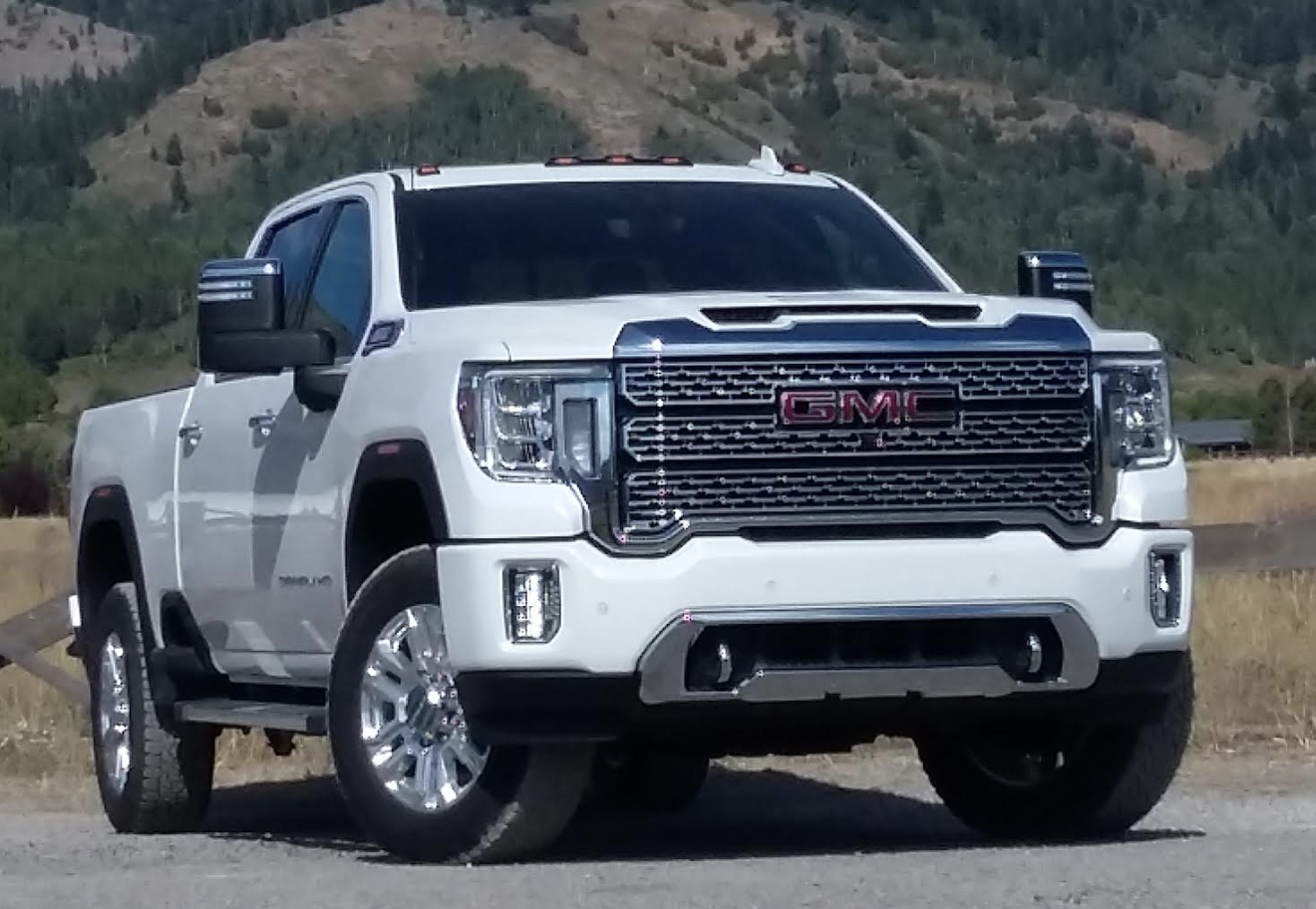 There's a lot new in the redesigned 2020 GMC Sierra Heavy Duty pickups, but five things stand out:
Maximum towing capacity of the 1-ton 3500 has been raised an astounding 52 percent to an equally astounding 35,500 lbs.
For those who tow – and GMC says 93% of heavy-duty pickup buyers do – the Sierra offers up to 15 different camera views, including remote cameras that can "see" inside of and behind the trailer.
Buyers opting for the 6.6-liter Duramax turbodiesel engine – which most do – will find it's now mated to an Allison 10-speed automatic transmission.
All models are available with GMC's exclusive MultiPro tailgate.
Newly available is a large, multi-color head-up display, along with a rearview camera that can project its image into the rearview mirror (which keeps things like rear-seat passengers or tall cargo in the bed from blocking your view straight back).
Okay, maybe that's six things. And yet there's still more.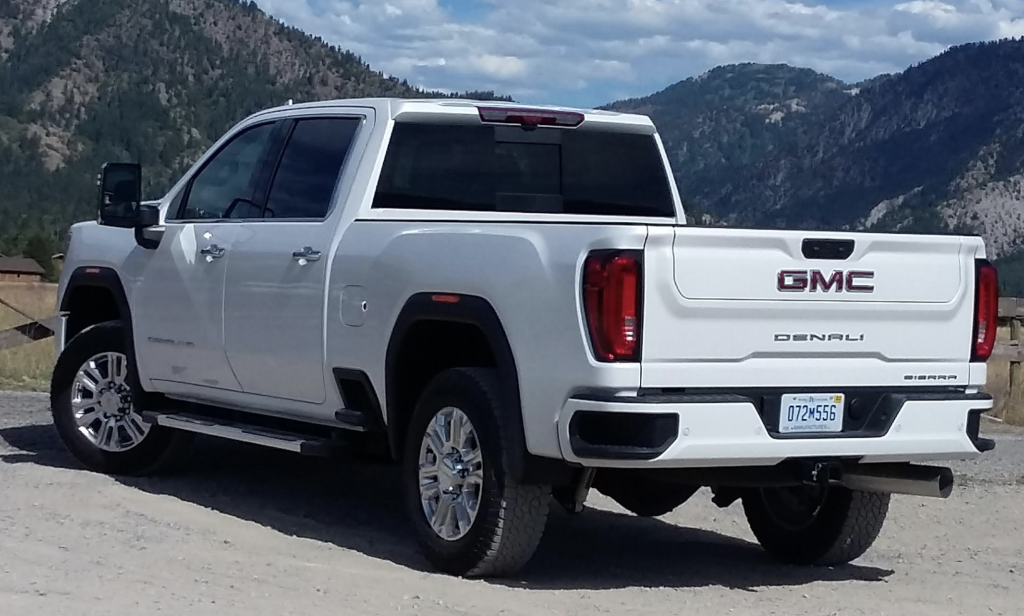 Other trailering features include the ability to monitor trailer information such as tire pressures (on "smart trailers" with the ability to do so), perform a "solo" trailer-light test, and adjust things like the trailer's inside temperature and water-heater temperature either through the Sierra's touchscreen or through a smartphone app. Also new for 2020 is an available 120-volt AC outlet in the bed.

New – and exclusive – to Heavy Duty pickups is a 6.6-liter gas V8 (dubbed L8T) rated at 401 horsepower and 464 lb-ft of torque. While stout numbers, those pale in comparison to the 6.6-liter Duramax turbodiesel's 445 horsepower and 910 lb-ft of torque – which is probably why most buyers opt for it, despite its stiff extra charge.
Also new to the trim-level list is the AT4. An off-road-oriented model, it's offered in 2500 (3/4-ton) and 3500 (1-ton) single-rear-wheel crew cabs and features skid plates, locking rear differential, a unique suspension with Rancho shocks, a 360-degree camera system, and specific trim.

Although specific equipment lists weren't released, it's expected that Sierra HD models will mirror most of the features offered on their light-duty brothers that were redesigned last year, so we invite you to peruse our First Spin of the 2019 Sierra 1500 — which itself shares much with its 2019 Chevrolet Silverado cousin — for more information.
First Spin: 2019 Ram Heavy-Duty Pickups
All models driven at the preview in Jackson Hole, WY, were crew cabs. The 2020 HD pickups are longer and taller than the ones they replace, and they're about 10 inches longer overall than comparable light-duty ones. Crew cabs have huge amounts of room in front, with 10-gallon headroom and limo-like legroom in back unless the seat ahead is moved all the way rearward – and it goes really far rearward – yet my 5'9 frame fit with room to spare behind a fully rearward front seat. The only hindrance to getting in and out is a high step-in, but all models tested had running boards that made that easier.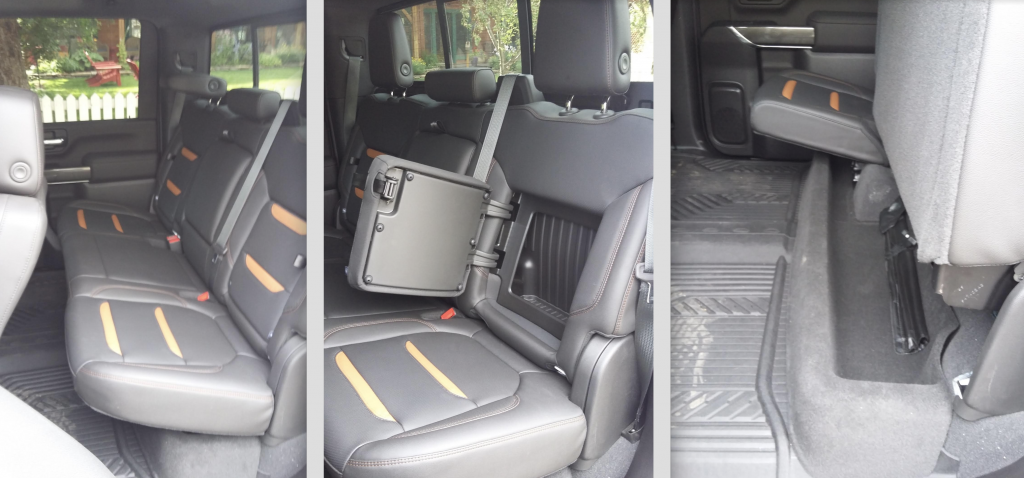 Interior storage is likewise vast. At least on the bucket-seat AT4 driven (GMC says many HDs are ordered with a front bench seat) there was a large lower glovebox topped by a smaller upper one, and a huge console box contained Aux/USB/USB-C plugs plus an SD-card slot. There was a large bin in the forward console with Qi wireless charger in its base, slim pockets on both sides of the console, a dash-top bin, and large map pockets with dual cupholders in the doors.
Test Drive: 2017 Ford F-350 Super Duty
Quick Spin: 2017 Ford F-250 Super Duty
Overall visibility is just mediocre. Somewhat wide pillars on the front and sides restrict the view somewhat, though it's better to the rear corners, aided by the fact that the rear-seat headrests can be folded down to clear the view. At least in low-speed maneuvers, available 360-degree cameras help cover the blind spots. While it takes some visual adjustment, having the capability to constantly project the rearview camera's image on the inside rearview mirror is a great help when rear-seaters or tall items in the cargo bed block the view straight back.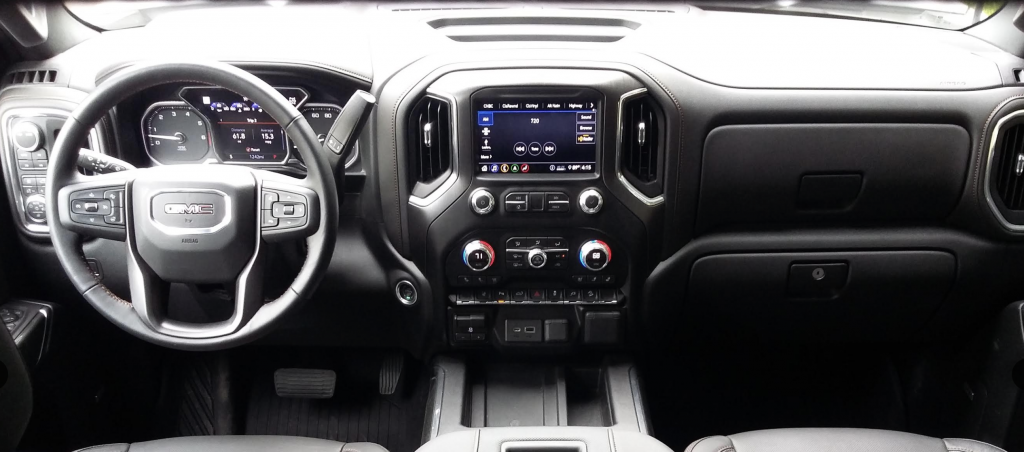 The dash layout closely resembles that of the light-duty pickups that were redesigned last year. There are numerous separate buttons that activate towing, safety, convenience, and off-road features. The infotainment system includes volume and tuning knobs along with four physical buttons, with other adjustments being made through a relatively easy-to-reach and use touchscreen.
400 Cubic Inches? Meet the General Motors L8T V8

It's worth noting that while the Heavy Dutys look a lot like their light-duty counterparts, they really aren't except for interior and exterior styling and feature availability. For instance, the doors on the HDs are shorter in height to provide more glass area, as is the cargo bed, which makes it easier to reach in. Also making it easier to reach in are steps built in ahead of the rear wheel wells, along with the usual steps in the corners of the rear bumper.

Also aiding in this regard is the MultiPro tailgate (standard on all but lower-line trim levels, where it's an option) that has a separate panel that can be folded down to form an even lower step (also offered on 1500s). Other unique features of the MultiPro are that the "upper" tailgate can be folded down to make a work surface, folded when the main tailgate is down to make it easier to slide items into the bed, and has a separate fold-down panel that can serve as the aforementioned step.

As heavy-duty pickups aimed at maximizing payload and towing capacities, a smooth ride is not in the offing. We didn't get much of a chance to drive unladen trucks, as we were usually pulling 10,000 to 14,000-lb trailers or carrying a ton of logs (literally) in the bed. So a discussion of ride quality will have to await a local Chicagoland test.
Mountain of Torque: Remembering the Short-Lived "Big-Block" Chevrolet Avalanche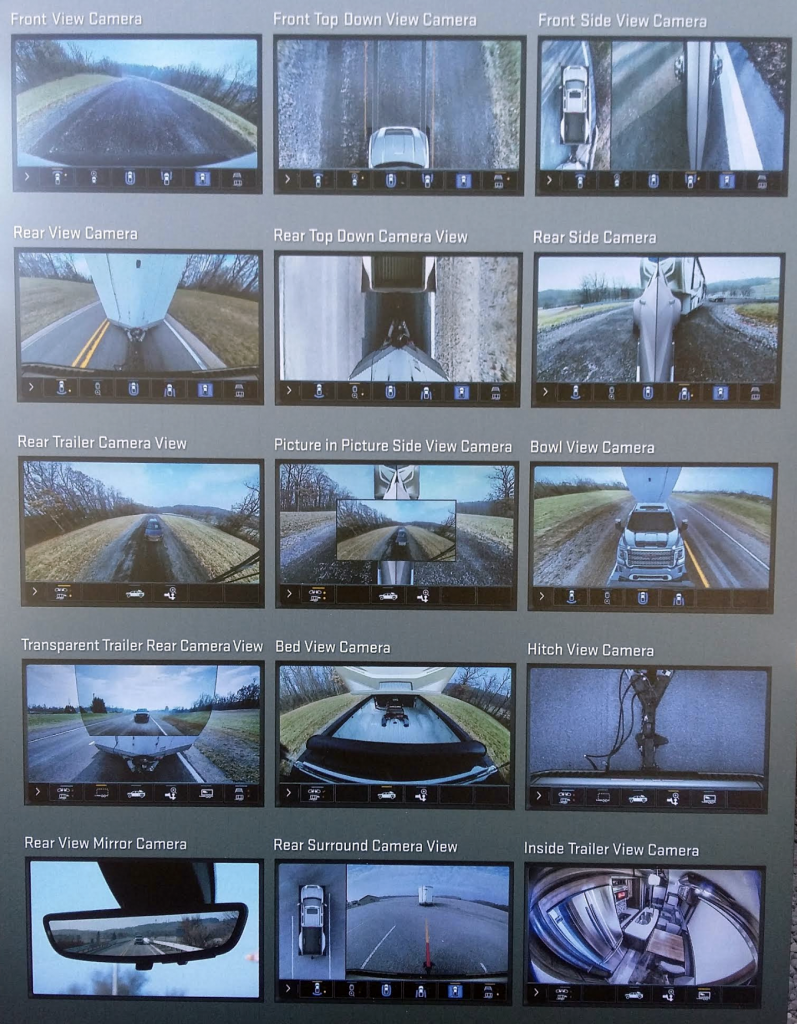 We were also driving at 6000 feet of elevation, which takes its toll on power output – though probably less so with the turbodiesel engine than with the gas one. The turbodiesel behaved like most of its ilk, where the lofty advertised torque figures don't seem to be available immediately in a full-throttle launch. Instead, the truck moves out rather modestly, with power coming in about 20 feet out after the turbos have started to spin up.
We thought the "launch" picture would be much rosier with the big gas V8, yet while better, it still wasn't any kind of rocket. And there wasn't the delayed but strong surge of power noticed in the turbodiesel. Some of this may have been altitude related, so this, too, will be better judged in the "low lands" of Chicago.
Much of the focus of the press preview – and the trucks themselves – was on towing. GMC said its research showed that even many experienced drivers felt towing was somewhat stressful, and GMC has done much to minimize that. Besides the usual Tow/Haul transmission mode (which holds gears longer under acceleration and downshifts to a lower gear under deceleration), turbodiesels offer an engine brake that allows slowing the truck without having to use the wheel brakes as much. An automatic electric parking brake holds the vehicle steady when trying to hook up a trailer. Also very helpful are the various camera views, and we found the "transparent trailer" (using a remote camera affixed to the back of the trailer) and the trailer-side views (which help you center the wider-than-the-truck trailer in the lane) to be particularly useful during our towing exercises … which aptly demonstrated what the Sierra Heavy Duty models are all about.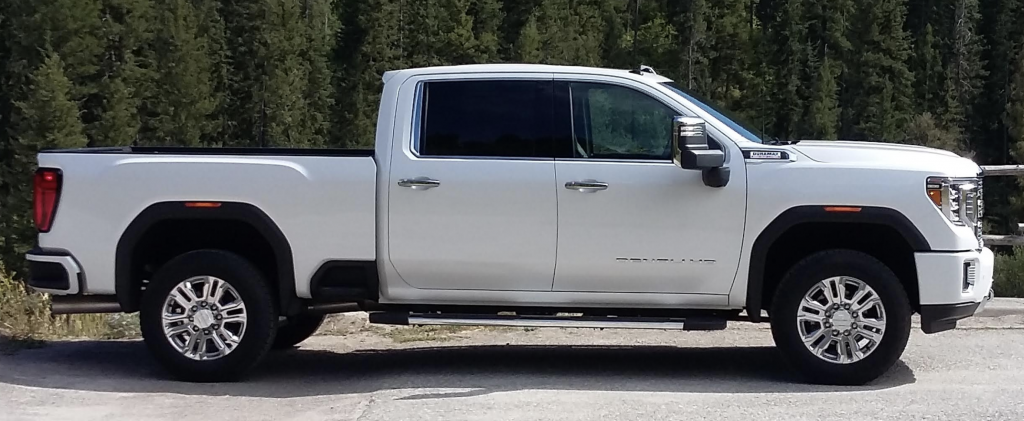 Check out our Large Pickup Truck Best Buys
Click here for a complete index of Consumer Guide Car Stuff Podcast episodes