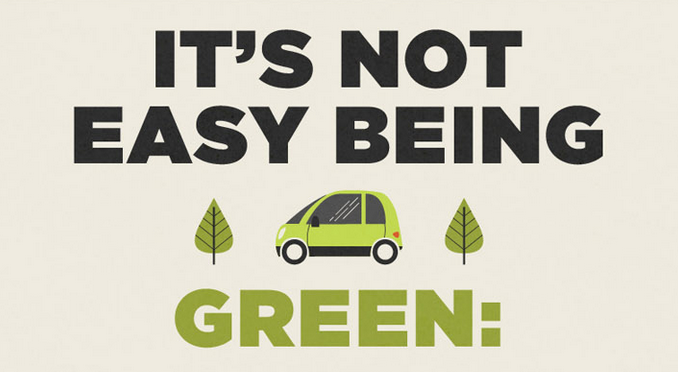 The fact is, being green can be fairly frustrating. Even with the best of intentions–and actions–the efforts of a single person are dwarfed by the task at hand. The chart below illustrates nicely the scope of the situation.
Are You a "Green" Driver? Take the Quiz
But first, what does it mean to be "green?" According to the website sustainablebabysteps.com, "Green living is a lifestyle that tries in as many ways as it can to bring into balance the conservation and preservation of the Earth's natural resources, habitats, and biodiversity with human culture and communities."
As you'll see below, how to go about being green isn't always obvious or easy. Check it out:

Are you a "green" driver? Why not take the Green Driver Quiz and see how good you really are. Be sure to share the quiz with friends.
Kia Soul EV Long-term Update #5: Breaking the 3-cents-per-mile Barrier
More green-driving news and reviews
Guide to Electric Vehicle Charging
Test Drive: 2018 Kia Niro Plug-in Hybrid
Test Drive: 2017 Chevrolet Bolt EV Premier
Test Drive: 2018 Mitsubishi Outlander PHEV