2021 Rolls-Royce Ghost
Class: Premium Large Car
Miles driven: 106
Fuel used: 7.7 gallons
CG Report Card
Room and Comfort
A
Power and Performance
A-
Fit and Finish
A+
Fuel Economy
D
Value
C
Report-card grades are derived from a consensus of test-driver evaluations. All grades are versus other vehicles in the same class. Value grade is for specific trim level evaluated, and may not reflect Consumer Guide's impressions of the entire model lineup.
Big & Tall Comfort
Big Guy
A-
Tall Guy
A-
Big & Tall comfort ratings are for front seats only. "Big" rating based on male tester weighing approximately 350 pounds, "Tall" rating based on 6'6"-tall male tester.
Drivetrain
Engine Specs
563-hp 6.75L
Engine Type
V12
Transmission
8-speed automatic
Drive Wheels
All-wheel drive
Real-world fuel economy: 13.8 mpg
Driving mix: 55% city, 45% highway
EPA-estimated fuel economy: 12/19/14 (mpg city, highway, combined)
Fuel type: Premium gas required
Base price: $332,500 (not including $2750 destination charge)
Options on test vehicle: See window-sticker excerpt below
Price as tested: $440,225
Quick Hits
The great: Top-of-the-heap luxury; built-to-order customizability; serene ride quality

The good: Smooth, abundant power from V12 engine
The not so good: Prices fit for royalty; voracious thirst for premium fuel; interior is not particularly spacious for an uber-luxury large sedan
Check out our Premium Large Car Best Buys
Damon Bell
Once in a great while, our Consumer Guide test fleet is blessed with the arrival of a Rolls-Royce, and after oohing and aahing over the vehicle in our parking lot, I head straight to the window sticker to do some more oohing and aahing over the lavish options list—and their exceptionally lavish prices. "Full Canadel Paneling" exotic-wood interior trim at $21,275? OK. Aero Cowling rear-seat tonneau cover at $25,750? Sure, why not? When you've entered the rarified air of bespoke, ultra-luxury machines, the spendiness is kind of the point.
And so it is with our latest Rolls-Royce test vehicle. The 2021 Ghost, Rolls-Royce's "entry-level" four-door sedan, is a redesigned on a platform shared with the new-for-2019 Cullinan, Rolls' inevitable entry into the luxury SUV market. The options list on our Arctic White tester is so long and involved that we've just copied that part of the window sticker and run it here in its entirety. We'll do this bit of math for you though—the cost of the optional equipment, the $2600 Gas Guzzler tax, and the $2750 destination fee add up to $107,725.
Forgotten Concept: Cadillac Sixteen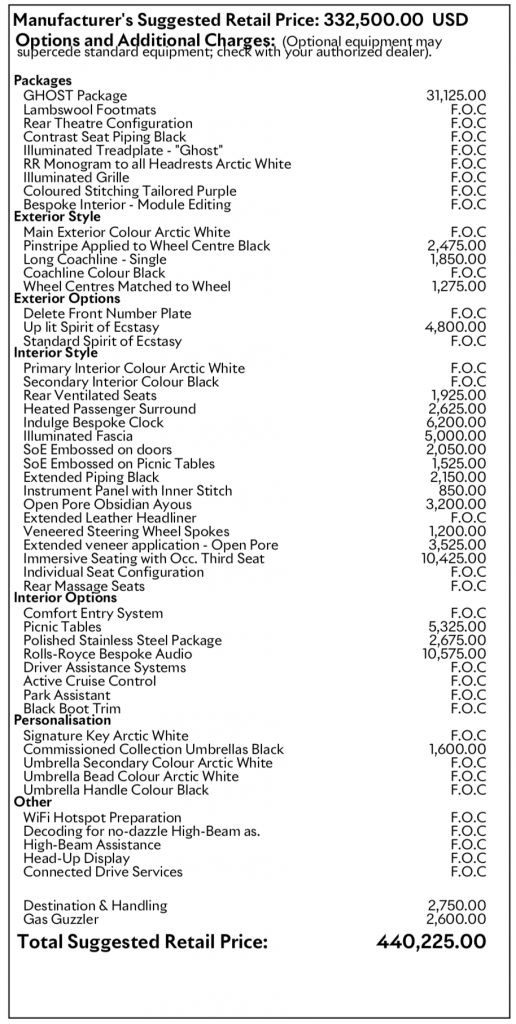 If you chose to forego all that optional equipment and just slum it in an un-optioned, garden-variety $338,000 Ghost, you'd have enough money to fill your other garage stall (err…. one of your other garage stalls) with a decently equipped BMW 740i xDrive, an optioned-to-the-hilt Chevrolet Corvette convertible, or, perhaps, six base-model Nissan Versas for your staff to drive around.
Luxury Madness! Premium Car Ads from 1955 (with prices!)
However, in an era where even a Hyundai delivers a remarkable level of luxury and comfort for under $50K, and 470-hp Jeep Wranglers exist, it's those old-world "craftsmanship for craftsmanship's sake" touches—and an unparalleled level of bespoke, handcrafted personalization—that set a modern-day Rolls-Royce apart.
Rolls-Royce mechanicals are as majestic as you'd expect. The Ghost's twin-turbocharged, 6.75-liter V12 engine supplies (surprise!) copious power—563 horsepower and 627 pound-feet of torque, to be exact. The 8-speed automatic transmission delivers this significant grunt in a smooth, sophisticated fashion that's in keeping with the Ghost's stately personality. The ride is pillowy soft and quiet, even over really rough pavement and sharp bumps. The plus-size dimensions and 5500-lb curb weight mean that the Ghost is not particularly nimble, but it's as smooth and composed as something its size has a right to be in quick corners.
Considering that there are likely at least a few professional basketball and football stars who are Rolls-Royce customers, I was surprised to discover that the Ghost's rear seats aren't exactly limousine-like when it comes to headroom and leg room. Far from it, in fact. At 6'6" tall, I am close to NBA-spec in dimensions (but not physical fitness or athletic ability), and I was a bit disappointed to find I had no surplus space in the Ghost's front or rear seats. Likewise, the door apertures themselves are rather stingy for such a regal large luxury sedan.
 John Biel
The kind of folks who put in a full day in someone else's employ and then go home to while away their leisure hours mulling strategies to pay for the kids' educations will be amazed and amused by the costs associated with a Rolls-Royce. It's really the only reaction that 99 percent of us can have. The notion that someone can spend on a single option what might fund a hard-earned family vacation—or even buy an entire decent small car—is utterly incomprehensible. That some of those things are outright gimmicks (an uplit "Spirit of Ecstasy" hood ornament?) will make even less sense under the circumstances.
Test Drive: 2021 Mercedes-Benz E450 Coupe
If you can put aside the issue of costs for a few moments, however, it's possible to admire the attention to detail of even some of the new Ghost's most flagrant fripperies. My favorite may be the illuminated dash fascia ($5000). It consists of 850 minute holes—virtual pin pricks—drilled in the wood veneer through which the light of 152 LEDs shines, suggesting the look of the stars in a distant galaxy. But just shining light through holes, no matter how small, would create "hot" white spots not at all how stars appear to the naked eye. The light in the car's dash fascia is filtered through a 2-millimeter layer of material that softens the glow to the appropriate intensity and fosters a twinkling effect.
While having your own personal cosmos on the dash may not make the Ghost drive any better, the upper-wishbone damper added to the front suspension will. (It is part of what R-R calls its Planar Suspension System, a term that will no doubt amuse collectors of 1930s Studebakers.) A flexible, horseshoe-shaped weight with bump stops is attached to each upper control arm to strain out some of the vibrations that remain from impacts even after the suspension has done its work. And it's not like Rollers needed extra help in riding serenely.
Tom Appel
Per the Rolls-Royce Ghost e-brochure, "With an exceptional level of control, every ride is graceful, dynamic and a pure pleasure. So nothing distracts you from the exhilaration of driving."
Dynamic? I beg to differ. I felt almost nothing driving the Ghost, and that's rather impressive. This big sedan is powered by a V12 engine of generous displacement paired to an 8-speed automatic transmission. Both drivetrain components draw my respect for going about their business in the smoothest, subtlest manner possible.
Test Drive: 2021 Mercedes-Benz AMG GLE63 S
Perhaps I am still traumatized by the sudden lurch and accompanying crash realized anytime my dad's '74 Plymouth Valiant was shifted from park to drive, but I found myself actively working to detect anything like noise or mechanical activity when doing the same in the Rolls. Underway, gear shifts were nearly undetectable, and what little sensation could be felt was cough-syrup smooth.
I can't make a value case for this car, and no one can. Such a purchase is an act of pure indulgence, but it is indulgence with reward. For someone very wealthy, and very tired of commodity living, driving something as excruciatingly considered and crafted as this car may serve as a sanctuary of some sort. Whether or not the sanctuary is compromised by the knowledge that the car can be exchanged for a full share of Berkshire Hathaway—well, I guess that depends on how much of the stock you own.
Test Drive: 2020 Aston Martin Vantage Coupe
Check out the Consumer Guide Car Stuff Podcast
2021 Rolls-Royce Ghost Gallery
(Click below for enlarged images)
2021 Rolls-Royce Ghost
Consumer Guide Car Stuff Podcast, Episode 55: Rolls-Royce Motor Cars; 2022 Hyundai Tucson
2021 Rolls-Royce Ghost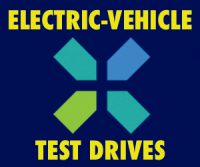 Auto Shows
Steve & Johnnie's Road Tests