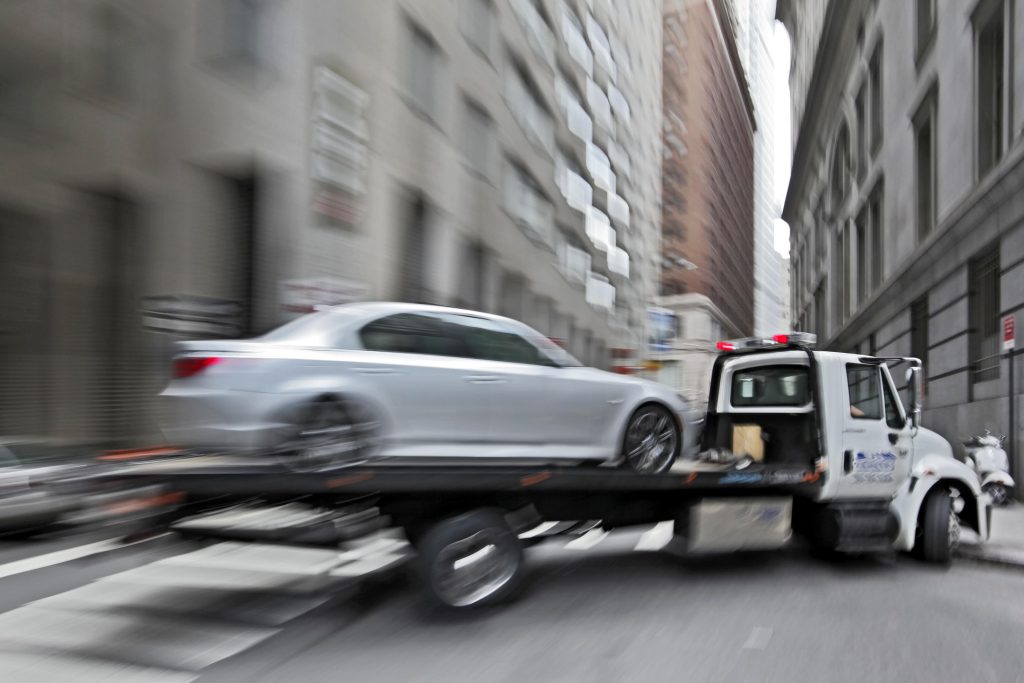 By Jim Flammang
Should we be scared of the "repo man?" In caper films and comedy TV series, the fellow who shows up at your driveway to snatch your car is typically depicted as a nefarious intruder, laughing at the law as he speeds away with your vehicle in tow. All because you missed a monthly payment.
This fictional version of the repo man (or woman) does exist in the real world – though not so widespread as in the past. Urban dwellers – especially those whose creditworthiness is shaky – have probably heard troubling tales. Today's repossession agents may be more businesslike and sophisticated, according to executives who operate businesses that send out crews, but stereotypes of their predecessors persist.
Repo agents have been removing at least 2 million vehicles per year from the homes of financially-stretched, debt-ridden consumers.
Listen to the very entertaining Consumer Guide Car Stuff Podcast
What Happens When Your Car is Repossessed?
Words You Need To Know
Before moving into details of the repossession process, let's clarify a few definitions: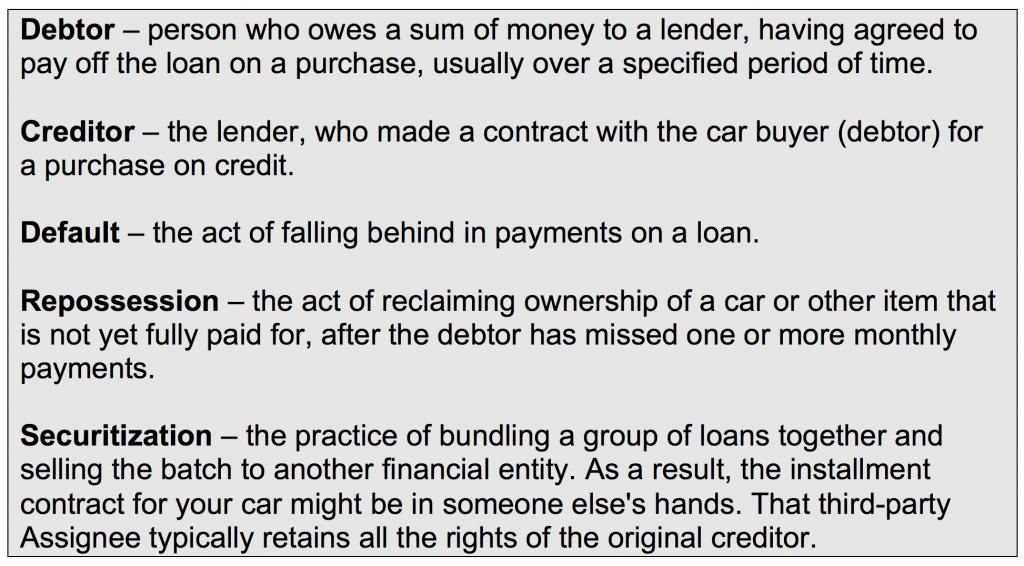 Timeline for Repossession
If you're late on a single car payment, beware. Miss one completely, and your car becomes a potential – or actual – candidate for repossession. Unless you bring your balance up to date quickly, a tow truck might suddenly appear in your driveway, preparing to haul away your unpaid-for vehicle.
Borrowers typically are notified that they've fallen behind with payments. Lenders also must inform them about possible consequences.
In many states, the creditor can arrange to seize your vehicle as soon as you default, though some wait a while. Missing a monthly payment often results from a temporary financial condition, such as job loss or a medical emergency. Perhaps the default can be resolved promptly.
Before electing to repossess, the lender may engage the services of a debt collection agency, which attempts to extract the unpaid amount from the debtor.
If you cannot pay the balance due (the "deficiency"), you can attempt to negotiate a settlement or establish a repayment plan. Now and then, a debt is forgiven, known as "charged off." Don't count on such a gift. The lender may instead file a lawsuit. Should that lender obtain a judgment from the court, he can "garnish" your wages along with other steps to get you to pay up.
Typically, the lender employs a separate third-party company to retrieve the car: most likely, a towing service that specializes in repos. If the defaulting customer disappears with the car, the lender may also request the help of a skip tracer to investigate the absent debtor's whereabouts.
Lender and Debtor Rights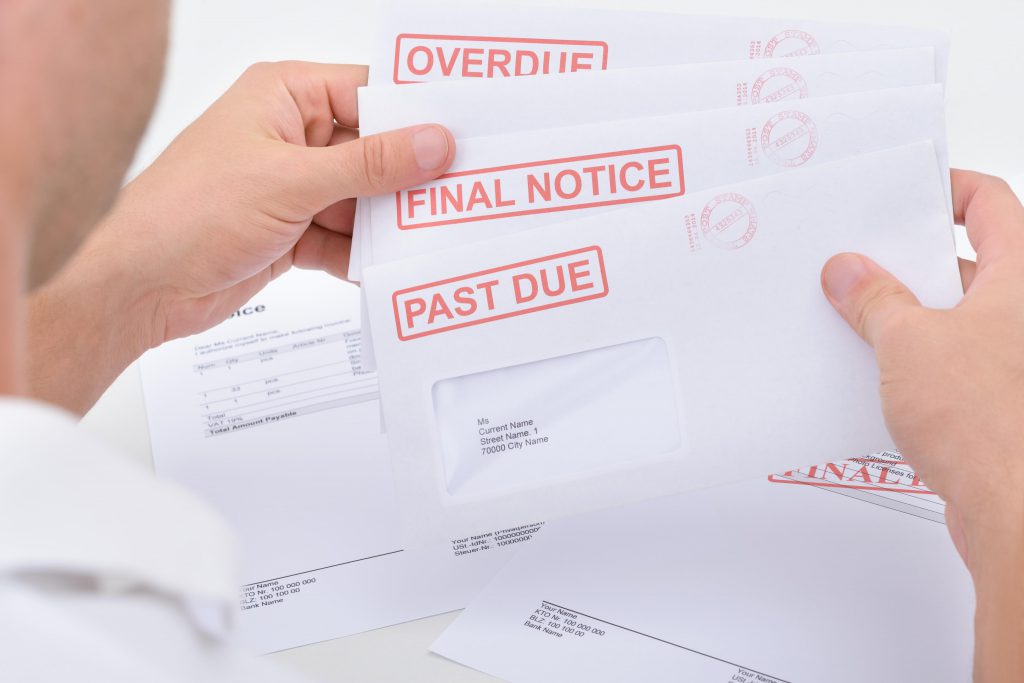 State laws – and local regulations – vary considerably, but the creditor has the right to take back the vehicle because of late or missed payments. That's who actually owns the vehicle, legally, until its loan is paid in full.
Even though most states don't require advance notice of repossession, the repo agent is allowed to enter your property as long as no "breach of the peace" takes place. A "breach" may consist of using (or threatening) physical force.
The agent can proceed onto your driveway, but is prohibited from removing the car from a closed garage without your permission. Proceeding with repossession after you have resisted may qualify as a "breach."
Some states impose specific rules about the methods a creditor may use to repossess a vehicle and then resell it. In some cases, a debtor calls the police, expecting them to take action against the repossession. Even if police presence is permitted, an officer can intervene only if a tangible law is being broken.
A state might offer a "right to cure" the default. A creditor must inform the consumer the first time he or she defaults, and provide a notice of debtor rights. That includes the right to correct an alleged default, spelling out steps that can be taken.
The Fair Debt Collection Practices Act of 1977 protects consumers "from abusive acts by third-party debt collectors," said Brett Soldevila, chief compliance officer of Security Credit Services. Various restrictions and protocols, he explained, affect communication with consumers. Contact methods now include social media and texts as well as telephone, e-mail, and postal mail. Debt collectors are subject to limits that specify how frequently a defaulted consumer may be contacted. Or, perhaps more accurately, cajoled.
Rules on texts, Soldevila noted, differ from those affecting e-mails, but they provide a "similar safe harbor" for collectors. He was speaking at Used Car Week, an annual gathering of executives and experts in the used car industry.
Persons in the military have additional repossession protections under the Service members Civil Relief Act, for auto loans taken out before entering military service.
Should I Buy a Car From CarMax?
Best Response Is a Quick One
If a creditor is threatening to repossess, contact them immediately. Rather than enter into the fees and complexities involved with repos, they might be willing to suggest an alternative. No harm in asking.
Some states allow you to "reinstate" your loan. Pay the past-due amount, along with repossession costs, and you can get your car back. Naturally, you still have to pay the remaining balance in installments, as before, and the default will probably show up on your credit history.
Car Shopping Tips: Test Drive Checklist
Repo Agents Don't Have It Easy
Repossessing takes skills, said Jose Mendiola, president of Resolvion, also speaking at Used Car Week. A person can't suddenly decide to go into the field, unprepared. Some are "born into it."
It's a high-stress job, and in this era of "road rage" and threats of violent behavior, repossessing can be a dangerous profession, too.
Because of troubling portrayals seen on reality TV shows, said another speaker at Used Car Week, a prominent goal is "changing the negative reputation that the repo man may have, which is untrue." Federal officials have been surprised by the sophistication of repo folks, he added, in stark contrast to depictions of them as "knuckle-draggers."
Should I Buy a Car or Crossover?
Electronic Disabling Devices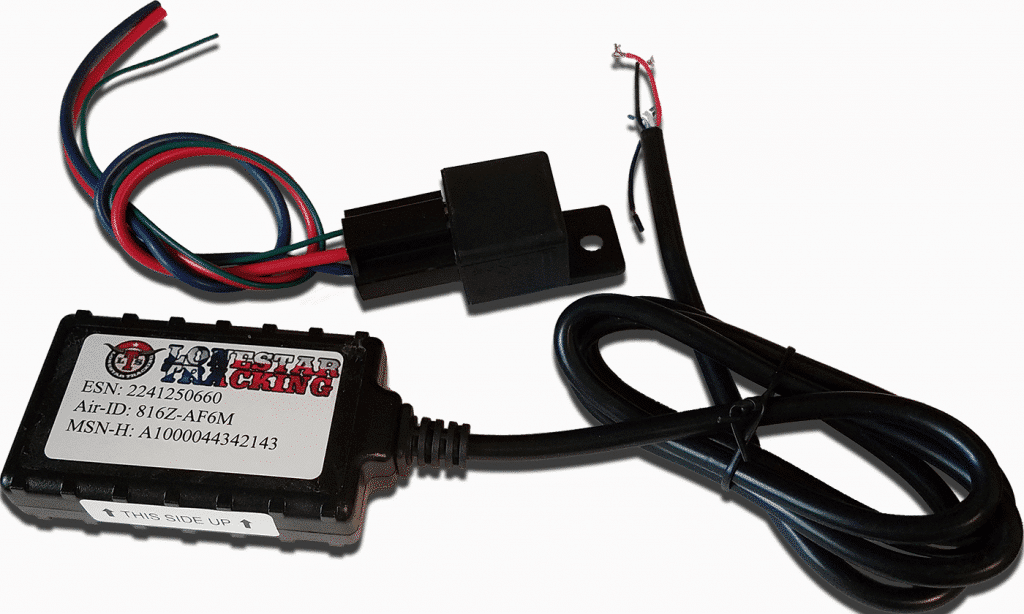 A repo agency might send a driver, or they could haul away the indebted vehicle with a tow truck. As an alternative or a supplement to repossession, some creditors might not provide financing unless you agree to installation of an electronic device that prevents the car from starting if you fail to make timely payments. The car is disabled by remote control, deactivating its ignition system. If your vehicle is equipped with such a device, make sure it can be restarted in case of emergency.
Agents also are taking greater advantage of such advanced, if controversial, technology as facial recognition and license-plate recognition.
Should I Buy A Car From Byrider?
Post-Repo Choices
A creditor may keep the repossessed vehicle or resell it. In some states, the creditor must inform you about what will happen. If the car will be sold at public auction, state law may require the creditor to tell you the time and place, so you can attend and even participate in the bidding.
Resale must be conducted in a "commercially reasonable manner." That means obtaining "fair market value" for the vehicle, not necessarily the highest possible price.
Proceeds from the sale go toward your debt. Because vehicles typically sell for less than the amount owed, you will almost certainly owe a "deficiency balance." That's the amount remaining due after a lender sells or auctions off your car, plus repossession and sale expenses – including storage fees and transportation to the auction.
For instance, if you still owe $12,000 on the car and it sells for $9,000, with $2,000 in expenses, your deficiency balance is $5,000. If you choose to bid at the auction and win, you won't need to make further payments, but will still owe the deficiency amount. Obviously, few debtors are in a financial position to take advantage of this option.
Similarly, you may be entitled to "redeem" the vehicle prior to its sale by paying the full amount owed, along with those related expenses.
Another option, "voluntary repossession," might reduce embarrassment as well as some costs. If you discover that a repossession is forthcoming, and you're unable to pay the outstanding balance, you could simply return the car to the lender. You remain responsible for paying any deficiency, and this action might still place a demerit on your credit history.
Finally, you might try to sell the car yourself, before getting into debt collectors and possible repossession. Determine the total amount owed. Then, research the car's approximate market value online – Kelley Blue Book is a good source. If you owe less than the car is worth, sell it – either privately or to a dealer – and use the proceeds to pay off the loan balance. Some loan contracts specify a penalty for early payment.
Car Shopping From Home: Carvana vs Vroom vs CarMax
Personal Property In the Vehicle
What to do with personal property is a big issue for repossessors these days. A creditor or its agent may not keep or sell any personal items found inside the vehicle. Some states require a creditor to tell you what items were found, and how to retrieve them. As a rule, anything attached to the vehicle won't be returned to you. Best precaution: If you think your car may be repossessed, remove everything that's loose.
A "lot of times we find dangerous substances, weapons," and more, said Bryanna Cox of Asset Resolutions, speaking at Used Car Week. Dealing with those items "is a service that we provide." Because they incur costs for that task, repossessors feel entitled to a fee for handling personal property.
Protect Your Credit History
Repossessions typically remain in your credit file for seven years. So do debt-collection accounts and bankruptcies. Each has a critical impact on your credit scores.
For each month that an account is 30 days (or more) past due, the lender can report it as delinquent. If that account is sent to a collection agency, their efforts to extract payment may also appear in credit reports.
What is the Destination Charge?
Did You Have a Co-signer?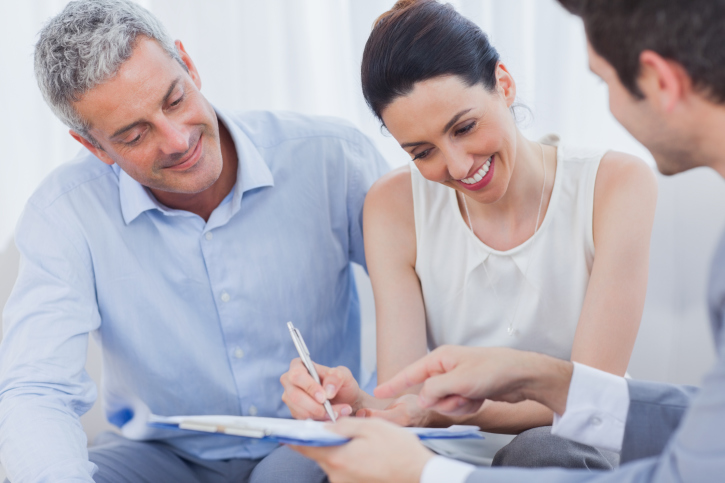 We don't hear so much about co-signers these days. But when millions of potential car buyers fall into nonprime or subprime credit-score categories, lenders often insist on having a backup person signing the contract. That co-signer is then responsible for any late or missed payment.
Many years ago, when I worked as a clerk in U.S. Bankruptcy Court, I was shocked to discover how many people had filed for bankruptcy solely, or at least mainly, because they had co-signed a car loan for a relative or friend. Many never even had the pleasure of driving the unpaid-for car; yet there they stood, in court, paying a penalty for their good deed.
COVID's Financial Impact
During the early months of the pandemic that began in March 2020, millions of workers lost jobs or endured reduced income. As a result, many had trouble keeping up with monthly payments – including those for vehicles. "Unprecedented economic conditions created an environment for delinquencies," said Jeffrey Marsh, chief managing officer at Millennium Capital and Recovery, during Used Car Week.
Some banks, credit unions, and finance companies began letting people delay payments or renegotiate payment schedules. Some states temporarily prohibited creditors and debt collectors from taking specific collection actions, such as garnishing wages or seizing property.
"Repo moratoriums" were for specified periods, as short as two weeks, said Jessie Herdrich Irwin of PAR North America, also during Used Car Week. By year's end, they were "less severe."
Even though unemployment began to ease in 2021 and stimulus payments from the federal government helped families endure the pandemic, analysis by credit reporting company Experian suggests that repos are likely to rise – possibly by a lot.
Should I Buy A Used Car From Enterprise?
Best Advice: Avoidance
Bypassing the whole business of debt-collection and repossessions is the wisest course to follow, if at all possible. Find a way to make all those payments in full, on time, every month. If a financial emergency should develop, contact the creditor as soon as possible.
Letting the creditor know before a payment is missed is better yet, suggesting that you're trying to make an effort. Many are willing to work with consumers whom they believe will be able to resume payments soon, and who had a clean record in the past.
"Trying to keep customers in their vehicles" is the preferred goal, said Mike Kreider, a director at Automotive Credit.
Additional information can be found at two government websites: the Federal Trade Commission (https://www.consumer.ftc.gov/articles/0144-vehicle-repossession) and the Consumer Financial Protection Bureau ( www.consumerfinance.gov).
Should I Buy an Extended Warranty?
What Happens When Your Car is Repossessed?
What Happens When Your Car is Repossessed?
What Happens When Your Car is Repossessed?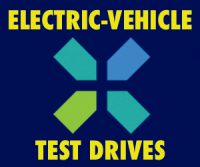 Auto Shows
Steve & Johnnie's Road Tests