2014 Nissan Leaf SL

Class: Electric Vehicle
Miles Driven: 220
Fuel Used: N/A 
Real-world fuel economy: N/A
Driving mix: 65% city, 35% highway
EPA-estimated fuel economy: 126/101/114 MPGe (city/highway/combined)
Base price: $35,020 (not including $850 destination charge)
Options on test car: Premium Package ($1050), mats ($170)

Price as tested: $37,090
Quick Hits
The great: Excellent maneuverability, smooth power delivery

The good: Good handling, quiet cabin, generous cargo space

The not so good: Severely diminished cold-weather range, limited space for big and tall front-seat occupants

More Leaf price and availability information
Tom Appel
Having written a blog titled "Why I Love the Nissan Leaf," I thought I might spend a little time looking at the dark side of electric-vehicle (EV) ownership.
While I am no less a proponent of the EV movement than I was a few months ago, Chicago's brutal winter has proven a serious detriment to operating a battery-powered vehicle.
While I'm not suggesting Chicagoans pass on EV ownership, I am recommending that potential green-car owners face the cold (pun intended) facts about plugging in here in the Snow Belt. I am also including a few notes regarding public charging stations and the specific issues they pose.
Cold Weather Kills Your Range
In fair-weather testing of Nissan Leafs, Consumer Guide® test drivers have seen a reported full-charge range as high as 105 miles, and no lower than 85 miles. Our observed range typically came close to those dashboard-reported projections.
Our most-recent test Leaf arrived during a brutal cold snap. When charged out of doors, the Leaf seemed to top out at a reported 66 miles, and during one particularly dire temperature dip we saw a distressing 58-mile projected range on a full charge.
My round-trip commute, including a morning detour to drop my daughter off at school, comes to about 50 miles. On the single-digit-temperature days of our Leaf evaluation,  I rolled into the office parking lot just as the range indicator began flashing a low-charge warning–this with a reported 13-15 miles left on the clock. (Note that we essentially "reverse commute" when we evaluate electric vehicles, having a level-2 charging station at the office, but not at our homes.)
While I still made the trip with more than 10 miles to spare, I had precious little mileage remaining to work with had our charging station been out of order, or had I needed to leave immediately for an off-site meeting.
In milder weather, I would likely have had 35-45 miles of reserve range after commuting two ways. Severe cold weather cuts my surplus daily commute range to almost nothing, while also dictating additional time at the charging station.
Check out Consumer Guide's Electric-Car Best Buy
It's worth noting that while cold weather itself affects the performance of an EV's batteries, it's the use of the car's heater to warm the cabin that takes a greater toll. The picture here demonstrates the projected impact on range with and without the heater turned on. Note: The earlier reported ranges of 66 and 58 miles were reported with the heat on. Use of the windshield defroster will further draw down power reserves, as the defroster incorporates air conditioning to dehumidify the air blowing on the front glass.
You Can't Rely on Public Charging Stations
During my weekend with the Leaf (and away from the Consumer Guide® charging station) I sought out a public charging station in lieu of the slow 110-volt wall-outlet charging at my home. Consistent with previous attempts to charge previously tested EVs, I found that two of the three stations I visited were not operational. The first, a level-3 station, was simply not activated. A quick call to the operator of the station confirmed that it was not "online."
My next attempt involved a level-2 station that appeared to be functioning, but would not respond to the network charge card provided by Nissan. A call to the operator of the station did result in approval to use it, but a glitch in the charger itself prevented the handle from being released.
I found success with the 3rd station I attempted to use, though I did need to call the operator of the station because, again, it would not recognize the card on site.
Public Charging Stations Cost Way, Way Too Much to Use
The ChargePoint level 2 station I eventually employed to top off the Leaf from a reported 29-percent charge can be yours for the seemingly reasonable price of $2 an hour—with a minimum charge of $2. My charge session came to $8.05. That's eight bucks for about 50 miles of range.
First Spin: Mercedes-Benz B-Class Electric Drive
There are two ways to contemplate that cost. One way is to compare the price of a charge with the price of gasoline. At $4.00 a gallon, I could have purchased two gallons of gas. In an alternative green vehicle, say a Prius, I could have gone 90-100 miles for the same money… and substantially further at the $2.50 national average price for gas we're now seeing.
More dramatic is the comparison between the charging-station charge and plugging in at home. The roughly 13 kWh of energy picked up at the charging station would cost about $1.60 at home, at the current national-average price of 12 cents per kWh.
From a financial perspective, it never makes sense to use a public charging station at these rates. Plugging in while you run into a store for 20 minutes means paying a 1200-percent markup on cost of electricity, given the $2.00 minimum charge. Charging for longer periods of time will moderate the expense, but not to the point that it makes sense to use public stations in any event other than an emergency.
Public Charging Stations are a Hassle
The station I eventually used to charge our test Leaf was located at a Walgreens. On the wall above the charging stations was a sign that read, "30 Minute Customer Parking." Seeing as I needed about four hours of charge time, I found myself seeking out the store manager for permission to leave the Leaf plugged in that long.
First Spin: Smart ForTwo Electric Drive
The manager was very pleasant and glad to see the station being put to use. Still, seeking permission to use the station seems like an additional and unnecessary burden. It's a hassle that is likely limited to only a few public-charging locations—but still a hassle.
Note also, it's not uncommon for commercially placed charging stations to be blocked by accumulations of plowed snow, rendering those locations useless for weeks at a time.
 I Still Love the Leaf
Still, this pioneering EV impresses overall. It rides well, and it provides adequate acceleration for quick getaways from a stop and confident highway on-ramp merging. I'm a little pressed for space behind the steering wheel, but I can't blame the car for my lack of exercise time.
Our cold-weather EV issues are in no way limited to the Leaf. We witnessed the exact same set of obstacles with the Kia Soul EV we tested just a few weeks earlier.
It's a credit to the Leaf that, despite the impact of artic temperatures, the car still performed well–albeit with its wings clipped a bit. If you're a Snow Belter thinking of going electric, I would still encourage you to do so. But consider the following:
You must purchase or lease your own charging station. Public stations are expensive to use and can be unreliable.

Understand that in seriously cold weather your real range will drop by up to 40 percent.

Even in warmer winter weather, you will likely use your headlamps during your evening commute–an additional draw on battery reserves.

Finally, your peak driving range will drop over time. Popular estimates suggest that battery efficiency will drop by 20 percent over 100,000 miles, a point to consider when calculating your own "worst-case scenario" range.
John Biel
A lot of this driver's experience with electric cars has been at more "battery-friendly" times of the year than late winter. It gets cold up here in the northern climes, and it's dark before I complete my evening commute. Aside from the effects of temperature on battery life, a driver in this situation needs to run things like lights and interior heat that draw down juice, too. Thus, an overnight stint with this "so last year" Nissan Leaf in late February was instructive. (The 2015 Leaf is virtually unchanged.)
BMW i3: Not Just Another Electric Car
Leaving work with an indicated 100-percent charge from Consumer Guide®'s in-house station, the car reported a potential range of 81 miles on its bright and highly legible electronic instrument display. The roughly 26.5-mile drive of a little more than an hour on an evening with the mercury in the teens required lights most of the way and heat all the way (fan eventually dialed down to the lowest setting). The radio was in use, too. Given the traffic flow, less than 30 percent of the miles covered were at speeds 45 mph or faster. I rolled into my driveway with available charge listed at 59 percent and remaining range of 54 miles.
Once home, the car was plugged into a standard household outlet for a level-1 charge. It charged outdoors through all of a cold night and into the morning for what turned out to be 13.5 hours; upon starting, it was at full charge with an indicated 91-mile range. (At CG's estimated rate of 3 miles of range gained per hour of 120-volt charging, the Leaf should have reached this level of charge in a little more than 12 hours.)
After starting off with heat and radio on, within a couple actual driving miles the car quickly drained off 5 miles of projected range and 4 percent of charge before slowing into a steadier rate of consumption in surface-street driving. On the expressway, I put in more higher-speed driving than the night before (about 48 percent), which apparently had more of an impact on potential range than on the charge level. I reached the CG offices with the car showing 58 percent of charge remaining, but a range of only 47 miles.
Setting aside thoughts of its propulsion system, the Leaf is a fairly unassuming 4-door hatchback. Though not wall-to-wall sumptuous, the SL that we drove still had standard features like leather upholstery, heated seats and steering wheel, a navigation system, Pandora-enabled iPhone integration, and a rearview camera. Handling is easy, but ride can be a bit choppy on the 106.3-inch wheelbase. Still, it's an expensive small car (the test '14 had a starting price of $35,020 and topped out at $37,090 with options and delivery) with inherent limits that may leave some car buyers out in the cold.
Guide to Electric Vehicle Charging
Damon Bell
 I had our Leaf test car for just one night, and my round-trip commute to and from work adds up to about 15 miles. Since that trip is well within the Leaf's 80-ish mile range on a full charge, I decided to leave the car unplugged overnight after I got home, to see how a night sitting out in near-zero-degree temps would affect the battery's charge and my driving range.
I parked the Leaf that night with about an 84-percent charge and a reported range of 62 miles. The next morning, the gauge read 77 percent, with a range of 57 miles. So, sitting outside overnight in freezing temps caused about a 5-percent drop in the charge. Had I pulled the car into a warm garage, I'm sure the "damage" would have been less. After my 7.5-mile drive back in to the office, the Leaf showed a charge level of 57 percent and a range of 37 miles.
Not surprisingly, cold weather and electric cars don't get along very well, but for buyers with short commutes like mine, it might not matter much. Also, I was pleasantly surprised to see how easily the Leaf handled the significant snow accumulation in the alleyway behind my home. I was worried I might get stuck in the four or five inches of accumulated snow while backing out of my parking spot (or get hung up on the iced-over tire-track ruts in the alleyway), but the Leaf powered through the white stuff just fine.
My biggest issue with the Leaf is ergonomic… there isn't quite sufficient legroom for an extra-tall guy like myself. The combination of inadequate rearward travel on the driver's seat and the limited tilt range/no telescopic adjustment of the steering wheel meant that I couldn't get truly comfortable behind the wheel. 
Test Drive: 2014 Chevrolet Volt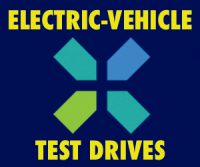 Auto Shows
Steve & Johnnie's Road Tests