What makes a car fast? Generally, more power means more go, but back in 1982, power was hard to come by. Weight matters too, but not as much as you might think, at least for the cars tested by Consumer Guide back in 1982. Unlike previous "fastest" lists I've put together, I've included the final drive ratio for each car listed below.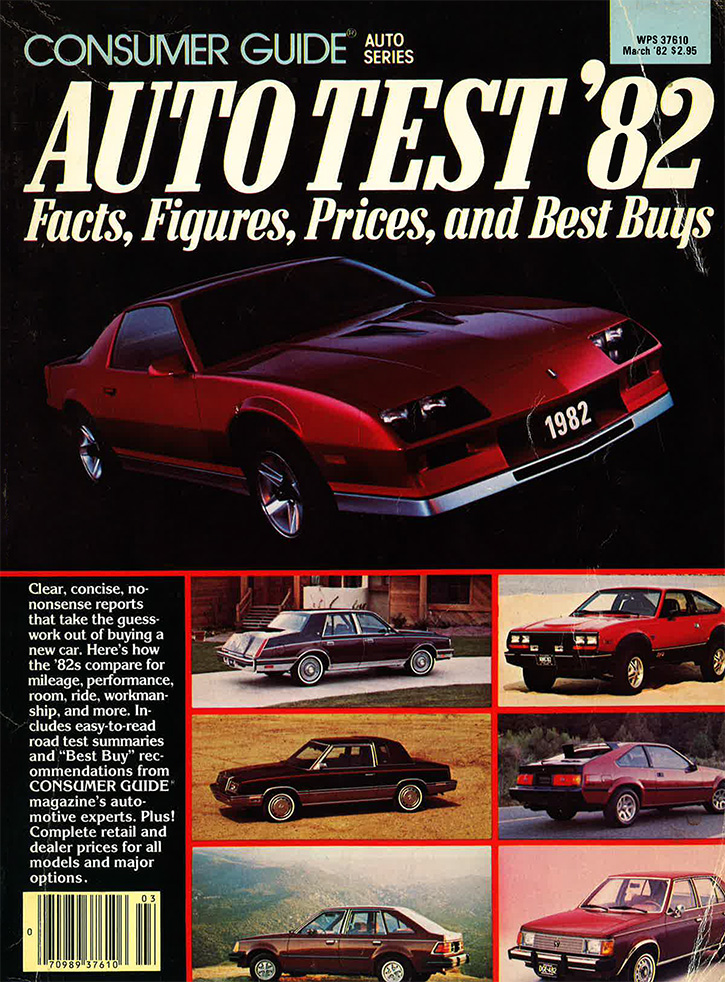 A low (numerically high) final-drive ratio means that the engine spins more times relative to the drive axle than it might were a high final drive ratio employed. Thus, the engine revs more quickly, and its torque is multiplied correspondingly. Predictably, the low final drive ratio will also hurt highway fuel economy, unless an overdrive top transmission gear is available.
Note how well the smaller-engine cars shown below performed. Most have low final-drive ratios and 5-speed manual transmissions–a great combination for performance and economy.
All the numbers listed below were extracted from Consumer Guide: Auto Test '82. As for the asterisk above: Consumer Guide did not test every vehicle available for sale in 1982, nor every version of those it did evaluate. The cars seen here are the 15 fastest that rolled through the CG office in 1982.
Also, full confession: I extended this list to 15 cars from our normal ten or 12 because I really wanted to include the Mitsubishi-built Dodge Challenger and the Isuzu i-Mark on the list. Is that wrong?
Model-Year Madness! 15 Sporty Car Ads from 1984
 The 15 Fastest Cars of 1982
Chevrolet Corvette: 7.5 Seconds (0-60 mph)
Engine: 200-horsepower 5.7-liter V8
Transmission: 4-speed automatic
Weight (pounds): 3368 
Final Drive Ratio: 2.87
Power-to-Weight Ratio (lbs./hp): 16.8-to-1
Datsun 280ZX Turbo: 8.0 Seconds
Engine: 180-horsepower turbocharged 2.8-liter six
Transmission: 3-speed automatic
Weight (pounds): 2867 
Final Drive Ratio: 3.54
Power-to-Weight Ratio (lbs./hp): 15.9-to-1
Toyota Celica Supra: 8.7 Seconds
Engine: 145-horsepower 2.8-liter six
Transmission: 4-speed automatic
Weight (pounds): 2932 
Final Drive Ratio: 4.10
Power-to-Weight Ratio (lbs./hp): 20.2-to-1
Mazda RX-7: 9.0 Seconds
Engine: 100-horsepower 1.3-liter twin-rotor Wankel

Transmission: 5-speed manual
Weight (pounds): 2362 
Final Drive Ratio: 3.90
Power-to-Weight Ratio (lbs./hp): 23.6-to-1
Porsche 924 Turbo: 9.5 Seconds
Engine: 154-horsepower 2.0-liter turbocharged four

Transmission: 5-speed manual
Weight (pounds): 2850 
Final Drive Ratio: 3.89
Power-to-Weight Ratio (lbs./hp): 18.5-to-1
BMW 733i: 9.8 Seconds
Engine: 174-horsepower 3.2-liter six

Transmission: 5-speed manual
Weight (pounds): 3590 
Final Drive Ratio: 3.45
Power-to-Weight Ratio (lbs./hp): 20.6-to-1
Chevrolet Citation X-11: 10.0 Seconds
Engine: 135-horsepower 2.8-liter V6

Transmission: 4-speed manual
Weight (pounds): 2700 
Final Drive Ratio: 3.65
Power-to-Weight Ratio (lbs./hp): 20.0-to-1
Pontiac Firebird Trans Am: 10.5 Seconds
Engine: 145-horsepower 5.0-liter V8

Transmission: 3-speed automatic
Weight (pounds): 3125
Final Drive Ratio: 3.23
Power-to-Weight Ratio (lbs./hp): 21.6-to-1
Audi Coupe GT: 11.1 Seconds
Engine: 100-horsepower 2.1-liter five-cylinder

Transmission: 5-speed manual
Weight (pounds): 2507 
Final Drive Ratio: 4.46
Power-to-Weight Ratio (lbs./hp): 25.1-to-1
Jaguar XJ6: 11.2 Seconds
Engine: 176-horsepower 4.2-liter six

Transmission: 3-speed automatic
Weight (pounds): 4050 
Final Drive Ratio: 3.07
Power-to-Weight Ratio (lbs./hp): 23.0-to-1
5 Most-Powerful American Cars of 1980
Volkswagen Rabbit: 11.2 Seconds
Engine: 74-horsepower 1.7-liter four

Transmission: 5-speed manual
Weight (pounds): 1825 
Final Drive Ratio: 3.89
Power-to-Weight Ratio (lbs./hp): 24.7-to-1
5 Most-Powerful American Cars of 1977
Isuzu i-Mark: 11.3 Seconds
Engine: 78-horsepower 1.8-liter four

Transmission: 5-speed manual
Weight (pounds): 2260 
Final Drive Ratio: 3.31
Power-to-Weight Ratio (lbs./hp): 29.0-to-1
7 Most-Powerful Japanese Cars of 1981
Dodge Challenger: 11.5 Seconds
Engine: 100-horsepower, 2.6-liter four

Transmission: 5-speed manual
Weight (pounds): 2756
Final Drive Ratio: 3.30
Power-to-Weight Ratio (lbs./hp): 27.6-to-1
5 Most-Powerful American Cars of 1991
Dodge Charger 2.2: 11.5 Seconds
Engine: 84-horsepower 2.2-liter four

Transmission: 4-speed manual
Weight (pounds): 2310 
Final Drive Ratio: 3.13
Power-to-Weight Ratio (lbs./hp): 27.5-to-1
 Downpour Madness! Classic Car Ads Featuring Cars in the Rain
Buick Skylark: 12.0 Seconds
Engine: 135-horsepower 2.8-liter V6

Transmission: 3-speed automatic
Weight (pounds): 2588 
Final Drive Ratio: 2.97
Power-to-Weight Ratio (lbs./hp): 19.2-to-1
Listen to the Consumer Guide Car Stuff Podcast
Fastest Cars of 1982 Gallery
(Click below for enlarged images)
Fastest Cars of 1982
Fastest Cars of 1982