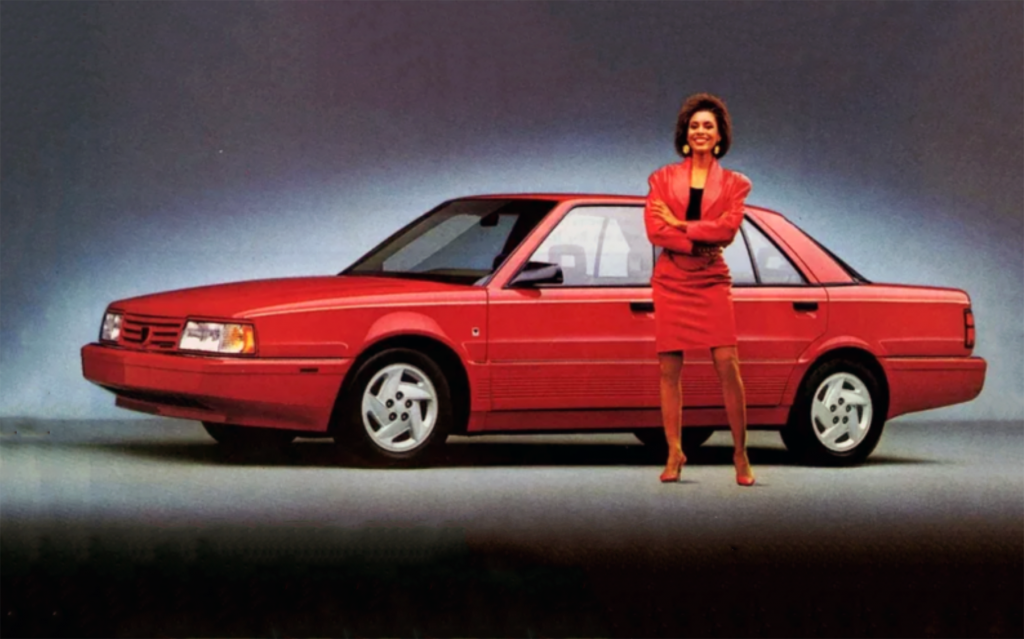 There were Eagle cars because the folks at Chrysler didn't think the Jeep brand could stand on its own. Of course, this decision was made in the late Eighties. No one today would question Jeep's viability as a stand-alone brand today.
When Chrysler bought American Motors (AMC) in 1987, AMC was entangled in a relationship with French carmaker Renault. One outcome of that hookup was the production of the Renault Alliance and Encore small cars at AMC's factory in Kenosha, Wisconsin.
After the acquisition, Chrysler maintained that relationship, tapping Renault for several cars to be marketed under the new Eagle banner. Chrysler also reached out to long-time partner Mitsubishi for Eagle vehicles. The result of these partnerships was an eclectic and arguably interesting lineup of cars unlike anything else being sold in the U.S. at the time. The cars were fresh-looking, a little quirky, and ultimately, mostly unsellable.
Here are some of the cars sold under the Eagle banner:
2000 GTX (1991-1992)
Built by Mitsubishi, this Canadian-market-only Eagle was a clone of the Mitsubishi Galant compact sedan.
Medallion (1988-1989)
Built by Renault in France, the Medallion small sedan was a retrimmed Renault 21. Before it became an Eagle, the Medallion was sold in the U.S. as a Renault (see ad in gallery below).
Premier (1988-1992)
Designed by AMC and Renault, the Premier was to have been sold as a Renault in the U.S. before it was rebranded an Eagle. This largish midsize sedan was built in Canada. A version of this car was sold as the Dodge Monaco between 1990 and 1992.
Summit (1989-1996)
Built by Mitsubishi, the subcompact Summit was offered in a number of body styles, including a versatile small van with a sliding side door.
Talon (1990-1998)
Easily the best-selling Eagle, this small sporty hatchback was designed by Mitsubishi and built at Diamond-Star Motors in Normal, Illinois. (Diamond-Star was a manufacturing joint venture between Chrysler and Mitsubishi.) Available with a 16-valve turbocharged engine and AWD, the topline Talon TSi was a legitimate performer. The Talon was mechanically similar to the Mitsubishi Eclipse and Plymouth Laser, both of which were also built in Normal.
Vision (1993-1997)
The replacement for the Premier was built on Chrysler's "LH" platform, which also underpinned the similar Dodge Intrepid and Chrysler Concorde.
Vista (1988-1992)
The Canada-only Vista line included a number of small offerings, all built by Mitsubishi.
…
Eagle may feel like just a blip on the automotive timeline, but the brand lingered for a dozen years–from 1988 to 1999. For your consideration, we have collected a number of Eagle print ads for your consideration. If you've ever spent time with an Eagle vehicle, please tell us about it. The place to leave comments is down below.
Eagle Ads
1988 Eagle Premier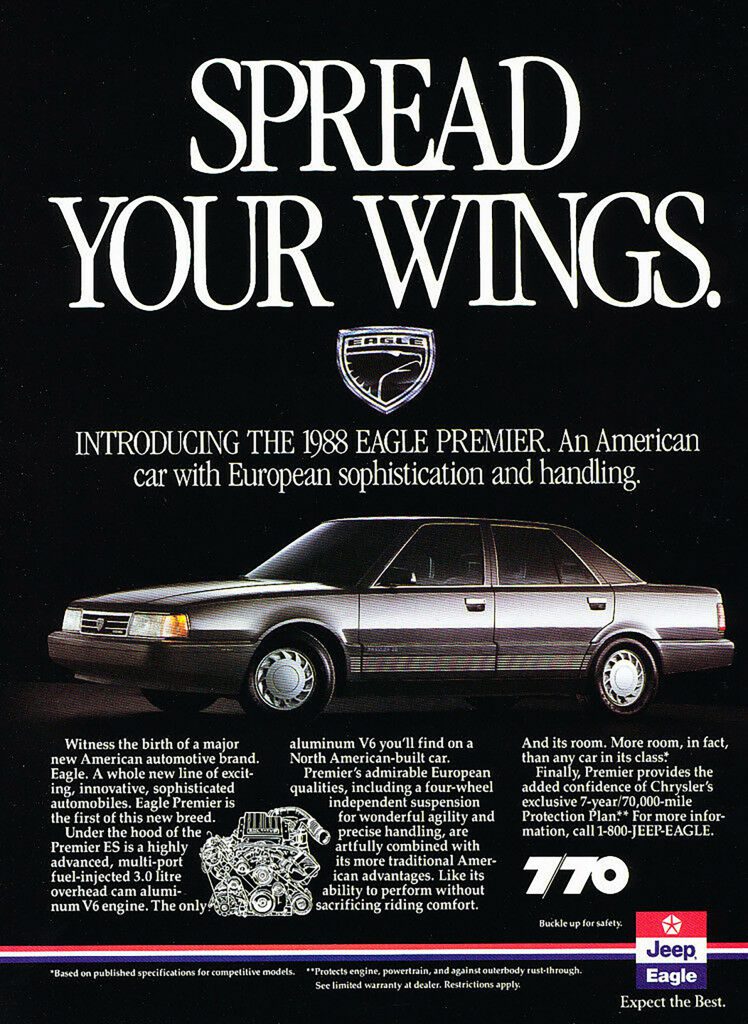 Short Timers: Recalling the 1999-2002 Daewoo Models
1988 Renault/Eagle Medallion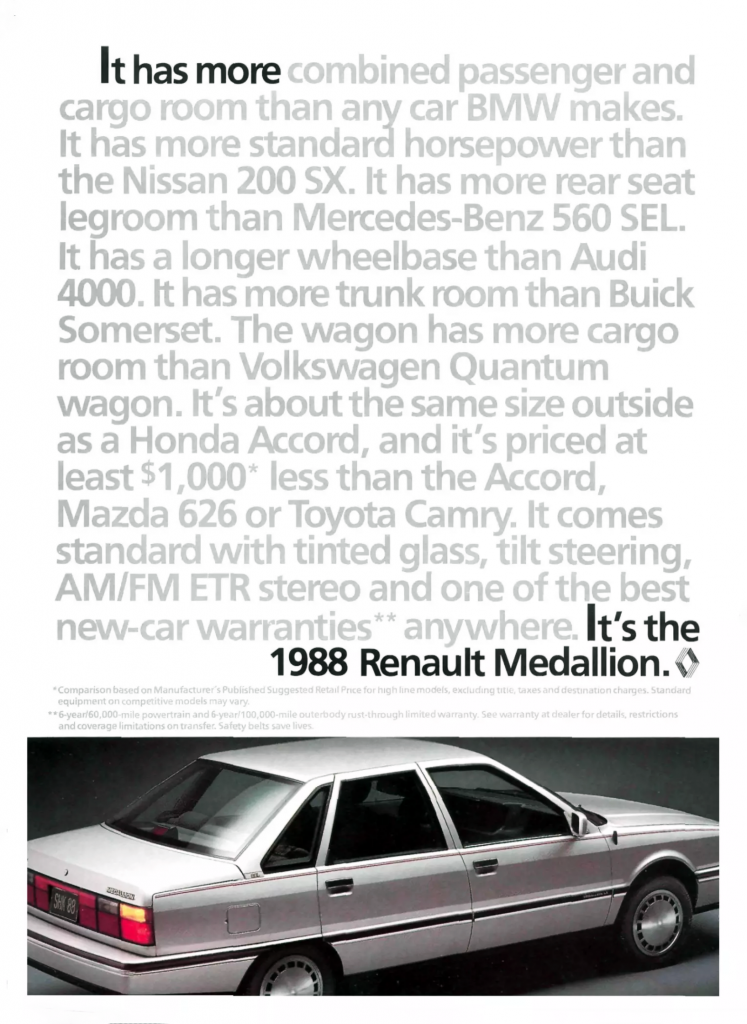 Dead-Brand Madness! 10 Classic DeSoto Ads
1989 Eagle Dealer Ad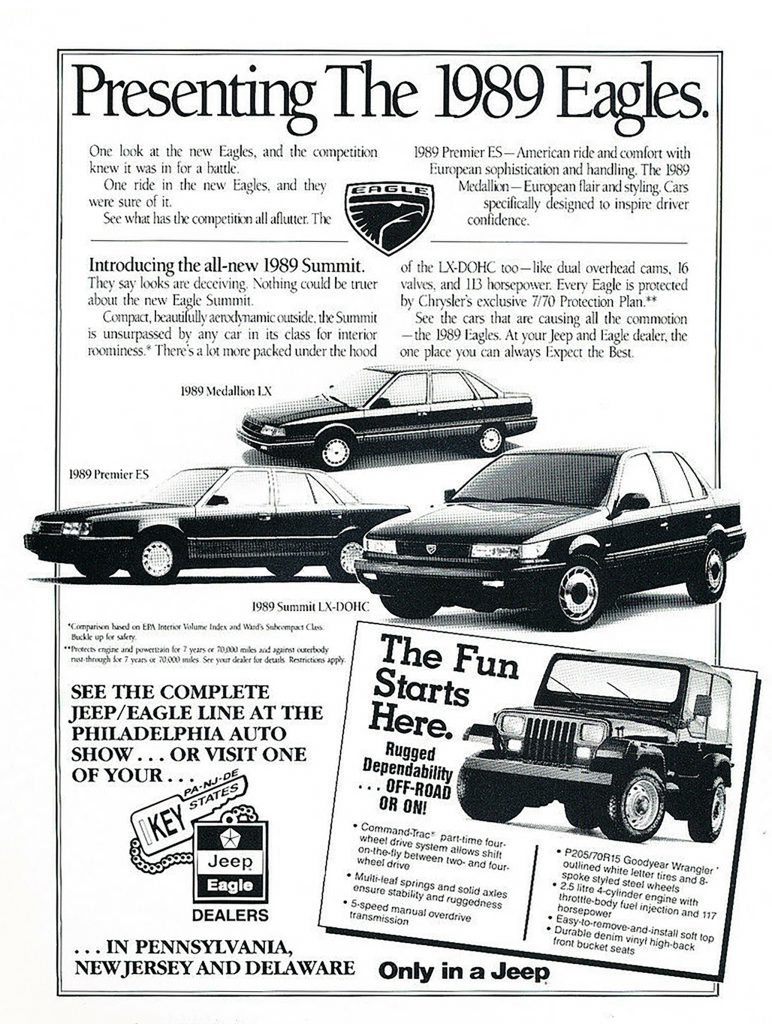 Dead-Brand Madness! 10 Classic Edsel Ads
1989 Eagle Dealer Ad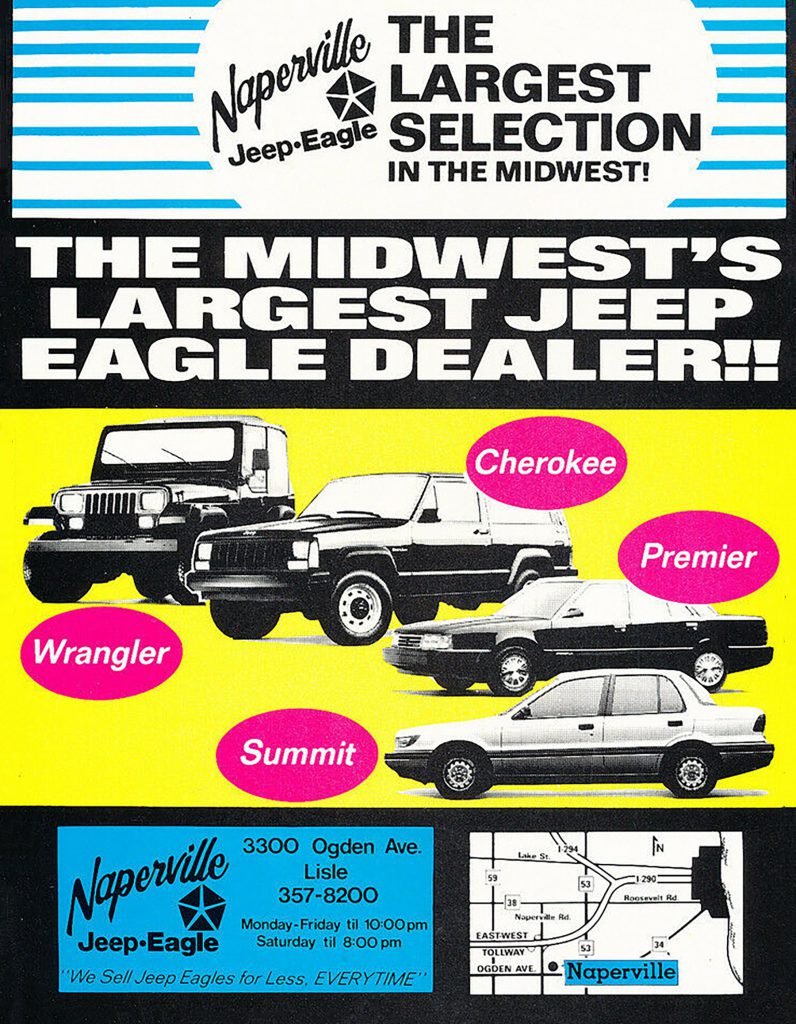 Dead Car Brands and Meat-Substitute Word Search
1989 Eagle Premier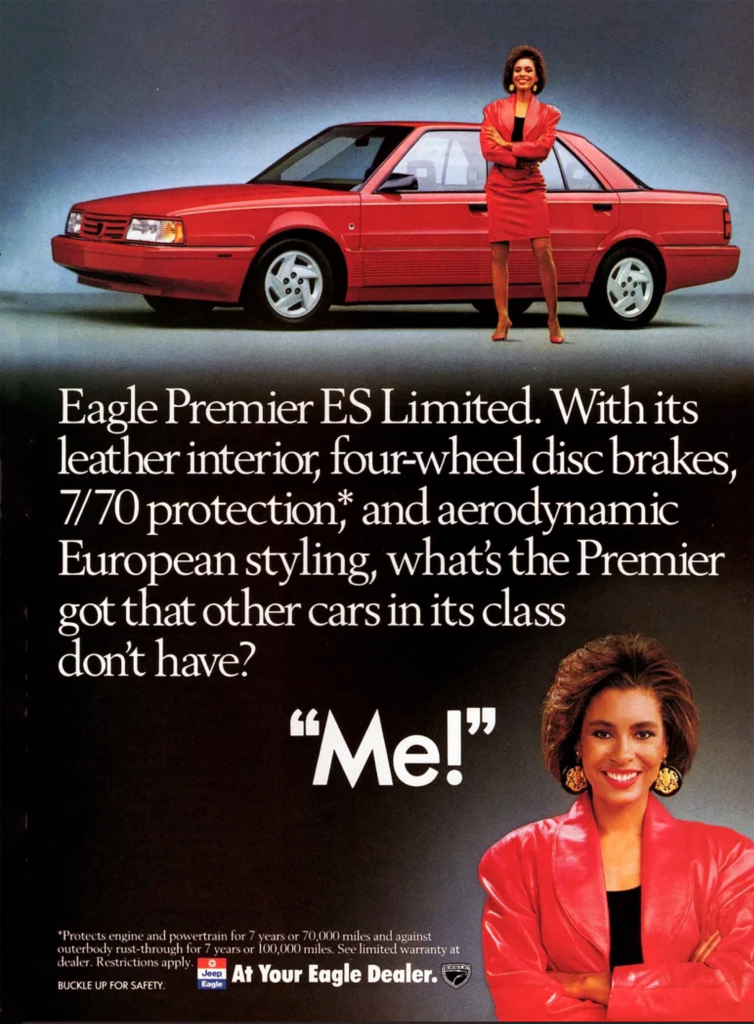 Dead-Brand Madness: 10 Classic Car Ads from the 80s and 90s
1990 Eagle Dealer Ad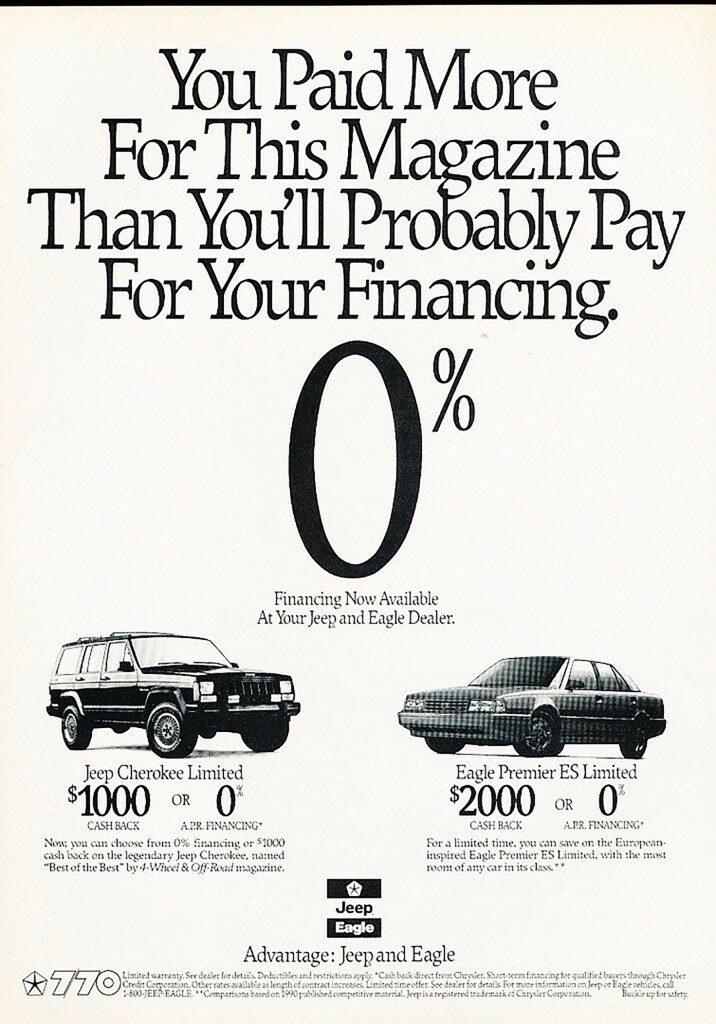 Aussie Madness! A Gallery of Australian Car Ads
1990 Eagle Premier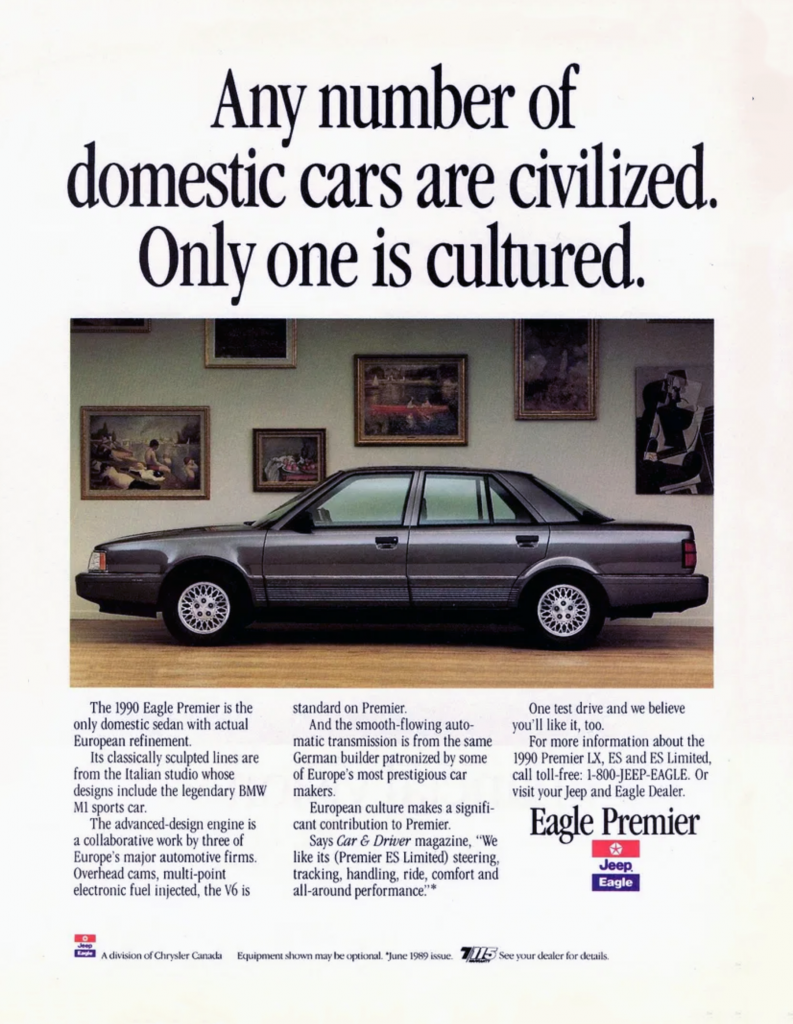 Performance Madness! 10 Classic Muscle Car Ads
1990 Eagle Premier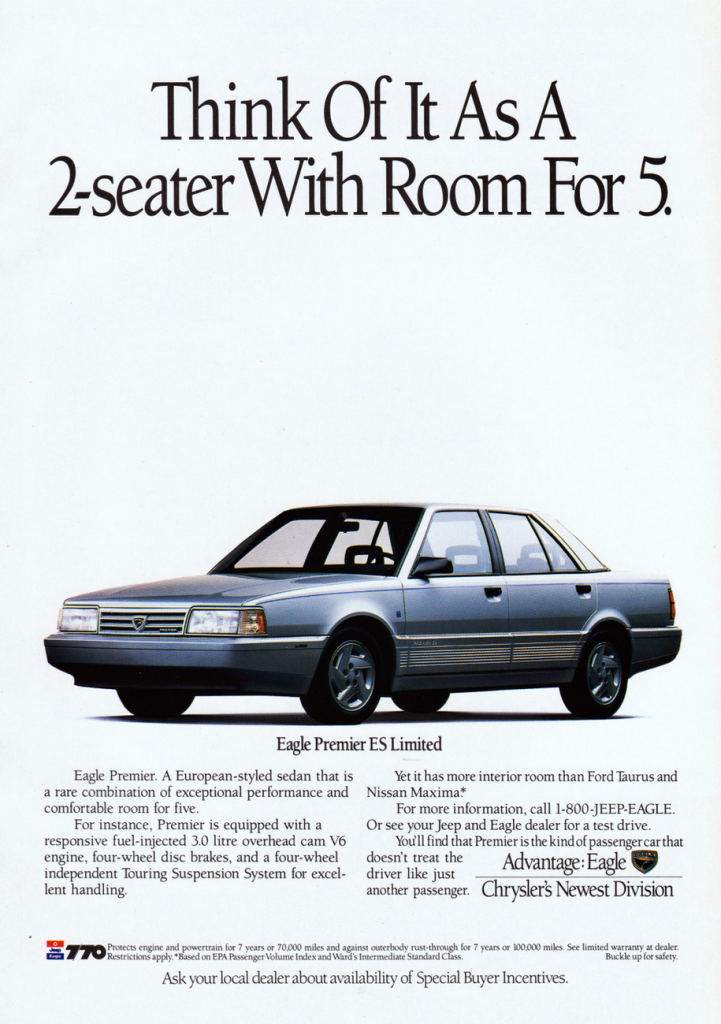 Rides and Rock: 5 Car Commercials with Great Music
1990 Eagle Summit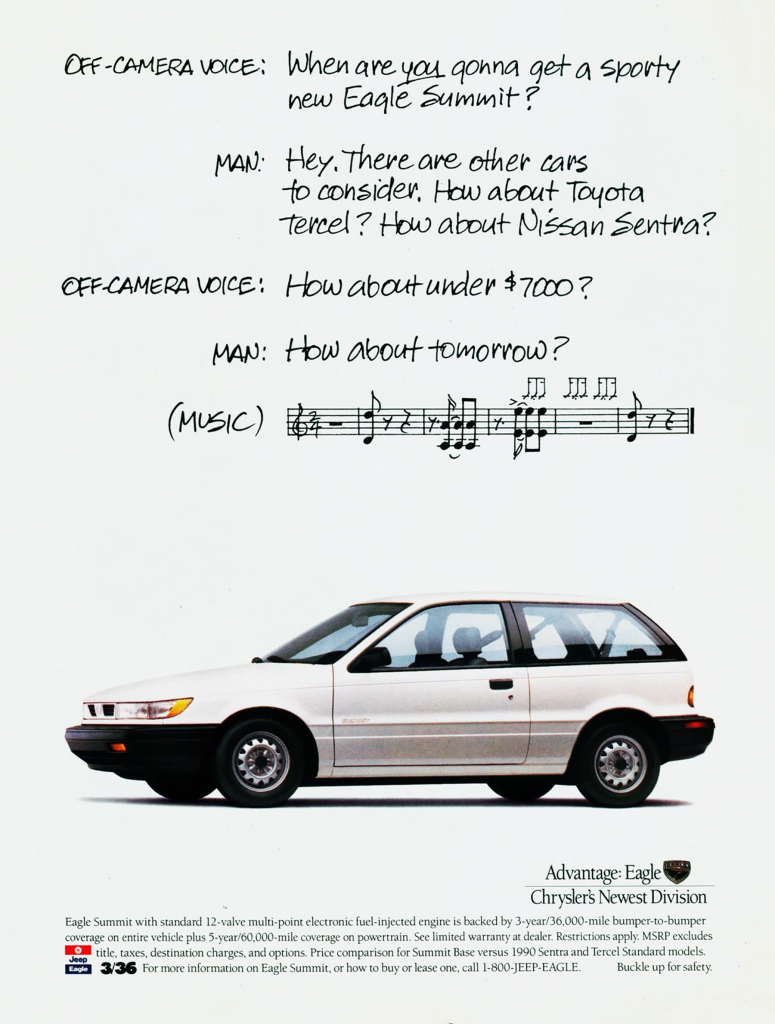 Model-Year Madness! Classic Ads Featuring the Coupes of 1976
1990 Eagle Talon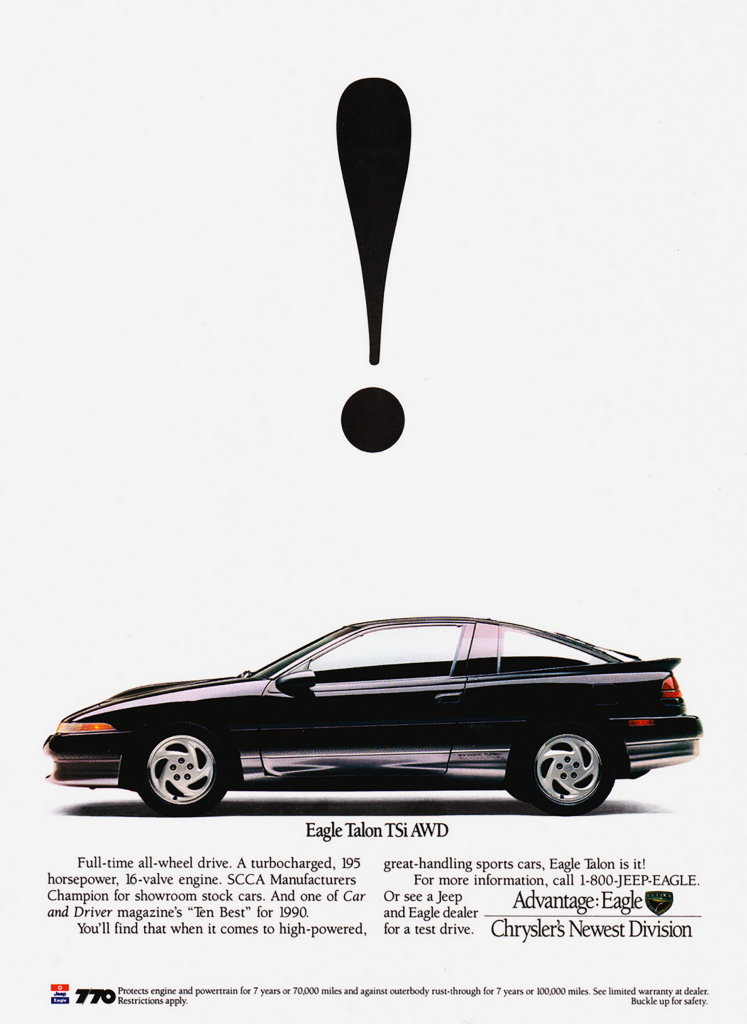 Marketing Madness! An Ad Gallery of Co-Branded Cars
1991 Eagle 2000 GTX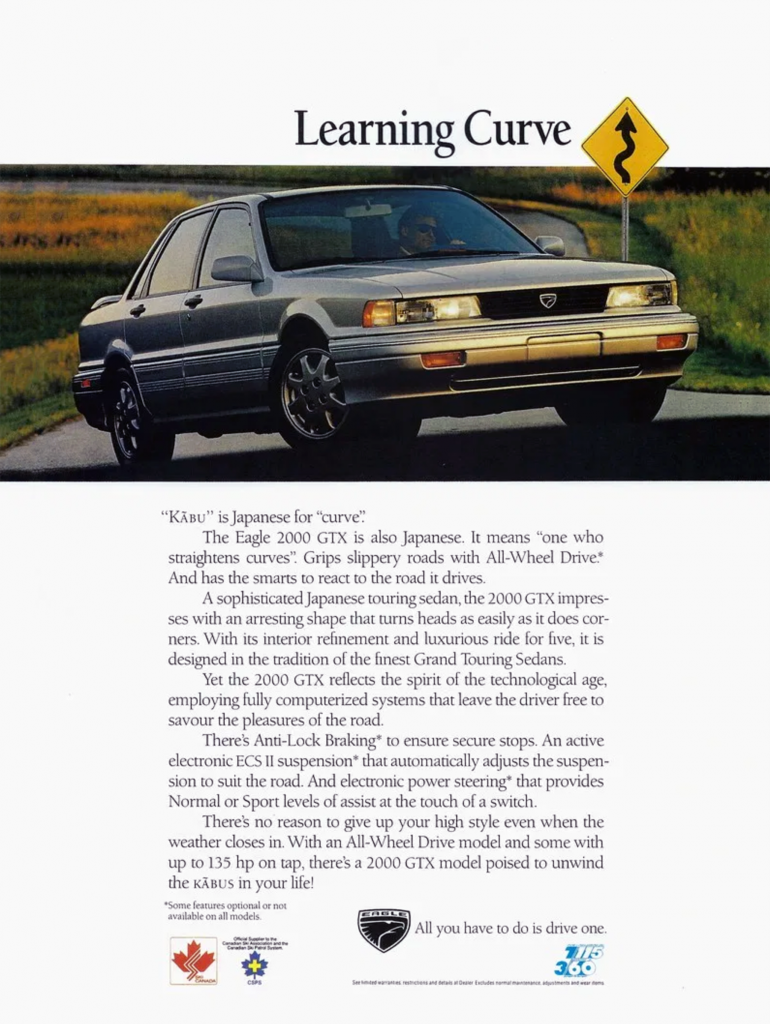 Streamline Madness! A Gallery of Automotive Aerodynamics in Print Ads
1991 Eagle Talon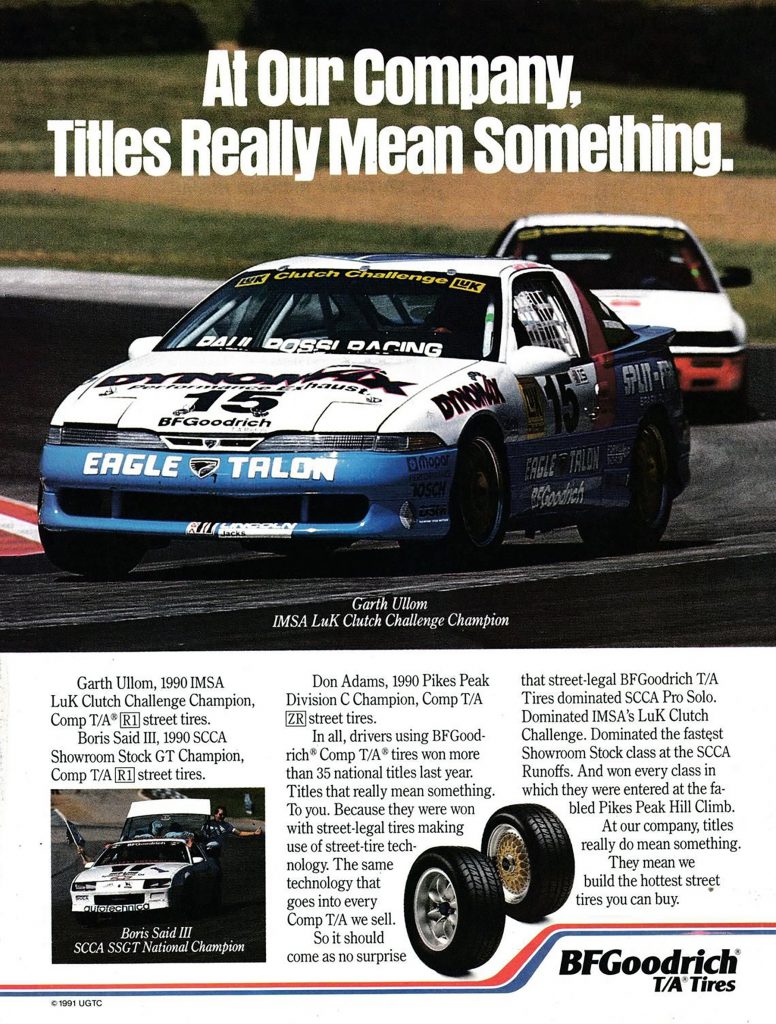 Downpour Madness! Classic Car Ads Featuring Cars in the Rain
1992 Eagle Summit Wagon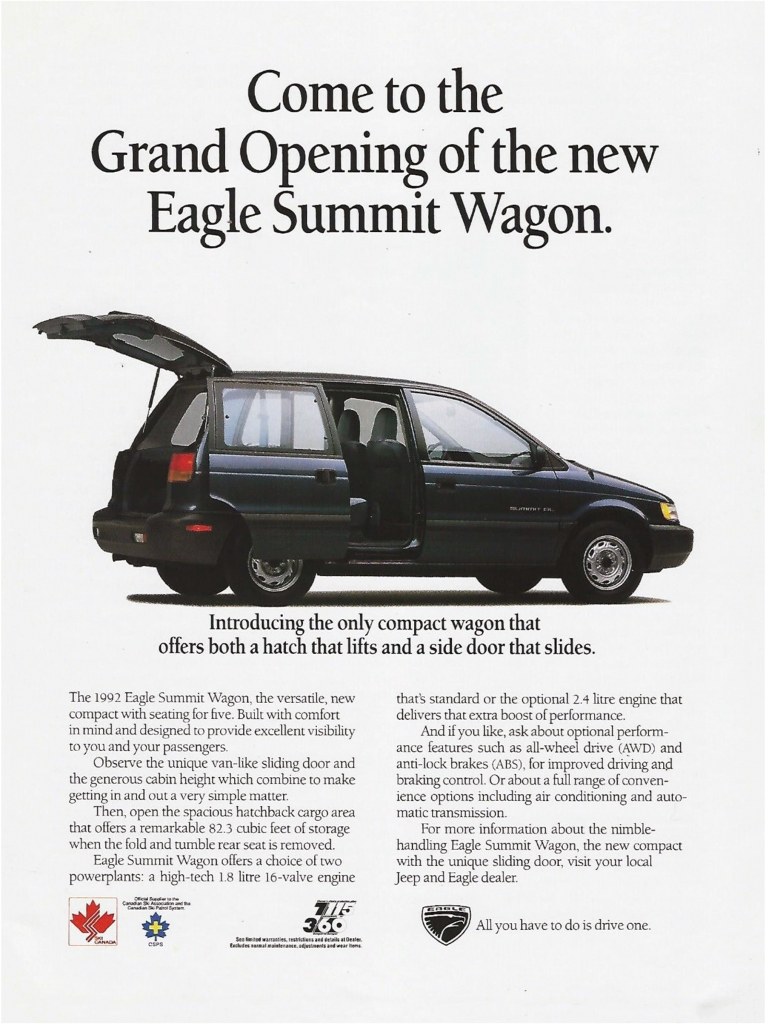 Forgotten Functionality: Recalling the 1994 Eagle Summit Wagon, Mitsubishi Expo, and Plymouth Colt Vista
1993 Eagle Vision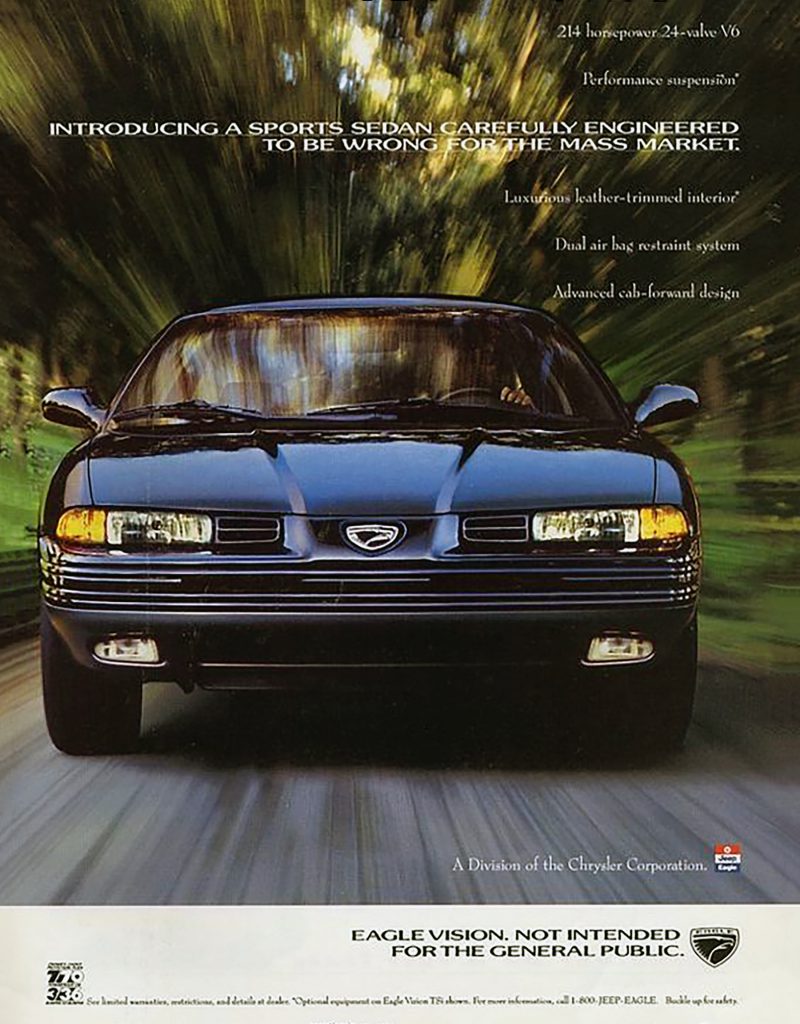 Model-Year Madness! 12 Sporty Car Ads from 1989
1994 Eagle Vision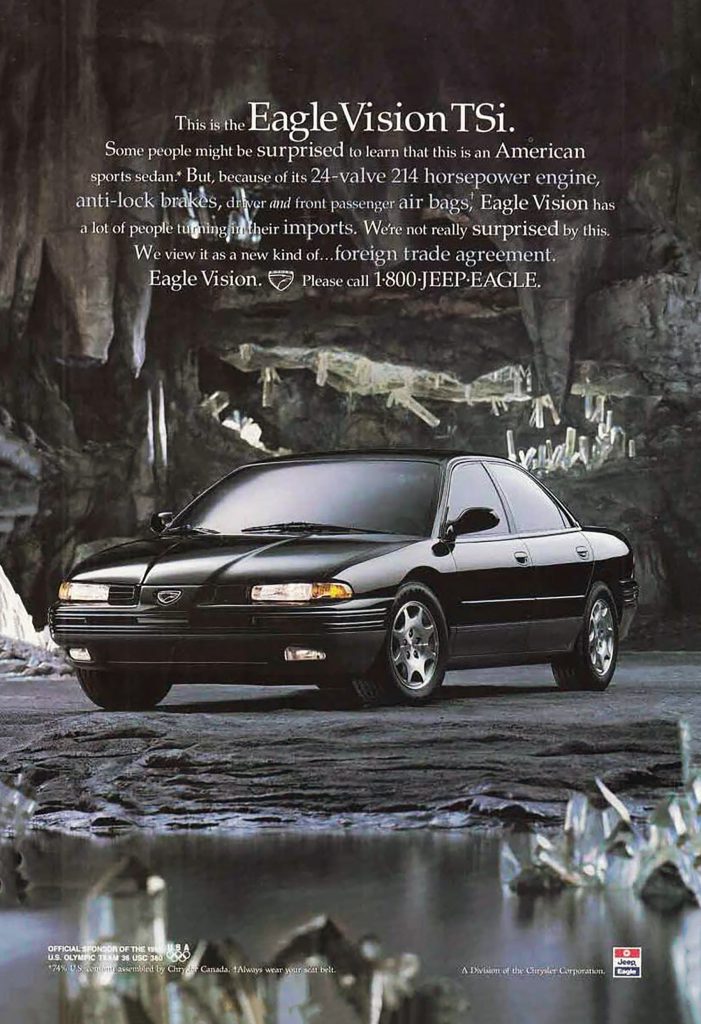 Listen to the Consumer Guide Car Stuff Podcast
Eagle Ads Gallery
(Click below for enlarged images)
Eagle Ads
Eagle Ads