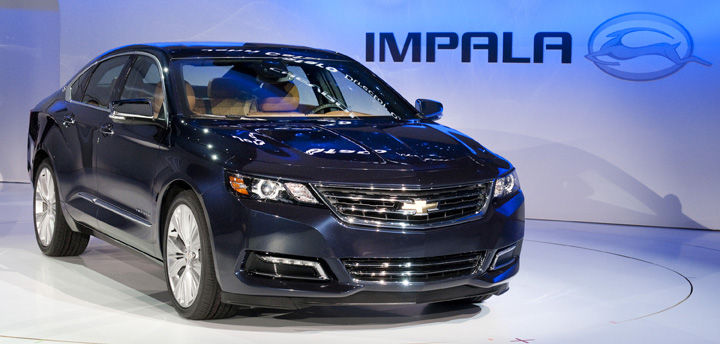 The Chevrolet brand has several long running nameplates: Suburban, Malibu, Camaro, and Caprice. to name a few. Lately, it has been a bit easy to overlook another: Impala. One reason is that the current Impala hasn't changed much since 2006. And even when it was new, it wasn't exactly exciting.
Of course, excitement and sales are often two different things. Chevrolet says in 2011, the company sold more than 171,000 Impalas, making it one of the top-selling cars in America. A large percentage of those were sold to fleets, including more than a few to my hometown police department. Still, a sale is a sale.
Today's car rides on a front-drive chassis that at least dates to the 1988 Pontiac Grand Prix, Buick Regal, and Oldsmobile Cutlass Supreme. Remember the Lumina? It used this same basic chassis, too. For 2012, Impala received GM's well-regarded 3.6-liter V6 and a 6-speed automatic. These were welcomed updates, but the old soldier clearly could use a fresh start.
Chevrolet has been working on a new Impala, and the redesigned 2014 model was introduced today at the New York Auto Show. It remains front-drive, but it switches to the basic chassis used on the Buick LaCrosse.
Styling on the new Impala is fresh and contemporary with more surface detailing than today's car. From pictures, I can't say I'm blown away by the look, but it is handsome overall and there are some really interesting touches. The Camaro-like hood cut lines stand out, and I like the chrome detailing on the grille and around the side window openings. From the rear, I see recent Audi influence.
Chevy says the rear fender detailing "acknowledges classic Impala designs." A couple of us auto editors talked about that this morning in the office. We're not sure which Impala Chevy is talking about—perhaps the original 1958, or maybe the 1965 or '67 models—but, we're curious to see how the treatment looks in person.
The big news is under the hood. For the first time, Impala is offered with a 4-cylinder engine. Actually, it is offered with two of them. The 2.4-liter Ecotec with battery-powered eAssist will be available, as will GM's new 2.5-liter Ecotec. The only V6 will be GM's 3.6-liter unit with an estimated 303 horsepower. Chevy says an Impala with the 2.4 and eAssist could achieve 35 mpg on the highway.
The V6 engine's horsepower rating offers another piece of interesting trivia. The 2006 Impala was available as an SS version with a 5.3-liter V8 engine. Its rating? Exactly the same as the V6: 303 horsepower. What about the classic rear-drive 1994-96 Impala SS? Its 5.7-liter V8 put out just 260 horsepower.
The new Impala is a bit bigger than today's car, picking up just under an inch in wheelbase and overall length. It's a few inches longer than a Buick LaCrosse, about two inches longer than a 2012 Dodge Charger, and about an inch and a half shorter than a 2013 Ford Taurus. The Chevy undercuts the Taurus and Charger on weight—by more than 150 pounds based on preliminary specifications for the V6 model.
Overall, it seems like Chevy has done a good job updating Impala. We're anxiously awaiting our chance to get behind the wheel and see how it stacks up against Taurus, Charger, Toyota Avalon, and Hyundai's new Azera.