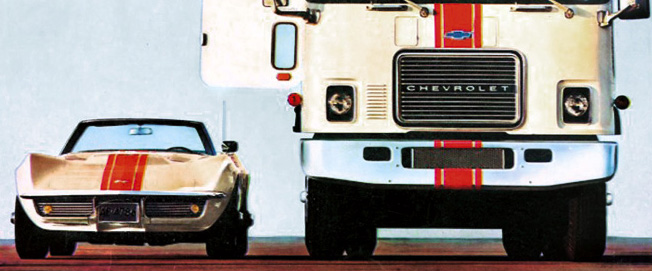 Remember when Chevy was still making heavy-duty trucks? I'm not talking about beefed-up Silverados, but actual over-the-road semi tractor trailers. In 1970, Chevrolet introduced the Titan 90, a tilt-cab truck very similar to its better-known corporate cousin, the GMC Astro 95. Both were once fairly common sites on the highways and Interstates.

In this great print ad for the 1970 Titan, Chevy paired the new truck with a 1969 Corvette convertible. Why a '69? Presumably, because the ad ran prior to the 1970 Vette reaching dealers in February 1970. At least, that's our best guess.

It's difficult to say how many times a sports car has been used in an attempt to demonstrate a long-haul truck's toughness, but in this case I think the visual comparison of the two with matching red racing stripes is priceless. The copy acknowledges the pair's vast differences, while arguing that they are each the best at what they were engineered to do. Simple enough.

Production of the Chevy Titan ended after 1980 when the brand exited the Class 8 truck market. The GMC Astro made it through 1987, the final year for big GMC semi tractors. You might still see one of these Chevy or GMC big rigs on the road, but they are growing scarce.

Mail-Truck Mainstay: What Was The Grumman LLV?
Chevrolet Titan 90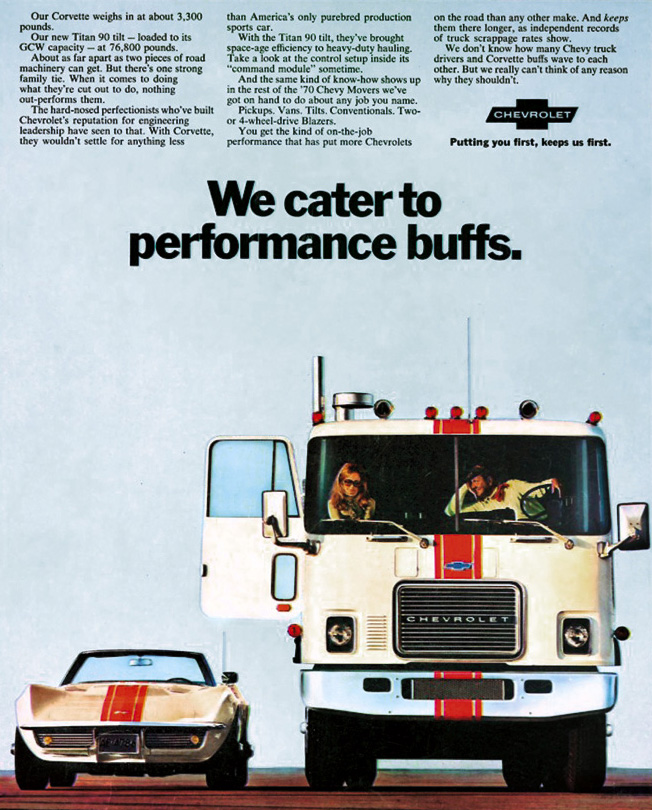 Big-Rig Style: What If Semi-Truck Makers Built Pickups?
Chevrolet Titan 90
Photo Feature: 1953 Dodge B-4-B-116
Photo Feature: 1948 GMC ACR 723 Tractor
Photo Feature: 1950 Dodge B-2-B Panel Truck
Photo Feature: 1929 Chevrolet LQ Dump Truck
Mass-Transit Madness! A Gallery of Classic Bus Ads
Photo Feature: 1951 Studebaker 2R6 Delivery Van