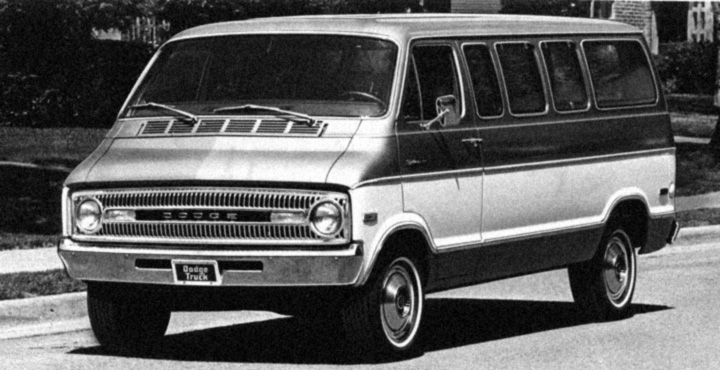 Long before the names Caravan and Voyager would end up on a car-based front-wheel-drive platform, Dodge referred to this people mover as a, "domestic compact wagon."
Regardless of how accurate that description seems in retrospect, Consumer Guide was impressed enough to dub the 1973 Dodge Sportsman a Best Buy.
For comparison, the 1973 Dodge Sportsman rode on a 127–inch wheelbase, was 194 inches long, and weighed 4040 pounds. The 2017 Dodge Grand Caravan rides on a 121-wheelbase, is 203 inches long, and weighs around 4300 pounds. Maybe Dodge was onto something.
1973 Dodge Sportsman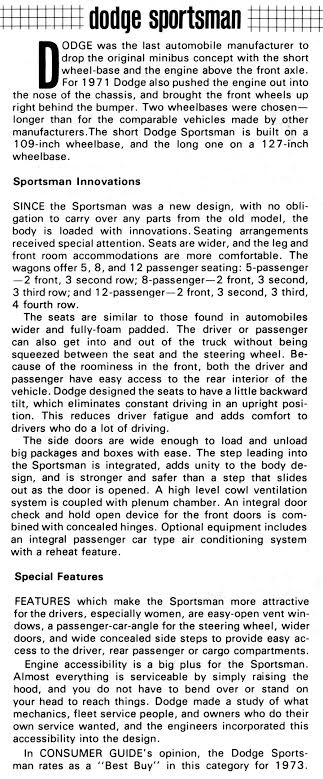 Review Flashback! 1990 Chrysler TC by Maserati
Dodge was the last automobile manufacturer to drop the original minibus concept with the short wheel-base and the engine above the front axle. For 1971 Dodge also pushed the engine out into the nose and chassis, and brought the front wheels up right behind the bumper. Two wheelbases were chosen—longer than for comparable vehicles made by other manufacturers. The short Dodge Sportsman is built on a 109-inch wheelbase, and the long one on a 127-inch wheelbase.
This year, American new-vehicle shoppers will snap up about half a million minivans. Now, while that may seem like a lot of people-movers, it's worth noting that minivans accounted for more than 1.2 million annual sales as recently as model-year 2000.
Forgotten People-Movers: More than 30 Minivans You Don't Remember
Forgotten Functionality: Recalling the 1994 Eagle Summit Wagon, Mitsubishi Expo, and Plymouth Colt Vista
Customized in Commodity Times: Conversion Vans You Can Still Buy
Forgotten People-Movers: More than 30 Minivans You Don't Remember
Review Flashback! 2003 Volkswagen EuroVan
The Minivan as a Limo: What is the Lexus LM?
Forgotten Concept: Oldsmobile Silhouette OSV
Soccer Mom Madness! 10 Classic Minivan Ads
Forgotten Concept: Ford Aerovan by Ghia
Review Flashback: 2005 Chevrolet Astro