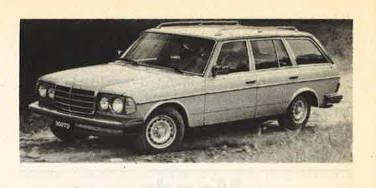 Art lovers aren't accustomed to finding flaws in masterpieces, and a couple of decades ago, auto writers weren't accustomed to talking smack about Mercedes-Benz.
Despite Mercedes' well-earned reputation for building nearly perfect vehicles, the boys at Consumer Guide didn't hesitate to take the 1980 300TD to task. In the review shared below, my predecessors here at "The Guide" lamented the midsize German wagon's high price, lack of power, and long braking distance.
With those gripes out of the way, the review took a familiar and expected turn. Among the superlatives used to described the 300TD were:
High quality
Lush
Taut
Solid
Exceptional
Practical
The review concludes with the suggestion that a consumer doesn't buy a Mercedes-Benz 300TD, he invests in it. Read the following review and tell us what you think. Was the 300TD close to automotive perfection?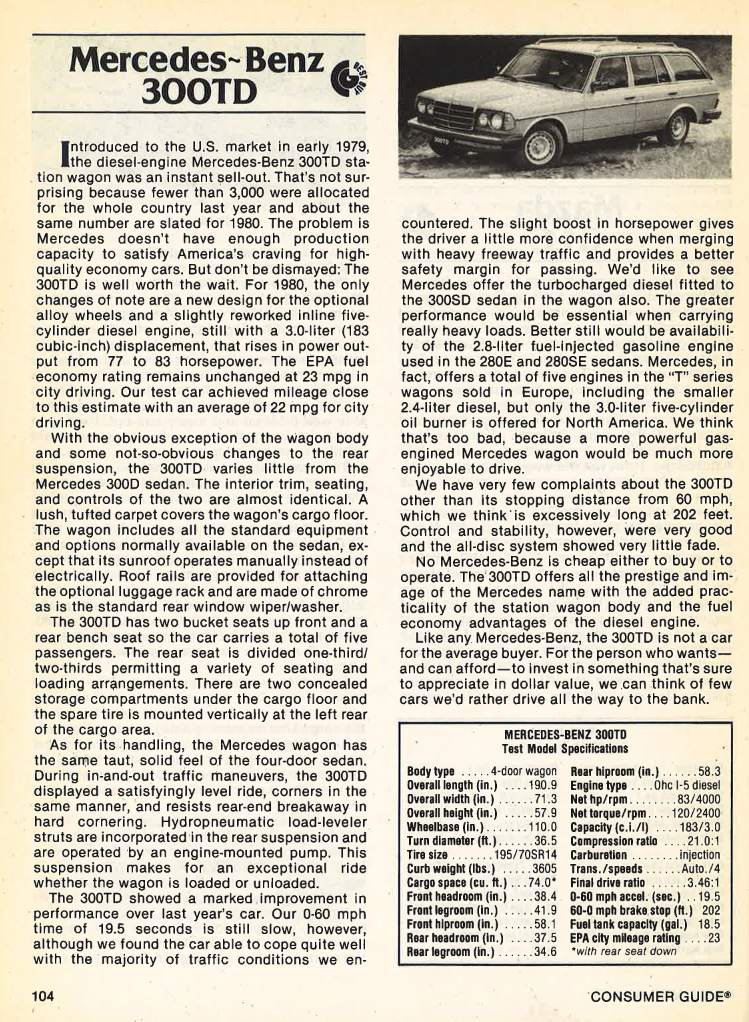 Review Flashback! 1973 Dodge Sportsman
Review Flashback! 1973 Porsche 911
Review Flashback! 1975 AMC Matador
Review Flashback! 1975 Chevrolet Chaparral
Review Flashback! 1975 Ford Granada
Review Flashback! 1977 AMC Pacer Wagon
Review Flashback! 1977 Impala and Caprice
Review Flashback! 1977 Mercury Cougar
Review Flashback! 1980 Plymouth Gran Fury
Review Flashback! 1980 Plymouth Volaré
Review Flashback! 1980 Toyota Cressida Wagon
Review Flashback! 1981 Plymouth Horizon
 Review Flashback! 1982 Chevrolet Camaro
Review Flashback! 1982 Honda Accord
Review Flashback! 1982 Oldsmobile Cutlass Ciera Diesel
Review Flashback! 1984 Saab 900
Review Flashback! 1985 Buick Riviera
Review Flashback! 1985 Cadillac Fleetwood
Review Flashback! 1985 Lincoln Mark VII Turbodiesel
Review Flashback! 1986 Pontiac Grand Am
Review Flashback! 1988 Mazda 626 Turbo 4WS
Review Flashback! 1989 Chrysler Fifth Avenue
Review Flashback! 1990 Infiniti Q45
Review Flashback! 1990 Mitsubishi Sigma
Review Flashback! 1991 Chevrolet Caprice
Review Flashback! 1993 Volkswagen Corrado